Free food pantries, groceries and food banks Orange County California.
Free emergency food pantries in the Orange County California provide groceries, meals, personal hygiene supplies and more. The exact type of resources will vary by center, as well as the hours, however many food banks are open today as are soup kitchens. Low-income families, people with no money and other will get a free grocery box and support. Find a free food pantry near you in Orange County CA.
The distribution centers help thousands of families, immigrants and seniors every month. People of all backgrounds and income levels have turned to a local soup kitchen, free drive thru food bank or pantry near them when they are faced with difficult times. It is recommended to call a center first, before stopping by. There is also a toll free referral number at the bottom of the page for more information, including in Spanish.
Many of the food pantries will offer individuals a pre-set package of free or low cost non-perishable groceries or canned goods, free hygiene supplies, toiletries or other goods depending upon availability. Some of the perishable items that may be available, include, but are not limited to fruits, breads, vegetables, dairy and meats. There may be free stuff too such as soap, detergent and personal hygiene stuff.
When available, special needs can be met. For example, baby food, diapers and baby supplies may also be provided to established food pantry clients in Orange County California. Senior citizens in the southern part of California are also a focus, and they can enroll into a Meals on Wheels service or receive dietary supplements from a food bank.
In addition, these locations are a great place to turn to for other support. For example, may centers can help people apply for government and public programs such as CalFresh, WIC, or summer meals for your children. Other locations may distribute items such as clothing, Thanksgiving and Christmas meals, and personal hygiene items such as free feminine products. Or for more details on food programs, even learn about Feeding America backpack lunches for students.
Places for free food and hot meals in Orange County CA
Families Forward
Address: 8 Thomas, Irvine, CA 92618. Dial 949-552-2727
Provides non-perishable groceries. Some items distributed may not be suitable for those with health concerns such as allergies or diabetes. Baby formula and supplies such as diapers may be available.
Saint Vincent de Paul of Orange County has other churches and programs as well that are involved in feeding the hungry. Whether a free food pantry or soup kitchen, assistance is offered. They help immigrants, the poor, low income and others. Free food, clothes, hygiene supplies, paper products, detergent and more may be offered. Continue with Saint Vincent de Paul food assistance programs Orange County.
Saint Vincent de Paul Society of Saint Thomas More.

51 Market Place, Irvine, CA, 92602. Main number is 949-551-8601. Provides a food pantry for those in need and other social services, including information on financial assistance for bills. Or get free box of groceries, paper products like toilet paper, laundry detergent and soap in Orange County.

Saint Vincent De Paul Society-Placentia.

717 North Bradford Avenue, Placentia, California, 92870. Telephone - 714-528-1487. Churches help the poor, illegal immigrants as well as migrant farm workers and others. Hot meals, canned groceries, financial aid, small kitchen appliances, and other assistance. A major focus is on feeding the poor, homeless, and unemployed in Orange County.

SVDP - Santa Ana Saint Vincent De Paul Society.

1505 17th St, Santa Ana, CA 92705. Dial 714-550-7101 or (714) 542-0448. Offers emergency food boxes, holiday meals and clothing to those in need.

Saint Juliana Falconieri

- 1316 North Acacia Avenue, Fullerton, CA 92831. Call 657-253-4268 or 657-243-6119

Holy Family Cathedral

- Society of Saint Vincent de Paul - 566 South Glassell, Orange, CA 92866. 714-239-5762. The charity giveaway non-perishable groceries based on available funding as well as a drive thru food bank.
South County Outreach
7 Whatney, Suite B, Irvine, CA 92618. Telephone number: 949-380-8144
The center offers food assistance as well as groceries and support from a food pantry. Provides nonperishable and fresh food, rental and utility assistance, free computer classes, referrals and transitional housing for South Orange County persons and families. Or get applications to Cal-Fresh SNAP food stamps, free baby formula, and tips on grocery shopping. Also provides clients with holiday food and gifts.
Saint Cecilia Catholic Church
1301 Sycamore Avenue, Tustin, CA, 92780. Call 714-544-3250
Any emergency food is offered on a first come, first serve basis.
Tustin Family and Youth Center
14722 Newport Avenue, Tustin, CA, 92780. Dial the pantry at 714-573-3370
Students can learn about USDA free lunches and snacks during summer break. They help to feed students during holidays, weekends, and summer break too with meals, snacks, and other free food.
Saint Kilian's Food Pantry
26872 Estanciero, Mission Viejo, California, 92691. Call 949-586-4440
Provides clothing and groceries when available. Also get dry and canned goods, paper products, feminine products, cultural meals, and personal toiletries to those in need.
El Modena Community Center
18672 East Center Street, Orange, CA, 92869. Call 714-532-3595
The needy and low income can get information and referrals, information on senior services, free groceries, and applications for WIC. There is free food for immigrants and migrants, bread, fresh fruit or vegetables and other goods.
Livingstone Community Food Pantry and Health Clinic
Address is 12362 Beach Blvd., Stanton, CA 90680. Food pantry phone number is 714-248-9500
They offer food. The pantry is open 9AM-6PM Tuesday to Friday as well as 9AM-3PM Saturday. In addition to that, a Mobile Pantry with fresh fruit as well as vegetables and other grocery items from Second Harvest is offered first Saturday of every month from 12PM-1PM. A major focus is on healthy eating, cooking, and even gluten free food boxes.
Community Action Agency in Orange County
A leading poverty fighting organizations. They help feed and house the poor while addressing employment or budgeting. Learn about USDA healthy eating programs, get CalFresh food stamp applications, find help for immigrants or senior citizens, and more. They also have budgeting, grocery coupon and unit pricing classes, and other services. More on Community Action agency Orange County California.
Trinity Guild Pantry
Location is 11712 Hewes St, Orange, CA 92869, Orange, California, 92869. Call 714-633-5800 for intake
Applicants must live within parish boundaries.
Friendly Center, Inc.
Primary address: 6688 Beach Blvd, Buena Park, CA 90621. Call 714-771-5300
Runs an emergency grocery assistance program in the county. Also provides residents with counseling, clothing and rent and shelter referrals.
Share Our Selves
1550 Superior Avenue, Costa Mesa, California, 92627. Main phone - 949-270-2100
The Salvation Army Southern California
There are multiple sites in Orange County, many with free soup kitchens, food pantries, or thrift stores. As funding allows, the Christian charity offers groceries, application for Calfresh, clothing, paper goods or household supplies and much more. Christmas and Thanksgiving meal as well gift programs also operate. Or apply for limited amounts of financial assistance. They also may have free birthday toys, free Easter meals and baskets and other resources. Clients including the unemployed, working poor, immigrants, Spanish speakers, and vulnerable.
Goodwill Industries of Orange County
Address: 410 North Fairview Street, Santa Ana, CA, 92703. Call 714.547.6308 for hours.
The homeless, families in poverty, and others can get help. Free groceries, job training programs, and information on food stamps is given out. They offer healthy food to the homeless and veterans, free food for single moms, and healthy eating classes.
Son Light Christian Center
172 North Glassell Street, Orange, California 92866. For hours, dial 714-997-8501
A soup kitchen and food pantry. They also have free Thanksgiving dinners and Christmas meals. They serve Hispanics and Mexicans, the homeless, and anyone in need. There may be Pasta, Peanut butter, Canned Soup, Tacos or Salsa, and other items.
Coast Hills Church
Call 949-362-0079
They have a free, mobile pantry that goes throughout Orange County.
Connected Blessings
222 East Street, Anaheim, CA 92805. Call 714-296-6718
A Good Cupboard passes out free fresh and canned food.
Manzanita Park Family Resource Center
1116 Swan Street, Anaheim, CA 92801. Call 714-491-7205
Get Canned tuna or salmon, UHT 2-percent milk; applesauce; rice and more. There are also Congregate Meals, Back Pack for kids, Senior Brown Bags, and MEals on Wheels Home Deliveries. Or apply for USDA programs, CalFresh food stamps or benefits.
Saddleback Church
Call 949-609-8111
They have mobile and free driuve thru food pantries in ORange County CA. The locations change. Get Boxed Pastas, fruits, baby formula, shelft stable food, and more. Or get meat and poultry products, dairy products, fresh fruit and more.
Bridge Community Church
710 South Cambrige Street, Orange, CA 92866. Call 714-997-8881
Provides a free bag of non-perishable food, such as canned meat, tuna, fruits, pasta and rice. The support is for residents of Santa Ana and Orange.
Catholic Charities of Orange County
Call or stop by 2020 West Chestnut Avenue, Santa Ana, CA 92703. Call 714-347-9695 or 714-347-9696
Free food, baby formula, Ensure for the elderly and more is offered. They help immigrants and Spanish speakers. The free food bank and soup kitchen also have holiday food baskets, vegetables (fresh or canned), starches (cereal, bread, pasta, rice, and/or potatoes) and applications to Commodity Supplemental Food Program.
Stanton Family Resource Center
Address: 7800 Katella Avenue, Stanton, CA 90680. Phone 714-379-0129
Free government commodities, including cheese, milk, bread and more.
Anaheim United Methodist Church
1000 South State College Boulevard, Anaheim, CA 92806. Call 714-776-5710
A free food bank and soup kitchen are on site and open daily (today). The churches gives away a bagged lunch with non-perishable food items. This includes stuff like pop top soup, peanut butter cups and jelly, snack items, bottle of water, protein bars, canned tuna, and noodle cup. There are also free food boxes with items such as chili, rice, Tomato sauce, pasta, canned fruits, vegetables, meat, and bread.
Korean American Seniors Association of Orange County
Location is 9884 Garden Grove Boulevard, Garden Grove, CA 92844. Call 714-530-6705
Cultrual meals, free food boxes, and support in Korean and to immigrants as well.
Ministerios Betesda
1001 East Lincoln Avenue, Orange, CA 92865. Phone 714-322-9932
Get free food, baby formula, diapers and other items.
Westminster Family Resource Center
7200 Plaza Street, Sigler Park, Westminster, CA 92683. Call 714-903-1331
Our Redeemer Garden Grove
A food pantry is at 12301 Magnolia Street, Garden Grove, CA 92841. Call 714-539-9541
Family Assistance Ministries
30071 Ivy Glen, Laguna Niguel, CA 92677. Call 949-492-8477
Free food and personal products, including detergent, soap, hand sanitizer and other goods. Also get perishable and non-perishable food, and senior commodities box of food.
Placentia Senior Center
143 South Bradford Avenue, Placentia, CA 92870. Call 714-986-2332
Free Meals on Wheels home delivery. Or get frozen Thanksgiving, Turkey or Christmas food baskets, Ensure, and vitamins.
First United Methodist Church of Orange
161 South Orange Street, Orange, CA 92866. Phone - 714-532-6363
Non-perishable groceries.
Hills Community Church
Address: 5 Pursuit, Aliso Viejo, CA, 92656. Call 949-362-0079
Provides free grocery services and emergency aid to persons in need across Orange County.
Feeding America and Second Harvest of Orange County
They have dozens of sites around the county. A number of assistance programs are offered to the low income, struggling, and anyone in need. There is a mobile food pantry, After School and Summer Meals, free groceries for senior citizens and the elderly, CalFresh application advice and other hunger prevention programs. Phone number is 949.653.2900 for referrals.
First Presbyterian Church of Santa Ana
Location: 600 North Main Street, Santa Ana, California, 92701. Call 714-542-7253
They run an assistance program that seeks to meet the basic nutritional needs of the low income in the community by providing improved access to support such as food and toiletry products.
First Presbyterian Church of Orange
191 North Orange Street, Orange, California, 92866. Telephone number - 714-538-2341
Offers bags of food.
Mary's Kitchen
Address of soup kitchen 790 E Debra Ln, Anaheim, CA 92805. Call 714-633-0444
A hot meal is served to the needy in Orange County. Breakfast, lunch, or dinner as well as food (sandwiches, drinks, etc.) to go. Illegal or legal immigrants can get help too.
Saint Norbert's Catholic Church
300 East Taft Avenue, Orange, CA, 92865. Call 714-998-2430 or 714) 637-4360
Offers free groceries 2 times per month, daily sack lunch, clothing, and government commodities.
Cool Water Ministries
760 Victoria St, Costa Mesa, CA 92627. The phone number is 949-292-6425.
The non-profit has a mobile food pantry. It goes across the community in southern California, and has fresh vegetables, fruits, meat, and more.
Companerismo Rey De Reyes
940 West Wilshire Avenue, Santa Ana, California 92707. Dial 714-850-1952
Emergency food including canned foods, bread, veggies, fruits, Boxed or Canned Juices, Boxed stuffing and grains.
Wilshire Avenue Community Church - Heart of Downtown Food Co-Op
223 East Wilshire Avenue, Fullerton, CA 92832. Call 714-526-2265
They have free perishable and non-perishable groceries.
Saint Andrews Episcopal Church
1231 East Chapman Avenue, Fullerton, CA 92831. Phone 714-870-4350
A free hot prepared meal, sack lunch, and other items.
King of Glory Lutheran Church
Food bank address is 10280 Slater Avenue, Fountain Valley, CA. Call (714) 968-5865 or 714-963-5649
Offers fresh produce, dairy, deli, meat, and canned goods. Low income or unemployed families can get a meal twice per month.
Rose Drive Friends Church
4221 Rose Drive, Yorba Linda, CA 92886. Telephone - 714-528-6496
Rise Church
222 N Euclid St, La Habra, CA 90631. Call 562-697-4600
Saddleback College
28000 Marguerite Parkway, Mission Viejo, California 92692. For hours, dial 949-582-4606
Free food for students.
First Christian Church of Fullerton
109 East Wilshire Avenue, Fullerton, CA 92832. Main phone 714-525-5525
Orange County Senior centers or aging centers
Services include Meals on Wheels and surplus commodities to the homebound as well as working poor older adults. Some offer transportation. Or get free vitamins, adult diapers, Ensure or Boost supplements, congregate meals and more. Seniors, the homebound in Orange County CA and disabled will get free Meals on Wheels as well as rides to the grocery store.
Another location is the Tustin Area Senior Center at 200 South C Street, Tustin, California 92781. Call 714-573-3340.
2271 Crescent Avenue, Anaheim, CA 92801, 714-776-7560
Address is 170 South Olive Street, Orange, CA 92866. Call 714-538-9633
Cypress Senior Center, 9031 Grindlay Street, Cypress, CA 90630. Phone 714-229-2005
Laguna Beach Seniors, 380 Third Street, Laguna Beach, CA. Call 949-715-5462.
Dana Point Senior Center, 34052 Del Obispo Street, Dana Point, CA 92629. Phone - 949-496-4252
Saint John's Lutheran Church
Address is 154 South Shaffer Street, Orange, CA, 92866. Call 714-288-4400
Sack lunches and food is distributed to individuals in need. They also help Spanish speakers and immigrants.
Saint Joachim Catholic Church
1964 Orange Avenue, Costa Mesa, California, 92626. Call 949-574-7400
Coast to Coast Foundation
18340 Yorba Linda Blvd, Yorba Linda, CA 92886. Call 888-275-5160
Free hygiene kits, clothes, and food is for the homeless and residents close to eviction.
Fullerton Community Center
Food bank and meal site is at 340 West Commonwealth Avenue, Fullerton, CA 92832. Intake number: 714-738-6575
Bethel Korean Church
18700 Harvard Ave, Irvine, CA 92612. Call 949-854-4010
Homeless people can use the soup kitchen. Meals are served on Sundays.
Southern California Indian Center
10175 Slater Avenue, Suite 150, Fountain Valley, CA, 92708. Main number is 714-962-6673
Offers WIA services to Native Americans who are economically disadvantaged.
Orange Home Grown, Inc
Address is 303 West Palm Avenue, Orange, CA 92866. Phone - 714-397-4699
A weekly farmers market, that matches purchases too. CalFresh EBT food stamps, WIC, and other forms of payment are accepted.
Immaculate Heart of Mary Church
1100 South Center Street, Santa Ana, CA, 92704. Dial the pantry at 714-751-5335 for hours and intake.
Saint Barbara's Catholic Church
730 South Euclid Street, Santa Ana, CA, 92704. Phone: 714-775-7733
Free Christmas and Thanksgiving meals, easter baskets, and other food is given out in Orange County.
Vineyard Community Church
Location is 27632 El Lazo, Suite A, Laguna Niguel, CA, 92677. Call 949-425-3787
San Antonio Family Assistance
5800 East Santa Ana Canyon Road, Anaheim Hills, California, 92807. Call the program at 714-974-9728
Offers non-perishable food. Migrant farm workers, undocumented Mexicans and others can get food as well as free meals.
First Lutheran Church
215 North Lemon Street
Fullerton, CA 92832
714-871-7820
The charity may have clothing, blankets, free personal hygiene items, canned or perishable food, milk, dairy, and more. Services are in Spanish and for Hispanics too.
Mariners Church
5001 Newport Coast Drive
Irvine, California 92603
949-769-8131
the pantry may have Canned Fruits, paper goods, soap, detergent, shampoo, wipes, Pasta, juice and more.
Tustin Foursquare Church
600 West Sixth Street
Tustin, CA 9278
714-724-1602
Anaheim Seventh-day Adventist Church
900 South Sunkist Street
Anaheim, California, 92806
714-635-0990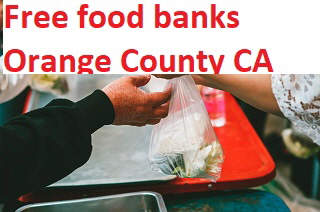 Helping Others Prepare for Eternity
Address: 11022 Acacia Parkway, Suite C
Garden Grove, CA, 92840
714-539-4357
Single mothers and disadvantaged children can get emergency food.
Garden Grove 7th Day Adventist
Community Service Center, 12702 Ninth Street
Garden Grove, CA, 92840
Dial - 714-534-4376
Provides the needy with services such as free food, clothing and personal hygiene supplies when available. Also, provides holiday food distribution during Christmas and Thanksgiving to residents of Garden Grove.
Mission Basilica
Address is 31520 Camino Capistrano
San Juan Capistrano, CA, 92675
949-234-1356
Food items may include meat, rice, beans, fruits, and vegetables.
Saint Edwards Church
33926 Calle La Primavera
Dana Point, California, 92629
949-496-1572
Provides USDA & FEMA government commodities, emergency groceries, school supplies, and clothing.
Faith Community Nazarene
Address of food bank is 16800 Imperial Highway
Yorba Linda, CA, 92886
Phone number is 714-993-5320
Yorba Linda Friends Church
5211 Lakeview Avenue
Yorba Linda, CA, 92886
Dial 714-777-7386
The charitable food bank may have peanut butter, jelly, dairy, yogurt, and much more. Information is in Spanish too.
Garden Grove Friends Church
Location is 12211 Magnolia Street
Garden Grove, California, 92841
714-539-7735
Calvary Chapel-Garden Grove
12832 Knott Street
Garden Grove, CA, 92841
Main phone 714-897-8972
Blessed Sacrament Catholic Church
Address is 14072 Olive Street
Westminster, CA, 92683
Telephone - 714-894-6959
Offers low income families and individuals within parish boundaries groceries and clothing.
First Presbyterian Church of Westminster
Address 7702 Westminster Boulevard
Westminster, CA, 92683
714-893-1393
Abrazar, Inc.
Main location is 7101 Wyoming Street
Westminster, CA, 92683
714-893-3581
They administer a federal government funded program which works to improve the health of low-income families by supplementing their diets with nutritious surplus USDA foods.
Saint Mary's by the Sea Catholic Church
321 10th Street
Huntington Beach, California, 92648
Telephone number of food pantry is 714-536-6913
Receive up to two boxes of food in an emergency.
Beach Cities Interfaith Services
Address: 525 Main Street, First Floor
Huntington Beach, CA, 92648
Call 714-969-4462
A thrift store and free food pantry help the low income in Orange County. Services are in Spanish too. Get personal or household goods like laundry or dish detergent, brooms, pots or pans. Groceries may be Boxed Pastas, Beans, Canned yams, Pumpkin, and more
Community United Methodist Church
Food bank address - 6652 Heil Avenue
Huntington Beach, California, 92647
Telephone number: 714-842-4461
Calvary Chapel - Huntington Beach
7800 Edinger Avenue
Huntington Beach, CA, 92647
Dial the pantry at 714-891-9495
Crosspoint Baptist Church of Huntington Beach
7661 Warner Avenue
Huntington Beach, California, 92647
714-848-5511
Justin Martyr
Location is 2050 West Ball Road
Anaheim, CA, 92804
714-284-0405
Western Avenue Church of Christ
641 South Western Avenue
Anaheim, CA, 92804
Primary phone number is 714-821-6227
Saint Mark's United Methodist
Location is 3700 West Orange Avenue
Anaheim, CA, 92804
714-527-1095
Free emergency food and groceries are provided to general population and those without housing. Clothing provided as available.
First Evangelical Free Church
2904 North Brea Boulevard
Fullerton, California, 92835
714-529-5544
Calvary Community Church
1465 West Orangethorpe Avenue
Fullerton, CA, 92833
Call 714-879-6672
Donations and volunteers run the pantry. They may also bring food or meals to the disabled and elderly in Orange County California.
Fullerton Seventh Day Adventist Church
2355 West Valencia Drive
Fullerton, California, 92833
714-525-4561
Toiletries, clothing, small appliances may be distributed when available. Also offers donated and surplus nutritional food in shopping bags or other containers to supplement the diets of individuals in need. They partner with the Orange County Second Harvest Food Bank.
Hope Office of Saint Bonaventure Catholic Parish
Main address - 16400 Springdale Street
Huntington Beach, CA, 92649
714-846-3831
Provides EFSP/FEMA, EFAP/USDA and purchased or donated emergency clothing, groceries and household items to low income individuals.
Saint Michael's Society
107 West Marquita
San Clemente, CA, 92672
949-366-9480
Christ Lutheran Church
820 West Imperial Highway
Brea, California, 92821
Primary phone number is 714-529-2984
Saint Irenaeus-H.O.P.E.
5201 Evergreen Avenue
Cypress, CA, 90630
Call 714-826-0760
First Southern Baptist Church of Orange
714-639-2070
Provides food, groceries (including baby food) and clothing (including baby clothes) when available.
We Care of Los Alamitos
3788 Cerritos Avenue
Los Alamitos, CA, 90720
562-598-9790
People can apply for assistance and get food, clothing and personal care products. Also runs classes in resume writing, life skills, and ESL. A large portion of the clients of the charity food pantry are Latinios and Mexican immigrants/Spanish speakers.
La Habra Community Resource Care Center
Address is 350 South Hillcrest Street
La Habra, California, 90631
562-697-1199
Free groceries available for emergency only to La Habra residents, and there is also one time emergency assistance for food for those in need in Orange County. Other services offered include information and referrals to government aid such as CalFresh or LIHEAP. Clothing and hygiene items are available for those without housing.
Additional free food assistance programs in Orange County California
Dozens of other non-profits, food pantries, and meals sites operate in Orange County California. Thousands of families receive some form of assistance from these distribution centers every month, even today. Dial (855)-233-3362 or 949-653-2900 to get information, addresses, and phone numbers of additional pantries, including Orange County CA Feeding America. English and Spanish resources are available.
Related Content From Needhelppayingbills.com