Free food pantries, meals and groceries Pierce County Washington.
Tacoma and Pierce County food pantries will offer commodities, free boxes of groceries, meals and government benefits. There are also soup kitchens in the Tacoma WA area as well as Meals on Wheels home delivery for seniors or disabled people. Find free food banks and pantries near you in Pierce County WA.
There is free food given out today for low income families, seniors, working poor and people with no money in the region, but anyone can apply for assistance. They will try to support any resident that has a need for groceries or something to eat, and the bottom line is that no one needing assistance is turned away from the free food bank as well as soup kitchen locations in Pierce County. There is also a referral phone number at the bottom of the page for more Pierce County hunger prevention resources.
Get free groceries, baby formula, holiday meals including Thanksgiving turkeys in Tacoma, or pet (cat or dog) food. The food banks and pantries that are open today provide a place to get groceries, canned goods, personal hygiene items, toilter paper or laundry detergent and maybe even household items in a time of need.
If a distribution center can't meet your needs then they may offer referrals to other federal government or state of Washington programs, such as Basic Food (SNAP food stamps) or Meals on Wheels for senior citizens or WIC. There are also free coupons for grocery shopping.
Find free food banks and soup kitchens in Pierce County and Tacoma
Allen A.M.E
Address - 1223 M.L.K. Jr Way, Tacoma, WA 98405. Phone: (253) 627-6855
Single mothers, the unemployed and others will get a free box of food. The Pierce County charity offers cereal or pasta, eggs, dairy, and tuna as well as Spam. They also help with long term needs, including to the state of Washington Basic Food - EBT cards.
Bikers Against Statewide Hunger - BASH
Food pantry address - 103 140th St S b, Tacoma, WA 98444. Main Phone: (253) 531-9600
Bounty Food Bank - Bethany United Methodist
Location - 5634 S Park Ave, Tacoma, Washington, 98408. Phone number - (253) 475 - 7098
Hot meals, a bag of groceries, and other support is offered to people in the community. The charity works to address the nutritional needs of clients, including homeless people or adults.
Bonney Lake Food Bank – Two different food pantries are part of this network. The addresses are below. Stop by or call either for assistance, including free food, groceries, or perishable items. Some of the stuff given away includes shelf stable food, toiletries, laundry detergent, diapers (as available). Or get items like Canned tuna or salmon, rice a roni and canned goods
Food bank address - 14104 Prairie Ridge Dr. E, Bonney Lake, WA, 98391. Dial (360) 897-9005
Bread of Life Food Bank – Lakewood. Food is distributed from the Lake City Community Church.
The church location is 8810 Lawndale Ave SW, Lakewood, Washington, 98498. Dial (253) 582-2515
They may also serve Thanksgiving or Christmas meals, in addition to providing free food in an emergency from the pantry.
Buckley Kiwanis Foundation
Location is 127 N River Rd, Buckley, WA, 98321. Phone number - (253) 266-7309
Parkway Community Services
11222 10th Ave South, Tacoma, WA 98444. Dial (253) 579-5090
Southeast Tacoma Nourish Food Bank
Address: 1704 85th St E, Tacoma, WA 98445. Phone: (253) 531-4530
Both applications to benefits, such as USDA Commodities, SNAP or EBT is offered. There are also free Christmas, Easter, and Thanksgiving baskets. Or sign up for free cooking classes, wellness, or get a bag of food.
Harvest House Food Pantry
Address: 25713 70th Ave E, Graham, WA 98338. Phone: (360) 893-6842
United Way Referral Line of Pierce County
In an emergency, assistance is offered. Referrals to free food, clothes, financial aid, job programs, immigration assistance and more. Everything from hunger to homeless prevention is available. Continue with Pierce County crisis referral line programs.
NW Tacoma Nourish Food Bank
The location is the Mason United Methodist Church. A free Food Distribution Center is at 2710 N Madison St, Tacoma, WA 98407. Main phone: (253) 383-3164
Pt Defiance-Ruston Senior Center
Address: 4716 N Baltimore St, Tacoma, WA 98407. Phone: (253) 756-0601
Programs include free Meals on Wheels for seniors in Pierce County. There is also a pet food bank, Boost or Ensure, vitamins and nutritional support as well as free congregate meals.
Eatonville Family Agency
305 W Center St., Eatonville, Washington, 98328. Dial (360) 832-6805
Several social services and other assistance programs are available. These are in addition to the pantry that is on site. Some of what may be provided includes rice, breads, frozen foods, and more. Or get referrals to government resources such as the Commodity Supplemental Food Program (CSFP). The free, emergency pantry also has bi-monthly Healthy Cooking demonstrations, cooking classes, and workshops or healthy shopping.
Families Unlimited Network
2610 Sunset Dr W, University Place, Washington, 98466. Dial (253) 460-3134
Federal Way Senior Center
Address 4016 S 352nd St, Auburn, WA, 98001. Call (253) 838-3604 for hours of this center.
Lunches, meals, and more are served to the elderly and their spouses. Or sign up for other recreational activities.
Churches in the region often have free food, vouchers, serve hot meals, and other other support. They also generally give out free hygiene supplies. Find more details on food assistance from Pierce County churches.
Fife/Milton/Edgewood Food Pantry
Location of center - 2303 54th Ave E, Fife, Washington, 98424. Phone number - (253) 922-0960
Canned groceries, soup, and more (such as hot meals from the homeless) are provided by the non-profit.
Pierce County FISH Food Banks. There are several of these food pantries and distribution centers located around Tacoma and the County. Thousands of people receive food, meals, and support from the non-profit centers every year. The locations include below. The main Peirce County free distribution center, including drive thru pantry, is at 1702 S. 72nd St, Tacoma, WA 98408. Phone 253-383-3164.
3505 122nd Ave E, Edgewood, WA, 98372
7410 S 12th St, Tacoma, Washington, 98465
6900 Steilacoom Blvd SW, Lakewood, WA, 98499
10425 187th St E, Puyallup, WA, 98374
5010 S G St, Tacoma, Washington, 98409
Gig Harbor/Peninsula FISH – Aid is focused on the local region.
Address - 4303 Burnham Dr, Gig Harbor, WA 98332. Phone: (253) 858-6179
Holy Cross
5510 N 44th St, Tacoma, WA, 98407. Pantry phone number - (253) 759-3368
A bag of groceries, clothing, or a blank may be passed out to the poor, children, and homeless too. There is also Cereal (Hot & Cold), Crackers, Flour, and free sandwiches or meals for the homeless.
Joseph's Storehouse for Living Word Assembly
Clinic address is 570 Eatonville Hwy W, Eatonville, Washington, 98328. Dial (360) 832 – 4220 for hours.
Key Peninsula Community Services
Address - 17015 9th St Ct KP N, Lakebay, Washington, 98349. Dial (253) 884-4440
The case managers also help families living in poverty apply for SNAP food stamps. Or learn about WIC - Special Supplemental Nutrition Program for Women, Infants, and Children, including for single mothers.
Matthew House
Address - 16207 177th Ave SE, Monroe, WA, 98272. Number of center is (360) 794-8720
Canned, perishable food, rice, potatoes, bread, milk, and more is offered. The Pierce County food bank is open on Tuesday and Saturday, and may also have paper products, razors, feminine products, and other goods.
Multi-Service Center
Address - 1200 S 336th St, Federal Way, Washington, 98003. Phone - (253) 838-6810
Provides food, information on social service programs, and other assistance to people who need help. Some emergency financial assistance and other basic needs may be offered in Pierce County too.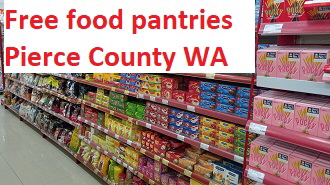 My Sister's Pantry – located at First United Methodist Church
Church address - 621 Tacoma Ave S, Tacoma, WA, 98402. Call (253) 627 – 1186
Call for government food and information on state of Washington assistance and other support. They have holiday food baskets as well as applications to home delivered meals.
Salvation Army of Tacoma
Location - 1501 6th Ave, Tacoma, WA, 98405. Dial (253) 572-8452
A leading non-profit charity organization in Pierce County. Various social services are offered, including a food pantry and thrift store. Special Christmas and Thanksgiving meals may be served, and the homebound may have food delivered to them. Another food pantry and Family Store is at Puyallup Salvation Army is at 4009 9th St., SW, 98373, number 253-841-1491.
New Jerusalem Church of God In Christ
Location - 1623 S 11th St, Tacoma, WA 98405. Phone number - (253) 572 - 6785
Serves free food, breads, formula, and more to those who qualify. Pregnant mothers may be able to get help too for a newborn.
Lifeway Church - Orting Food Bank
Facility address - 112 Varner Ave SE, Orting, WA, 98360. Telephone number - (360) 893-3150 or (253) 576-7157
Senior Citizens and the Disabled
Aging and Senior centers help there. Volunteers deliver frozen food, that is healthy, to seniors and the homebound. There are also congregate meals and other forms of help. Or clothes, medications and more. More on Pierce County Aging and Disability center.
Plateau Outreach Ministries
Location of facility is 1806 Cole St, Enumclaw, WA, 98022 . Call (360) 825-8961 for hours of food and grocery distribution.
Clients include senior citizens, the unemployed, and healthy food is for students on summer break.
Prince of Peace
Address - 10333 Bridgeport Way SW, Lakewood, WA, 98499. Dial - (253) 584 - 2565
Regardless of religion, the faith based church helps the poor, homeless, unemployed, and disadvantaged in Pierce County.
Puyallup Food Bank
Address of center is 217 W Stewart Ave, Puyallup, WA 98371. Dial - (253) 848-5240 for hours of food distribution.
Resource Distribution Council – Another pantry with numerous locations around Pierce County Washington. Programs support the low income, elderly, unemployed, and really anyone who needs help. A free drive thru food bank has spaghetti, peanut butter or jelly, bread, fruits and vegetables and other goods. The main center is at 925 Tacoma Ave S, Tacoma, WA 98402. Phone: (253) 798-7631
8222 Washington Blvd, Lakewood, Washington, 98498
106 28th St S, Tacoma, Washington 98402
3801 S Union Ave Suite B, Tacoma, WA
10402 Kline St SW The Hope Center, Lakewood, WA, 98498
9414 282nd St S, Roy, Washington, 98580
150th and 148th, Lakewood, WA, 98439
7310 12th Ave E, Tacoma, Washington, 98404
Roy Food Pantry
Food pantry phone number - 403 McNaught Rd S, Roy, WA 98580. Phone: (253) 383-3164 or Dial the center at (253) 843-3033
Saint Andrew's Catholic Church
Location - 1401 Valley Ave E, Sumner, WA, 98390. Church phone number is (253) 863-3655
The church has a soup kitchen as well as free food bank for people in the community. Call for information, hours, and the intake process.
Saint Charles Borromeo Parish
Location: 7112 S 12th St, Tacoma, Washington 98465. Dial the site at (253) 565-7655
The Food Bank - Pantry is open Tuesdays and Thursdays, but appointments are needed. Dial 253-565-7655 between 9:30 a.m. - 11:00 a.m. Tuesdays and Thursdays
Saint Leo's Parish
Call the church at the number below, or stop by 710 S 13th St, Tacoma, WA, 98405 for information on various good distribution programs and assistance. .Phone number - (253) 383-5048
Key Peninsula Bischoff Food Bank
Mailing address is 12402 134th Ave NW, Gig Harbor, WA 98329. Phone: (253) 884-1997
For information, the Food Bank land line number is 253-884-1997 and is manned 10 am through 8 pm. An emergency number is 425-444-2374
The pantry hours in Pierce County are Tuesday through Saturday, with more availability for emergency situations. The hours are Tuesday, Thursday and Friday 2 pm to 6 pm, Wednesdays 2 pm to 8 pm, as well as Saturdays 2 pm to 5 pm. The site has gently used and new clothing as well as household items, groceries, and more. Paper products, free household cleaning supplies, feminine goods and more is passed out. There is also a local delivery 1 time per year wood split and ready to use at no charge
Saint Nicholas Catholic Church
Location of church pantry - 3510 Rosedale St NW, Gig Harbor, WA 98335. Phone: (253) 851-8850 or dial - (253) 851-0554
Volunteers help the poor at Christmas. Clothing, hot meals, canned fruit or meats, and even baby formula is given out.
Steilacoom Community Center
2301 Worthington St, Steilacoom, Washington 98388. Telephone (253) 581-1076
Call for information on programs such as fruits, vegetables, lunches for students and more. Holiday assistance, turkeys, and Easter Baskets may be offered. A client choice food pantry is for the poor and people with no money too.
Sumner Food Pantry
15625 Main St E, Sumner, WA, 98390. Call (253) 863-3793
A focus is on senior, low income families with children and others who are most at risk. Free boxes of food, groceries, and maybe a meal can be served. A weekend backpack program also helps feed Pierce County children.
Tacoma Adventists Community Services
Address - 3108 E Portland Ave, Tacoma, WA, 98411. Main office phone number - (253) 272-8289
Trinity Lutheran Church Food Bank
12115 Park Ave S, Tacoma, WA, 98444. Phone number of church is (253) 537 – 0201. Dial for hours.
Community Center Food Bank of Tillicum / Woodbrook
14919 Washington Ave., SW 98498. Dial 253-584-1280 hours, referrals, case management, and details on free food programs.
All Saints Community Services
Address is 204 6th Ave SW, Puyallup, Washington, 98371. Phone number is (253) 848-2000
Only supports Puyallup residents, and applications and appointments are needed for a free box of food.
Eloise Cooking Pot Food Bank
3543 E McKinley Ave, Tacoma, WA 98404. Main Phone: (253) 426-1994
Many programs are available from the pantry. There is produce, meat, dairy products, baby items, and even free pet food and supplies. The Tacoma non-profit will also have hygiene products and household items for qualified low income families.
Spanaway FISH Food Bank
Food bank address - 16001 A St, Spanaway, WA, 98387
Dial - (253) 383-1817 for social services, meals, perishable items, and other aid.
Visitation Church
3314 S 58th St
Tacoma, Washington, 98409
(253) 473-4960
We Love Steilacoom Association
2301 Worthington St
Steilacoom, WA, 98388
Phone number is (253) 581-1076
Emergency bags of food provided a couple times per month to those with appointments/approved applications.
Saint Patrick's Parish
Location - 1001 North J Street
Tacoma, Washington 98403
Main phone - (253) 383-2783
They only assist residents of the Parish area. Free food, hygiene items, and other referrals are given.
St Martin of Tours Parish
Address is 2303 54th Ave E
Fife, WA 98424
Appointments are needed. Dial (253) 922-7882
The pantry has many items, based on donations and volunteers. Dried macaroni, Cranberry sauce, Canned Fruits, Boxed stuffing, as well as free Christmas meals or food boxes.
Additional free food programs in Tacoma and Pierce County
Several other feeding sites, Meals on Wheels delivery services and food pantries near you operate in the Pierce County region. Call 206.545.6600 or 1-877-404-7543. Or get information on resources such as Feeding America in Tacoma area, SNAP food stamps, summer meals for students, and special seasonal services such as Thanksgiving and Christmas meal assistance.
Related Content From Needhelppayingbills.com