Free food pantries and groceries Bay County Florida.
Low-income families will get free groceries from a food bank or pantry in Bay County Florida. Charities, churches and government offices help the working poor, single mothers, seniors and others. Get free boxes of groceries near you, personal toiletries and meals as well from soup kitchens. Find a free food pantry near you in Bay County, including that are open today.
Members of the region, regardless of their religion, background, or race, can get help with meeting their basic needs from a food distribution center, including people with no money. Many churches and charities across Panama City and Bay County run the food pantries. Not only will they usually provide emergency boxes of groceries or meals to the low-income, but many of the centers are a great place to contact for information on other government programs, such as WIC or SNAP food stamps. Learn more on online SNAP applications.
While not as common, some of the locations may even have items like furniture, Ensure for senior citizens, baby formula, free fruit or vegetable or diapers. There are also Meals on Wheels services as well as a free pet food bank in Bay County FL. Free Thanksgiving turkey dinner and Christmas meals are also offered for low-income families.
Charities that giveaway free food or meals in Bay County and Panama City
Bridges of Hope Bay Food Pantry
Address of center is First Assembly of God, 1701 N East Ave, Panama City, FL 32405. Phone (850) 215-7241 or (850) 769-3558
This food pantry provides families with basic needs, including free or low cost food. Applicants need to be qualified. There is cereal, eggs, soup, rice, canned meat and other groceries given out today. The food box provided is put together based on the need of each family or individual who needs help, and they even take into account any allergies that a member of the family may have.
Christ Our Savior Lutheran Church
Location is 300 Clara Ave, Panama City Beach, FL, 32407
Call (850) 233-6249
This pantry provides non-perishable groceries, food and personal items to the needy.
Gulf Beach Presbyterian Church
Location of food pantry 271 South Hwy 79, Gulf Beach, FL, 32413. Dial: (850) 234-3161
Residents who live west of the Halfway Bridge in Gulf Beach may be able to receive free food.
Living Word Fellowship
500 E 19th St, Panama City, FL 32405. Call (850) 769-0272
You need to make an appointment here. This Bay County food pantry is open very limited hours.
Springfield United Methodist Church
701 School Avenue, Panama City, Florida, 32401. Call (850) 769-0374
Some walk in services are offered.
Salvation Army Social Services
The Christian, faith based charity has assistance programs including a soup kitchen and free food pantry. Get items such as Shelf Stable or Dry Milk, Dry Beans, fresh produce, meat, eggs, and more. Free snacks for kids in Bay County as well as holiday food baskets are offered too. More on Salvation Army assistance Bay County.
First Baptist Church of Panama City
640 Grace Ave, Panama City, FL, 32401. Primary phone number is (850) 785-6146
First Baptist Church of Callaway
6930 E Hwy 22, Panama City, Florida, 32404. Main number is (850) 871-2772
Food, holiday meals, and referrals to local non-profit organizations are provided by volunteers and church members.
St Andrews Assembly of God
Address: 2400 15th St, Panama City, FL 32401. Phone: (850) 763-3268
Family of God Baptist Church
Address is 901 East Highway 98, Panama City, FL, 32401. Telephone - (850) 769-4021
This center offers baby food, clothing, and general pantry type items.
Bay County Department of Health
Among other programs, they administer the Women Infants and Children (WIC) Nutrition Program
Address: 597 West 11th Street, Panama City, Florida, 32401. Telephone: (850) 872-4666
The federal government WIC program is a special food and nutrition education program for babies, newborns, children and pregnant women. Or apply for an EBT card for food stamps in Bay County FL. Also has information on other government aid such as LIHEAP or section 8.
Hiland Park Baptist Church
Location is 4630 E Hwy 98, Panama City, FL 32404. Main number - (850) 785-6530
The location of the food pantry in ONLY on Mondays from 930-1030am. It is located in building D (which is on the backside of the church building.) NO financial aid or other support is given. Any applicants need to a bring a form of ID and the church will only pass out items once every 3 months.
Catholic Charities of Bay County
Stop by 3128 East 11th Street, Panama City, FL, 32401. Or dial (850) 763-0475
Provides food and other emergency assistance to eligible clients and families for personal care items, clothing, baby items, and free food. They help immigrants get free food, dairy or groceries as well as seniors and single mothers feed their kids.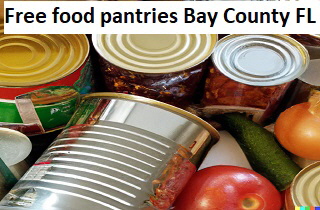 St. Andrew Baptist Church
3001 West Highway 98, Panama City, FL, 32401. Call (850) 763-2345
The very low income and homeless can receive food boxes and hot meals.
Bay Area Food Bank runs the Food 4 Kidz Program
16610 Front Beach Rd, Panama City Beach, FL 32413. Phone (850) 249-5439
Call the charity for information on food programs. There is also a home delivery service as well as Christmas and Thanksgiving meals.
Beach Care Services
9128 Front Beach Rd, Panama City Beach, FL 32407. Call 850-235-3002
Meals and lunches are served.
Bay County Council On Aging
Address: 1116 Frankford Ave, Panama City, FL 32401. Phone: (850) 769-3468
Food and meal programs, including a free drive thru food bank and Meals on wheels, help senior citizens or disabled people. Get low-sodium food, Ensure or boost drinks, congregate meals and other support focused on seniors.
Parkway Presbyterian Church
Address is 505 South Tyndall Parkway, Panama City, FL, 32404. Phone 850-785-7081
An emergency pantry helps seniors, the disabled, and children in Bay County.
Springfield United Methodist Church
701 School Avenue, Panama City, FL, 32401. Call 850-769-0374
Woodlawn United Methodist Church
Pantry location is 219 Alf Coleman Road, Panama City Beach, Fl, 32407. Dial 850-234-3196
Gas cards for work, groceries, and other assistance is for low income families.
Family Service Agency
Address: 114 East 9th Street, Panama City, FL, 32401. Call 850-785-1721
There is pet food and related supplies, regular boxes of free food to families in a crisis, and other support. They also have baby items including formula, diapers, toys, clothing.
Panama City Fellowship Church of Praise
Address is 2511 E. 3rd Street, Panama City, Fl, 32401. Call 850-769-5442
The faith based group runs the Impact Food Pantry.
Additional free food programs in Bay County
For more information on services from charities or government agencies, call 850.562.3033. Many other free food pantries, soup kitchens and government benefit programs near you, such as SNAP or WIC among others, help low-income families. There are additional resources including Feeding America in Panama County that can feed a family and prevent hunger in Bay County.
Related Content From Needhelppayingbills.com