Food pantries, groceries and meals in Tulare County.
Free food pantries and soup kitchens in Tulare County and Visalia California giveaway emergency groceries, meals, and basic goods. The centers have free food, groceries and hygiene supplies as well as other support to the low-income across the community. Find a free food bank near you in Tulare County.
Most of the aid is offered for free to low-income families, seniors, the disabled and poor in the community; however some of the assistance offered, including from a free drive thru pantry, may be limited in scope, so call in advance. All applications and intake is also offered in Spanish and the food pantries help migrants as well. Also find a phone number at the bottom of the page for other free food programs.
As an example of what may be provided, most food pantries in Tulare County offer perishable foodstuffs, school lunches, fresh fruits and vegetables. There are also Meals on Wheels and free pet food banks. Other services in the region may be Christmas and Thanksgiving meals, breads, and government surplus food. They also help feed kids and immigrants.
Some resources are focused on senior citizens and the elderly, while others support children in the community. If a food pantry can't meet your needs, or if they are low on funding, they have case managers or volunteers on site that can refer the low income to other government programs and/or charities, including CalFresh food stamps and USDA assistance programs. Learn more on SNAP food stamps in an emergency.
Places for free food and hot meals in Tulare County
Open Gate Ministries
Location - 511 North K Street, Dinuba, California 93618. Phone number - (559) 591-1241
There is a soup kitchen for the homeless and pantry in Tulare County. Assistance ranges from baby formula to canned groceries, perishable food, and more. Meals, free food, and other assistance is provided to the low income.
CSET Early Start Program, Community Food Pantry
176 N Front St, Earlimart, CA 93219. Call the number (661) 849-2960
Pantries, meals, and other aid offered for babies and young children. Call for free or low cost baby formula, diapers, and much more. WIC is also a program offered for infants and single moms.
First Prybestarian Church Of Exeter
Address of church - 200 South E Street, Exeter, CA 93221. Church phone number - (559) 280-2074 or (559) 592-2367
The church offers help for the homeless and others who are struggling in the community, including hot meals.
Bethel Spanish Assembly Of God - Farmersville
Food pantry address - 1177 N. Ventura, Farmersville, California 93223. Call (559) 747-3708
Immigrants, Farm-workers, and non-English speakers can get help. Everything from food to hygiene items or clothing is offered.
Open Gate Ministries
Address: 511 N K St, Dinuba, CA 93618 Phone: (559) 591-1241
A drive thru food bank is offered as well.
Neighborhood Market (Goshen) - Family Healthcare Network, VEAC
Location is 31081 Road 72, Goshen, CA 93277. Call 559-237-3663 or 559-735-8173
The Warehouse Ministry
Charity address is 400 N Church St, Visalia, CA 93291. Phone: (559) 372-7806
They help the homeless, migrant farm workers and working poor. Free boxes of food, paper products like toilet paper or napkins, and other stuff is given away.
Community Services of Tulare County
30498 Rd 69, Visalia, CA 93291. Main number - (559) 651-1030
Iglesia De Dios Espiritu Santo y Fuego
15900 Avenue 332, Ivanhoe, CA 93235. Primary phone number - (559) 798-1386 or (559) 553-2862
Volunteers from the church run pantry also serve Easter, Thanksgiving, and Christmas meals to people in poverty. They help migrant farm workers in Tulare County among others. Free ethnic sensitive food, clothes, boxes of groceries, produce and more is given away.
First Presbytarian - Lemon Covelemon Cove Outreach
Address is 32937 Sierra Dr, Lemon Cove, CA 93244. Phone: (559) 597-2249 or (559) 597-2249
The outreach center offers social services, free food, charity programs, and referrals.
Pixley Food Pantry
Address: 718 N Park, Pixley, California 93256. Call (559) 303-5918
Food pantry provides emergency food boxes, groceries, and meals.
El Granito Foundation
383 W Date Ave, Porterville, CA 93257. Main phone: (559) 784-2788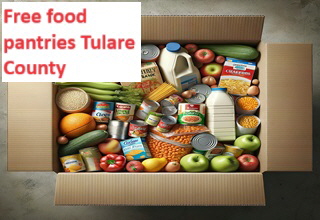 The Salvation Army - Tulare Corps
314 East San Joaquin Avenue, Tulare, California 93274-55. Dial (559) 687-2520
County residents who are low income, facing a crisis, unemployed, or working poor can get free food, shelter, meals, clothing, and a thrift store. Items like free clothing, household products, school supplies, and hunger prevention services are available as well. Ger baby formula, rice, canned meat and personal toiletries too as well as free Thanksgiving or Christmas meals in Tulare County. Or learn more on how to get help from Salvation Army in Tulare County.
Another location is the Salvation Army - Visalia.

Branch office - 1501 W Main Street, Visalia, California 93291. Dial - (559) 733-2784. Similar programs are offered as per the Tulare Corps referenced above. Cash grants for buying food or paying bills the California REACH program, and other aid is offered for senior citizens, low income families with children, and the disabled. Free Christmas assistance, gifts, and meals is available too from programs such as Angel Tree.
Helping Hands Soup Kitchen
A food pantry and soup kitchen location - 135 E Olive, Porterville, CA 93257. Telephone number - (559) 788-0812
Hot meals, lunches, and breakfast may be offered. Volunteers and charities from Tulare County support this charity organization.
Lemoore Christian Aid
Address of Social Services is 224 N Lemoore Ave, Lemoore, CA 93245. For information on the pantry, call (559) 924-2229
They help low-income families regardless of faith. Free food, Christmas meal baskets, Thanksgiving turkey dinners and more is offered. Get cereal, pasta, rice, Salsa, bread and other free food stuff.
Love INC of Tulare County
250 S K St, Tulare, CA 93274. Main Phone: (559) 467-5167
Everything from from baby formula to vitamins, Ensure for the elderly in Tulare County and cooking classes are offered. Continue with Love Inc. in Tulare County.
Farmers Market food bank
4010 E Amendola Dr, Fresno, CA 93725. Dial 559-237-3663
Fresh produce, fruits, and more is served. food stamps can be used to buy the needed food.
New Life Assembly of God
Address: 525 E Palm St, Exeter, CA 93221. Phone: (559) 592-2609
The food bank in Tulare County can provide canned fruit or meat, pasta, infant formula to new moms, and other support. There are also Christmas and Thanksgiving holiday food baskets.
La Mision De Jesus
Pantry address: 638 N Indiana St, Porterville, CA 93257. Main phone: (559) 788-9899
A food bank and farmer market. Shoppers can use Cal-Fresh food stamps to buy groceries as well as sign up for healthy cooking classes.
Porterville Gleaning Seniors
Senior center address - 680 S Main St, Porterville, CA 93257. Main Phone: (559) 781-4899
In addition to meals and surplus food, get information on senior programs too, such as health care, LIHEAP energy assistance for seniors, and home delivered meals. Find more information on senior help programs and resources.
Saint Anne's Food Pantry
Location is 271 S Wallace, Porterville, CA 93257
Call the food pantry at (559) 783-2800. Church pantry is open limited hours and days.
Basic needs, such as diapers, are provided. The food bank may also have paper goods, canned groceries, meat, and deliver food to the homebound.
Springville Community Church
Church address is 35725 CA-190, Springville, CA 93265. Phone: (559) 539-3188
Services for the low income include Meals on Wheels. This helps senior citizens and the disabled too.
London Food Pantry
Location - 5750 Avenue 378, Sultana, CA 93666. Phone number - (559) 595-0723
Resources range from a pantry to clothing closet and thrift store. Get food such as canned chicken or other meats, infant milk for single mothers or pregnant women, Dried Beans, Meat and more.
Terra Bella Nazarene Church
Address: 23414 Ave 95, Terra Bella, California 93270. Dial (559) 535-4941
Presbyterian Church - Terra Bella Relief Fund
Location - 9482 Rd 238, Terra Bella, CA 93270. Telephone - (559) 859-6468 or (559) 535-4478
Bethel Assembly Of God
Address of church - 4500 S Laspina St, Tulare, CA 93274. Telephone - (559) 688-7545
Tulare Emergency Aid
Office address - 424 North N Street, Tulare, CA 93274. Dial (559) 686-3693 for information and hours.
Various emergency assistance programs are offered. They also distribute surplus government food, commodities, and more. Also learn about financial assistance programs, shelter, and other resources. They also help people with no money get food or apply for CalFresh.
Foodlink For Tulare County
Location 7427 W Sunnyview Avenue, Visalia, CA 93291. Primary phone number - (559) 651-3663
They have distribution sites across Tulare County, in partnership with churches, non-profits and corporations. There may be dry goods, fruits, and free produce. Free emergency food, hot meals, and more items are given away. There is also cat and dog food for seniors, dairy, salt free meals and more.
Visalia Emergency Aid
217 North East 3rd Street, Visalia, California 93291. Main contact information - (559) 732-0101
Saint Clement of Alexandria
Pantry Address: 498 N Valencia Blvd, Woodlake, CA 93286. Call - (559) 564-8811
This Tulare County food pantry is open limited hours; it can offer meals, vegetables, breads, and fresh foods.
Additional assistance programs for food
Many other soup kitchens and food programs help struggling families in Tulare County. There is CalFresh outreach programs, USDA backpack, Feeding America in Tulare County and school lunches for kids, and immigrant services. There are other pantries that may be near you as well for free grocery boxes. Call 559.237.3663.
Related Content From Needhelppayingbills.com