Free food pantries, soup kitchens and groceries in Tulsa County Oklahoma.
Find where Tulsa County Oklahoma families will be able to get free food. Households with kids as well as individuals can receive help from dozens of free food pantries, charities, soup kitchens and churches throughout the county, many of which are open today. Find locations of free food pantries near you in Tulsa County below.
Not only can the pantries near you provide groceries, free food, meals, and perishable items, many distribution centers can oftentimes offer other forms of aid, such as clothing, household products, free hygiene supplies as well as access to a thrift store. the elderly and disabled can get free Meals on Wheels in Tulsa OK. There is also a toll free phone number at the bottom of the page for information on other food banks and free soup kitchens.
An extensive listing of the centers to call or stop by at in Tulsa County are listed below. Most of the locations have limited hours, and some may have certain conditions that the applicant may need to meet before receive food assistance. This will often include income conditions, and whether the family is receiving any other forms of public aid.
However if a church or food pantry can't help you, they can usually refer you to other local charities or government programs in both Tulsa and/or across Oklahoma. As there is everything from free Easter baskets, Thanksgiving or Christmas meals as well as SNAP food stamps, USDA commodities and other help offered.
Places for free food in Tulsa OK
Harvest House
Food Pantry address is 1439 E 71st St, Tulsa, OK 74136. Phone number is 918-884-7667
The charity assists with food, groceries, infant services or formula, and other non-perishable items.
Salvation Army Food Pantries and Soup Kitchens
Many services are run. There is a free food pantry and soup kitchen that may have Thanksgiving and Christmas meals. Help is for the homeless, children, and poor in Tulsa, and there are several centers besides this one. A free soup kitchen is also on site. Get free hygiene supplies, soup, detergent and other household stuff. Or learn about SNAP food stamps, USDA programs and more.
Manna House
Site address - 4921 East Admiral Place. Tulsa, OK 74115. Call 918-836-5541
A leading charity in the region for the less fortunate. Get free groceries, baby formula, clothes, and Ensure for seniors in Tulsa. The charity also tries to deliver meals to the homebound.
Broken Arrow (Broken Arrow Neighbors)
Address - 315 W College St, Broken Arrow, OK 74012. Phone number - (918) 251-7781
Food as well as clothing assistance.
Broken Arrow (Arms Around BA) - Location is 840 S Elm Pl, Broken Arrow, OK 74012. Telephone: (918) 258-7714. This is another local pantry. Groceries are available for Tulsa County families in the area, and there may be referrals to charities and non-profits too..
Bixby (First Methodist)
14 E Dawes, Bixby, Oklahoma 74008. Church number: (918) 366-4463
Offers emergency food.
Catholic Charity social services
Free boxes of food, groceries, and more are offered. The homeless may get a meal, single parents baby formula, and other support is offered too. Families can receive help at most for times per year while pregnant women from Tulsa County can get assistance monthly, including diapers or infant formula. More on Catholic Charities Tulsa County assistance programs.
Catholic Charities of Tulsa -

Main address: 2450 N Harvard, Tulsa, OK 74106. Primary phone number: (918) 949-4673. In addition to a food pantry, clothing, household items, and social services are provided to Tulsa low income families. Case managers can link the low income and people in poverty to SNAP food stamps too.

Catholic Charities - including Saint Anne's Catholic Church Ministry Of Compassion -

Address is 301 South 9th St., Broken Arrow, OK 74012. (918) 258-5276
Crosstown Church of Christ
Location is 3400 E Admiral Pl, Tulsa, OK 74115. Dial 918-834-1395
Get free items such as vegetables, fruits, canned meats, Thanksgiving or Christmas meals, and fruit juices. Or get toilet paper, hand sanitizer, bathroom soap, or feminine goods.
Islamic Society of Tulsa
A free food pantry for anyone in need is at 4630 S Irvington Ave, Tulsa, OK 74135. Telephone - 918-240-3701
New Jerusalem Baptist Church
Address is 3427 N Birmingham Ave, Tulsa, OK 74110. Main number is 918-402-0061
Get kosher friendly meals, Vegetarian, and liquid nutrition supplements. Free food boxes, groceries and other goods are offered.
Yanush Community Kitchen
A soup kitchen and pantry is at 3001 SE 1005 Ave, Tuskahoma, OK 74574. Call 918-471-8098
Free hot meals, including breakfast, lunch or dinner.
Praise Christian Faith Center
Location is 4748 S 31st W Ave, Tulsa, OK 74107. Call 918 445-4999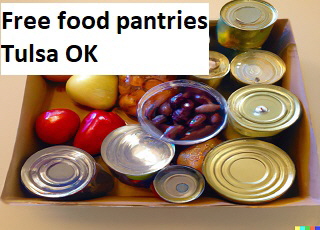 Sandusky Ave. Christian Church
Location is 4424 E 11th St, Tulsa, OK 74112. For hours, dial 918-834-4427
Based on donations, there is Canned Meats - Tuna, Ham, Chicken. Or get Thanksgiving or Christmas baskets. Or clothes, counseling, and faith based guidance.
La Cosecha (The Harvest)
Main address is 10811 E 41st St, Tulsa, OK 74146. Call 918-607-4841
Highland Park Christian Church
Address is 5717 E 32nd St, Tulsa, OK 74135. Call 918-627-0783
The free daily pantry has canned and shelf stable foods, cereal, fresh eggs, milk, frozen meat, tuna or chicken, and fresh fruit and vegetables as well as pet food. A major focus is on single moms, the elderly and disabled and addressing hunger.
Oklahoma Family Empowerment Center
A soup kitchen and free food bank is at 1020 S Garnett Rd, Tulsa, OK 74128. Call 918-728-7260
Church in Power
Main location is 732 East 31st St N, Tulsa, OK 74106. Intake number is 918-406-8626
The food bank has Dried Beans, Cereal, Canned or Frozen Meat, and other goods. The homeless can get a sandwich, brown bag lunch, or water.
Springdale Baptist Church (Tulsa)
Main address: 1511 N Lewis Ave, Tulsa, OK 74110. Phone - 918-585-9472
Templo Cristiano
Main address: 8730 E Skelly Dr, Tulsa, OK 74129. Telephone - 918-853-4206
Famiuly Services of Tulsa North E.F.
There are multiple sites. The low-income can get free groceries including canned or fresh food. Ot get public benefits, including cash assistance or WIC vouchers for baby formula. Or apply to SNAP food stamps, USDA commodities and other aid. Other programs in Tulsa County include Congregate Meals, Back Pack for students, Senior Brown Bags, Home Deliveries, Kids Cafes, and more.
1 West 36th St N a, Tulsa, OK 74106. Phone - 918-425-4200
F&CS Midtown pantry is at 2325 S Harvard Ave, Tulsa, OK 74114, Main number is 918-991-6210
Tulsa Indian UMC
Food bank address is 1911 N College Ave, Tulsa, OK 74110. Call 918-200-2925
Helping Hand Ministry
Address - 700 S Boston, Tulsa, OK 74119. (918) 584-6923 - Leave a message and get access to a recording.
There may be free Christmas meals as well as emergency boxes of food with rice, pasta, coffee, and more.
Kendall Whittier
2915 E 5th St, Tulsa, OK 74104. Voice number - (918) 592-3000
The food bank has low-income assistance. There is an emergency food program.
Tulsa Dream Center
200 W 46th St N, Tulsa, OK 74126 . Primary phone number - (918) 430-9984
Call for meals and other forms of financial aid. A thrift store with clothing, kitchen cookware, pots or pans, and other support is on site as well. Call for meals, groceries, and free food. A farmers market as well as pantry. Fruits, vegetable as well as canned goods. Seniors, immigrants, and families in poverty can also use SNAP food stamps at the farmers market to pay for their food. It is a USDA program, and read more on SNAP food stamp farmer market assistance programs.
Dividing Bread Ministry
Address is 115 S 11th St, Collinsville, OK 74021. Call (918) 553-1233
The food pantry is open only once per 2 weeks. There is also a soup kitchen for hot, free daily meals including at holidays. The pantry may also have paper goods, feminine products, and other hygiene supplies.
Neighbor For Neighbor
Address is 505 E 36th St N, Tulsa, Oklahoma 74106. Dial 918-425-5578
Social services including SNAP food stamps, a free food pantry, diapers, ensure for senior citizens, baby formula, and other grocery items.
Neighbors Along the Line
Address: 5000 West Charles Page Boulevard, Tulsa, Oklahoma 74127. Phone number is (918) 582-3491
Park Plaza Church of Christ
10600 E 96th St S, Tulsa, OK 74133. Main number is (918) 615-6950
Clothing is combined with free food boxes. Other assistance may be groceries, Meals on Wheels service, and USDA commodities.
Asbury United Methodist Church
2008 N 5th St, Ponca City, OK 74601. Call Pastor at (580) 762-2062
Hartford Avenue Church of Christ
1905 Joe, Ponca City, OK 74601. (580) 765-3610
The church offers the low income, children, and people faced with poverty meals, free food, clothing, and more aid.
Memorial Drive Church Of Christ
Main location is 747 S Memorial Dr, Tulsa, OK 74112. Tulsa, OK 74112. Dial 918-838-1621
Low income Tulsa County families can use the monthly food pantry.
Guts Church - Tulsa
9120 E Broken Arrow Expy, Tulsa, OK 74145. Main number is 918-622-4422
University Place Christian Church
Location is 2107 E. Broadway, Enid, OK 73701. Phone number - (580) 234-5221
Call for hours of emergency food box distribution.
Churches from Society of Saint Vincent
1419 N. 67th E. Ave.. Tulsa, OK. Phone - (918) 836-2596
Volunteers serve meals to the elderly and disabled. Fresh foods, healthy canned items, and more is available, including from a thrift store. The Tulsa County churches and charity pantries may have Canned Fruits, Tuna, Oatmeal, Rice, Oatmeal, Vienna Sausage and cleaning supplies. Those may be paper products, plastic bags, laundry detergent, hand sanitizer, and more.
Eastland Assembly Of God
12310 E 21st St
Tulsa, OK 74129
918-437-2590
Provides emergency food pantry. Limited to one set of groceries per household.
Triumph Worship Center
2125 W 181st St
Mounds, Oklahoma 74047
918-827-6511
Commonground Church
7810 E 49th St
Tulsa, OK 74145
918-270-4372
Mission Owasso
Food pantry address is 11341 N Garnett Rd
Owasso, OK 74055
Main phone - 918-516-6638
A free food banks has Cooking Oil, Canned chili, Cereal, Juices, Canned Vegetables or Meats, baby formula for single moms and more. There may also be household or personal supplies like soap, razors, detergent, and other goods.
Aldersgate United Methodist
3702 S 90th E Ave
Tulsa, Oklahoma 74145
918-627-4165
American Legion Carson Wilson Rigney Forrester Shoemaker Post 1
1120 E 8th St
Tulsa, OK 74120
918-584-4274
Provides dry goods pantry for households with a veteran.
Coffee Bunker
6365 E 41st St
Tulsa, Oklahoma 74135
Dial 918-637-3878 for hours.
The non-profit has a free emergency food pantry for service members who live in Tulsa County. There is free food for national guard members, spouses of military people, reservists and veterans.
City Lights Foundation Of Oklahoma - Night Light Tulsa - Little Red Pantry Project
1018 W 23rd St
Tulsa, OK 74107
Offers a pantry box stocked with donated items for those in need.
Restore Hope
Food pantry address - 2960 Charles Page Boulevard
Tulsa, Oklahoma 74127
Primary phone number - (918) 582-5766
The faith based church groups runs a pantry.
Iron Gate free food pantry
501 W Archer
Tulsa, OK 74103
Phone number - 918-879-1702
Point Man Ministries International of Tulsa
Tulsa, OK
Call the food bank at (918) 402-6629 for hours
Bixby Community Outreach Center
4 E Dawes
Bixby, OK 74008
(918) 366-9226
Only families from the town can apply for help. The outreach center can offer perishable items, government surplus food, and refer individuals who need help to a variety of assistance programs. Holiday meals, free school supplies and clothing, as well as snacks for students are offered too.
Broken Arrow Assembly
223 E College
Broken Arrow, Oklahoma 74012
Phone number is (918) 251-6679
Glenpool Outreach Center
Address of food pantry - 596 W 141
Glenpool, OK 74033
(918) 321-2300 Voice - Extension 33
Another local Tulsa food bank. Also can offer clothing, perishable items, and surplus food. Examples include breads, vegetables, and frozen foods, among other items.
Owasso Community Resources
109 N Birch Ste 109
Owasso, OK 74055
(918) 272-4969Sand Springs Community Services
15 E 2nd St
Sand Springs, OK 74063
Call - (918) 245-5183
Non-perishable canned goods are offered in Tulsa County. Low cost meals may be delivered to seniors and the homebound from volunteers.
Christ For Humanity
Address is 6314 E 13th St
Tulsa, Oklahoma 74112
Main number - (918) 836-2424 ext 200 for appointments.
A free food pantry is offered as well as seasonal meals. This including Thanksgiving turkey dinner, meals at Christmas, and snacks for low income students.
First Baptist Church
305 S Detroit Ave
Tulsa, OK 74120
Dial - (918) 587-6000
Loaves and Fishes
11321 E 19th Street
Tulsa, OK 74128
(918) 234-8577 Information Line
This is one of the main charity organizations in the region. Call for programs and hours, including food assistance and public aid. Meals for holidays, such as Christmas and Thanksgiving, can be offered too. Other goods may be free diapers, baby formula, or Meals on Wheels. Or try Loaves and Fishes for canned goods, paper products, and free personal toiletries.
Tulsa CARES
Location is 3507 E Admiral Pl
Tulsa, Oklahoma 74115-8211
(918) 834-GRUB
Health education, food, clothing, and other support.
Cleveland Community Service Center
Stop by the food pantry at, or dial the number below. 124 S Broadway
Cleveland, OK 74020
Main telephone: (918) 358-5201
North Garland Church of Christ - Enid Pantry
Address: 703 N. Garland Rd.
Enid, OK 73703
Phone number: (580) 237-4658
A free food pantry is for working poor families. Boxes of groceries may have fresh fruits, vegetables, canned goods, and meats. A focus is on the elderly and children.
Kaw Street Chapel
Location: 420 Kaw
Perry, Oklahoma 73077
Main phone number is (580) 336-5930
Council on Human Needs
Corner of Seventh and Walnut St
Church address: First Baptist Church
Newkirk, Oklahoma 74647
Food pantry phone number is (580) 362-2960
New Emergency Resource Agency
Address - 500 N 1st
Ponca City, OK 74601
Telephone: (580) 765-5372
Learn about everything from SNAP food stamps applications to assistance from local churches in Tulsa.
St Gregory the Great Catholic Church - Food Pantry-Enid
Address of church - 1924 W. Willow
Enid, Oklahoma 73703
Call: (580) 233-4589
Zoe's We Care Ministry-Food pantry
Location: 729 E. Maine
Enid, Oklahoma 73701
Main phone number- (580) 237-7703
Additional free food programs in Tulsa County
There are several other community food banks in Tulsa as well as non-profit and government programs as well as Feeding America services in Eastern OK. Call 918-585-2800 for information or intake for a food pantry or assistance program near you. Families can learn about everything from Special Supplemental Nutrition Program for Women, Infants, and Children or where to turn to for summer meals for children in school or SNAP.
Related Content From Needhelppayingbills.com