Free food pantries, groceries and soup kitchens in Nueces County.
Find information free food pantries as well as soup kitchens in Nueces County Texas. Most of the distribution centers are operated by non-profits, charity organizations, or churches. The free food banks near you, that are open today, provide free groceries, hygiene supplies and more. Locate a free food pantry near you in Corpus Christi and Nueces County.
Low-income families, people with no money and the working poor, regardless of their background, language or immigration status, will get free or low cost groceries, meals, SNAP applications and government commodities. Some charities also have personal hygiene items, free dog or cat food or cleaning supplies too. There are also drive thru pantries and Meals on Wheels delivery in Corpus Christi and a program to help people double their SNAP food stamp benefits. Find details on double your bucks food stamps.
While each food pantry will have limited resources, they all do their best to help as many Nueces County residents as possible during their time of need. Or they can advise you on which government programs may be able to help, such as SNAP food stamp cards. Find a free referral number at the bottom of this page for more free, emergency food pantries and programs.
The exact type of assistance provided by each pantry will vary. However, in general, they will be able to provide nutritious free or low cost food to supplement the diets of local families. This can include items such as fresh fruits, vegetables, breads, and meats. Many food pantries also run other special programs, which can include free meals around Thanksgiving or Christmas, gifts for children, or similar items. Call or stop by one of the food banks below to get information on how they may be able to help you.
Free grocery giveaway programs in Corpus Christi area
Catholic Charities of Corpus Christi
Address - 615 Oliver Ct, Corpus Christi, TX 78408. Call (361)884-0651
Emergency Assistance is offered for the low income of Nueces County. This includes free food, social services, and from time to time financial help for rent, medications, and other emergency needs. They help feed migrants and seniors in Nueces County, give out shelf stable groceries, produce, and other goods.
Coastal Bend AIDS Foundation
Address is 2882 Holly Rd, Corpus Christi, TX 78415. Phone number (361)814-2001
HIV positive and AIDs patients can receive support. This includes free healthy food, information on medical care, and other guidance or support.
Oveal Williams Senior Center
Food pantry address: 1414 Martin Luther King Dr, Corpus Christi, TX 78401. Phone: (361) 826-2305
Kelsey Memorial Methodist Church
The charity is at 1610 Comanche St, Corpus Christi, TX 78401. Call (361) 882-9533
Corpus Christi Metro Ministries
1919 Leopard St, Corpus Christi, TX 78408. Main phone (361) 887-0151
The charity feed the poor, low-income and homeless. There will be canned food boxes, free Christmas or Thanksgiving meals in Nueces County, a drive thru pantry and more. There are also programs such as USDA Farm 2 School as well as help for single mothers. Even look here for single parent money.
Corpus Christi Hope House
3226 Reid Dr, Corpus Christi, TX 78404. Main phone number - (361)852-2273. Hours are Monday-Friday 10:00am-4:00pm
Runs a program known as The Gabriel Project, which may be able to help females with a crisis pregnancy. Receive baby formula, diapers, and nutritional food and supplements.
Church Without Walls
Food pantry address is 737 Claride St, Corpus Christi, TX 78418. For hours, call (361) 939-7853
Casa De Dios
Location is 3402 Ayers St., Corpus Christi Texas 78415. Phone: 361-960-8099
A free food pantry and soup kitchen focuses on Spanish speakers and immigrants in Nueces County. Get canned food, fresh produce or vegetables, to families with children, Tacos, Salsa, and other cultural meals or food too.
Calvary First Baptist Church
2906 Carver Dr, Corpus Christi Texas 78405. Main Phone: 361-882-4781
The Salvation Army-Corpus Christi
Center address - 1804 Buford St, Corpus Christi, TX 78404. Call (361)884-9497
A number of social services are provided by this Nueces County charity organization. They range from clothes to free meals and/or clothing. Coats and gifts for children may be distributed, as well as household items and personal hygiene products. Or get Thanksgiving turkey or Christmas dinners, financial aid, SNAP applications and other support. Find more locations of the Salvation Army in Texas.
Rising Star Baptist Church
3502 Holly Rd, Corpus Christi, TX 78415. Phone: (361) 852-3292
Everything from free holiday meals or food baskets to snacks for kids, paper products, and canned food items or free dry goods from the pantry. Volunteers and donations keep it going.
Quiet Time Ministries
Address is 4204 Kostoryz Rd, Corpus Christi, Texas 78415. Phone: (361) 857-0500
A food bank, clothes, and household supplies are offered. Find cereal, pasta, Ensure for the elderly, bread, eggs, and more. Personal hygiene and household supplies too, such as detergent or soap.
Corpus Christi Seventh-Day Adventist Church
6645 Downing St, Corpus Christi, TX 78414. Phone: (855) 701-4673
All Saints Episcopal Church
Main address: 3026 S Staples St, Corpus Christi, TX 78404. Phone: (361) 855-6294
Based on donations, the pantry will have free food, pet supplies, kibble for a dog and more. Or get Canned Fruits, cereal, rice, tuna helper and other goods.
Quiet Time Ministries
4204 Kostoryz Rd, Corpus Christi, TX 78415. Telephone: (361) 857-0500
St John's United Methodist Church
Main address is 5300 S Alameda St, Corpus Christi, TX 78412. For intake, dial (361) 991-4342
Trinity Church of the Nazarene
6225 Weber Rd, Corpus Christi, Texas 78413. Phone: (361) 853-1234
First Baptist Church of Corpus Christi
Address of food pantry - 3115 Ocean Drive, Corpus Christi, TX 78404. Call (361)888-8228
The church runs an emergency food pantry. Provides free hot meals to the low income and homeless. Guidance and counseling is also provided. There will be Ensure for seniors, baby formula, rice, canned meat and other free food products from the pantry.
Nueces County Community Action
They give referrals only. A leading non-profit that helps the low income, poor, and less fortunate. Learn about SNAP food stamp applications, USDA commodities, free school lunches and employment programs too. More on Nueces County Community Action agency assistance programs.
Rural Services Center - Community Action
801 E. Main, Robstown, TX 78380. Call (361)387-1527 for information or hours.
The Program Name is Emergency Food Assistance. If a senior citizen in Nueces County lives near the non-profit, then volunteers may offer Meals on Wheels service for them.
St. Patrick's Catholic Church
3350 South Alameda, Corpus Christi, Texas 78411. Dial (361)855-7391
A Food Pantry is only offered on Thursdays. Only a small number of people will be able to receive a free box of food, groceries, or meals.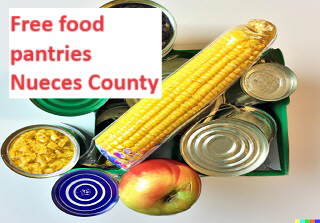 St. Paul the Apostle Catholic Church
2233 Waldron Road, Corpus Christi, Texas 78418. Dial (361)937-3864 to get hours and information on the food pantry.
They may also be able to direct individuals to Thanksgiving and Christmas meals and other financial aid. Or get free Canned Meats - Tuna, Ham, Chicken, Juices, Dairy and other groceries.
Timon's Ministries - Resource Center
Location is 10501 South Padre Island Drive, Corpus Christi, TX 78418. Main phone number - (361)937-6196
Wesley Community Center
4015 MacArthur St, Corpus Christi, TX 78416. Dial the center at (361)880-8300
There are hunger prevention programs, a soup kitchen and emergency food bank in Nueces County. The center may have limited amounts of financial assistance for bills. Also runs a food pantry, offers referrals, and can even direct people to government programs such as food stamps or LIHEAP.
Metropolitan Community Church of Corpus Christii
Address: 501 S Staples St., Corpus Christi, TX 78401. Phone:(361) 882-8255
Rockport-Fulton Good Samaritans Home - SVDP
802 Wharf St, Rockport, TX 78382. Phone number is (361) 790-9828
A free food pantry is on site for low income Nueces County families. Groceries, Thanksgiving turkey meals, and items such as baby formula may be served to single moms and working poor families.
Friendship Baptist Church
Address of the pantry - Corpus Christi, TX 78416. Dial (361) 852-0250
Volunteers try to feed the hungry and poor. Groceries, clothing, information on government aid, and more is provided by the charity. They also try to ensure children have food or a snack over the summer.
Grace United Methodist Church
Address is 14521 Northwest Blvd, Corpus Christi, TX 78410. Phone number - (361) 933-0109
Find more free food resources in Nueces County
For more information on resources in the region, dial 361.887.6291. Whether it is a government run program such as Commodity Supplemental Food Program (CSFP), free Christmas meals, Feeding America in Corpus Christi or another free food pantry near you, staff will direct a low income family to a program for their needs.
Related Content From Needhelppayingbills.com