Assistance programs Kitsap County and Bremerton.
There are some places that provide financial assistance in Kitsap County and create opportunities for long term success. Locate charities, churches, non-profits, and government programs that provide emergency help with rent, money for electric bills, free food, seasonal aid and more. Get financial help near you in Kitsap County.
There are many resources in Kitsap County. Grants can pay bills or housing costs; charities give out free groceries, back to school supplies, hot meals or Christmas toys; government social services provide cash aid; job centers help with employment and so much more. There are even resources such as free diaper banks in addition to the programs below.
Kitsap County financial help for paying bills and living expenses
The Bremerton Salvation Army runs several programs. They may have money available to qualified applicants to pay security deposits and monthly rent, offer free holiday assistance and Christmas programs (toys or meals), and provide counseling or referrals. Case workers are a great resource to learn about other government programs and local charity agencies.
They may also be able to provide emergency cash to pay a utility bill so service is not disconnected. They also give students free back to school supplies or backpacks and operate a homeless shelter in Kitsap County. Offers up to $150 to help with utility or heating bill assistance for PSE customers. Other advice and limited financial aid may also be offered. The branch can be reached at (360) 373-5550, or more on Bremerton Salvation Army assistance programs.
Bainbridge Island Helpline House helps people on the island. The charity may also be able to assist residents from Suquamish, Kingston, Indianola and Poulsbo Washington. They do this through providing access to free food, clothing, rent help, job search training and, when available, financial support for housing. There is one time access to a free food bank as well as hardship funds for energy costs as well as heating bills from federal funds. Call (206) 842 - 7621. The address is 282 Knechtel Way NE, Bainbridge Island, WA 98110.
Faith in Action West Sound of Belfair Washington (dial (360) 275 - 0535) offers limited financial assistance to seniors and disabled individuals only in the North Mason area. There may be cash grants to help with emergency financial needs including rent, utilities, heating and gas bills, and water on a case-by-case basis to those in need of help. This support is not for others who do not call into that category.
The objective of the non-profit is to support Independent living for senior and disabled neighbors, in particualr thise that live on social security. In addition, they can refer people to emergency energy bill programs. More on crisis LIHEAP utility bill help.
Housing Resources Board (call (206) 842 - 1909) provides support and resources to Bainbridge Island Washington residents. There is help for low-income families, veterans, single mothers and others who may be experiencing a crisis by assisting with rental or mortgage payment assistance. The location is 730 Ericksen Ave NE #100th, Bainbridge Island, WA 98110, or more on Washington mortgage and foreclosure programs.
St Vincent de Paul - Kitsap County may have very limited financial assistance for paying rent and utility bills. Free food may also be available. They also operate a thrift store, give out free furniture or clothes (based on donations) and other support. Free vouchers are also offered in Kitsap County, including for gas or household appliances. Call (360) 479 - 7017. The address is 3449 Wheaton Way, Bremerton, WA 98310.
Regional Catholic Charity centers serve Bremerton and the greater Kitsap County region. An extensive number of support services are offered to needy residents, including the elderly and seniors. They also help immigrants and people with no money in Kitsap County. Services include free food or holiday meals. Financial aid can help pay rent, housing, or energy bills.
Many classes and workshops are held, including career counseling and debt reduction. Transitional housing and a homeless shelter is available in Washington too. The organization is one of the world's leading charity organizations and this local center helps thousands of families every year. Read more Kitsap County Catholic Charities.
Kitsap Catholic Community Services - May be able to provide non-cash housing and other assistance for people who get DSHS Medical Care Services (MCS). Another service known as Housing and Essential Needs Grant Funds can be used to support HEN eligible clients that qualify as at-risk of homelessness (facing eviction or foreclosure) or those who are currently homeless. Financial assistance provided for housing costs may include overdue rent, security deposits, monthly rent expenses, and service animal deposits.
Community Services may also offer

financial assistance for utilities

is offered too as part of HEN, but is limited to electricity, natural gas, utility deposits, sewer, water, and garbage expenses. Fuel oil can be covered too.
Another service known as Essential Needs can help with obtainin personal hygiene and health items (such as toilet paper, toothpaste, and shampoo), bus passes, diapers, and cleaning supplies (such as laundry and dish soap) They also give out products to new moms, such as diapers or wies, and find details on free diaper banks. Location is 645 4th St Suite 205, Bremerton, Washington, 98337, or call (360) 373-0638.
Kitsap County Human Services helps the low-income, unemployed, disabled and poor. They process applications to government benefits. There are SNAP food stamps as well as Medicaid. Or get TANF cash assistance, Basic Food (SNAP), as well as free government health insurance. Or single mothers or low-income parents will get day care subsidies, job placement and other government aid. Call 360.337.5777, or get more details on public assistance in Washington state.
City of Bremerton

runs the Utility Billing and Senior/Disabled Subsidy Program. So residents of the city can apply to this location for low-income apartments. They city will accept and process applications for the senior/disabled subsidy program. The city also offers the Low-Income Disabled Citizen Water/Wastewater/Stormwater Subsidy Program. 100 Oyster Bay Ave N, Bremerton, WA, 98312, call (360) 473 – 5316. The city is also a great place to call for referrals and information on cash from the government. Learn more on free government money for low income seniors over 60.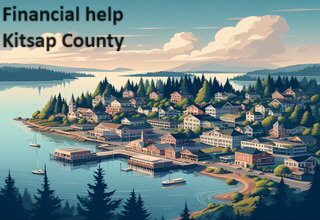 Housing/rent assistance and homeless prevention - If you are behind on your rent, get information on programs and non-profits. People who are homeless or who need to find less expensive housing can also receive advice and assistance in establishing a new home or apartment. The bottom line is that many resources are offered for Bremerton and Kitsap County residents. Continue with rent help in Kitsap County.
Tenants and homeowners with children

can get housing assistance. Kitsap County provides them with financial support, including for rent, mortgages, and utilities. Other services that may be arranged for the parent include day car vouchers, section 8, job placement, and more. The goal is to stop evictions and foreclosure, and more on Kitsap County homeless assistance.
NRM focuses on the general area around Belfair Washington. The non-profit offers many services to the low income. One program can help people apply for discounted prescription medications. The Olympic Challenge is for helping students apply for loans and grants to pay for college. A homeless coordinator will also work to stop evictions and foreclosures in the area. Other support is offered too, and learn more on North Mason Resources assistance programs.
Utility and heating bill assistance is also widely available. The Kitsap Community Resources (phone number (360) 478-2301) is one organization that focuses on it. The non-profit provides assistance for paying utility, light and heating bills. There may be some money to pay a reconnection fee in Kitsap County as well.
The program is made available to both low-income homeowners or renters. The low income energy program runs from Fall through the early Spring. The award is granted once per season to an applicant, and the money does not have to be repaid so it is in fact a cash grant. The amount of assistance provided is determined by a number of different factors.
In addition to the grants for bills, the agency also helps people lower energy bills. They run the weatherization assistance program. The program is free to qualified homeowners, and it involves the installing of energy conserving measures such as extra insulation, caulking, and other improvements. The location is 3200 Rainshadow Ct, Port Orchard, WA 98366. Learn more on free government weatherization for low income households.
Job referrals, income producing opportunities and career assistance is available. If you need help finding a job, West Sound Workforce (call (360) 394-1882) works with employers and candidates to help them land a job. Among other services, the free government job center offers resume and interview technique assistance, help networking, and direct contacts with local Bremerton employers. The address is 18819 3rd Ave NE, Poulsbo, WA 98370.
There are local Kitsap County corporations or small businesses they partner with to help job seekers as well as remote positions, including free lance or work from home jobs. This allows clients to pursue even more potential career opportunities. Or, to find more details, read about and find information on work from home career opportunities.
Free dental and medical care Kitsap County
Low income, people with limited insurance or those lacking health insurance can turn to Peninsula Community Health Services (PCHS). They are a non-profit, federal qualified center. The location offers comprehensive health care services. The medical facility offers high quality, low-cost or free medical and dental care for both adults or children.
The

free medical resources

are services that are made available to patients include primary dental and medical care, mental health counseling, prescription medications and pharmacy services. They also provide health education as well as promotion activities.

Free or low-cost medical equipment

is offered as well to the low-income. This ranges from walkers to crutches, CPAP machines, electric scooters and more. Locate free medical equipment for uninsured.
A variety of

people volunteer and are employed

at the Kitsap County clinic. There are compassionate professionals including physicians, nurse practitioners, physician assistants, dentists, pharmacists, counselors, and dental or medical assistants.
There is help for kids, adults, as well as people on Medicaid among others. The clinics provide all of the health care care services at the three health centers across Kitsap County. Call 360-377-3776 for an appointment or to get details.
Washington state and the federal government also provide other healthcare resources in Kitsap County. There are also charities that assist. The goal is to ensure anyone who needs care, regardless of their income or whether they have insurance or not, can get care. Here is a resource for free information on medications, dental checkups, immunizations, general checkups, information on affordable health insurance policies and so much more. Continue with free health care and insurance.
Free food and meals
Bremerton Foodline can provide free groceries, referrals, hot meals, and holiday support to people in need. The non-profit organization will provide low-income individuals with emergency food that is sufficient for a balanced diet and that will last for a period of three to four days. Note that the specific quantities and contents that are provided to an applicant will vary both with family size and item availability. Clients of the charity may request this service at most once per month. Call the agency at 360.479.6188.
Two other locations to turn to for food help include

South Kitsap Help line (

(360) 876-4089) as well as the

North Kitsap Fishline.

Both of these organizations run free emergency food banks, and may also be able to provide access to other assistance.
Matthew House of Monroe Washington (call (360) 794 - 8720) - Provides fee food and clothing to families of inmates in emergency situations.
There are more resources, soup kitchens and free food banks in the region. Find details on organizations such as churches, charities, and non-profit food distribution centers. Learn more about free food pantries in Kitsap County.
Related Content From Needhelppayingbills.com