Free food pantries, meals and groceries Oakland County Michigan.
Find free food pantries in Oakland County Michigan that will provide help to low-income families. Most distribution centers give free groceries, personal hygiene supplies and items such as baby formula or Meals on Wheels services. They will generally try not to turn someone away and give out free groceries most hours of the week, including today. Find free food pantries and meals in Oakland County MI near you below.
Churches and charities help feed the low income, families with children or seniors, the homeless and people with no money. A number of free food banks, soup kitchens and emergency pantries near you, that are open today, operate across Pontiac and Oakland County Michigan. Find information on drive thru food pantries as well as distribution centers, along with a phone number at the bottom of the page for more food programs in Oakland County.
Several churches, charities and other pantries are focused on providing food as well as other household cleaning supplies or hygiene products. There is free boxes of groceries to families and people with no money across Oakland County Michigan. Or get free cat or dog food, baby formula, Ensure, produce and other items.
These charitable centers help tens of thousands of people every year. Call or stop by for information on how to get free food, groceries, and more. Or inquire into Thanksgiving turkey dinners, Christmas meals, or Easter food baskets. There is also emergency support from government assistance programs, soup kitchens and pantries in Oakland County. The centers can also provide help in applying for school lunches, SNAP food stamps, and holiday meals and gifts.
Organizations in Oakland County MI for free food or hot meals
St. Stephens Baptist Church
Address - 69 S. Astor St., Pontiac, Michigan 48342
Food distribution hours: 2nd and 4th Wednesday of the money, and it is open most hours of those days.
Telephone number - Phone number - 248-335-5873
St John's Episcopal Church - Open Hands
26998 Woodward Ave, Royal Oak, Michigan 48067. Dial - 248-546-1255
The non-profit may have free emergency boxes of food, pass out clothing, and offer other support to people in poverty. They can also refer people to SNAP food stamps and other Michigan or federal programs.
Community Action Agency in Oakland County
The non-profit operates several emergency assistance programs as well as social services. The poor, unemployed, low income and those in poverty can apply for free bags of groceries or SNAP food stamps. There is also help in getting USDA or government benefits, grants, job placement and more. They fight hunger, poverty, and address other needs. Continue with assistance from Oakland County MI community action.
Or try the non-profit OLHSA - Oakland Livingston Human Service Agency (OLHSA). Location - 196 Cesar E Chavez Ave, Pontiac, MI 48342. Dial 248-209-2600 to get information or hours when free groceries are distributed.
Eastside Church of Christ
Address of church - 149 Martin Luther King Dr., Pontiac, Michigan 48342. For hours of the pantry, call 248-335-9333
There may be free boxes of groceries, perishable items, soap, detergent and more. The pantry tries to help the low income and working poor daily with food and basic needs.
South Oakland Food Depot at St. Vincent de Paul Thrift Store
Address is 28720 N Stephenson Hwy, Madison Heights, MI 48071. Call (248) 206-5644
Free non-perishable food and household supplies every Wednesday and Thursday from 10:00 AM to 1:00 PM. New clients must bring proof of income and an ID with proof of address for all household members receiving aid.
Another St. Vincent de Paul in Oakland County is at 150 E. Wide Track, Pontiac, MI 48340. Call for help - 248-332-0283. They have a free drive thru, mobile pantry. Many assistance programs are administered to Oakland County Michigan families. They include diapers, baby formula, meals, and perishable items. In addition, from time to time may have funds for paying rent, heating and fuel oil, and other basic needs.
Volunteers from SVDP also have free bi-monthly Healthy Cooking demonstration as well as free to enroll cooking classes. They also show about coupons, websites, and how to save money with printable coupon websites.
Robert Matchan Center @ All Saints' Episcopal Church
171 W Pike St, Pontiac, MI 48341. Call (248) 334-4571 or Telephone number - 248-647-0767.
They are a soup kitchen and a free food pantry sponsored by the Society of St. Vincent de Paul. Matchan is serving hot lunches and giving away food at the MarketPlace every Tuesday and Thursday from 10:30 AM to 12:30 noon.
QTMC
Address is 526 1/2 North Perry, Pontiac, MI 48342. Call (248)318-0586
Oakland Hope
Location is 20 E Walton Blvd, Pontiac, MI 48340. Dial (248)309-3658
Call for hours of the free food pantry. They help low-income people in Pontiac MI get pasta, powdered milk, dairy, canned chicken and other goods. There will be free baby formula for new, single moms, Canned soups and stews, beans, peanut butter and other shelf stable food boxes.
Ortonville Community Emergency Fund - at St. Anne
Location is 825 S. Ortonville Rd., Ortonville, MI 48462. Call (248)627-3965
Michigan Department of Human Services
Address is 51111 Woodward Av, Pontiac, Michigan 48342. Call (248) 975-5200
There is government assistance. TANF cash aid, SNAP food stamps, WIC vouchers to feed babies including paying for formula, and other support is offered. People with no money, low-income families in Oakland County can apply for cash aid, food benefits, and USDA programs.
One God One Gospel - Marimont Community Church
Food pantry address: 424 W. Walton Blvd, Pontiac, Michigan 48340. Call (248) 332-7239
Emergency bags of groceries may be passed out.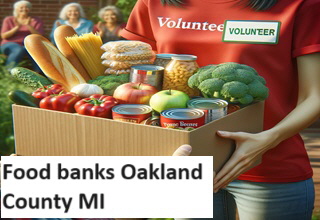 Neighborhood House
Address: 1720 S Livernois Rd, Rochester Hills, MI 48307. Call the pantry at (248) 651-5836
Food assistance programs, including a free food bank and soup kuchen, help feed the poor, low-income, and elderly. Get free emergency food boxes, vegetables, fruits, canned meats, liquid nutrition supplements and also free holiday food baskets. There will be Easter, Thanksgiving turkey dinners and Christmas meals too.
Five Points Community Church House of Jacob
3411 E. Walton, Auburn Hills, Michigan 48326. Phone number - 248 373 1381
The charity has a free food bank.
Liberty General Baptist
Address: 3545 Joslyn Road, Auburn Hills, MI 48326. Call (248) 568-6530
Lighthouse Emergency Services
Address - 46156 Woodward Ave, Pontiac, MI 48342. Call (248) 920-6000 or Phone number - 248-920-6100
Lighthouse is a leading charity in the Pontiac Michigan area. They provide food, meals, and possibly financial assistance for bills, rent, and medications too. Or get help in applying for SNAP food stamps or WIC vouchers for baby formula. There may be dairy, bag lunches for the homeless and other aid.
New Bethel Baptist Church
Food pantry and thrift store address is 174 Branch St, Pontiac, Michigan 48341. Phone: (248) 334-3253
St. Damien of Molokai Parish Office
Location is 120 Lewis St, Pontiac, MI 48342. Call (248) 332-0283
A free client choice food bank. Donations and volunteers keep it running. Get free food for children, adults, or grandparents. Frozen as well as fresh food.
Baldwin Center
Soup kitchen is at 212 Baldwin Ave, Pontiac, Michigan 48342. Call (248) 332-6101
They serve the homeless. Breakfast, lunch, and dinner may be served. Food and meals are passed out.
First United Methodist Church
Food bank at church - 14 E. Judson St., Pontiac, MI 48342. Call 248-334-3856
Hot meals may be served to the homeless. There may be canned food items, fruits, vegetablesm and other assistance.
Catholic Charities of Southeast Michigan - La Casa Amiga
Address: 76 Williams St., Pontiac, MI 48341. Call (248) 338-4250
Salvation Army Social Services in Oakland County Michigan
There are a few locations in the county. Emergency food assistance programs and a pantry are on site. There is also a soup kitchen, hot meals for people with no money and clothing bank. Financial aid for bills, shelter, Thanksgiving and Christmas meals (as well as toys) may be offered too. Some sites are below. Or find additional, Salvation Army Oakland County MI food assistance programs.
Salvation Army Farmington Hill,

Address - 27500 Shiawassee, Farmington, Michigan 48336, Need to make an appointment to look into free food programs.. Telephone number - (248) 477-1153

Salvation Army Royal Oak is at

3015 N. Main, Royal Oak, MI 48073. Location hours - M-F 8:30am-4pm, Dial - 248-585-5600. Like many non-profit Salvation Army charity organizations, this location will help anyone in Oakland County Michigan, regardless of their religion, background, or income. Resources include case management, the Angel Tree program, shelter, and eviction prevention. This is all in addition to the food bank and clothing closet on site. They also may offer personal hygiene items.

Salvation Army Pontiac.

Oakland County MI Salvation Army address - P.O. Box 420160, Pontiac, Michigan 48342. Hours are M-F 9-11& 1-3. Stop by for food or groceries. Telephone number - 248-334-2407 ext 18. Offers social services and low income programs, including vouchers for food and groceries. Get help applying for food stamps, LIHEAP, and rent too.
Project Healthy Community @Northwest Activity Center
West Bloomfield, MI 48325. Call (248)892-4585
Open Door Outreach Center
7170 Cooley Lake Road, Waterford, MI 48327. Call 248-360-2930
Distributes surplus government food. They also offer a thrift store, Christmas meals and gifts, and many other low income services.
New Hope Christian Fellowship
6020 Pontiac Lake Rd., Waterford, MI 48327. Call 248-886-1500 for hours of food distribution.
Volunteers may deliver meals to the homebound, such as senior citizens.
River Church - Faith Baptist Church
Church location - 3411 Airport Road, Waterford, MI 48329. Dial - 248-523-7330 or (248) 328-0490
Staff have groceries, holiday meals, hygiene items, and more for the low income, children, and people in poverty. Staff from the charities also offer referrals, including to clothing closets for winter coats in Oakland County Michigan, places for boots, and more.
Faith Lutheran Church
Address: 37635 Dequindre, Troy, MI 48083. Call (248)689-4664
Community Christian Church
Main address: 42400 Ryan Rd., Sterling Heights, MI 48314. Call (586)323-1730
Hopewell missionary Baptist church
404 Oakland Ave, Pontiac, MI 48342. Main phone number - 248-636-9668 or (248) 338-1928
A soup kitchen as well as pantry may have canned goods, meat, fruits, pasta, and other food items. Baby formula may be on site too.
Door of Faith
511 S. Sanford St., Pontiac, MI 48341. Phone - 248-335-4656
Free food, meals, and emergency grocery and food boxes are offered.
Newman Ame
233 Bagley St., Pontiac, Michigan 48341. Food bank hours: by appointment only. Call 248-332-2800 for hours.
Some of the groceries included canned fruit or meats, tuna, rice, bread, soap, cleaning supplies, and more. They have a food pantry for Oakland County emergencies.
New Springfield M. B. Church
124 Prospect, Pontiac, MI 48341. Telephone number - 248-332-8242
Holiday gift baskets, small gifts for children, and emergency food is available, including for the disabled and single parents.
Chaldean Ladies of Charity
Location is 2033 Austin Dr., Troy, MI 48083. Call (248)528-0130
Hospitality House
Address of food distribution center - 2075 E West Maple Rd, Commerce Charter Twp, MI 48390
Call the food bank at 248-960-9975
Word of Faith's Operation Blessing
20000 W Nine Mile Road, Southfield, MI 48075. Dial 248-353-3476 x330 to look for food from this Oakland Michigan charity.
Remnant Project Ministries
531 E. Flint, Lake Orion, MI 48362. Call (248)765-2233
Community Sharing
Address: 5061 N Duck Lake Rd, Highland, MI 48356. Telephone - (248)889-0347
A free food banks helps feed the community. A free grocery box is for senior citizens, disabled people, the unemployed and others. The distribution center provides pre-packaged breakfast, lunch and dinner meals for children and families in Oakland County MI.
Providence Missionary
Address: 299 Bagley St, Pontiac, MI 48341. Dial - 248-334-3262
Johnson Memorial
252 Wesson, Pontiac, MI 48341. Phone number - 248-335-4858
In an emergency, free food is offered from a pantry. The volunteers from the charity may also direct families to Thanksgiving or Christmas meals, USDA commodities, and soup kitchens.
St. Joseph Chapel & Shrine of Immaculate Heart of Mary
Address: 400 South Blvd W, Pontiac, MI 48341. Main Phone: (313) 727-9784
Columbia Ave Baptist Church
Address - 64 W. Columbia, Pontiac, MI 48340. Main phone number - 248-335-9960
Grace and Peace Church - Open Arms Food Pantry
451 W. Kennett, Pontiac, MI 48340. Call 248-334-3280
Items may be fruits, vegetables, rice, soups, and similar goods. The pantry is a key resource for the low income in Oakland County.
Good Samaritan Lutheran Church - Mount Hope Lutheran
Location - 517 W. Walton, Pontiac, MI 48340. Telephone number - 248-335-9881
God's Helping Hands
1866 Star Batt, Rochester, Michigan 48309
Hours: Tu-W 10-2- Th 4-8- 3rd Sat 2-6
Telephone - 248-852-7400
Call for hours of free food distribution.
St. Dennis
Food bank address is - 2200 East 12 Mile Rd, Royal Oak, MI 48067
Center Hours: Thu 6-7pm
248-544-2181
Lakecrest Baptist Church
35 Airport Rd., Waterford, MI 48327
Church phone number - 248-681-3214
Emergency boxes of food are offered.
First Congregational Church Of Clarkston
Location is 5449 Clarkston Road
Clarkston, Michigan 48348
(248) 394-0200
Low income families with children under the age of 6 and single mothers from Oakland County can get help. There is a free food pantry, diapers, clothing, and baby formula. Holiday meals may also be served too.
Closet of Hope United Methodist Church
26275 Northwestern Hwy, Southfield, MI 48076
Dial 248-356-1020 for information on food programs.
During the holidays may offer food baskets and other forms of holiday help for families with children.
Closet of Hope at Hope United Methodist Church
26275 Northwestern Highway, Southfield, MI 48076
248-356-1020
Clothing, perishable items such as vegetables, bread, meats, and a thrift store are offered.
First Baptist Church of Clarkston
Address - 5972 Paramus Drive, Clarkston, Michigan 48346
Hours: By appointment only, so call in advance.
Phone number - 248.625.3380
Free Easter, Thanksgiving, and Christmas meals may be served too.
Lighthouse Emergency Service - Clarkston
6330 Sashabaw Road, Clarkston, MI 48346
Hours: Monday through Friday 10:00 am to 3:30 pm
Dial the food bank at - 248.620.6116
First United Methodist of Royal Oak
Food pantry/bank location is 320 W. Seventh St., Royal Oak, MI 48073
Location hours - M-F 10:30-11:30
Phone - 248-541-4100
Yad Ezra
2850 West 11 Mile Road, Berkley, Michigan 48072
Call for food - 248-548-3663
Oxbow Lake Baptist Church
Church address - 10730 Elizabeth Lake Rd., White Lake, MI 48386
Hours: 2nd~ 4th Tu 3:30-5:00pm
Telephone number - 248-698-3040
The church can distribute hold or cold meals, spiritual guidance, and other aid.
St. Michaels Friary
Pantry address - 25225 Code Rd., Southfield, Michigan 48034
Main number - 248-356-6350
Call or stop by for shelter, meals, and information or guidance.
Additional food assistance programs in Oakland County region
For more locations of free food pantries near you or public aid that is focused on food assistance, dial 313-923-3535. Referrals may also be made to resources such as SNAP food stamps or USDA summer snacks or school meal programs. Some other resources in Oakland County will be Feeding America Gleaners, The Emergency Food Assistance Program as well as hot meals from soup kitchens.
Related Content From Needhelppayingbills.com