Food banks, grocery programs and free food pantries in Detroit and Wayne County.
Find a list of Detroit Michigan area free food pantries, soup kitchens and distribution centers that provide a resources to the low income, working poor and struggling families. Dozens of locations across all of Wayne County provide free food near you, hot meals, paper products, baby formula, and much more. Find details on free food pantries open today near you, soup kitchens in Detroit MI and drive thru centers that are scattered across the city as well as county,
Low income families and people with no money can get other help too. Also find a free toll free phone number at the bottom for more information. The food banks of course provide the household basics such as free food, groceries, produce, baby formula, frozen items, breads, personal supplies, and a number of other services. Many centers in Detroit also have free pet food banks for low-income families.
However there are also staff that direct qualified low income families to everything from emergency SNAP food stamp applications to Meals on Wheels programs. Some centers even can provide free meals at Christmas or Thanksgiving, as well as holiday gifts for children. To the type of aid at each non-profit center is extensive.
In addition, while not as well known, a food bank is a great place to call or stop by to learn about other assistance programs available. For example, learn about both state of Michigan social services and federal government benefit programs. If needed referrals are also given to other locations in Wayne County that offer food or other assistance, including financial. For example, learn about where to go for clothing, or get help in applying for food stamps or WIC. The food pantries in Detroit and Wayne County provide extensive assistance.
Where to get free food in Detroit MI area from a pantry
St. Aloysius Community
1209 Washington Blvd, Detroit, Michigan 48226. Phone number - (313) 237-5810
St. Patrick Food Pantry
Address is 58 Parsons St., Detroit, Michigan 48201. Call 313-833-0857
Helps the less fortunate, regardless of religion. Emergency boxes of food, linkage to Wayne County churches and charities for hot meals, and even other benefits are available by referral.
Capuchin Soup Kitchen - Solanus Casey Center
1820 Mt. Elliot, Detroit, MI 48207. Food bank phone number - (313)579-2100
Hours: Monday - Friday 9-4. There is also a soup kitchen. Free hot meals, clothing, and other services are for the low income and homeless in Detroit. Get a breakfast, dinner, food box or free holiday basket as well.
Society of Saint Vincent in Detroit and County
Several churches are part of the charity. The poor, inner city residents, immigrants and others can get help. Financial aid, free holiday food boxes, and more from the pantry. Or get items like Diced tomatoes, Juice for kids, baby formula, pasta, sauce, eggs, yogurt, Ensure for seniors, and more.
Sacred Heart Church/Saint Vincent,

3451 Rivard, Detroit, Michigan 48207, Hours: Wednesday 10-12. Telephone number - (313)831-1356. Many forms of financial aid and social services are offered. Volunteers pass out boxes of food, offer referrals to churches in Wayne County, and can direct clients to housing or SNAP food stamps.

St. Stephen/MMCH/St.Vincent de Paul Food Pantry,

4311 Central St, Detroit, Michigan 48210, Hours: 9:30am-11:30am. Phone number - 313-841-0783. Part of the regional St. Vincent in Wayne county. Free food, winter clothes, money to pay bills, and more. Senior citizens and the homebound can also apply for Meals on Wheels.

Community Food Depot - SVDP of Detroit -

3000 Gratiot, Detroit, MI 48207. Phone number - (313) 393-2930 Call for emergency food boxes. They may have groceries, rice, and other government commodities. The society of St. Vincent also has a thrift store, soup kitchen, and free drive thru pantry. They help feed the poor unemployed, and others with a free box of groceries, baby formula and other goods.

Sacred Heart Conference SVDP,

18430 Utica Rd, Roseville, Michigan 48066, Hours: Monday to Friday 9-4. Call (586)777-9116. Part of the Saint Vincent of Wayne County charity group.
Other churches take part. Continue with food assistance Wayne County St. Vincent.
Latino Family Service
Location 3815 W. Fort St., Detroit, MI 48216. Hours: Monday to Friday 9-5pm. Call for help - (313)841-7380
Immigrants and Spanish speakers are given food for their tastes. They also help with medical needs, housing, and other services. The pantry has Spanish speakers. No one is turned away.
The Senior Alliance - Agency on Aging Wayne County
Senior citizens of all income levels, the disabled, and homebound are the main clients. Call 734-722-2830 or toll free 800-815-1112. Services range from Meals on Wheels (delivery to the home) to free hot congregate meals, recreation activities, field trips, applications to USDA commodity food and much more in Detroit MI.
Church of the Messiah
231 E. Grand Blvd, Detroit, MI 48207. Dial - (313) 567-1158
Catholic Charities of Wayne County and Detroit Michigan
Location is 24445 Northwestern Hwy, Southfield, MI 48075. Dial (586) 416-2300 or (855) 882-2736
Another site is at 25250 Eureka Rd, Taylor, MI 48180. Phone: (734) 946-4002
Various emergency assistance programs are offered. There is a free pantry for meat, dairy, and food items. A thrift store is open and a soup kitchen serves hot meals. There are also free personal hygiene and cleaning supplies, including detergent, soap, shampoo, and other items. They have free groceries and meals for the unemployed, immigrants and others in Detroit MI.
Ste. Anne's Pantry
1000 Ste Anne, Detroit, MI 48216. Main phone number - 313-496-1701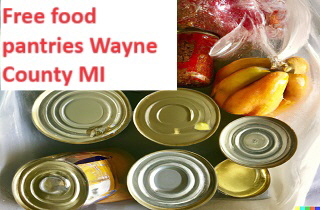 Salvation Army Family Stores and food pantries in Wayne County
There are several locations, as noted below. Each offers a wide range of social services to struggling families, the elderly, immigrants, single moms and others. Get help from a free food pantry, apply for free Thanksgiving, Easter or Christmas meals, and more. Case workers help with SNAP applications, provide cash grants to pay for bills, medications, and more. Find a list of Salvation Army assistance programs in Wayne County.
Salvation Army Harding -

3000 Conner St, Detroit, MI 48215

, Hours: Monday - Friday 8 - 4pm, Call (313)822-2800. A soup kitchen for hot meals is on site. Or access shelter and information on clothing closets, pantries, and benefits such as the Emergency Food Assistance Program in Detroit..

Salvation Army Temple,

3729 W CHICAGO AT DEXTER, Detroit, MI 48204. Dial (313)897-2914. They have fresh produce to families that qualify with children as well as single parents. The is assistance on a bi-weekly basis.

Salvation Army Grandale,

11325 Montrose, Detroit, MI 48227, Hours: Mon-Thurs 9:30-4
(313)835-3736. The Wayne County center can help the homeless and families in poverty with meeting basic needs.

Salvation Army Warren,

24140 Mound Rd., Warren, Michigan 48091, Hours: Monday - Friday 9-4 (closed 12-1). Salvation Army phone number - (586)754-7400

Salvation Army Dearborn Heights,

26700 W. Warren, Dearborn Heights, MI 48127, Hours: 9-3 M-F, (313)563-4457

Salvation Army Brightmoor,

20775 Pembroke Ave., Detroit, Michigan 48219, Hours: Monday through Friday from 8:30am to 4pm. (313)-532-1281

Salvation Army Royal Oak,

3015 N. Main, Royal Oak, Michigan 48073, Hours: M-F 8:30am-4pm
Main phone number - 248-585-5600. The Detroit and Wayne County area Salvation Army runs a thrift store, clothing closet, and food pantry. Also get help applying from public assistance such as food stamps, WIC, and more.
Crossroads
2424 W. Grand Blvd, Detroit, Michigan 48208. Phone number of food bank - (313)831-2000
Referrals are offered to Meals or Meals or even the backback lunch service for children and students.
Spirit of Hope
Address: 1519 Martin Luther King Blvd., Detroit, Michigan 48208. Dial (313) 964-3113
Case management and food is offered to anyone, regardless of background or religion.
Bailey Temple Church of God In Chris - Madison Community Resource Center
5370 McKInley Avenue, Detroit, Michigan 48208. Dial (313) 898-7996
A free food pantry is on site. Get groceries, paper products like toiter paper, or seniors in Detroit can apply for free pet food or Meals on Wheels. Get help from case managers and specialists. Funds can pay bills and housing expenses, get vouchers for free food, medications, and of course meals and clothing.
Metropolitan United Methodist
Location is 8000 Woodard Ave., Detroit, Michigan 48202. Phone number - (313)875-7407
Free groceries, canned goods, formula, and more is offered from the charity. Wayne County low-income families can get bread, pasta, spaghetti, canned meat or fruits and more. Donations keep the free food pantry operating.
People's Community Church
8601 Woodward Ave, Detroit, MI 48202. Dial ((313) 871-4676 for hours that meals and food are provided. Also referrals can be administered for local charities and non-profits.
Beacon of Hope Food Pantry at Good Shephard Lutheran Church
814 N. Campbell, Royal Oak, MI 48067, Call (248)548-3111
Center for the Works of Mercy
8642 Woodward Ave, Detroit, MI 48202. Call 313-335-3261
House of Prayer and Praise
16520 Wyoming, Detroit, MI 48221. Call (734)776-3998
Metropolitan Community Action of Wayne County
The regional community action agency. In a crisis, everything from cash loans to a free, emergency box of food is given out. This can feed a family for a few days. Also learn about job programs, emergency SNAP food stamps, programs for the homeless and more. A poverty fighting agency. Find Wayne County community action agency programs.
Our Lady Queen of Apostles
3851 Prescott, Hamtramck, MI 48212. Call (313)891-1520
St. Christine Christian Services (SCCS)
Address - 15317 Dacosta, Detroit, MI 48223. Telephone - 313-535-7272
Meals, lunches, and more are available from volunteers and based on donation levels.
Christ Temple Apostolic Church
10830 W. Nine Mile Rd., Oak Park, Michigan 48237. Hours: 2nd Friday Perishable & 4th Friday nonperishable. Call 248-546-5565
So fruits and canned goods are passed out at different days.
Second New Hope Missionary Baptist Church
Location is 21250 Bethlawn, Ferndale, MI 48220. Dial (248)548-0120
Clawson Food Pantry
Location is 700 E Elmwood Ave., Clawson, MI 48017. Call (248)307-0850
Oakwood SDA Pantry
Address is 26300 Goddard Rd., Taylor, MI 48180. Call 248-615-0913 or (313) 291-0600
A pantry has free food and other support for the low income, disabled, and even unemployed. There is free canned meat, holiday or Christmas meals, pasta, rice and other food items.
Downriver Fish and Loaves
25670 Northline Road, Taylor, MI 48180. Phone - 734-442-0031
Programs range from a soup kitchen for a lunch or dinner to food pantry. Find spaghetti, sauce, meat, baby formula, and other grocery items.
Second New Hope Missionary Baptist Church
21250 Bethlawn, Ferndale, MI 482207. Call (248)548-0120
Lomax Temple
Address is 17441 Dequindre, Hamtramck, Michigan 48212. Food pantry phone - (313)893-1463
A free soup kitchen is also on site. Breakfast, lunches or dinners are offered, including to the low-income in Detroit MI. Or get free food such as Boxed or Canned Soups, Canned tuna, Macaroni, instant milk, baby formula and more.
Cooper Memorial Church
4119 John Daly, Inkster, MI 48141. hone - (313)274-1466
Greater Northwest COGIC
15811 Rosa Parks Blvd, Detroit, MI 48238. Call the church at (313) 345-9111
Assistance programs range from a free food pantry to financial help, groceries, and meals. There is also toiletries, laundry detergent and hand sanitizer, free diapers for new moms (as available), baby formula and other goods.
Word In Action Christian Center
19760 Meyers Rd., Detroit, MI 48235. Call (313)864-5300
The Open Door COGIC
12411 E. Seven Mile Road, Detroit, MI 48205. Dial 313-526-3460
They serve the community in the parking lot of the church the first Monday of each month - unless that Monday falls on a holiday.
New Bethel Baptist Church
8430 C L Frankiln Blvd (Linwood), Detroit, Michigan 48206. Phone: (313) 894-5788
A small emergency pantry and thrift store is on site. Apply for groceries, perishable fruits, canned food, and other staples. They feed everyone from kids to the seniors.
Church of God Baldwin
5540 Talbot, Detroit, MI 48212. Call (313)779-0749
FULL GOSPEL CHURCH OF THE SONS OF GOD
12461 Conant, Hamtramck, Michigan 48212. Phone number - 313-368-7575
C&W Community Outreach
12850 Plymouth, Detroit, MI 48227. Call the charity at (313) 263-3332 or 313 263-3332
Arab-American and Chaldean Council
Address is 9019 Joseph Campau St, Hamtramck, MI 48212. Main phone - (313) 369-3100 or (313) 875-4685
Clients need to bring their own box or bag. Fresh perishable food (fruits, vegetables, etc.), canned groceries, juice, bread, and other goods from the emergency food pantry are offered.
Scott Memorial UM Church
15361 Plymouth, Detroit, MI 48227. Call (313)836-6301
Evangel Ministries
13660 Stansbury, Detroit, MI 48227. Call (313) 836-7732 or (313)273-8200
A free food bank, including driver thru center, is open. Get fresh or shelf stable groceries, canned goods, infant formula, meat and more.
Family of God - St John Evangelical Lutheran Church
4950 Oakman Blvd, Detroit, MI 48204. Dial 313-933-9360
Muslim Family Services / ICNA Relief
Location is 12500 Mitchell, Detroit, MI 48212. Phone: (313)366-6800
Churches in Detroit - Free food and meal programs
There are dozens of others, in addition to this page. They help the vulnerable and needy in Wayne County. Maybe a volunteer will deliver frozen food or a hot meal. Or check up on health. They may bring a blanket, deliver baby formula to new parents, and give other assistance. Get free groceries for low-income families, toilet paper, Ensure for seniors in Detroit and more. A number of churches help the poor, low income and unemployed among others. Continue with Wayne County MI churches.
Linwood Church of Christ
14001 Linwood, Detroit, MI 48238. Food bank phone - (313) 868-7795
Struggling families can call or drop in. A food parcel may have rice, formula, meat, and even milk for qualified low income families in the city.
Crossroads of Michigan
Location is 2424 W. Grand Blvd., Detroit, MI 48208. Call (313) 831-2787
St. Augustine & St. Monica
Address: 4151 Seminole, Detroit, Michigan 48214. Call (313)921-4107
King David Community Development-Helping Hands Division
18001 Sunset Street, Detroit, MI 48234. Dial 313-891-4160
Ss. Andrew & Benedict Food Pantry
2400 S. Beatrice, Detroit, MI 48217. Telephone - 313-381-1184
Call for food, clothes, and other support.
Southwestern Church of God
Address is 3032 S. Fort St., Detroit, Michigan 48217. Telephone: (313)533-7016 or (313) 386-7960
Only supports the immediate region.
United Sisters of Charity. Address: 16339 Rosa Parks Blvd., Highland Park, MI 48203. Phone - (313) 862-8918
Iroquois Ave Christ Lutheran
2411 Iroquois Avenue, Detroit, MI 48214. Call (313)921-2667
Grace Temple
Address of pantry is 12521 Dexter, Detroit, MI 48206. Call (313) 931-4040 for information.
St. Paul Community Outreach
11359 Dexter, Detroit, Michigan 48206. Phone - (313)491-7760
The elderly, children that need summer meals or snacks, and single moms are some of the main clients.
Cass Community Social Services
11745 Rosa Parks Blvd, Detroit, MI 48206. Call 313-883-2277
Various social services are offered, including free food, Christmas and Thanksgiving meals, gifts, and referrals to government programs and local charities.
Military Presbyterian
1002 Military
Detroit, MI 48209
Call (313)407-2093
Call for an emergency box of food.
Delray United Action Council
7914 W. Jefferson, Detroit, MI 48209. Call (313)842-8620
Groceries, canned goods, paper products, and more are offered. They also giveaway free personal toiletries, soap, detergent and other items, including to single mothers or the homeless.
Pentecostal Temple B.C.
Address is 1456 Livernois, Detroit, Michigan 48209. Dial - (313)554-4071
All Saints
7824 West Fort
Detroit, MI 48209
Hours: Pantry T 10a-12p, Wednesday and Thursday 1:30p-3p; Soup Kitchen M, W & TH 11a-12:30p
(313)841-1428 (ext 5)
Hot meals, including at Thanksgiving and Christmas, are offered from the Wayne County charity.
Holy Redeemer Food Pantry
1721 Junction
Detroit, Michigan 48209
(313)842-3450
Volunteers feed the homeless, families in poverty, and vulnerable.
Perfecting Community Care Center
7100 E.Davison
Hamtramck, MI 48212
Hours: 8:30 AM.- 5;00 PM Monday- Friday
For hours, call 313-365-2273
Harvest House
Main address - 9540 Conant
Hamtramck, Michigan 48212
Hours: TU 3:30 -6 SA 9-12
(313)871-7443
United Victory Outreach
14300 Harper
Detroit, MI 48213
Hours: Wednesday 11-7
Call - (313)527-6458
Nativity Pantry
Main address: 5900 McClellan
Detroit, Michigan 48213
Call - (313)922-0033
The may be free Christmas and holiday meals, maybe even at Easter too.
Operation Feed My Sheep
Address of food pantry - 5540 Talbot
Hamtramck, MI 48212
Hours: Wednesday 10:00 A.M - 11:00 A.M.
313-366-3190
The faith based group has emergency bags of healthy food, basic needs, personal hygiene products, and other assistance.
Jordan Missionary Baptist Church
703 Newport
Detroit, MI 48215
Hours: 2nd & 4th Tuesday 10-11a
(313)823-1450
People of all ages, including children and seniors, can get help.
Faith Lutheran Church (SEV)
Church address is - 897 Philip St
Detroit, Michigan 48215
(313) 822-2297
The center offers hot and cold meals, and other perishable foodstuffs.
New Light Baptist Church
Main food bank location - 9550 Grand River
Detroit, Michigan 48204
Hours: 2nd & 3rd Wednesday 9am to 3pm
(313)834-5970
New Mt Olive P.B. Church
Food pantry and soup kitchen is at 4740 Elmhurst
Detroit, MI 48204
Call - 313-834-4412
St. Luke's Food Program
8534 Tireman
Detroit, Michigan 48204
Hours: Thursday 7am to 8am & 11am to 12 noon
Telephone - (313)935-6161
First Congregational Church Of Gibraltar
Address is 29885 Bayview, Gibraltar, Michigan 48173. Call (734) 676-5266
A client choice food bank. Pre-boxed meals may be offered too.
Dexter Avenue Baptist Church
Address - 13350 Dexter Ave.
Detroit, MI 48238
Hours: 3rd Thursday 9am-11:30am or until all food bags are gone
Main number is (313) 869-4878
There may also be seasonal programs, such as Turkeys at Thanksgiving or Ham at Christmas. Small toys may be offered for children too.
Community Services CDC
1693 Waverly
Detroit, MI 48238
Dial for help - (313)865-6770
Some of the assistance administered includes baby formula, diapers, government surplus food, personal hygiene items, and more.
St. Gregory Christian Service
15031 Dexter
Detroit, MI 48238
Hours: Weds 1:30pm-3pm; Emergencies Mon-Fri
Main phone number - (313)-861-0363
Catholic Church of the Madonna
1125 Oakman Blvd
Detroit, MI 48238
(313)868-4308
Twelfth St Missionary Baptist
1840 Midland
Detroit, Michigan 48238
Hours: Every other Friday 9 - 5pm
The pantry can be reached at (313)-868-2659
Case managers offer referrals, bags of groceries, self-sufficiency, and other support.
Metropolitan Baptist Church
13110 14th Street
Detroit, MI 48238
Call (313)869-6676 for hours when food is distributed.
Sow a Seed Ministries
20159 Van Dyke
Detroit, Michigan 48234
Hours: 2nd & 4th Friday 8-8
(313)893-8522
Grab Community Outreach
19264 Conant
Detroit, MI 48234
313-452-2797
A local food bank offers USDA Commodities to Wayne County families.
Lighthouse Home Mission - Full Gospel Temple
34033 Palmer Road
Westland, MI 48186
Main number is (734) 326-3885
God's Holy Temple Church
50 W. McNichols
Highland Park, MI 48203
313-883-7774
Get information on resources from the church. They also have clothing, such as a winter coat, for children, and this can be combined with food boxes.
A Voice in the Community
Hamilton @ Puritan
Highland Park, MI 48203
313-850-9013
HOME Pantry in Garden City
31735 Maplewood
Garden City, MI 48135
Main phone (734) 793-1859
Emergency groceries, a food pantry, hot meals, Christmas or Thanksgiving food boxes and more. They also help the poor, low income, and unemployed with clothes or basic needs.
New Hope United Methodist
3401 OAKWOOD
Melvindale, MI 48122
Hours: Mon-Sat 9:00-11 Last TH 11-1
(313)383-6577
Bread of Life
25201 W. Outer Dr.
Melvindale, Michigan 48122
Dial - (313)928-8305
A number of free food programs are provided.
W.I.T.S. (Walk In The Spirit) Food Pantry
11638 Whittier St., Detroit, Michigan 48224. Main phone 313-371-3930 or (313) 371-4007
Seniors may also receive a delivery of meals or food to their home or apartment. Get cereal, bread, dairy, and holiday food baskets for low-income families in Wayne County.
Restoration House Community Center
Location is 16392 Harper
Detroit, MI 48224
Hours: 10:00-2:00
313-884-5365
Clients can learn about public aid such as WIC - Special Supplemental Nutrition Program for Women, Infants, and Children. There are also referrals to charity pantries and other groups.
Bethany Lutheran Church
11475 East Outer Drive, Detroit, MI 48224. Dial the church at 313.885.7721
Ecorse Seventh-day Adventist Church
3834 - 10th Street, Ecorse, MI 48229. Call (313) 722-4384 or 313-928-9212
Matrix Human Services - New Covenant of Peace
13560 E. McNichols, Detroit, MI 48205. Call (313) 526-4000
St. Jude
Food Pantry Location is 15879 E. Seven Mile Rd., Detroit, MI 48205. Call (313) 527-0380
Days of Service: Monday's AND Thursday's at 11:30 am. The agency will only serve the first 30 families. It is recommended that you arrive as close to 11:30 am as possible to get served, groceries, and help.
Caring Community Center
14531 Grand River, Detroit, MI 48227. Phone - (313) 836-4987
While the hours are limited, the non-profit can help in a crisis. Drivers may also have a Meals on Wheels service for the homebound. Get canned groceries, meat, baby formula, ensure for seniors or people on social security and even cat or dog food.
Disciples of Christ Baptist Church
13501 Schaefer Hwy, Detroit, MI 48227. Telephone: 313-838-3123
Resurrection United Methodist
Main location - 8150 Schaefer, Detroit, Michigan 48228. Primary number - (313)582-7011 or (313) 722-4772
St. Paul United Methodist
8701 W. 8 Mile Rd
Detroit, MI 48221
Call the church at (313) 342-4656 for information on their free food pantry, holiday meals, and gifts at Christmas for kids.
Power & Praise Worship Center
1405 E Pearl, Hazel Park, MI 48030. Dial (248) 545-7848 or 586-806-6720
Zion Lutheran Church Food Pantry
143 Albany, Ferndale, MI 48220. Call 248-398-5510
Oakland Livingston Human Service Agency - South
345 E. Nine Mile Rd., Ferndale, MI 48220. Dial 248-542-5860
A community action agency that also has a food pantry in Wayne County. Get soup, groceries, SNAP food stamp applications and other help.
Right Road Community Dev.
Location is 1560 Wordsworth
Ferndale, Michigan 48220
Dial - 248-548-8960
Wolverine Human Services - John S. Vitale Community center
Address of food pantry and soup kitchen is 2650 Dickerson
Detroit, MI 48215
(313) 822-2400
Emergency food, hot meals, breakfast, and other goods. Cereal, milk, meat, canned soup, soap, razors, hygiene items and more.
Worshippers and Warriors of God
8338 Allen Road
Allen Park, MI 48101
Hours: appointment thurs 11-1
(734)284-8126
Most programs are for military personnel and their families in Wayne County Michigan.
St. Mark Catholic Church
Street address - 4401 Bart
Warren, MI 48091
Hours: Tuesday - Thursday 10-11 (need appointment)
Main number - (586)759-3026
Fitzgerald Food Pantry and Clothes Closet
23020 Ryan Rd.
Warren, MI 48091
Food bank phone number - 586-757-1750
Hartford Agape Hunger
Address is 18700 James Couzens
Detroit, MI 48235
Hours: Monday - Friday 11-3
(313)861-1200
The food pantry is open all business days. Nutritional education and special dietary needs can be met by the center too.
Trinity Food Pantry
4849 W. Outer Dr.
Detroit, Michigan 48235
Hours: 4th Tuesday from 9:30am - 12:30pm
(313)342-2288
Hot and cold meals, food, shelter, and funds and cash for basic needs may all be provided.
Prayer House
17330 W. Seven Mile Rd.
Detroit, Michigan 48235
Hours: 3 rd Sat sign between 9am to 9:30 am
Food bank, pantry - (313)538-5950
Shiloh Deliverance
18350 Schaefer
Detroit, MI 48235
Hours: Weds 2pm - 5pm
(313)345-2640
Corpus Christi Parish
16000 Pembroke
Detroit, MI 48235
Hours: Sat 10am -1pm
Main phone (313)272-0990
A box may have fruits, canned meat, breads, and other items. Case managements and information on financial support may be offered too.
My Father's Business Outreach Ministries
21001 Moross Road
Grosse Pointe, MI 48236
Dial - 313-642-0277
St. Clement's Food Pantry
Address is 14057 9 Mile Rd, Warren, MI 48089. Call (586)777-1402
Groceries, referrals, and more are offered to the working poor, seniors, and homebound.
Lord of the Harvest
21601 Schoenherr, Warren, MI 48089. Call - (586)498-8869
The charity operates a pantry for the general public. Groceries, food boxes, fruits, beans, pasta, and more is served. Staff also have referrals to regional non-profits.
Help's on the Way
5358 Beech Daly
Dearborn Heights, MI 48125
For hours of the pantry, dial (313)908-7104
First Assembly of God
5650 South Telegraph
Dearborn Heights, MI 48125
Dial the pantry at (313)292-1220
Free holiday meals are given too. This can include a turkey at Thanksgiving, Christmas meats, ham, and much more.
Cathedral of Faith
13925 Burt Rd., Detroit, MI 48223. Dial the pantry at 313-533-9673 for hours
Open Hands
26998 Woodward Ave, Royal Oak, Michigan 48067. Dial - 248-546-1255
The charity has a free food pantry, clothing bank, and soup kitchen too. Volunteers also deliver meals to the homebound in Wayne County.
Ten Mile Free Will Baptist
Address: 74 West 10 Mile Road, Madison Heights, MI 48071. Call 248-541-5152
Among services offered include used or new clothing, information on social services, limited help for bills, and of course free food and perishable items.
Christ the King Lutheran
Pantry - 15600 Trenton Rd, Southgate, MI 48195. Call (734)285-9695
In addition to the pantry, a soup kitchen and free holiday food baskets (Christmas, Thanksgiving, etc) are provided.
Bethel Baptist - Trenton
13330 Trenton
Southgate, MI 48195
(734)284-6300
Holiday and Christmas food baskets are combined with year long programs.
First Baptist World Changes
22575 W. 8 mile Rd
Detroit, MI 48219
Hours: 10:00 a.m. to 12:30 p.m. on the lst Saturday We do emergencies.
(313)255-0212
Pure Word Missionary Baptist
20011 Grand River
Detroit, Michigan 48219
Call (313)862-5900
Churches Intervention CIEM
16161 Winston
Detroit, Michigan 48219
Telephone number - (313)972-5232. The church distributes free meals to Detroit low income families at limited hours.
Calvary Presbyterian Church
19125 Greenview
Detroit, MI 48219
313.537.2590
The Tabernacle Church of God
14205 12 Mile Rd
Warren, MI 48088
(586)778-5130
Christ Church of Redford
14350 Wormer, Redford, MI 8239. Hours: 1st and 3rd Saturdays of the month Call (313)534-3462
Faith Christian Center
25535 Ecorse, Taylor, MI 48180. Call They often have surplus U.S. Department of Agriculture food and partner with the state of Michigan too.
Word of Faith's Operation Blessing
Address is 20000 W Nine Mile Road
Southfield, MI 48075
Hours: Appts Preferred. Leave msg - a volunteer will call back. Open Sat 1pm-5pm
248-353-3476 X330
In His Name Ministry/Wainwright Community Meal
98 Superior
Wyandotte, Michigan 48192
734-486-3041
Vietnam Veteran's
16945 E. Twelve Mile Rd.
Roseville, MI 48066
Hours: Monday - Friday 10-4
Call the food bank at (586)776-9810
This is not just for veterans, but others can get help too.
New Life Food Pantry
16975 12 Mile Road
Roseville, MI 48066
Telephone number - (586) 771-0308
Yad Ezra
Address is 2850 West 11 Mile Road
Berkley, MI 48072
Hours: Sunday noon-2, Monday/Wednesday 10-noon, Tuesday/Thursday 6:30-8pm
248-548-3663
First United Methodist of Royal Oak
320 W. Seventh St.
Royal Oak, Michigan 48073
Hours: M-F 10:30-11:30
Call for help - 248-541-4100
Church members pass out bags of groceries, fruits, canned goods, and more.
Sharon 7th Day Adventist
28537 Cherry St.
Inkster, Michigan 48141
Phone number - (734)-722-2313
Other free food or meals in Wayne County Michigan
There are many other pantries in Detroit MI near you and public benefits offered in Wayne County too. Call 313.923.3535 or 269-964-3663 for details, Charities and non-profits, as well as Feeding America in Detroit, provide free food, groceries and more. Or get referrals to Detroit area resources such as Supplemental Nutrition Assistance Program (food stamps), Senior Brown Bag, Free Summer Meals for children, and more.
Related Content From Needhelppayingbills.com