Free food pantries and groceries Chesterfield County.
Find information on free, emergency food pantries as well as soup kitchens in Chesterfield County. Thousands of low-income families from the county as well as surrounding towns receive free groceries, personal hygiene supplies and more. Most of the food banks near you, that are open today, are charities, or churches but there are also government supported centers. Find a free food pantry near you in Chesterfield County VA.
Or get other social services as well, such as applications to SNAP food stamps or the WIC program, also known as Special Supplemental Nutrition Program for Women, Infants, and Children. Find free pantries and food programs in Chesterfield County including for people with no money, as well as a phone number at the bottom of the page for more resources. There are also free drive thru food banks and places for cat or dog food, and learn more on where to get free pet food.
The pantries will offer everything from free groceries to free holiday programs (Easter, Thanksgiving, and Christmas meals or food baskets). There can also be household supplies given out, such as free detergent or soap. Also, many of the Chesterfield Virginia organizations will also operate a clothing closet for very low income families in the area.
So whether someone needs clothing, a box of food, or services such as Meals on Wheels for a senior, the main agencies are below. Or call them for help at Christmas or Thanksgiving, and clients can apply for a hot meal or a gift for their child.
Places for free food boxes in Chesterfield County
Catholic Charities of Chesterfield and capital area
804.285.5900
A program known as HELP has a food pantry on site. The charity also offers case management, financial aid for housing, clothing, and more. Families should call for hours and to see if groceries or support is available. There are free groceries for single mothers, seniors, and the unemployed among others, and more on Catholic Charities assistance in Chesterfield County.
Central Baptist Church
1500 Courthouse Road, Richmond, VA 23236. Call (804) 794-8055
Everything from Easter and Thanksgiving food baskets to a box of low cost groceries is available from the client choice pantry in Chesterfield County.
Chesterfield Food Bank
12211 Ironbridge Rd., Chester, VA 23831. Phone: 804-530-0204 or (804) 414-8885
They work with charities and non-profits. Free canned meat or dairy, toilet paper and holiday food. A soup kitchen and Meals on Wheels are also available.
City of Refuge
5711 Courthouse Road, Chesterfield, Virginia 23832. Phone: (804) 675-2183
Southside Church
Free food pantry at Chester Campus. Address: 13930 Happy Hill Rd, Chester, VA 23831. Phone: (804) 778-7800
A free food pantry helps low-income families in Chesterfield County. Cereal, baby formula, free pet food for seniors and other stuff is provided.
Good News Freewill Church
Address: 5200 Courthouse Rd., Chesterfield, Virginia 23832. Phone: 804-350-4774
The food bank location is open 6 days per week, and closed on Wednesday.
Hispanic Ministry's Pantry -Victory Tabernacle
Address: 11700 Genito Road, Midlothian, VA 23112. Phone: 804-744-8881
Assistance is for immigrants, and services are available in Spanish too. A free drive thru food pantry is on site too, with rice, pasta, cultural food, milk, dairy and more.
Colonial Heights Alliance For Social Ministry - CCHASM
4317 School St, Chester, VA 23831. Phone: (804) 796-2749 or Call (180) 479-6371
Emergency food is provided.
House of Prayer - Chesterfield
10500 Newby's Bridge Road, Chesterfield, VA 23832. Main Phone: 804-796-2828
Free Christmas meals are available during the holiday season.
Kingsway Community Church
14111 Sovereign Grace Drive, Midlothian, VA 23114. The phone number is 804-379-2551
Salvation Army Family State and Food Pantry
Social services from the non-profit include the Angel Tree Program for Christmas toys, a food bank, and school supplies. Clients can also get referrals to food stamp application sites and government grants. More on Salvation Army food programs Chesterfield County area.
Macedonia Tabernacle Ministries
3615 E. River Road, Ettrick, Virginia 23803. Call (804) 526-9080 or 804-852-6413
The food pantry helps the disadvantaged in Chesterfield County.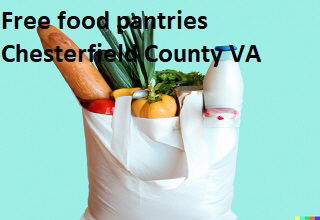 Hope Point Church
Location is 10500 Newbys Bridge Rd #4900, Chesterfield, VA 23832. Main Phone: (804) 796-2828
St Michael's Episcopal Church
Charity is at 2040 McRae Rd, Bon Air, VA 23235. Main phone: (804) 272-0992
New Deliverance Evangelistic. Church
Pantry location - 1701 Turner Road, Richmond, Virginia 23225. Phone: 804-276-0791
The soup kitchen – pantry on site is only open on Tuesday from 5:00 PM to 7:00 PM.
Family Worship Center
7424 Belmont Rd, Chesterfield, VA 23832. Phone: 804-837-3541 or (804) 833-3228
Meals are served on Sunday, and the pantry is by appointment only.
New Life Outreach Int'l - Celebration Park
1005 Turner Rd, Richmond, VA 23225. Phone: 804-276-6767
They may also bring frozen food or a meal to the disabled and elderly.
Our Daily Bread
17111 Jefferson Davis Highway, Colonial Heights, VA 23834. Phone: 804-526-0774 or (804) 526-2548
Meals are served every Monday.
Pentecostal Church of Love & Restoration
6529 Iron Bridge Place, Richmond, VA 23234. Dial the food pantry at 804-218-5647
Emergency boxes of food are available.
Pentecostals of Richmond
2200 Pickens Rd., Richmond, VA 23224. Call 804-276-1105
The non-profit has everything from formula to dairy goods and boxes of food.
Refuge Pantry - Victory Tabernacle Ministries
Address is 11700 Genito Road, Midlothian, VA 23112. Call the faith based pantry at 804-744-8881
Assistance ranges from canned soup to fruits, vegetables, and Meals on Wheels for the elderly.
Sherbourne United Methodist Church
Location is 2619 Sherbourne Rd, Richmond, Virginia 23237. Phone: 804-275-6321
St. Augustine Catholic Church
4400 Beulah Road, Richmond, Virginia 23234. Phone: 804-275-7962
The location is only open on Saturday.
St. Mathias Episcopal Church
11300 W. Huguenot Road, Midlothian, Virginia 23113. Telephone – 804-272-8588 or (804) 464-1842
Volunteers pass out bags of groceries or a blanket to the homeless from the charity.
Stony Point Reformed Presbyterian Church
2330 Buford Road, Richmond, VA 23235. Phone: 804-272-8111
This supports parts of Chesterfield. Boxes of groceries, baby formula, and personal hygiene or cleaning supplies may be available.
Redemption Outreach Center
101 W Hundred Rd, Chester, VA 23836. Phone number is 804-504-6453
Word, Spirit & Life Ministries
Main address is 3600 North Street, Chester, VA 23831. Call 804-526-4646
Find more free food programs in Chesterfield County
For more referrals to pantries or free soup kitchens near you, dial 804.521.2500. Families, seniors, and the disabled in Chesterfield County can learn about everything from emergency food banks to federally sponsored USDA programs, such as commodity food or Feeding America in Chester VA.
Related Content From Needhelppayingbills.com