Free food banks, groceries and soup kitchens North Dakota.
Locate free food pantries in North Dakota that give away groceries and many of which have soup kitchens for free hot meals. The charities, churches and non-profits help feed low-income families or people with no money. The distribution centers, which are open today, may have canned goods, perishable items, government commodities, free food boxes, and more. Find a free food pantry near you in ND.
Each location will have their own rules and conditions in place, with a phone number at the bottom of the page for other food programs in North Dakota. Many of the non-profits have a free drive thru food bank too. For example, a pantry may limit how frequently someone can use the service or may limit how much food is available. However each location will do its best to not turn anyone away from receiving help.
The center will provide different types of items, including cereal and snacks, perishable food, canned fruit or vegetables, pasta and sauces, Christmas or Thanksgiving meal baskets, and more. Many of the beneficiaries are families with low-income children, seniors, disabled, and others in a crisis. Or get fresh fruit or veggies from a farmers market, including using food stamps. Find details on farmers market food stamps.
Also many of the pantries in North Dakota will have details on state or national government public food assistance programs such as SNAP food stamps, USDA school lunches for kids or WIC. Other resource available may include soap, laundry detergency, free holiday meals, and programs such as Meals on Wheels for seniors or the disabled in ND.
North Dakota free food and meal programs
Adrian Trinity Evangelical Church
8895 56th St SE, Adrian, ND. Call 701-778-5181
Based on donations from the community, the pantry will give out groceries such as Oatmeal, Rice, Pasta, Sauce or tuna and also free snacks for kids during the summer.
Salvation Army in North Dakota
There are many locations. They have free food pantries with groceries, cereal, bread, canned meat and more. Soup kitchens also serve meals to the homeless and working poor in ND, and there are also free Thanksgiving turkey dinners, Christmas meals and more. In addition to a food pantry, offers other emergency assistance and social services, such as financial help bills, clothing, free Christmas gifts (Angel Tree program) and much more.
706 5th Ave SE, Dickinson, ND 58601. Phone: (701) 225-0373
Salvation Army - 320 1 Ave N, Jamestown North Dakota, 58402. Telephone (701) 252-0290. The pantry may have school lunch items, free holiday meals, baby formula, diapers, canned goods, and much more.
Salvation Army of Fargo - Located at 304 Roberts St N, Fargo, ND 58102. Phone (701) 232-5565. Similar to other Salvation Army locations in ND. Resources include free canned goods, Thanksgiving and Holiday meals, winter coats, and much more.
15 Main St, Williston, ND 58801, Phone: (701) 572-2921
Beach Food Pantry
The Food Distribution Center is at 55 1st St SE, Beach, ND 58621. Phone: (701) 872-3708
Emergency boxes of free food, fruits, baby formula, and other goods may be an site.
Benson County Social Services
There is also a Food Pantry at 108 4th St, Minnewaukan, ND 58351. Phone 473-5302
Beulah Womens Action & Resource Center
Frontage Rd, Beulah, ND 58523. Telephone (701) 873-2274
Mothers and their children may receive WIC applications.
Bowman Slope Community Cupboard
Address: 202 1st Ave SE, Bowman, ND 58623. Phone: (612) 968-6098
Get shelf-stable foods that are free to the low-income, single moms and veterans as well as college students. There will be dairy, fresh produce, healthy USDA approved organic food and even CSAP fresh vegetarian food from local farms.
Hunger Free Food Pantry at First Lutheran Church
The location is 436 1st Ave N, New Rockford, ND 58356. For hours and details, call (701) 947-2478
McLean Family Resource Center
Address: 205 7th St, Washburn, ND 58577. Main phone: (701) 462-8643
Both a free pantry as well as benefit programs, such as USDA Farm 2 School, applications to EBT cards, SNAP outreach and Nutrition Education.
Ministry on the Margins
The charity is located at 201 N 24th St, Bismarck, ND 58501. Telephone: (701) 223-6315
Bismarck Emergency Food Pantry
Location - 1012 S 12th St, Bismarck, ND 58504. Phone: (701) 258-9188
Partners closely with churches, food banks, and other non-profits in North Dakota.
Bottineau Food pantry
Address: 122 5th St W, Bottineau, ND 58318. Main Phone: (701) 228-4098
Bread of Life
Cooperstown, North Dakota 58425. Call 701-730-6221 or (701) 797-3278
A soup kitchen feeds the low-income, unemployed and poor. Get a breakfast, lunch or free holiday meal as well as hygiene supplies, like a blanket, soap, hand sanitizer and more.
Burlington Community Center
Address - 521 Dave St N, Burlington, ND 58722. Phone: (701) 500-0113
What may be on site includes surplus government commodities. Staff and volunteers will also have information on government benefits such as SNAP food stamps
Carrington Foster Community Senior Center
Address is 36 Central Ave, Carrington ND, 58421. Call (701) 652-3257
The elderly and homebound may receive Meals on Wheels. Special holiday and Christmas meals and gift baskets are offered too. They also have Boost, Ensure and vitamins to try to keep the elderly in North Dakota healthy.
Community Cupboard
303 N Avenue C, Elgin, TX 78621. Main phone: (512) 797-0796
Hatton Helping Hand
Address: 1009 Dakota Ave, Hatton, ND 58240. Main phone: (701) 789-0756
Our Savior Lord's Food Pantry - City Hall
Address: 215 Main St, Max, ND 58759. Intake number is (701) 389-0263
Dakota Prairie Community Action
Community Action address is 1104 Main Ave W, Rolla, ND 58367. Phone: (701) 477-6188
A wide range of grants and hunger prevention programs are offered. There is Family Dining, Senior Programs, and Child Nutrition Programs as well as applications to free USDA commodities for senior citizens in North Dakota. Or learn more on Community Action near you in ND.
Church of God's Word
A free, emergency pantry is at 227 Main Ave W, West Fargo, ND 58078. Main phone: (701) 639-6240
Center Oliver County Food pantry
312 Lincoln Ave, Center, ND 58530. Phone: (701) 220-0595
Assistance from the free food bank ranges from Meals on Wheels to Dry Beans, healthy lunches, Canned Tuna as well as bread or peanut butter and jelly among other goods.
Community Action food pantry
2105 Lee Ave, Bismarck, ND 58504. Phone: (701) 258-2240
Part of the nationwide community action agency programs. Has information on dozens of financial and emergency assistance programs.
Community Action Program Region VII
2105 Lee Avenue, Bismarck, ND 58504. Telephone 701-258-2240
Similar to above. Call for referrals to free food banks, programs such as summer meals for children, and other support services.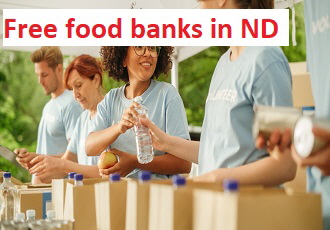 Corpus Christi Church
1919 N 2 St., Bismarck ND 58501. Telephone (701) 255-4600
A hot meal may be served. Other basic needs can include clothing or boxes of food, fruits, and meats.

Crystal River Ministry Center
2180 NW 12th Ave, Crystal River, FL 34428. Main Phone: (352) 795-3079

Great Plains Food Bank
Address 1720 3 Ave N. Fargo North Dakota, 58102. Phone (701) 232-6219
This site works with many of the churches and charities in North Dakota. They provide the food to those pantries and the other sites pass it out to the poor and needy.

Emanuel Lutheran Church
Address: 117 Spruce St W, Gackle, ND 58442. Phone: (701) 485-3745

GFks Senior Citizen Center
Main address is 620 4th Ave S, Grand Forks, ND 58201. Phone: (701) 772-7245
Home delivered meals and other aid is offered for the elderly and seniors in the region. The center also offers Home Delivered Meals.

Killdeer and Dunn County Social Services
3001 US-12 #160, Menomonie, WI 54751. Main Phone: (715) 232-1116

Larimore Community Food Pantry
109 Terry Avenue Larimore, ND. Call 701.775.8661

The Lord's Cupboard
1725 W Burdick Expy, Minot, ND 58701. Phone: (701) 839-1990
Perishable food, groceries, fruits, vegetables, and more is offered.

Mandan Aid Incorporated
Address is 314 W Main., Mandan ND, 58554. Call (701) 663-1274
Canned goods, holiday meals, application on social services and other support is available.

Minot Community Action Organization
2020 8th Ave SE, Minot, ND 58701. Call (701) 829-7221 or (800) 726-8645
In addition to the food bank, get information on resources such as Commodity Supplemental Food Program or the Senior Brown Bag program in North Dakota.

New Rockford Mobile Food Pantry
Main address is 436 1st Ave N, New Rockford, ND 58356. Phone: (701) 947-2478 or call 947-2911
The pantry and its volunteers visit different towns. They offer short term support and compassion.

Our Lady of Grace Church
707 16th Avenue SW, Minot, ND 58701-6234. Phone: 701-839-6834

First Congregational Church, United Church of Christ - Soup Kitchen
102 4th St E, Dickinson, ND 58601. Two phone numbers are (701) 225-4782 or (701) 225-8713
Free hot meals, breakfasts and lunches are served.

Cavalier County Emergency Food Pantry
Low-income families will get free groceries from 211 8th Ave, Langdon, ND 58249, dial (701) 256-2175

All Saints Episcopal Church
A soup kitchen and food bank is at 301 Main St S, Minot, ND 58701. Main phone: (701) 205-1541

Central Dakota Food Pantry
Address: 708 Alder Ave, Harvey, ND 58341. Dial (701) 324-4645
Get a free box of groceries as well as access to social services, such as food assistance, nutrition education, health management, gluten free or low-salt food, and medical prescreening for chronic illnesses.

LaMoure County Food Pantry
Main Address: 19 3rd Ave SW, Lamoure, ND 58458. Telephone (701) 320-9802

GIFT (Faith United Methodist Church)
The faith based group is at 219 1st Ave W., Williston, ND 58801. Call (701) 572-7694

Queen of Peace Catholic Church
Address: 725 12th St W, Dickinson, ND 58601. Dial (701) 483-2134
The charity has a free food pantry for the low-income as well as soup kitchen. Free easter, Thanksgiving and Christmas meals are served. A drive thru, seasonal food banks is also offered. Get canned groceries, personal hygiene supplies, weekend backpack snacks for kids and other aid.

Spirit Lake Ministry Center
3365 81st Ave NE, Sheyenne, ND 58374. Call 701-799-1174

St Vincent De Paul
Location 620 8 Ave S, Grand Forks, North Dakota 58203. Call (701) 795-8614
A leading social service agency. A thrift store will also have clothing. Some shelter services can be arranged. All of this is in addition to the food assistance programs. Hot meals for the homeless, low income, teenagers, and others who need assistance.

Steele County Food pantry
201 Washington Ave W, Finley, ND 58230. Dial (701) 524-2584

Turtle Mountain Chippewa Food Pantry
Address: 102

3 Chief Little Shell St, Belcourt, ND 58316. Main phone: (701) 477-6017

Peace Lutheran Church
Location is 1001 12th Ave N, Fargo, ND 58102. Main phone: (701) 232-7166

First Baptist Church - The Lord's Choice
A food bank and meal site is at 1100 Collins Ave, Mandan, ND 58554. Main phone: (701) 663-5020

Abundance Of Grace
Main address: 4209 Old Red Trail, Mandan, ND 58554. Call (701) 595-0417

Rural Cass County Emergency Food Pantry
Address: 602 1st St N, Casselton, ND 58012. Phone: (701) 866-7440

Red River Community Action - Supplementary Food Program for Seniors
4212 Gateway Dr, Grand Forks, ND 58203. Phone: (701) 746-5431
One key offering is the Commodity Supplemental Food Program, which is for the elderly and seniors. Or inquire into home delivered meals.

Village Family Service Center
2207 E Main Ave, Bismarck, ND 58501. Phone: (701) 255-1165
Information on additional North Dakota food pantries
Low-income families, single moms, seniors and others have many other free food programs, government benefits, and meal sites to turn to. To find the address of additional food pantries in your town, city, or county near you, dial 701-232-6219 to reach the North Dakota Great Plains Food Bank. The centers listed above are just some of the distribution centers in the state.
Related Content From Needhelppayingbills.com