Free food pantries, groceries and meals Adams County Colorado.
Low-income Adams County Colorado residents will get free food, meals, personal hygiene items and groceries from a pantry or distribution center. Find information on food banks or pantries near you that are open today, free soup kitchens and churches in Brighton and across Adams County. The charities provide help to the low income and people with no money. Find a free food pantry near you in Adams County CO.
There are many local food pantries, and they are a great resource for those in need. The charities offer both long and short term support. For people in a financial hardship they can provide emergency food, Thanksgiving or Christmas meals, groceries, and much more. Many of the Adams County pantries also offer items such as baby formula, diapers, personal products, and applications to SNAP or WIC. Find WIC benefits near you.
There are also free drive thru food banks and Meals on Wheels in Adams County or free dog or cat food for the low-income. Also locate a phone number at the bottom of the page for other hunger prevention programs in Adams County. Some grocery distribution centers focus on seniors, others may only provide assistance at certain times of the month, and some Brighton Colorado area food banks may limit the amount of food provided. It is best to call one of the locations listed below for more information and details on the assistance programs offered.
Locate a free food banks and soup kitchen in Adams County CO
Adams County Food Distribution
Address: 7111 E 56th Ave, Commerce City, Colorado, 80022. Phone number - (720) 878-3563
Administers a number of government assistance programs, in addition to food. They partner with charities to giveaway free groceries, dairy, meat, infant formula and Boost to seniors and low-income families. Examples of the services offered include the Emergency Food Assistance Program or TEFAP, SNAP benefits, free government commodities and more. There is also referrals to free pet food banks in Adams County. Or learn where to get pet food for free.
Thornton Community Food Bank
Location of food bank - 8990 York St., Thornton, Colorado, 80229. Phone number - (303) 287-7268
Anythink Brighton
327 East Bridge Street, Brighton Colorado 80601. Call 303-405-3230
A food pantry has groceries (based on donations), household supplies including detergent, paper products and more. Examples may be Crackers, Toilet Paper, Pasta, PB&J, canned chicken and other groceries.
Grace Baptist Church-CC
Food bank and soup kitchen address is 7740 Colorado, Commerce City, Colorado 80022. Call 303-287-3000 or call 720-418-1591
Salvation Army Adams
Offers a number of resources, which include, but are not limited to, a food bank, pantry, emergency assistance for bills, clothing closet, and more. They also can help people apply for government and public assistance such as SNAP food stamps, school lunches, Meals on Wheels, and health care. They also have free Easter, Thanksgiving, and Christmas meals. More on Adams County Salvation Army free food programs.
There are multiple locations for free food for low-income families. One is at 2821 W 65th Pl, Denver, CO, 80221. Dial (303) 428-6430
The Senior Hub, Inc
10190 Bannock St, Northglenn, CO 80260. Call (303) 426-4408
They help older adults in Adams County. Free boxes of groceries including vitamins, Ensure, dairy, fruits, low sugar items and other goods. They also process applications to the Adams County Commodity Supplemental Food Program (CSFP).
Anythink York
8990 York St, Thornton, CO 80229. Call (303) 405-3234
Adams County social services
Get information on, and help, in applying for government aid. Resources include The Emergency Food Assistance Program (TEFAP), SNAP food stamps, free school lunches for students, cash aid and other support. Find public assistance in Adams County CO.
Village Exchange Center
1609 Havana St, Aurora, CO 80010. Call (720) 668-9968
A community food banks in which people give back to others. Free food, clothes, wellness or cooking classes are held and other services.
Scott United Methodist Church
Address: 2880 Garfield St, Denver, CO 80205. Telephone (303) 322-8967
Brighton Seventh-day Adventist Church
Location is 567 E Bromley Ln, Brighton, CO 80601. Call (303) 659-1999
Based on donations, a free food pantry has items such as meat (frozen or canned), beans, rice, cereal, or vegetables (fresh or canned). Or get shelf-stable food boxes, pasta, peanut butter and jelly, and free holiday food baskets.
F.I.S.H. Food Bank @ Savior Lutheran Church
6770 Monaco Street, Commerce City, Colorado 80022. Phone - 303.288.9577
Only Commerce City residents can use the charity. Get free groceries, household cleaning supplies, baby formula and others goods.
Servicios De La Raza
3131 W 14th Ave, Denver, CO 80204. Call (303) 458-5851
The Gathering Place
1535 High St, Denver, CO 80218. Phone (303) 321-4198
Get free kitchen supplies, hot meals, food, dairy, fresh produce and other support. There is also information on cash aid, housing, and other programs in Adams County. A soup kitchen for free hot meals, including breakfast or lunch, can help the homeless and people with no money.
World Impact Center-Impacto De Fe
5155 East 64th Avenue, Commerce City Colorado 80022. Call 303-403-2744
Get help such as Canned soups and stews, holiday food baskets, canned non-perishable food, and even applications to Commodity Supplemental Food Program. Free personal hygiene supplies or toiletries too including soap, laundry detergent and feminine products are from ther pantry.
Henderson Community Church
12001 Oakland Street, Henderson Colorado 80640. Call 303-659-4748
Resources for low income families and the unemployed range from a free food pantry to clothing bank.
Haven of Hope
A soup kitchen and shelter is at 1101 W 7th Ave, Denver, CO 80204. Phone: (303) 607-0855
A major focus is on feeding homeless people, including adults, kids, or those in need. Free hot breakfast, lunch, and or dinner, with bag lunches also offered to the homeless in Adams County.
Tri-City Baptist Church
6953 W 92nd Ln, Westminster, CO 80021. Call (303) 424-2287
Low-income families will get free groceries. Or learn about other resources in the community for the poor or unemployed.
Calvary Chapel
The Food Distribution Center is at 103 E Bridge St, Brighton, CO 80601. Phone: (303) 669-8139
The charity will giveaway dairy, grocery boxes and fresh produce to families with children. There is also help for single moms in Adams County CO from the free food banks as well as elderly.
Strasburg Community Church
Address: 56155 Sunset Ave, Strasburg, CO 80136. Call (303) 622-4600
City of Brighton Senior Center
1150 Prairie Center Pkwy, Brighton, CO 80601. Call (303) 655-2075
Assistance is provided to seniors. They can receive food, meals, and information on senior specific assistance programs, including prescription drugs for healthy living nad more. A home delivery service is for the elderly that are homebound, and this includes Christmas meals too. There is a free drive thru food pantry in the community. It can better serve senior citizens and the disabled in their immediate areas
Growing Home
Location - 3489 W 72nd Ave, Westminster, CO, 80030. Main number - (303) 426-0430
Programs offered include clothing, diapers, baby formula, and free meals and food.
Our Lady Mother of the Church
Church address - 6690 E 72nd Ave, Commerce City, CO, 80022. Call (303) 289-6489
Good Shepherd Presbyterian Church
10785 Melody Dr, Northglenn, CO, 80234. Main number to dial is (303) 452-5478. Get hours of food distribution and other information.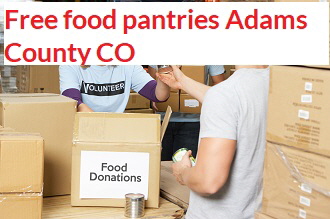 Immaculate Heart of Mary Catholic Church
11385 Grant Dr, Northglenn, CO 80233. Call (303) 452-2041
Our bread line is open to anyone in need each Monday, Wednesday and Friday morning from 9-11:30am. If you live within our boundaries (104th North to 160th and I-25 East to Quebec) you may register for our monthly food basket program. You must bring a picture ID and proof of address (utility bill, lease, agreement, etc.) to do so.
Northglenn Christian Church
Location of food pantry - 1800 E 105th Pl, Northglenn, Colorado, 80233. Call (303) 452-3787
Emergency food boxes are distributed to those Adams County people faced with a hardship. Volunteers also serve holiday meals in Adams County. Get free shelf-stable groceries such as pasta, boxed dinners, spaghetti, rice, and other staples.
Iglesia Bautista Nueva Esperanza
106 S. 4th Ave, Brighton, CO 80601. Phone - 303-246-4303
Non-English speakers can get help. The free food pantry, along with hygiene supplies and personal goods, is only for people in Lochbuie, Ft. Lupton, and Brighton Colorado. There may also be formula and more, including for single women.
St. Augustine Catholic Church
Address: 129 S 6th Avenue, Brighton, Colorado, 80601. Telephone number - (303) 654-1040
Food, groceries, clothing, and other aid is provided to the low income, regardless of religion.
Soul Care Full Gospel Center
6350 E. 69th Avenue, Commerce City, CO 80022. Call (303) 886-0934
FISH of Westminster, Inc.
3585 W 76th Ave, Westminster, CO 80030. Phone (303) 429-1569
The charity offer referrals and emergency food. Low income families can learn about SNAP application sites or food for children from the BackPack program. A ministry may also have baby formula or applications to Meals on Wheels.
Bennett Community Food Bank
Location of food bank is 1100 W Colfax Ave, Bennett, CO, 80102. Phone number (303) 644-3249
In addition to free boxes of food, also get applications to benefits such as USDA Commodities, SNAP Outreach Program, Health and Nutrition Education Classes and more.
Brighton SDA Church
The address is 567 E. Bromley Lane, Brighton, CO 80601. Call the center at 303-659-1999
The pantry is open the 2nd and 4th Thursday only. Provides hot or cold meals, perishable food, and more to the needy.
Westminster United Methodist Church
3585 W. 76th Ave
Westminster, Colorado, 80030
Call the church at (303) 429-1569
Chapel Hill - CSFP
Address is 10 Chapel Hill Drive
Brighton, Colorado 80601
For intake, dial 720-352-7298
They accept applications to the USDA CSFP program. It mostly feeds the elderly and children..
St. Marks
3141 W. 96th Avenue
Westminster, CO, 80031
Primary phone number is (303) 466-8720
Distributes government surplus commodities and more.
Advent Lutheran Church
Address is 7979 Meade St.
Westminster, Colorado, 80030
Dial (303) 428-7501
Neighbor Outreach of Adams County Colorado
1001 W 84th Ave
Federal Heights, Colorado 80260
Main phone: 720-938-7304
Families living in poverty and those in an emergency can get up to 40 pounds of free food. Produce, dairy, meats, bread, and more may be on site.
Additional free food and meal programs in Adams County
For more information on food assistance programs in Adams County CO that are near you, call 303.371.9250. Residents can get referrals to local charities for meals, as well as locations of mobile food pantries or Feeding America of the Rockies. Or families can get applications to government aid such as SNAP food stamps of free school lunches for children.
Related Content From Needhelppayingbills.com