Cheap groceries and low cost food.
Find where and how to get cheap groceries. There are non-profit organizations and companies that offer low-cost boxes of food, inexpensive produce, samples and more. The items can be bought online, sent in the mail, or at a store or non-profit. Learn where to buy cheap, discounted groceries.
Affordable and healthy food is available for kids, senior citizens and anyone trying to save money. There are discounted or bulk grocery boxes. These boxes are available through various platforms, both online and in-store, and offer a cost-effective way to stock up on essential groceries. There are also free apps to use to find discounted food, free coupons or tips such as Unit Price and many other options, including free samples in the mail.
Bulk and discounted grocery boxes
Each month hundreds of thousands of people across the country turn to organizations such as BulkFoodBox or Imperfect Foods for reduced cost food and groceries. The number of families that use these and other related services are extensive.
The food in the cheap grocery boxes is high quality, healthy and is really the same type of items that you can purchase at a grocery store. It is just discounted and offered at a significantly cheaper price. There are no damaged groceries or products, no expired or outdated items, no too ripe-spoiled produce, and no second hand items.
Bulkfoodbox.com is an inexpensive online platform that offers a wide range of bulk, affordable and discounted grocery items. Their mission is to provide an affordable and convenient way for consumers to access high-quality, healthy food products. By partnering with local farmers and producers, they are able to offer a wide variety of items at competitive prices, with an emphasis on organic and natural ingredients.
It is high quality, and is equivalent to what someone can buy at their local grocery store or farmers market. Bulk Food Box is considered to be restaurant grade, which means it is the type of high quality food you can buy at any local restaurant. The reduced priced food boxes will contain fresh fruits, meats, frozen vegetables, dairy products, etc. Also offered as part of the program are specialty boxes such as pork, steaks, and chicken, also for a lower cost and cheaper that you can buy somewhere else.
Some of the items available in their affordable grocery boxes include grains, nuts, dried fruits, and canned goods, as well as a selection of fresh produce and dairy products. Bulk Food Box also offers various pre-packaged grocery boxes, each carefully curated to provide a balanced and nutritious selection of items at a discounted rate. By taking advantage of their bulk pricing, customers can get a large box of groceries at a cheap price, with savings up to 50% on their grocery bills. Call Bulk Food Box at 1-877-469-1920.
Imperfect Foods is another online platform that focuses on providing affordable, healthy groceries by capitalizing on the surplus and "imperfect" produce that might otherwise go to waste. By sourcing these items directly from local farmers and producers, Imperfect Foods is able to offer high-quality fruits, vegetables, and other grocery items at a fraction of the cost.
Their cheap, customizable grocery boxes allow customers to choose from a variety of fresh items, including produce, dairy, grains, and protein, all at a discounted rate. Imperfect Foods ships directly to your door, making it an incredibly convenient option for budget-conscious consumers. The customer support number to sign up is 510-595-6683.
Community Supported Agriculture (CSA) programs are a unique way to purchase fresh, local produce at a discounted rate. The agencies are often run as non-profits, and they are located in most local communities. By purchasing a "share" in a CSA, you are essentially buying a portion of a local farm's harvest for the season.
Those families and individuals who participate in the program with a CSA receive brand name, low cost food at a cheap price without worry about it being fresh. Everything provided to those who purchase the boxes will be considered high quality. The type of food from a Community-Supported Agriculture farm program will also vary by month, so individuals will get a wide variety of choices and different groceries.
In return, you receive a box of fresh, seasonal produce each week or every other week, depending on the program. While the upfront cost of a CSA share can be significant, the overall savings on high-quality, locally-grown produce make it an attractive option for those looking to save on healthy groceries. Find a Community Supported Agriculture program near you.
Buy low cost food from non-profit organizations. There use to be options such as Angel Food Ministries, Gaballi Food Boxes, or Mid America Foods, all of which are listed below. Their primary mission is to provide reduced price food and cheap groceries to anyone who needs it. There are no income restrictions, predefined qualifications, minimums, or applications that need to be complete.
All families and individuals can pick up low cost groceries and food. There are no applications needed, no income restrictions, and there are no terms that need to be followed or adhered too. The main reason these various programs were created is to provide families affordable groceries, with no restrictions at all.
If you are interested in receiving high quality, yet cheap groceries from Food Ministries, you should contact a community action agency, church, or non-profit organization in your local community as they will often administer the program. Or the agency will more than likely have other suggestions for income qualified families. Find a listing of free community action organizations to turn to for help.
The Bread of Hope is another organization. They operate in the central and southern part of the county, such as Missouri, Oklahoma, Kansas, Texas and other nearby states. Customers who want to buy cheap but high quality food from the company do not have to pay an membership or other fees. Anyone can use this service. More information on assistance from Bread of Hope.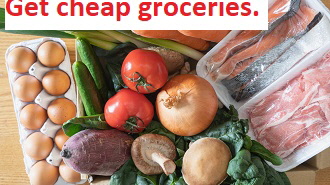 Locate cheap boxes of groceries
Buying store brand groceries (vs. name brand) will help families save as much as 30% on their annual food budget. These items, often called private label groceries, are much cheaper and the quality as well as taste are often the same, as study after study shows. Find how to save money with store brand food.
It is very simple to save money by using a print at home coupon service. There is no cost to sign up with these companies and no fees that will ever be due. It is estimated that around 20 to 30 million shoppers use the programs every single month when shopping for groceries.
There are

other free coupon websites

out there are well. they will help families save money on groceries, find cheap or value based products, and help low to moderate income families make ends meet. In fact there are dozens of sites out there for savings on all sorts of grocery items. Find free coupons for saving money.
One of the most effective way to save on groceries is to unit price. This can help ensure you buy the cheapest item(s) with the most value, when factoring size and volume of the options out there. As everyone knows, the number of grocery and food options out there are enormous with all sorts of sizing and unit counts on them. This approach is very effective. Learn how to save money on groceries using unit pricing.
Put together a budget, shop smarter, looks for sales, and use other techniques to find the cheapest, yet high quality, grocery items out there. There are many things to do to save money using both technology (such as smart phone apps) and really common sense. Families can find ways to save money on all bills, including their monthly groceries.
Apps, websites and services for finding deals on groceries, or free food, are available. There are several free smartphone apps designed to help you find the best deals on groceries in your area. Apps like Flipp, Grocery Pal, and Basket Savings allow you to browse local grocery store ads, compare prices, and create shopping lists based on the best deals available.
By using these apps to look for discounted groceries or deals on food, you can save money or get cash back. The Google Play and iPhone apps will help you save by strategically planning your grocery shopping around the best sales and discounts. Look here for a grocery cash back shopping app.
These cheap groceries are not the only option that people have. Many federal and state government food assistance programs are also offered to qualified individuals. They are often paid for using USDA funds or government grants. Read more food assistance programs. These government programs usually have more conditions than the Angel Food program that need to be met, however many people do get low cost groceries and maybe even free food from them.
Related Content From Needhelppayingbills.com