Free food pantries, groceries and meals Johnston County North Carolina.
Free food pantries as well as soup kitchens support low income families in Smithfield, Clayton as well as across Johnston County. Some of them even cross over town and county lines. Low income families, seniors and single moms will get everything from free groceries today to hot meals, personal toiletries and more. Find a free food bank near you in Johnston County.
Many also give referrals and information on public aid such as SNAP food stamps (FNS) or Meals on Wheels as well as free pet food pantries. There is also a phone number for more services at the bottom of the page. The hours of the non-profits are very limited, but many pantries in Johnston County are open today. o it is recommended to call a food pantry before driving a significant distance to it. Or a referral may be given to another site that is open.
Some charities in Johnston County not only offer groceries, but they serve hot meals from a soup kitchen. Other pantries, including drive thru food banks in Johnston County NC, provide a snack to a student during the summer months, offer clothing or hygiene items, and provide free Thanksgiving or Christmas food baskets, among other items. All of the stuff given out from a pantry is wide ranging. Any working poor family, or those in a crisis, can find other places to turn to for items or grants for free.
Johnston County Free food distribution centers
A Touch From Above Faith Center
Location is 654 Main Street
Wilsons Mills, North Carolina 27593
(919) 938-0073
The center takes emergency requests on Tuesdays, but is only officially open on Monday.
Benson Area Ministerial Association
Address is 1204 North Johnson Street, Benson, NC 27504. Call (919) 880-2167
Get free groceries (as hours allow), canned food, perishable items and more. Baby formula may be offered from time to time as well.
Catholic Charities of Johnston County
(919) 790-8533
Everything from case management to referrals to food stamps, baby formula/diapers, and other local charity run food pantries in Johnson County are available. There are also paper products, free household or personal stuff (such as soap or detergent), and more. Some also deliver free frozen meals on Wheels to the homebound in Johnston County.
Building 323 Food Pantry
Address: 73 Wilder Road, Middlesex, North Carolina 27557. Main number - (919) 269-9207 or (919) 269-9207
Christ Community United Methodist Church Food Pantry
1082 Amelia Church Road, Clayton, NC 27520. Call (919) 815-3794 or dial (919) 553-9770
Groceries, perishable food such as fruits, vegetables, and home delivery for senior citizens is available.
Clayton Area Ministries
A food pantry and soup kitchen is at 780 Durham St, Clayton, NC 27520. Phone number - (919) 553-5654
The faith based group helps feed and provides clothes to the working poor and Johnston County families in poverty. Or get free holiday meals, boxes of groceries, canned shelf stable food and more.
Edgerton Memorial UMC
401 West Anderson Street
Selma, NC 27576
Main phone - (919) 965-3761
Low cost or free Home Delivered Meals are for the disabled and seniors.
Faith Tabernacle Ministry Food Pantry
4820 Guy Road, Clayton, North Carolina 27520. Dial (919) 553-9755
The non-profit is only open Tuesday and Thursday.
Family Life Center, Inc.
Address: 909 East Lee Street, Smithfield, North Carolina 27577. Dial (919) 989-9441
Emergency food from USDA supported TEFAP is available once every quarter. Or get items like cereal, rice, pasta, canned meat or tuna and other groceries.
Johnston County Salvation Army
306 North Brightleaf Boulevard, Smithfield, NC 27577. Phone (919) 934-9102
Services range from Christmas and Thanksgiving meals to a free food pantry, clothing center, and financial aid for electric bills or school supplies. They have free turkey dinners, snacks for students who are on summer break in Johnston County and also information on WIC vouchers or SNAP food stamps. More on low income help from Salvation Army Johnston County NC.
Fuquay Varina Emergency food Pantry
216 West Academy Street, Fuquay Varina, NC 27526. Phone: 919-552-7720
The charity covers Fuquay-Varina, Holly Springs, and Willow Spring in Johnston County. There are free groceries, holiday food baskets, hygiene supplies, and much more.
Harvest Word Ministry
320 Lot 36, Micro, NC 27555. For hours of distribution, dial (919) 284-9441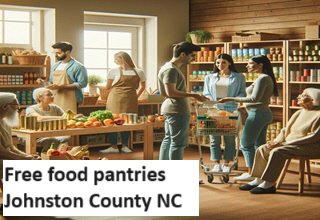 Potter's House Praise Tabernacle
1100 S Market St, Benson, NC 27504. Phone: (919) 894-7349 or Main phone - (919) 463-5043
There is free emergency food boxes for families and individuals.
First Baptist Church
Location is 202 S Fourth St, Smithfield, NC 27577. Call 919-934-1601 or 919-934-1527
Get items like Rice (especially whole grain), Peanut Butter, Canned Fruits, Bread, Dairy and more.
Shiloh Christian Church (Disciples of Christ)
209 Durham Street, Smithfield, NC 27577. Phone: (919)934-0278 or the email address is [email protected]
There is a food pantry open Monday - Wednesday 8:00 AM to 1:00 PM, and it is full service. A thrift store is also on site.
Smithfield Area Ministries
A Food Closet is in Smithfield, NC 27577. For exact locations and hours, call 919-934-2218
Year round and seasonal assistance is offered. They help feed the unemployed, poor, children, elderly and others.
Heavens Gate Ministry
9856 Hwy 210, Four Oaks, NC 27524. Call 919- 320-7387
Or try 5058 Hwy 701, Four Oaks, NC 27524. Phone - 919-934-6512
Iglesia Pentecostal Jesucristo
Non-profit address - 1508 Bizzell Grove Church Road
Selma, NC 27576
(919) 538-0423
Kenly Area Ministries Food Bank
212 W 2nd St, Kenly, NC 27542, Kenly, NC 27542
Call (919) 230-7245 or (919) 284-2449
Free canned goods, soup, rice, peanut butter and more is for struggling families. Or the charity provided referrals to SNAP intake sites and clothing closets.
Lighthouse Christian Fellowship
9856 Highway 210, Four Oaks, North Carolina 27524. Call (919) 934-6512
Emergency food bank for Johnston County.
Milagros y Maravillas de Dios
Location is 711 West Noble
Selma, North Carolina 27576
Dial (919) 798-4393
The food pantry helps low income and struggling residents.
New Birth Holiness Church
409 Doctor Donnie Jones, Jr. Boulevard
Princeton, NC 27569
(919) 502-9651
New Christian Food Pantry
900-C Highway 301
Wilson, NC 27893
Dial (252) 265-6165
Regardless of religion or age, the church helps struggling families. Food such as pasta, rice, fruits, and more may be served along with canned groceries.
New Life Deliverance Ministry
103 Ease Main Street
Benson, NC 27504
Dial (919) 894-2208
People Living in All Communities
3181 Highway 70 West
Smithfield, NC 27577
(919) 934-2425
This non-profit is open five days per week. Everything from fresh produce to families with children, school supplies (based on donations) and holiday assistance is provided.
With Love From Jesus Ministries
Address is 209 S. Roberston St.
Clayton, NC 27520
The pantry is Open Thursdays 9:30am-11:00am and Sundays 5:00pm-6:30pm
Potter's House Ministries Worship Center
311 North Main Street
Four Oaks, North Carolina 27524
(919) 963-6800
Hot meals for the homeless, baby formula, and more is offered.
Power of Praise Tabernacle of Deliverance Ministries
Main address is 1100 South Market Street
Benson, NC 27504
Call (919) 894-7349
Saint Ann Catholic Church
4057 Highway 70 Business
Clayton, North Carolina 27520
(919) 934-2084
Samaritan's Shelf West Clayton Church of God Food Pantry
143 Short Johnson Road
Clayton, NC 27520
(919) 351-0766
It can be open in an emergency. Otherwise the Johnston County food bank is open one day per week.
Shower of Blessing Community
Address is 10 Technology Drive
Garner, North Carolina 27529
Call (919) 779-7750
Free groceries, household supplies such as cleaning products, and other aid is offered.
Silltrist Solutions Food Pantry
200 South Pollock Street, Suite C
Selma, North Carolina 27576
Phone - (919) 610-1450
Wendell United Methodist Church
129 North Main Street
Wendell, NC 27591
(919) 365-6266
Supports the town of Wendell and neighboring community. Food drives are held for the unemployed and working poor.
Smithfield Area Ministries
140 East Market Street
Smithfield, North Carolina 27577
(919) 934-2218
A pantry and thrift store are on site.
Smithfield Family Life Center Food Pantry
909 East Lee Street
Smithfield, NC 27577
(919) 989-9441
Apply for government aid as well, such as TEFAP or food stamps.
Smithfield Rescue Mission
523 Glenn Street
Smithfield, NC 27577
(919) 934-9257
A shelter, hot meals, clothing, and hygiene goods are offered.
West Johnston High School Food Pantry
Address: 5935 Raleigh Road
Benson, North Carolina 27504
(919) 934-7333
Additional places for free food in Johnston County NC
For the locations of other charities that may have a food pantry or soup kitchen on site near you, dial 919.875.0707. Or Johnston County residents can also use this service to apply for SNAP food stamps, surplus commodities, Meals on Wheels, and other services.
Related Content From Needhelppayingbills.com