Free restaurant food.
Find where and how to get free restaurant food. A number of places will give a free meal, appetizer, drink, or other items to customers in order to try to "win" their business, and no sign up up long term commitment is needed. Eating out at restaurants can be a pleasurable, affordable or free experience. We have a list of ways how to get free food at a restaurant, as eating out may not always be feasible for a lower income family.
Eating out is a convenient and enjoyable way to enjoy a nice meal without cooking or washing up after yourself, but it can priced; even more so for families living on a tight budget. Many restaurants provide free food with no purchase or sign up needed. They also offer samples and other deals. Using our tips and resources below, we can show you where to get free restaurant food, coupons, discounts, and savings.
Compared to a decade ago, many people prefer visiting quick-service restaurants for lunch. On average, Americans dine-out about times per week, and these small expenses can quickly add up. Nonetheless, it is possible to indulge in your favorite meals for free. Many restaurants offer customers free food to customers as a welcome gift into their loyalty program. There are also apps with free coupons, including for restaurants.
Generally, these rewards programs offer exclusive members-only savings, freebies, and points that can be redeemed for free meals and other perks throughout the year, with no purchase needed. You often do not even need to get an app or other commitment. Low-income families, the homeless and elderly can also get a free restaurant meal by using their EBT card from SNAP food stamps as a form or payment. Learn more on restaurants that accept EBT near you.
Restaurant programs that give free food and meals
Below, you will find a list of rewards/loyalty programs as well as coupon services from restaurants that will give you free food just for signing up. With no required purchase.
La Madeleine: There are over 80 La Madeleine locations in the US. Download the La Madeleine app and join the Bonne Rewards program to enjoy a taste of French countryside. After enrolling, you will receive a free Butter Croissant or Lemon Madeleine without any purchase.
Rewards increase with 10, 30 and 50 visits per year– with free monthly baked goods, a slice of cake on your birthday, free recipes and holiday event invites.
TCBY: An American chain of soft-serve frozen yogurt desert places that also service ice cream with over 350 stores nationwide. Download the TCBY app and join the TCBY loyalty program to receive a free treat of $5 value and $3 reward for every $30 that you spend.
Joe's Crab Shack: A casual beach-themed seafood restaurant with multiple locations throughout the US. Join the Joe Catch Club and get a free appetizer with no required purchase.
Qdoba: A chain of fast-casual restaurants serving Mexican-style cuisine in the US and Canada. Download the QDOBA Rewards app or sign-up online to receive a free order of Chips & Queso when you go out to eat. You will earn points for every dollar spend, which can be redeemed for free food and monthly perks.
T.G.I. Friday's: An American casual dining restaurant with over 870 locations in the US. Register for the "Give Me Mores Stripes" rewards program to get a free appetizer or dessert. You will also receive special members-only treats, exclusive offers, discounts, invites to events, menu tasting, parties and "Jump the Lines" pass to skip the crowd.
Krispy Kreme: An American doughnut and coffeehouse company with over 1,000 locations. Join the Krispy Kreme rewards program or download the app to receive a free doughnut of your choice, plus exclusive offers and freebies. All rewards expire within 90 days.
Caribou Coffee: An American coffeehouse chain with over 600 locations worldwide, most in the US and Canada. Join Caribou Perks to enjoy a free beverage after your first visit.
Backyard Burgers: A quick-serve restaurant founded in Nashville, Tennessee with 80 locations serving the Southern and Midwestern states. Join the clubhouse to receive an email offer for a free Back Yard Classic Burger– no purchase necessary.
Moe's Southwest Grill: Founded in Atlanta, Georgia with over 700+ locations nationwide. Sign up for Moe's Rewards program or download the Moe's app to get a free cup of queso plus a free burrito every year for your birthday.
California Pizza Kitchen: A fast-casual fast dining restaurant that serves California-style pizza. Join the CPK Rewards to receive a free small plate+ 20 bonus points after your first visit.
Raising Cane's: A fast-food chain restaurant chain with over 430 locations nationwide specializing in chicken fingers. Visit any participating store to sign up for a Caniac Club rewards card. Within 48 hours, you will receive a free coupon via email for a free combo box.
Rubio's Coastal Grill: A Restaurant chain that specializes in Mexican food and fish tacos. Join their Beach Club to receive a free taco and other exclusive offers and events.
Buca di Beppo: An Italian family-style restaurant with 75 locations in the US, UK and the United Arab Emirates. Join their e-club to receive an email offer for a free pasta– with no purchase necessary.
Mimi's Cafe: A US restaurant chain with 145+ locations in 24 states. Join Mimi's e-club to receive a coupon via for a slice of cake, two muffins, or croissants.
YogurtLand: A self-serve frozen-yogurt chain with locations in 20 states, as well as international locations. Join the "Real Rewards Program" to get a free 3 oz custom frozen yogurt for just signing up.
Dunn Brothers Coffee: A coffeehouse franchise company that is primarily serving the Midwest and Southern states with over 85 locations. Download the Dunn Brothers Coffee app to receive $3 credit towards your first cup of coffee.
Hungry Howie's: The 11th largest pizza chain restaurant in the US with over 550 locations. Join the HowiEmail club to get a free order of cinnamon Howie bread or Cajun, plus other exclusive offers and promotions from this restaurant.
Coco's Bakery: A casual dining restaurant with over 100+ locations in Southwest US. Join the Coco's bakery e-club to get an email offer for a free dessert of your choice with no purchase necessary.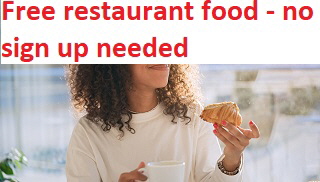 Marble Slab: An independently owned franchised that specializes in serving homemade ice-cream and a variety of desserts. Originally founded in Texas with over 390 locations in the US and across the globe. Download the Slam Happy Rewards App to get $5 off your first purchase. You will also earn points for every purchase and sweet treats and rewards during holidays, birthdays and anniversaries.
Buffalo Wild Wings: An American sports bar and casual dining restaurant with more than 1200 locations in all states. Join the Blazin' Rewards program to get a coupon via email for a free sharable side. In addition to that, you can also win over 500 prizes every day– including a custom-built buffalo wings, legendary sports tickets and a $50 gift card.
Panera Bread: A bakery-cafe restaurant chain with over 2,000 locations across the US and Canada. Join the MyPanera and get a free pastry item for signing up. Plus, earn rewards for every purchase, personalized online ordering and exclusive offers.
Dunkin' Donuts: Over 11,000+ locations worldwide. Download the Dunkin App and join the DD Perk rewards program to receive a free drink upon enrolling. You will also earn five points for every dollar you spend and another free beverage at 200 points and on your birthday.
Chili's Grill & Bar: A casual dining restaurant with over 1,600 locations across the US and 32 foreign countries serving a wide variety of burgers, desserts, and seafood. Join the "My Chili's Rewards" and get a FREE Chips & Salsa or non-alcoholic beverage. You will also get a free dessert on your birthday, personalized offers, such as free kids' meal, appetizers, and free Wi-Fi. There is a $5 minimum purchase required.
Cinnabon: A baked-goods restaurant chain with locations in every US state and 48 countries. Join the Club Cinnabon to receive a coupon via email for a FREE Minibon at participating stores.
Cotton Patch: A southern comfort food restaurant chain with multiple locations in Texas, Oklahoma, New Mexico and Arkansans. Join the CottonPatch Club to receive a FREE appetizer for joining, free dessert on your birthday and a free entree on club anniversaries.
BRAVO Cucina Italiana: An Italian restaurant that specializes in serving fresh, authentic Italian food with multiple locations in 21 states. Join the myBRAVO! Rewards program and make a purchase of at least at $7.95 to receive a free appetizer and $10 credit off your sixth visit.
Davids Tea: A Canadian specialty tea retailer with over 240 locations throughout Canada and the United States. Sign up for a "Frequent Steeper" account and receive an email offer for a free tea that can be redeemed at checkout in stores.
Taco Cabana: A Mexican cuisine restaurant with over 170 locations throughout the United States. Join the MYTC club and get a FREE small quesadilla after your first purchase. You will also earn a $5 reward for every 75 points ($1=1 point), as well as members exclusive offers and birthday surprises.
Del Taco: An American-Mexican style restaurant with over 550 locations across the country. Enroll in the "Raving Fan" eclub to receive 2 FREE grilled chicken tacos and premium milkshakes on your birthday.
Auntie Anne's: A homemade pretzel chain restaurant with over 100 location in the US and 600 international locations. Download the Auntie Anne's Pretzel Perks app and get a free pretzel after your first $1 minimum purchase. Plus, earn 10 points for every dollar spent and free pretzel at every 250 points.
As noted above, many restaurants will reward you with free food and exclusive member perks for being a customer. Whether if you eat out regularly or occasionally– these loyalty/rewards programs will help you to save money and earn points that can redeem for free meals.
Related Content From Needhelppayingbills.com