Free food pantries, groceries and meals Brevard County Florida.
Low-income families and people with no money in Brevard County FL will get free food. Assistance is available at churches, free emergency pantries, charities, soup kitchens and food banks. Get free groceries, holiday meals, a box of food today and personal toiletries, including for single mothers, seniors and the working poor. Find a free food pantry near you in Brevrd County Florida.
Thousands of local families receive help every year, including free a drive thru food bank or Meals on Wheels service. Whether it is a holiday meal or free box of groceries, learn more about resources and services offered by food banks near you, including centers open today, that operate across the greater Brevard County Florida area. Also scroll down for referrals and a phone number to free food programs for the low income.
In addition to offering free food, meals, groceries, free pet or dog food, and other forms of support, many of the distribution centers provide much more to the needy. This can include household items, free toiletries and personal products. There may be diapers, free baby formula, Boost or Ensure for the elderly, free pet food and of course information.
As the locations give referrals to charities, churches and other non-profit organizations in Brevard County that offer free groceries or that have drive thru food banks. Or get help applying for food stamps or WIC vouchers as well as free food from government programs.
Find free food boxes and soup kitchens in Brevard County FL
Catholic Charities
5145 N. Cocoa Blvd., Cocoa, Florida 32927. Their phone number is 321-338-2986
Many assistance programs are offered, including free food and on site clothing closet. The charity may also possibly have limited amounts of financial assistance and resources. Or get applications to FL benefit programs for food, including free school lunches and others. A soup kitchen and free Easter, Thanksgiving and Christmas meal program are offered too.
H.E.L.P. - Housing Enhancement
Location is 2431 Taylor Street, Mims, FL 32754. Call (321) 567-4949
Island Baptist Church
Address: 345 Magnolia Ave, Merritt Island, FL 32952. Phone: (321) 453-0318
Groceries, perishable food like breads, fruits and vegetables, baby formula and more is offered to the low income, seniors citizens, and homeless.
Salvation Army
They have free Thanksgiving turkey dinners and Christmas meals from a soup kitchen snacks for students, and offer other help in Brevard County. There are free grocery boxes, cereal, dairy, and fruit and vegetables. Or find free snacks for students during the holiday/summer months or seniors can get a meal as well as the homeless in Brevard County FL.
Main address:

1080 S Hickory Street, Melbourne, Florida 32901. Dial the office at (321) 724-0494 for social services.

Salvation Army, Central -

Address is 435 Gus Hipp Blvd, Rockledge, FL 32955. Administration - (321) 632-6060. Supports the central portion of Brevard County.


Salvation Army North Central Brevard

serves free food and meals from 919 Peachtree St, Cocoa, FL 32922. Phone: (321) 632-6060. The Brevard County Salvation Army offices above offer a number of social services and low income programs. They include, but are not limited to, free food, clothing, and holiday (Christmas and Thanksgiving) assistance. Also get limited help for bills, housing, and more.
South Brevard Sharing Center Client Services
Main address is 17 E Hibiscus Boulevard, Melbourne, Florida 32901. Phone - (321) 727-8581
Catholic Charities Family Emergency Assistance Program
Address is 5145 North Cocoa Boulevard, Cocoa, Florida 32927. Main office - (321) 636-6144
Various resources are offered to the poor, elderly, and vulnerable. Food assistance, holiday meals, USDA applications, and referrals to other churches as well as pantries may be available. There are free food boxes as well as dairy items, baby formula or milk and shelf stable groceries. Continue with Catholic Charities food assistance in Brevard County.
First Baptist Church of Malabar
Main address is 1665 Malabar Rd, Malabar, FL. Dial (321) 723-1602
The faith based charity has holiday meals, emergency bags of perishable or canned food, and more.
Central Brevard Sharing Center
Address: 113 Aurora Street, Cocoa, FL 32922. Dial (321) 631-0306 to reach client assistance
Applications are provided to SNAP food stamps. The center also offer referrals to free school lunches and emergency pantries.
Saint Joseph Conference Of Saint Vincent De Paul
Another Food Distribution Center is at 2824 Palm Bay Rd NE A, Palm Bay, FL 32905. Phone: (321) 768-7882
The Brevard County charity has free food,, boxes of groceries and other stuff for low-income families. Or get toiletries or laundry detergent, There is also bread, pasta, rice, and/or potatoes, yogurt, peanut butter, beans, snacks, and sauces as available
Holy Name of Jesus/ St. Vincent De Paul Society - Address: 3050 N Hwy A1A, Indialantic, FL 32903. Dial(321)777-9593 or 321-773-2783
Community Action
This is part of the nationwide network of Community Action Agencies. They help low income families and those living in poverty. Get information on SNAP food stamps or WIC vouchers for baby formula. There is also free cheese, milk, and senior commodity programs as well as cooking classes or wellness services among other resources. Find details on Community Action Agency in Brevard County.
Christ Lutheran Church
Address: 7511 N Atlantic Ave, Cape Canaveral, FL 32920. Call (321) 783-3303
A free food bank and soup kitchen is on site. They feed the homeless, poor, unemployed and others. Free baby formula, fresh produce, canned chicken and other items are offered.
Palm Bay Peniel Seventh-day Adventist Church
Main pantry address: 1200 Glenham Dr NE, Palm Bay, FL 32905. Call (321) 327-7951
Risen Savior Lutheran Church is member of the Lutheran Church
The main location is 2220 Port Malabar Blvd NE Palm Bay, Florida 32905. Call (321) 984-8987
East Coast Christian Center
680 N Courtenay Parkway, Merritt Island, FL 32953. Telephone number of food bank (321) 452-1060
A leading charity for feeding the low income. Volunteers also have a Meals on Wheels service for the local area.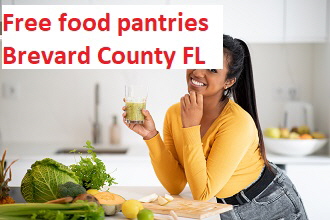 Aging Matters In Brevard - Community Services Council
Address - 3600 W King St # 1, Cocoa, FL 32926. Main phone - (321) 639-8770
Assistance is for senior citizens in Brevard County. Programs include Meals on Wheels, food from congregate meal sites, medical care, and information on homecare, among other services. They help seniors and disabled adults in Brevard County FL get the food, vitamins and nutrition they need. Or even apply for SNAP food stamps or EBT card benefits in FL.
FLOCK Food Pantry
217 Dixie Lane, Rockledge, Florida 32955. Dial (321) 220-8423
Local families can get assistance from FLOCK, including food, meals, groceries, and much more. Also offers referrals, and partners with other food banks and pantries.
First Baptist Church Merritt Island
Address is 140 Magnolia Avenue, Merritt Island, Florida 32953. Call the church pantry at (321) 453-2144 for hours of food distribution.
Peace Lutheran Church
1801 Port Malabar Blvd NE, Palm Bay, FL 32905. For hours, dial (321) 727-3131
Bethel Abundant Life Ministries (BALM)
A free Pantry Distribution Center is at 1081 Port Malabar Blvd NE, Palm Bay, FL 32905. Call 321-831-3543
Iglesia de Dios Pentecostal MI Palm Bay
Main address: 381 Thor Ave SE, Palm Bay, FL 32909. The main number is (321) 984-8200
A free food pantry, including drive thru, is focused on immigrants, migrant workers, and people in Brevard County Florida that want ethnic food.
Hands for Healing
Location is 1025 Emerson Dr. NE, Palm Bay, FL 32907. Main number is 321-208-5788
Good Shepherd Lutheran Church Food Pantry
Address of food pantry is 2073 Garden St, Titusville, FL 32796. Phone: (321) 267-4323
North Brevard Charities Sharing Center
4475 South Hopkins Avenue, Titusville, FL 32780. Dial (321) 269-6555
Provides assistance, such as groceries, personal hygiene items, and more. The food bank may have both fresh fruits, vegetables, and perishables along with canned goods.
Project Response - Case Management HIV/AIDS
Location is 745 South Apollo Boulevard, Melbourne, Florida 32901. Phone number - (321) 724-1177
Programs focus on HIV patients and their immediate family members.
Grace United Methodist Church of Merritt Island
65 Needle Blvd, Merritt Island, FL 32953. Dial (321) 452-2420
South Brevard Sharing Center, Palm Bay
2881 Palm Bay Rd NE, Palm Bay, FL 32905. Phone - (321) 676-2965
Sharing Centers are a leading non-profit agency to call for help, including information on government programs like food stamps, WIC, and other public aid.
Lockmar Baptist Church
Address: 700 Emerson Dr NE, Palm Bay, FL 32907. Phone: (321) 984-0191
Advent Lutheran Church
A food bank is at 7550 N Wickham Rd, Melbourne, FL 32940. Call (321) 259-8515
People with no money, the low income and those in need will get Peanut Butter, Dried macaroni, tuna, shelf-stable food, Diced tomatoes, pasta and other groceries.
Highland Avenue Fellowship Church
Charity Address: 1591 Highland Ave, Melbourne, FL 32935. Main number is (321) 254-6363
Overcomer Church of God
A soup kitchen and food pantry is at 4350 Aurora Rd, Melbourne, FL 32934. Call (321) 752-8006
South Brevard SDA Church
Free food is from 8465 Babcock St SE, Melbourne, FL 32909. Main number is (321) 676-3245
The chatty helps the poor and struggling. Whether a senior citizen getting Meals on Wheels or Ensure, or a new low-income family getting free baby milk or Similac, help is offered. The free pantry has items such as Crackers, Peanut Butter & Jelly, Box dinners and other goods.
Ascension Social Concerns
Address: 1238 Aurora Rd, Melbourne, FL 32935. Phone: (321) 259-5685
Everything from clothes to food or holiday baskets are offered.
Old St Mary - St. Mary's Helping Hands
56 Barton Avenue, Rockledge, Florida 32955. Call (321) 632-7211
Or try the free food pantry and meals from the soup kitchen at 1136 Seminole Dr, Rockledge, FL 32955. Phone: (321) 636-6834.
St. Michael The Archangel (Charismatic Episcopal Church)
Address: 854 Cardinal Avenue, Rockledge, Florida 32955. Telephone - (321) 633-0788
St. Paul's Anglican Church
Address: 7200 N Wickham Road, Melbourne, Florida 32940. Dial the church at (321) 259-1130
Food offers meals, soup kitchen, information on shelter, and more aid.
Additional free food and meal programs near you in Brevard County Florida
For additional information or referrals, call the Second Harvest Food Bank at (321) 733-1600. This non-profit partners with churches, charities, Feeding America in Brevard County FL and food pantries to help the needy. Everything from information on emergency boxes of food to applications to free summer snacks for students and Meals on Wheels may be provided to Brevard County residents.
Related Content From Needhelppayingbills.com