Assistance programs in Dallas County
Find how to apply at churches, government offices, charities, or non-profits for emergency financial help or free items. There are grants and loans that help with rent or security deposits as well as mortgage payments or utility bills in Dallas. Or find government grant money to help pay electric bills or housing costs. Find financial assistance to help pay bills in Dallas TX near you.
Low income families, the working poor and immigrants in Dallas County TX will also get free food from pantries, medical or free dental care from clinics, Meals on Wheels and eviction help. Find where to apply for help with those bills as well how to get free gas vouchers, car loan payment assistance, credit counseling services, job training, and other financial assistance.
Find financial help with bills, health care, rent, and other aid
The goal of the Community Council of Greater Dallas (formerly known as Urban League of Greater Dallas) is to help families and individuals get short term assistance with paying bills or living expenses as well as coordinate long term financial stability. So both short term emergency help and long term financial assistance is arranged.
The Dallas non-profit will also provide

resources to ensure people become self sufficient

. They operate several offices throughout Dallas County, including in Irving, Garland, Pleasant Grove, Oak Cliff and other neighborhood locations. They have several programs and resources they offer people, and some of them are below.


Employment and job finding is offered at the center

. The Community Council of Greater Dallas Inc offers services to individuals that provide them with job placement, job readiness, training, and career development workshops. They offer monthly recruitment by working closely with area employers who partner with the to place clients. The services can help Dallas clients get a new or better, higher paying job.


Housing and rent assistance, including government grants, may be offered

. Another program for low and moderate income families and individuals made available to them by the Urban League is housing help. Included are the following programs:

Foreclosure Prevention, Counseling and Mitigation
Emergency assistance with paying monthly rent, utility payments, and even mortgage payments. Short term grants to be used for rent payments, security deposits, and rent arreage can be provided.
First-time home buyers workshop
Down payment assistance is offered to potential homeowners through the individual Development Accounts (IDA)
Find additional ways to get mortgage assistance. A number of resources are offered. More on emergency mortgage help.
Free budgeting and credit help

is offered by the Community Council of Greater Dallas Inc

.

To become self sufficient over the long term, it is important for people to get out of debt and improve their credit. So to help in that capacity, the Urban League can provide the following. Mortgage counseling, money management and budgeting, credit repair, credit card debt help.


Social support services

are arranged. All offered by the community action include.

Employment, GED and other support services to hurricane evacuees
Tax Preparation Assistance
Support services to Grandparents and Seniors Resource Group
"Back on Your Feet" Entrepreneurial Program
Holiday, food and toy assistance
Case management and Housing services are offered to homeless veterans
Benefits and checkups to seniors
Home Equity Conversion Mortgages
Job placement assistance and employment training
Technology training
Referrals to public aid, including free child care vouchers, section 8, and more.


Energy bills, including government grants

, may be arranged by Urban Community Center Of North Texas staff. They can help people through the process of applying for the Low Income Home Energy Assistance Program. (LIHEAP). This program help people pay for energy bills, including summer cooling bills. There is also an emergency crisis component that will help people and provide them grants if they are facing a service shot off.


Other assistance programs

are offered in Dallas County. Some of the other aid from the Community Council of Greater Dallas Inc includes food and gasoline vouchers for free gasoline, toys and gift vouchers, tax preparation through the VITA program, and utility bill payments.

Community Council of Greater Dallas Inc staff offer other immediate social services too.

Low

income residents, the unemployed and those that are struggling can get help from the non-profit. They serve as the northern Texas regions non-profit community action agency. Numerous assistance programs and resources are available, some of which are indicated at the top of this page. However dozens of other services are available as well.
Contact the Community Council of Greater Dallas Inc at 1341 W. Mockingbird Lane, Dallas, Texas 75247. Dial 214-871-5065, (214) 375-6280 or (469) 913-8202. They can also refer you to their local offices in Pleasant Grove, Garland, and Irving. More on Community Council of Greater Dallas community action.
Irving Cares is another non-profit charity organization that offers financial assistance. The organization has access to funding and grants to assist Dallas area and Irving residents experiencing a temporary financial crisis or hardship. Clients of the area who need help with paying their rent, mortgage, or utility bill payments must pre-qualify by phoning (972) 721-9181. In addition, they also have a food pantry on site, and also have counselors who provide jobs finding tips and advice.
Lancaster Outreach Center also offers grants for paying rent, utility bills, medical expenses, prescription drugs, and more. They also offer home repairs, gasoline vouchers, foreclosure programs, and other services. Call the agency at 972-227-0138. Find additional ways to get help with electric bills.
The Bethlehem Foundation (phone (214) 371-3407) provides financial assistance and support is given to low-income families only. They can also help with an eviction or utility service disconnection. They may also be able to offer prescription medication assistance.
If you have children, and at least one family member is working or is employable, you may be eligible for aid from Interfaith Housing Coalition. The non-profit provides 4-6 months of family mentoring and advice. In addition, the counseling is included with limited Rent Payment Assistance as well as budgeting help. If resources allow there may be gas and Electric Bill Payment Assistance. Call the Dallas agency at (214) 827-7337 or (214) 827-7220.
The northern part of Dallas County is served by North Dallas Shared Ministries. They offer a multitude of assistance programs, including providing free Bus Fare, Discounted Clothing, and access to groceries and a food pantry. In addition, qualified individuals may be able to receive Utility and Gas Bill Payment Assistance. They even offer some medical programs, such as glasses, contacts, medical exams, eye exams, and prescription medications. Dial (972) 620-8696 or (214) 358-8700.
West Dallas Multipurpose Center provides utility bills help (electric, water, cooling), a food pantry, rent aid, and other financial assistance. The program is also known as Brighter Bites. Also access a holiday assistance program, and some health screening programs. (214) 670-6530
White Rock Center of Hope provides bus fares, food pantry, rent help for people with an eviction, and funds for paying utility bills. Other support includes a thrift store with furniture or Christmas items and season assistance. The non-profit only services a limited number of zip codes. Call (214) 324-8996, or more White Rock Center of Hope.
MLK serves families that live in a zip code that starts with 752. The Helpline can be reached at 214-670-8416, and they may have grants for TXU bills or vouchers to buy food. Referrals may also be given from the helpline to rent, water bill, and other financial aid programs.
HUD - Dallas Housing Authority runs the low income, section 8 housing choice voucher program. This is for very low income families, and there is usually a waiting list. There may also be loans issued to help pay for a portion of rent. Other similar HUD programs can help senior citizens and the disabled with their rental expenses. 801 Cherry ST, Dallas, TX 75202-5032. Main number is 817-978-5600.
Dallas Housing Authority

- This government agency offers several state and federal government sponsored emergency rent and housing programs. Not only can they provide emergency grants, but they also ensure longer term self-sufficiency. Get more information on Dallas housing assistance.
Movement Ministries helps with utility bills. The agency covers Desoto, Red Oak, Waxahachie, Lancaster, Glenn Heights, Dallas, Mesquite, Garland, and other nearby regions. They offer information on energy saving tips, help clients enter into payment plans, and apply for utility assistance from TXU, Direct, Gexa and others. Applicants need to be low income, be on SSDI, section 9 housing, or SSI. Call 260-693-7283.
Emanuel Community Center Inc. of Dallas Texas provides social services to those who need help. The address is 4311 San Jacinto St Dallas, TX 75204. Main number is (214) 824-8613.
Irving Community Service Center - For people with an eviction or utility disconnection notice, the organization provides limited financial assistance and grants to help with rent, mortgage, water, gas and electric bill assistance. The intake number is (972) 251-4054. Families also have legal rights. Also read about utility disconnection laws for Texas.
The Salvation Army also has several other centers around Dallas County. Family services, case management, and other social services are administered. Some funds may be offered to help pay the bills, but more importantly they are a great place to turn to for longer term self-sufficiency. Funds may also help pay partial rent or mortgage payments too.
Or stop by for free Thanksgiving turkeys, Christmas toys, or school supplies for kids. Spanish speakers and immigrants are supported too. Salvation Army Of Dallas County and Irving Programs include a free food and grocery pantry. In addition, the charity agency provides emergency financial assistance with paying for gas, water and electric bills. Must live in zip codes 75038, 75039, 75060, 75061, 75062 and 75063. Call (972) 721-9503

Also, the Salvation Army Corps of Garland Texas runs a food pantry and may be able to assist with TXU electric as well as Garland Power & Light Electric bills. Social workers will support families and provide guidance and information as well. Call 972-272-4531
Many other locations are in the Dallas County region. Everything from free basic needs to financial help. Click here for more details on Salvation Army Dallas emergency assistance.
Jewish Family Services of Greater Dallas has some resources for the general population. A key focus is on job and employment assistance. The non-profit also has some limited emergency financial assistance for bills. Other assistance includes the Family Service Food Pantry, assistance for the disabled and elderly, and free use of a Job Search Resource Center. More on Dallas Jewish Family Services assistance programs.
Housing and Human Services Department, phone (972) 721-4800, runs the Homeless Prevention and Rapid Rehousing program. This is a federal government funded emergency rent program that can provide grants to prevent an eviction, help the homeless get into a new home, and pay for such expenses as security and utility deposits. The phone number is (972) 721-4800.
Child Care - Low income families who are in job training classes or who are currently working may qualify for help in paying child care expenses. There are some program limitations, but every year thousands of Dallas families can receive financial support. Read more Dallas Child care assistance.
Several different Catholic Charities operate around Dallas County Texas. They include those below. The services provided range widely, and can include one or more of the following. Many locations also have on site a free food pantry that is made available to low income families. Another service offered may be a neighborhood center that can provide senior citizens aged 60 and above daily noon meals.
Some of the

resources they offer include free food boxes

to people with no money, a thrift store for bargain stuff, and even free tax assistance as well as preparation. The non-profit has several offices around the region. There are also social services, recreation, education, nutrition, as well as welfare counseling.

Catholic Charity case workers also offer

referral to state and federal government

programs. Catholic Charities also has nurse-managed health maintenance clinics as well as dentists for teeth cleanings and exams. More on free dental care from clinics.

The

main office

is at 1421 W Mockingbird Ln, Dallas, TX 75247. Dial 214-520-6590 or (866) 223-7500

Brady Social Service Center

, 4009 Elm Street, Dallas, TX 75226. Dial (214)826-8330

Cross Family Center

, 4906 Bonnie View, Dallas, TX 75241. The phone number is (214)376-2560

Marillac Social Center Catholic

, 2827 Lapsley Street, Dallas, Texas 75212 (214)638-4997
Free basic needs, including furniture or clothing - Churches, non-profits, and charities provide other forms of assistance to the needy. This includes clothing, back to school supplies, furniture, Christmas gifts, personal hygiene items, and household goods. There are many free furniture and clothing banks in Dallas and northern Texas. While not as common, some of these organizations may have funds for emergency bills, such as money to prevent a disconnection. Find free clothes, furniture and school supplies in Dallas County.
Free back to school supply giveaway events

take place each year. They give out supplies to students, high schoolers and all the way down to pre-K. Whether free uniforms, computers, or other school supplies for low-income families, help is offered. Find free school supply programs in Dallas TX.
Cash loans for everyone from low income families to more moderate income Dallas families can be used for paying bills. The interest rates vary as well terms and conditions. Private sector lenders (including payday loan companies) and charities may all offer funds in a crisis. More on Dallas County emergency loans.
Dallas County Volunteers of America focuses on the less fortunate and low income. The non-profit offers housing solutions and other resources. A focus is on seniors, the disabled, and families with young children, however others in Texas can get assistance as well, including ex-prisoners. Read more Volunteers of America in Texas.
Dallas County Department of Health & Human Services runs welfare and social service programs. Call the office for information on and access to financial assistance and casework for individuals and families who have health problems which prevent gainful employment and who meet other low income eligibility requirements. In addition, a limited amount of emergency assistance funds are available as well as food vouchers for the medically indigent.
Welfare aid is part of Human Service. The County offers residents access to a number of financial assistance and social service type programs. Families with children, seniors, and disabled can apply for government assistance. Resources include electric bill help, Medicaid and SNAP food stamps. There is also free foreclosure counseling, housing, rental assistance, and other services. Address - 2377 Stemmons Freeway, Suite 201, Dallas, Texas 75207, Telephone - (214)819-1800. More on Dallas County public assistance.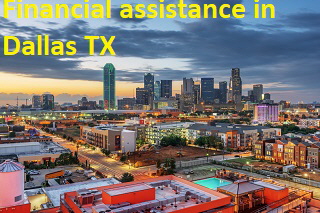 Assistance at Thanksgiving and Christmas - Families that are struggling to buy gifts or food for their children can get free meals, small toys and other gifts. Senior citizens are also a focus of the free Christmas programs in the area. More on Dallas free holiday programs.
Residents not

near a center

can get assistance too at Christmas. There are several mail and remote delivery services. they are great for seniors, working parents, or the disabled. Find free Christmas toys by mail.
GRACE, or Grapevine Relief and Community Exchange, may offer low income families some or all of the following. Utility assistance, including gas, free fans, electric, and water bills. Food and clothing as well as holiday food baskets, Christmas toys, and school supplies may be distributed. Emergency rental help and gasoline vouchers may also be provided. Address is 610 Shady Brook Dr, Grapevine, Texas 76051. Call 817-488-7009
Housing Crisis Center - Various solutions are offered, including for veterans, families facing imminent eviction, as well as the homeless. Thousands of Dallas County individuals, seniors, and families are assisted every year from the programs administered.
Eviction prevention

– Free legal aid and representation from local law firms. This can include attorneys who can contest illegal eviction notices.

Low income housing

– Everything from shelters to transitional and permanent placement into a low income apartment is coordinated.

Financial aid

– This is mostly from referrals. HCC can provide assistance, including information on grants, for the payment of security deposits, first months rent, or other needs.
Much more is available from the agency. Continue with housing programs from Dallas crisis center.
Dallas County Veterans Service Office can help veterans and their immediate family members. Apply for rent help, mortgage, utilities, medical bills and prescriptions. Some programs are for the disabled too. Or learn about federal government resources for veterans.
Application help is offered too. Veterans Service Office, Dallas County can help clients explore government benefits, public aid, and the Department of Veterans Affairs assistance programs. Some of the resources available may be pension, hospitalization, job search assistance, burial benefits. Or Dallas Veterans can get help in filing life insurance claims, state Veterans Land Board loans, and referrals to other Dallas Texas agencies. Dial 214-819-1885 or 972-692-4939.
An emergency referral line

has been set up in the community. This service will provide callers free information on where to seek help. Whether they need information on grant programs, child care vouchers, food, housing, or more, the service has details on many resources in Dallas County. The previous list is just an example of what information may be provided on. Callers can get linkage to both non-profits and Dallas county TX run benefits. More information on Dallas County info and referral line.
Both the city of Dallas as well as County is supported by dozens of local churches. They help Baptists, Catholics, Jewish, and others, no matter their religion. Assistance is also for non-English speakers and/or immigrants. Financial aid and material goods may be available, and find help from Dallas County churches.
Payday loans are also a problem in the region. Churches can offer lower cost financing to the working poor or someone in a crisis. Learn how to apply for church loans.
North Ellis County Outreach is for residents of Red Oak, Ferris, and Glenn Heights. Look into assistance including food, medications, rent, and utilities. Other programs include home repairs, Christmas Toy Program, and back to school supplies. Telephone number is 972-617-7261.
COIN helps work ready veterans in Dallas County only. Financial aid, one time payments for auto loans, free work clothing and boots, and other support is given. Veterans can dial 817-569-9008. There may also be government grants to pay for energy bills, rent, and other needs, even including property taxes.
Metrocrest Social Services also help people apply for public assistance. Resources available include free back to school supplies, uniforms and shoes and holiday assistance. Monetary aid is for transportation (gasoline and puss passes) and housing costs (rent and utility bills).
They also partner with groups, such as Jewish Services, to help people find a new or better paying job. Another key service is their Medical loan equipment program for seniors and the disabled. Address is 13801 Hutton Dr., Farmers Branch, TX 75234. Dial 972-446-2100, or find Metrocrest Services assistance programs.
Duncanville Outreach Ministry - Provide assistance with various bills and expenses for items such as food, clothing, electricity, natural gas, water bills, monthly rent, prescription medication, and school supplies. 202 Cherry Street, Duncanville, TX 75116, Phone number - (972)296-4986
Agency on Aging Center in Dallas - The center helps senior citizens, their spouses, and individuals that are caring for them. Some of the services include the following, or find more details on the Dallas County Agency on Aging.
Free or low cost minor home repairs for safety needs.
Local transportation to the store or doctor appointments.
Help in applying for benefits such as Medicare, hearing aid programs, housing, Meals on Wheels, and other voucher programs or social services.
Personal care and chore services for cleaning, food preparation, and more.
Operating Agency: Interfaith Housing Coalition runs a service known as EQUIP Homeless Prevention Ministry, which can offer transitional housing for families. In addition, meet with a counselor for case management, budgeting assistance , employment assistance, and housing counseling. Location 5600 Ross Avenue, Dallas, Texas 75206, call (214)827-7220.
Grand Prairie United Charities – A food pantry is on site, as well as limited financial assistance. Most importantly they offer information and referral for residents of Grand Prairie. Center is located at 1417 Densman Street, Grand Prairie, TX 75051.
St. Vincent de Paul at St. Michael the Archangel Church in Grand Prairie – Get assistance with utility bills and food. 2901 Corn Valley Rd., Grand Prairie, Texas 75052, dial ((972) 642-0502. The location also provides assistance with utility bills and free food and groceries too.
Several other Society of Saint Vincent churches and charities operate in Dallas. They provide free food, clothing, thrift stores, and more. Click more details Dallas St. Vincent.
Mesquite Social Services – Residents of Mesquite, Balch Springs, and Sunnyvale Texas can access a free food pantry which is made available. In addition, free information and referral service for all callers is offered. Financial aid is offered on a limited emergency basis too. 1035 Military Parkway, Mesquite, Texas 75149, Call (972)285-3000.
Manna House – Programs provide clothing, free food, and limited financial assistance for paying rent, utilities, and medical bills. Also look into gas for travel to work. Other basic needs include furniture, household items, back-to-school project, Thanksgiving and Christmas project, and educational classes. Dial 972-775-1800
Friendship House / First Baptist Church operates a food pantry and clothing is also available. Some electric bill help may be provided. Call 972-272-1010 for intake.
Christian Community Action offers job search, career training and placement in Dallas County. Financial assistance may be paid out for electric, water, and gas bills. Partial rent and mortgage payments may be made as well. Other resources include transportation, clothing, a food pantry and minor medical bill assistance. 200 South Mill Street, Lewisville, TX 75057. Dial (972) 221-1224, or find more details on Christian Community Action programs in Dallas.
Community Centers partner with the City of Dallas Human Services Division. The locations may have money for utilities and also may distribute food vouchers. Apply for other government assistance such as welfare or food stamps.
The locations administer a wide variety of other emergency programs as well, such as funds for paying rent, free eyeglasses and prescription medications, or Christmas gifts and meals. The centers also coordinate job fairs for the unemployed and offer referrals. The locations are Martin Luther King Jr. (214-670-8418 as well as Community Center of West Dallas (214-670-6530). Continue with emergency assistance from community centers in Dallas.
Water bills in Grand Prairie region - Low income customers with a serious need for help may be able to get assistance from United Charities, which is based in the city of Grand Prairie. They run a small fund that relies on donations and the money may be offered to struggling customers, seniors, or the disabled for paying their water costs. Find Grand Prairie Water bill help.
Sharing Life Community Outreach offers free food, household items, clothing, limited financial assistance. Other assistance includes durable medical equipment, computer lab, medicaid and CHIP, and on-site food stamp applications. In addition caseworkers can provide other source of advice and support. Thanksgiving and Christmas as well as back to school programs are offered too. The main office is at 3544 E. Emporium Cir., Mesquite, Texas 75150, dial 972-285-5819.
Network of Community Ministries- Richardson Network – The non-profit agency can provide the low income and needy with access to a food pantry, prescription medications, and free clothing. Other programs offer bus tickets, gasoline, and financial assistance with paying for mortgage, rent, water, electric and gas bills for selected zip codes. Meet with a counselor for referrals for counseling, medical clinics and dental services, temporary shelter and more aid. 741 S. Sherman Street, Richardson, TX 75081, Phone number - (972)234-8880, or find how to get financial assistance from Network of Community Ministries.
Richardson East Church of Christ – Only local zip codes are supported. Call to apply for limited emergency assistance with utilities (water, electric and gas), rent, and food pantry available for selected zip codes. 1504 E. Campbell Road, Richardson, Texas 75081, (972)231-8231
West Dallas Multipurpose Center – Call for information and applications on groceries, meals, money for energy bills, and food. 2828 Fish Trap Road, Dallas, Texas 75212, Phone (214)670-6530
Christ Cares For Princeton, the Church Of Christ only supports the nearby area. Gasoline, vouchers for prescription medications, meals, and food are available. Some more basic needs, including rent and security deposit assistance, may be offered too. Location is 301 East Princeton Drive, Princeton, Texas 75407. Main Phone 972-734-3355.
Federally funded programs address challenges faced by tenants as well as the homeless. Money may be provided to pay rental arrears to keep a family housed and other living expenses. Non-profits in the county are allocated funds every year in an effort to stop or limit homelessness from occurring. Read Dallas County eviction and rehousing.
Assistance for the disabled can be provided by the Dallas County AAA (Area of Aging). Referrals, home care, information on financial assistance and other resources are available. Both the individual with the disability as well as their caretaker can look into help. Call (972) 455-0005 800-548-1873, or click here for details on Disability financial assistance programs.
Housing, shelter, and low income apartments can help families and individuals in Dallas that were evicted or who are homeless. Several organizations provide access to transitional and low income, no wait list housing. This can include apartments, temporary homes, and more. Also work with a case manager to find a long term solution and explore financial assistance programs for paying rent, moving costs, and deposits. Read Dallas low income housing units.
Plumbing repairs and water bills - The main water company in the Dallas County region offers qualified customers payment plans on their bills and provides repairs to their plumbing systems. Income qualifications need to be met by applicants. Read more on the Dallas water bill assistance programs and services.
Housing and rent payment help is offered. Tens of thousands of Dallas residents face eviction every year. The need for rent assistance is one of the most requested services in the area. Find an extensive listing of rent assistance and eviction prevention programs. Find emergency rent assistance in Dallas County.
Free food assistance, meals and hygiene supplies
Some places that distribute food, and some of which may have applications to benefits such as SNAP or WIC in Texas, include.
Cedar Hill Food Pantry-Sharing The Bread - They have an on site food pantry, and may from time to time have funds for electric bill payment assistance. Dial (972) 293-2822.
Goodness And Grace Food Pantry - This facility only has food aid. They can provides emergency food and rations assistance to low income individuals and/or families in the Dallas community. Call (972) 293-3700
There are a few other main pantries. Fair Park Friendship Center ((214) 826-0018), and Greater Zion Outreach Ministries ((214) 358-2992) are among the churches and charities that only offer food.
More non-profit food banks and distribution centers can help families across Dallas County. There are often soup kitchens for hot meals too. Read more on the programs and find their locations. Locate free food pantries in Dallas County.
Dallas Texas legal aid and lawyers
Legal Aid of NorthWest is an organization that provides free and/or low-cost legal care and advice to the working poor. There are free legal consultations for the unemployed, and other qualified individuals in Dallas.
Many of the clients of the attorneys from this organization are low-income people facing evictions, unemployed, victims of domestic violence and others who could not otherwise find legal aid. Click here to learn more on Texas legal assistance, or dial ((214) 748-1234
Free health or dental centers
Several of the leading Dallas County health care centers are listed below. However there are dozens of other clinics that may provide free or low cost medical care to children, low income, people with no or limited health insurance, and others. More on Dallas free community clinics.
A health clinic that serves people who can't afford to pay doctor bills was created by Central Dallas Ministries. Over 20,000 people use the clinic each year, and it offers primary health care and medical services; prescription medications, pediatrics, pastoral counseling, social work. They also have a Class D pharmacy medical, pediatric, well woman and diabetes services available to uninsured patients. Call 214-823-8710
Community Dental Care (214-630-7080) offers free dental cleanings and care for children and other low income adults. This also includes implants and dentists that take Medicaid. There may be check ups, teeth removal and other support for qualified families with Medicaid or no insurance. The address is 1440 W Mockingbird Ln # 120, Dallas, TX 75247, or find other dentists for Medicaid patients..
Some of the other clinics in the area that may be able to provide reduced priced health and dental care include Metrocrest Family Medical Clinic ((972) 484-8444) and Corsicana Health Services (phone (903) 872-5625)
Children may be eligible for health care at City of Dallas Public Health Division. Dial (214) 670-0505. This is a non-profit Community Clinics for low to moderate income children and infants in the City of Dallas.
Los Barrios Unidos Community Clinic - Offers medical care, with priority given to West Dallas residents. Call (214) 651-8739
Find addition medical care programs, which can also help Dallas Texas families.
Free debt and credit counseling as well as mortgage relief in Dallas
Call Greenpath (formerly Consumer Credit Counseling Service Of North Central Texas, Inc.) at (248) 553-5400 or (940) 382-0331. They offer information on foreclosure prevention and ways to get help with mortgage payments. Work with a HUD approved housing counselor to explore your options. In addition, they can help people deal with unpaid bills and debts, provide bankruptcy advice, and other forms of budgeting and financial advice. It is a Dallas Texas based agency.
There are several branches of both Consumer Credit Counseling Service and other non-profit debt and credit counseling agencies that operate across Dallas Texas. Thousands of individuals and homeowners receive debt and mortgage counseling from the organizations every year. Find more Dallas credit counseling locations.
Non-profits and Fannie Mae are providing Dallas area homeowners access to a wide variety of foreclosure prevention programs and resources. Most of the aid is offered at no-cost to struggling homeowners. Contact the agencies early in the process to learn how they can help. Find the Fannie Mae mortgage help in Dallas.
Programs for low income children
The federal government funded Head Start as well as Early Head Start programs were created to help low income children, as well as their parents, access a wide variety of resources and services that can help them during difficult periods. Assistance provided can help children with educational needs, health and dental care, and more. Parents can turn to job finding services, employment counseling, and more. Read Dallas Head Start programs.
City of Dallas
If you live in the city, click here to find how to get help and access services and resources specifically for the city of Dallas.
Related Content From Needhelppayingbills.com