Assistance programs in Houston and Harris County.
Find organizations that provide financial help or free stuff in the Houston TX area. Get money to pay electric bills or rent, free cars, groceries, clothing and more in Harris County. Charities, churches and free government grants are available for low-income families, single mothers, seniors or the disabled. Get financial help near you in Houston and Harris County Texas.
In addition to hardship funds for paying for housing, water bills, auto repairs or medical costs in Harris County Texas, here are dozens of agencies that also giveaway free items too. Charities give out free back to school supplies or laptops, provide vouchers to pay for gasoline, give kids Christmas toys or provide Houston area families with free furniture. There are also Meals on Wheels services and applications to benefit programs.
Community Action programs for financial help, free items and more in Houston area
The Gulf Coast Community Services Association (GCCSA) is an organization that can provide people with short term, immediate financial help on bills. The non-profit will also offer access to longer term support. They help low-income families, veterans, people with no money in Houston TX and others in need.
Emergency Rental Assistance and Grants -

The organization provides emergency payments and grants for people who have received eviction or vacate notices. It is required that the person be facing imminent threat of an eviction.

Direct Energy Utilities Program (Neighbor II Neighbor Program) -

Utility bill assistance is provided to help clients who are struggling with paying and who are behind on their utility bills. Funding comes from Direct Energy and Centerpoint, and a disconnect notice on your utility service is not required to receive aid. Learn more on how to get help with Centerpoint utility bills.

Applications to Reliant Energy Utilities Program (Care Program) -

Help is is offered to people who are behind on paying their electric and utility bills. The funds are provided to pay the bills as well as free energy conservation measures.
Prescription Assistance -

A prescription gift cards is provided to families and individuals that can assist them with their prescription medication needs. Find addition ways to get free prescription drugs.

Prescription Discount Program -

The Gulf Coast Community Services Association provides prescription drug savings and discount cards to families to assist them with paying for their medications, and help them meet their prescription needs. Average savings from the program is over 20%.

Foreclosure Prevention Services and Counseling -

Extensive housing counseling services are offered to people facing a foreclosure. The typical process will include the creation of forbearance plans and client advocacy are facilitated at the Central Office by a certified mortgage and housing counselor. Locate additional government foreclosure programs.

Emergency Mortgage Assistance -

Grants and financial assistance are provided by GCCSA, and the funds are used to help clients who are behind on one of their mortgage payments. A default letter is needed in order to qualify.

Emergency Utility Bill Assistance -

In addition to what is mentioned above, GCCSA also provides emergency energy bill assistance to clients who have received a disconnect notice from their utility or gas company. A disconnect notice is required to qualify for this service.

Free Health Care -

There are several facilities in the Texas are that provide underinsured and uninsured patents with free health and medical care. Find Texas hospital bill programs and get more information.

Q Cards/Bus Passes -

A Metro Q-Card can be obtained for transportation assistance. The service is accessible at the various Outreach Sites around Houston and Harris County.

Dress for Success -

Need a job and are interviewing? You can get professional business attire to help you make a good impression in job interviews.

Eyewear Vouchers -

The GCCSA community service organization works in partnership with The Gift of Sight Organization. They provide free vouchers that can be redeemed for free eyeglasses, contact lenses and eye wear.

Free school supplies

, tutoring and programs for kids are offered from Gulf Coast Community Services Association. There is a free After School Program as well as a Community Learning Center Services. Or apply for Head Start and Early Head Start services.

Free vouchers

are offered. GCCSA also offers a free Furniture Program, Food Pantry, Clothes Closet, as well as Employment Skills Program.
They have 35 locations throughout the county and Houston area. Contact them to apply or to learn more.. The above are just a sampling of the programs offered by the Harris County community action agency. The main office is at University Business Park, 9320 Kirby Drive, Houston Texas, 77054. The phone number is 713 393-4700. A number of other services are available. More on Gulf Coast Community Services Association.
Financial assistance to help with bills in Harris County
The Catholic Charities of the Archdiocese of Galveston-Houston offers various social services, hardship grants and financial resources. They can provide food, rent help, utility bill assistance, and prescription drug medication assistance as well as other help. Immigrants and women facing DV in HArris County will get help too.
The

Rental Assistance Program

focuses on individuals and families who are in a short crisis. Case managers and housing counselors will work closely with individuals during this time to help them locate jobs, provide career training and help them find permanent housing. They provide one time rental assistance, utility help and case management services, as funding is available. They also help people find no-wait list, affordable apartments in Houston.
The non-profit also offers provides referrals, advice, and social services. This ranges from job training programs to legal advice for immigrants. Case managers can also help people apply for government programs and cash assistance. The address is 2900 Louisiana St, Houston, TX 77006, or call (713) 526-4611. Find more details on Catholic Charity programs in Harris County Texas.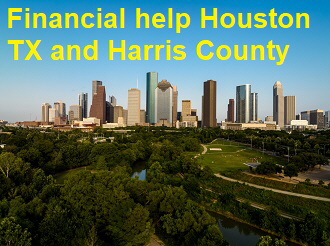 The Salvation Army of Houston, which can be reached at (713) 752-0677 or (936) 760-2440, offers several services including Mortgage and Rent Payment Assistance or free motel housing vouchers. There is an emergency Water And Utility Bill Payment Assistance program to stop a disconnection. Low income income families or the homeless in Harris County will get free food, baby formula or meals..
However they are a great place call for

free items (non-monetary supplies

), including free clothes. There are also Christmas toys for kids from Angel Tree, Back to school assistance programs, as well as gas cards to get to a job interview.
Also get support in applying for public assistance, social services, and cheap, bargain items at the Salvation Army thrift stores in Harris County.
The non-profit Salvation Army supports low income people and families all across Harris County and they operate from several locations. While they do offer some financial assistance, funding is limited and not everyone will qualify. Read more on all of their programs, and locate assistance from Houston and Harris County Salvation Army.
Society of St. Vincent de Paul is another charity organization to turn to for help in Houston. They help people of all religions. The organization provides emergency financial assistance for bills, housing, car repairs and basic needs in the Houston-Galveston area. There are also free or low cost items in Harris County from SVDP.
Society of St. Vincent de Paul of Harris County is made up of a partnership of churches that

provide emergency financial assistance and cash grants

. Funds are limited. Get help for utilities (water, gas, electric bills) and rent. Some locations have an on site food pantry.
In addition, all locations provide vouchers to St. Vincent de Paul's thrift stores where clients can receive appliances, clothing, and furniture. Call (713) 741-8234, or find details on Saint Vincent de Paul assistance Harris County. Call (713) 741-8234 or (281) 485-2976
Harris County residents can find ways to make more money too. There are job opportunities, including working from home and flex jobs, for immigrants, Spanish speakers, the undereducated and others. All of them are effective at earning some extra money. Even find a list of freelance job opportunities.
Southeast Area Ministries - Helps low income and other qualified applicants. They can help by giving grant money that can be used to pay for housing, utilities, rent and security deposits. Or get free RX medicine, gas vouchers, as well as job related assistance. The aid doesn't stop there though. They also offer clothing, free household items, furniture, referral counseling, and information on Texas and federal government programs for all other needs. Call (713) 944-0093, and the address is 2102 Houston Blvd, South Houston, TX 77587.
A variety of assistance programs are offered by the Wheeler Avenue Baptist Church Social Service Center. They offer the Emergency Food Shelter Program, which can provide qualified Houston Texas individuals with funds for paying their rent, mortgage, and other housing expenses.
In addition, they may also provides financial help and cash grants up to once per 12 month period for families or individuals with delinquent delinquent water, light, and gas bills. Address is 3826 Wheeler Ave, Houston, TX 77004. For more details, dial (713) 748-5240
Churches support low income families. A number of faith based groups are located in Houston Texas and outside the city. While some offer only free food or vouchers, others provide financial help. It will vary based on location. Find electric bill and rent help from churches in Harris County.
There may be many other

services provided by these parishes

. Staff and volunteers work to help the poor, newcomers to Houston (including immigrants or non-English Speakers), and the homeless among others. The assistance is generally offered to local families, and ind more details on Houston and Harris County churches.

St. Joseph Social Ministry

only offers help to qualified people in the zip code of 77007. This can include food, utility bill help and more. (713) 222-8903

St. Mary Magdalene Social Services

may distribute food and energy bill help to the low income and needy in the Humble Texas region. Dial (281) 540-1907 for information.

St. Justin Martyr Social Ministry

- Provides low income, the unemployed and working poor help on a first come first serve basis assistance with electric, water bills, gas, rent, or housing expenses. Call (281) 556-5116
Emergency loans - Harris County families have several options if they have an urgent need for cash. There are lenders who provide funds, including payday as well as as other short term loans, to low income families, households with poor credit scores, and others. Find details on lenders to contact, and read more on loans in Houston and Harris County.
Christian Community Service Center, Inc. - Houston Texas phone (713) 871-9741. Provides grants and vouchers for food, utilities, and rent help. The agency assists low-income clients of all religions with emergency free food and groceries or kids or adult clothing. They also help pay moving or storage costs in Houston TX.
Houston Volunteers of America - Texas - Also known as VOA for short, the agency offers several assistance programs. One of the most high demand offerings is for affordable housing and apartments, and the non-profit does operate units in the Harris County region. Some of the main clients for low-incomne, rent subsidized housing and other assistance programs are the elderly, families with young children, and unemployed. There is also help for veterans and homeless people in Harris County. Click Texas Volunteers of America.
Cypress Assistance Ministries - Get information and referral to places for grant money. Or get free work or school clothing, household items, general counseling, and limited financial assistance. Call (281) 955-7684, and the address is 12930 Cypress North Houston Rd, Cypress, TX 77429.
Covenant House Texas – Provides crisis homeless shelter, free temporary lodging and transitional apartment living for youth ages 18-20. If needed, this will also be including medical care and clothing, such as a sleeping bag or other goods. Address is 1111 Lovett Blvd., Houston, TX 77006, call (713)523-2231.
Windsor Village United Methodist Church operates a Social Services Office in Harris County. They run the Emergency Food Shelter Program (EFSP) which may pay out rent, mortgage, or food assistance. This may include short term loans for paying rent.
Special attention is offered/available to Senior Citizens and families with children. The non-profit center helps with Utility Bills and Rent Assistance on a limited basis. They help senior citizens over the age of 60 get meals, commodities, Medicare enrollment and more. The address is 6011 W Orem Dr, Houston, TX 77085. Call (713) 723-8187, or learn more on UMC church low-income programs.
Memorial Assistance Ministries runs the Homelessness Prevention and Rapid Re-Housing Program. The charity provides financial help with paying for rent, utilities, as well as free case/care management. Or get inperson or online debt and budget counseling, credit repair, and free legal assistance from an volunteer lawyer for those who are homeless or at risk of being homeless. The charity provides emergency electric, gas and utility bill help, as well as same day rent payment assistance for those in need.
Bear Creek or Memorial Assistance Ministries

- Provides rent, money and financial assistance as well as other financial hardship assistance to qualified people. The charity also has a low cost thrift store on site. Dial (713) 468-4516 or 713) 574-7544, or click more Bear Creek Ministries.
Northwest Assistance Ministries - Offers the low income, the working poor, and others with emergency assistance. Get a free box of groceries or hot meals. Or apply to funds to pay natural gas, water bills, rent, and mortgage. They administer a number of resources in Harris County, and also process government benefits such as help for completing SSI disability applications.
The

Basic Needs Program

may have bus tokens, prescription medications, grants for security deposits, free gasoline vouchers and more.

Veterans

can get help with housing and medical needs. Or learn about VA benefits, including medical care or discounts for veterans.

Food programs

in Harris County include Meals on Wheels, pantries, as well as holiday meals.
A

Supportive Housing

service and shelters from NAM will help stop evictions, offer funds for rent or deposits, and more.
St. Pius Catholic Church - Provides free food every 3 months and financial assistance for bills once every 12 months when funds are available. Note that the free food Food Pantry and Financial Assistance for rent or utility bills is only for the Pasadena and South Houston Zip codes. Applicants need to live in zip coses of 77502, 77503, 77504, 77506, 77507, or 77587. The hours are also only Tuesdays and Thursdays from 10 AM to 12:30 PM. Pasadena Texas. Call (713) 473-9484 ext. 316.
Harris County Area Agency on Aging is the local center of the nationwide network. Seniors can benefit from the programs offered. They include free meals, including home deliveries, Medicare benefits counseling from the State Health Information and Assistance Program. There is information on free government money for seniors over the age of 60 in Houston TX as well as other benefits.
The non-profit will give information as well as referrals, and other support. The disabled in the Houston area may also benefit from some programs, regardless of their age. The address is 8000 N Stadium Dr, Houston, Texas 77054. Call (832) 393-4301, or more on Texas Agency on Aging.
Low income housing and apartments are available for those Harris County families that are struggling to pay their rent. Some of the units specialize in meeting certain needs. For example, housing may be offered for senior citizens or women with children. Many agencies offer affordable apartments and homes to Houston low income families and they may distribute rental vouchers as well. Read more Houston low income housing.
My Brother's Keeper Outreach Center offers the Emergency Food Shelter Program to Harris County families. This EFSP program provides federal government funded rent, utility, and mortgage payment assistance when funds are available. They also operate a food pantry, and offer free Thanksgiving and Christmas meals. The center is at 12621 Bissonnet St, Houston, TX 77099, or call (281) 498-9933, or more details on My Bother's Keeper programs.
Houston Texas based St. John Vianney Social Ministry - This non-profit charity offers renters assistance and utility bill assistance, clothing from Joseph's Coat Resale Clothing Shop, and free food from pantry. There may be free small appliances including a fridge or microwave, volunteers to help the elderly in Houston as well as guidance. The location is 625 Nottingham Oaks Trail, Houston, TX 77079, or dial (281) 497-1500 for details.
Humble Area Assistance Ministries can assist those facing evictions or the currently homeless. The charity can provide assistance to rapidly re-house persons in Harris County who are homeless as well. The agency provides light bill and rental assistance to low-income families or the unemployed. The charity can provide for some basic needs. Financial help is limited.
Or get loans for security deposits, free legal services, case/care management, and credit repair or debt reduction classes to those who are struggling. They are based at 1302 First Street in Humble Texas. Call (281) 446-3663, or more on Humble Ministries assistance programs.
LINC Houston Community Services is made up of churches and faith based groups. The charity mainly focuses on basic needs, but can have limited cash assistance and also offer help in applying for government benefits.
The basic items may include free food, prescriptions, or eye glasses. They also give out a free bus ticket or gas voucher for transient people or a single mom. The financial programs, when available, can help pay rent to prevent an eviction or security deposit on a low income apartment in Houston. Or get help in applying for job training, social security, Medicaid and other programs. Phone 713-426-2451, and resources are very limited. The location is 800 Houston Ave, Houston, TX 77007.
Riceville Mt. Olive Baptist Church may have resources such as free food for people with no money or a low-income in Houston. Or get clothing (shoes, coats, work attire) and emergency financial assistance programs. Free educational supplies, clothes for kids, used computers and information on benefits too. Main number is (713) 774-4880, or 11539 S Gessner Rd, Houston, TX 77071.
West Houston Assistance Ministries runs the CARE Ministry. Phone number (713) 977-9942. The ministry provides low income clients with short-term solutions, resources and self-sufficiency. The predominant needs addressed are: housing assistance (such as rent and even mortgage), utility, cooling bills assistance, free food and clothing. There are also volunteers that do free minor chore work for disabled people or seniors. More information on CARE Ministry in Houston.
Housing and Community Resource Center provides referrals. The organization partners with and has linkage to dozens of other charities and non-profits across Houston and the county. Some examples of what may be available is as follows.
Utility, water and cooling bill help

from CEAP - Comprehensive Energy Assistance or other options.Locate other grants or funds to help with electric bills.

Homeless prevention

from a combination of ESG grants or low interest loans.

Property tax assistance

, including abatements and deferrals, especially for seniors.

Free clothing, food, medications, immunizations

, and dental assistance.
Much more is available as well, and find details on services from Harris County Housing and Community Resource.
Legal representation and advice - Two firms, including Lone Star and the Volunteer Lawyers program, provide information and support for many topics. One focus is on homeless prevention, so they offer advice on eviction as well as utility shut off notices. Or lawyers can offer help in applying for benefits such as SSI or other public aid. Other free assistance is provided to for low income families. Click more details Harris County legal aid.
Free online or in person

lawyers are also in Houston. They help seniors, immigrants and people with no money or income. Civil cases are handled.

Lone Star Legal Aid

provides free civil legal assistance to low-income individuals and families, the elderly, and others who have immediate needs for advice but cannot afford an attorney. The programs can help with foreclosures, debt issues, child custody, and more. Click here to learn more, or call them at (713) 652-0077. There are also other free lawyers for legal aid in Texas.
Emergency rental assistance - Several charities, churches, and non-profits focus on stopping or reversing homelessness in Harris County. The agencies may offer financial support or referrals. While limited, there may be loans or cash grants for paying rent and more. Other bills such as security deposits or moving costs may be partially paid for as well. Find details on Harris County rent assistance programs.
Housing assistance

- Resources are offered to help Houston and Harris County families deal with various housing issues. Programs can offer emergency rental assistance, security deposits, housing vouchers, and other aid. They also help people with evictions get a private landlord with no credit checks in Houston. Most of the services are funded by the federal government, but local public housing authorities distribute the funds. Read more Houston Housing Assistance.
Wheeler Avenue Baptist Church Social Service Center (phone number (713) 747-7101) provides limited amounts of financial help to pay bills and cash grants. Any money is at most once per 12 month period for delinquent mortgage payments or rent as well as overdue light, gas and water bills.
Interfaith Caring Ministries offers the following programs. The federal government funded Emergency Food Shelter Program (EFSP) offers utilities, food, and rent help. Homelessness Prevention & Rapid Re-Housing, which is from government funds, pays for moving costs, back rent, and offers services such as debt reduction and credit repair. Dial (281) 332-3881. More on Interfaith Ministries in Houston.
Katy Christian Ministries - Provides assistance with paying for utilities, rent, as well as profesisuonal case/care management./ Or get job search/placement, access to the internet for free, and career counseling. Many other services are run by KCM, such as holiday assistance from Santa's Sleigh. Based at 23232 Kingsland Blvd, Katy, TX 77494. Call (281) 391-5261, or read Katy Christian Ministry services.
Tomball Emergency Assistance Ministries - Clients of this non-profit agency are helped with prescription drugs. There is one time, immediate, rent aid, money for cooling bills and utilities, gas, and overnight lodging, on a limited basis. Tomball Texas located. Call (281) 351-6700, or the non-profit is at 300 W Main St, Tomball, TX 77375.
AIDS Foundation Houston, Inc. - Allies in Hope. Call, (713)623-6796. Persons with HIV/AIDS can get up to 12 months of rental assistance for supportive housing or private rental units. Or get financial help for cooling and electric bills, and other aid. Or get free medical transportation, a gas card for the doctor and other resources. The office is at 6260 Westpark Dr, Houston, TX 77057.
Bering Omega Community Services

only assists those residents that meet HOPWA eligibility, so that are impacted by HIV or AIDs. The non-profit is in Houston Texas (phone (713) 529-6071) and offers referrals, residential housing, medical support and rent help to those impacted by AIDs. There is also transportation for non-emergency medical needs, known as NEMT. Learn more on NEMT services near you.

Brentwood Community Foundation

offers resources for people with HIV/AIDS. This can include financial assistance, such as rent, mortgage, food, and utility bill assistance. They also coordinate support groups, referrals, and may have housing.

The main office is at 13033 1/2 Landmark Street, Houston, TX 77045. Call (713) 852-2551. Other agencies that offer similar services in the region include Covenant House Texas (dial (713) 523-2231), New Hope Counseling Center, Inc. (phone 7081 (713) 776-8006) as well as The Colt 45s (dial (713) 526-6077).
HAUL, also know as the Urban League, provides many services as indicated on this page. Everything from advice on homebuying to foreclosure counseling and support for families facing eviction is available. Low-income families will get help buying a home, information on government loans for repairs, and even free job training or work stuff. They also offer employment services from their Economic Empowerment Center and other resources. More on Urban League of Houston programs.
Get free foreclosure counseling

and prevention from the Houston Area Urban League, Inc

as well.

They are a HUD approved agency, and provide solutions to a homeowner facing a crisis. They work directly with the homeowner and borrower and have extensive resources to bear. Call the Urban League at (713) 393-8700 to learn more and apply for foreclosure help.
HFB - Houston Food Bank Foundation operates a referral line for the community, and anyone can call. Staff will offer information on emergency food pantries and soup kitchens. School supplies are offered for educators from Teachers Aid, and there are also free snacks and meals for students. Senior citizens in Houston can get free food boxes, and the foundation will also help families apply for benefits such as SNAP food stamps. More on food bank foundation programs.
Harris County Community Services has many low-income programs, free hardship grant money, vouchers and more. The office is at 9418 Jensen Dr, Houston, TX 77093. Indigent families can access short-term assistance, case management, and help for bills. The government agency also provides temporary financial assistance for paying for food, shelter, utilities, and groceries. Or get free funeral or cremation services in Houston TX.
They also

process online applications to CEAP

energy help. Or get money to pay for summer cooling bills or even an air conditioner. The unemployed and people in crisis are a focus, as well as veterans..

Social services

are offered. Individuals who are faced with an emergency, and who meet income guidelines, can be able to qualify for financial assistance, grants, and free advice from the Harris County Community Services Department. Services are wide ranging, and the organization can offer housing assistance, help for energy bills, public aid, referrals and more. Call (713)696-7900 or find financial aid from Harris County Community Services.

NW Harris County Satellite Office,

15555 Kuykendahl, Houston, Texas 77090, call (713) 696-7900. The Harris County social service department can provide help for utilities, rent, and free legal advice, among other public benefits. A focus is on the working poor and residents with an unexpected reduction in income.
Star of Hope is a charity that offers emergency homeless shelter, information on transitional housing, and solutions for the homeless and poor in Harris County. This includes migrants and Spanish speakers. On any given days hundreds of men, single parents, and children use the services that are administered. Click more Star of Hope.
Wesley Community Center, Inc help struggling people. Apply for rent, cooling and utility bill assistance, or hardship loans for a crisis. There is also free credit/budgeting classes, free pro-bono legal services or attorneys, case/care management, and emergency financial support. The non-profit is at 1410 Lee St, Houston, TX 77009. Phone: (713) 223-8131.
SEARCH Homeless Services provides various low income and transitional housing programs, job training from a Resource Center, and educational support. The Stabilization from the non-profit can help Houston area households with a disabled member, and the organization also coordinates free medical and dental care for the homeless, among other services. They also work to help prevent evictions to begin with. More on housing programs from SEARCH.
Coalition for the Homeless of Houston provides support as part of the Continuum of Care. They have information on providers that provide everything from fee vouchers to pay for a motel to short term rental assistance in a crisis. Other support may be permanent housing placement, shelter, legal aid for housing court, and anything required by tenants. Read Houston Eviction Prevention and Rapid Rehousing.
Water and sewer bills - Seniors, low income families, and disabled individuals who are facing a shut off of their water service may be able to qualify for financial aid to pay their water bills. A limited amount of cash assistance may be offered up to twice per year. Read more on Houston water bill assistance.
Low interest car loans are offered. There are lenders in Houston, non-profit credit counseling, job centers and other agencies. They provides low interest automobile loans to people who need a car for their job. Trucks can also be financed in the Houston area using the service. Find details on down payment assistance for auto loans for bad credit.
Other auto help, including for impounds

, is offered. It can also be used for job interviews. Program participants can qualify for a low-interest car loan that can be applied towards buying a new or used car. Or there is also assistance for other forms of transportation, and find help paying for car impound fees.
Financial services and loans for the unbanked. The Priority Trust Credit Union (Houston Metropolitan Federal Credit Union) is catering to low-income families in the area. The non-profit is the organization that helps the under banked, immigrants get credit, and provides low cost loans. The credit union is intended to help people who do not have a bank account, social security number or a traditional banking relationship. Look here for how to get a credit card without SSN.
A number of services are offered. It can help these individuals build credit, reduce debts, qualify for home and car loans, and much more. Dial (713) 699-0795. Learn more on credit unions and stretch pay loans. The address is 608 E Tidwell Rd, Houston, TX 77022
Child care assistance for low-income families or single parents. There are also free subsidized vouchers for day care from the government. Some of the organizations or places to call for information on free or reduced priced child care in Harris County and Houston Texas include Collaborative for Children. They are the leading Local Childcare Resource & Referral Agency. Call 713-600-1100, or learn more on free government child care programs.
For information on agencies that run the Houston Head Start and Early Head Start programs, call these providers. Gulf Coast Community Services Association, Inc.(dial (713) 393-4700), Avance Inc. (713-812-0033), Harris County Department of Education (713-273-3211) and also the non-profit Neighborhood Centers, Inc. (713-273-3211).
Free stuff in Harris County for low income families
Find places for free cars in Harris County. The disadvantaged often need transportation assistance for work. Auto dealerships will giveaway a free used car or truck for a job in Houston Texas and there are non-profits that help with an affordable cheap or free car. A number of other resources are offered too. Find a free car from a charity.
Cell phones, including Apple iPhones for zero dollars, are available from the government. Programs such as Lifeline and TANF help low-income families get the deice they need for work, school, or emergency communication. Learn more on government Apple iPhone for phone.
Free basic needs, free furniture and clothing - Non-profits and organizations across Houston and Harris County distribute items such as clothing, furniture, household goods, school supplies, and free birthday toys. Some of the locations include clothing banks, churches, and other charities. They also give appliances and free stuff. Learn more on Houston region free furniture banks, clothing closets, and back to school supply programs. Continue with Houston area free clothing closet, furniture banks and school supplies.
Free help at the holidays - Tens of thousands of families receive assistance every year. During Christmas, there may be free toys for a child, gift certificates or emergency food boxes. Harris County charities also offer additional support at other key times, such as Thanksgiving meals and visitors to the elderly in Houston. Locate Houston and Harris County free holiday and Christmas programs.
Houston Texas and Harris County free job training and employment services from the Urban League (call 713-393-8700) help people build skills. There are several non-profit as well as government organizations that focus on helping people finding a new job, enhancing their skills, or improving their employment opportunities. There are also free services such as ESL classes, or apprenticeships arranged. .
Career and Recovery Resources, Inc.

administers an Employment Programs that help participants prepare for entry into the job market. It will help people improve their skills, identify employment opportunities, and learn job retention techniques. In addition, free Career Counseling services offers educational and vocational guidance. They also help people get free computers, access to the internet or a cell phone. The address is 2525 San Jacinto St, Houston, TX 77002, or call (713) 754-7000.
Free health care in Harris County Texas
Legacy Community Health Services, Inc. is a health clinic that will provide free, no-cost or low-cost healthcare services to over 20,000 men, women and children each year. They help with an extensive list of medical conditions and health care needs. The uninsured, patients on Medicaid and low-income can get free services. Call them at (713) 830-3000. The location is 1415 California St, Houston, TX 77006.
If you do not have health insurance, the San Jose Clinic is the main clinic in the Houston Texas area that is dedicated to providing free medical care to the uninsured. There are some income guidelines as well in order to be eligible. Patients of the clinic are able to receive free medical, pharmacy, dental, medications and other social services. Call the clinic at 713-228-9411, or read more on free medical care.
Houston based Good Neighbor Healthcare Center provides medical and dental to the low-income, immigrants, kids and others.. Dial 713-529-3597 for an appointment or to learn more. No patient is turned away, no matter their income. A sliding fee scale is in place for those on a limited income. Receive access to general health care, dental services, behavioral health, optometry, and other free health care. The address is 190 Heights Blvd, Houston, TX 77007.
Shalom Health Ministry, which can be called at (713) 454-6474 and is located on Broadway Street in Houston, provides patients of all ages with primary health care and immunizations. Charges and expenses due by the patient will be based on a sliding scale. A registration fee needs to be paid though.
Christ Clinic will help people without insurance or any other source of money for paying for treatment. They may be able to get medical care, medications, exams, telehealth and more. They provide dental care to those without insurance or the means to pay for medical services. Dial (281) 391-0190, or more on 25722 Kingsland Blvd #111, Katy, TX 77494.
Harris County Hospital District is a public health clinic that offers medical care on a sliding fee scale. The community clinic provides primary health care, pharmacy and medications, podiatry, nutrition and health education, and social service referrals. Phone (281) 837-2700. More on prescription medications.
There are dozens of other places for free or low cost medical, dental as well as healthcare. Immigrants and the uninsured can get help. There is free care for people on Medicaid, CHIP, or the homeless too. Get a listing of additional Harris County free community clinics.
Anyone struggling to pay insurance deductibles, including the low income and working poor can use government support too. There are a few places to both save on medical bills and to get medications, eyeglasses, and more. Or get financial aid, including assistance for health policy insurance deductibles.
Free food and pantries in Harris County and Houston
Faith Presbyterian Church

- The food pantry is at 3900 N Main St, Baytown, TX 77521. Call (281) 422-2938.

Gulf Coast Community Services Association

- Good Neighbor Food Pantry provides food, groceries, bag lunches, Ensure and more. Call (281) 426-4757

Bellfort Seven Day Adventist Church

- Call (281) 890-1002 or (713) 738-0840. Canned food and groceries.

Christian Community Service Center, Inc.

- 5 days of food provided to low-income families, kids, teens and the unemployed. Phone (713) 871-9741 or the location is 3434 Branard St, Houston, TX 77027.

East Spring Branch Food Pantry

- (713) 464-0852

Jordan Grove Baptist Church

- A Houston Texas based food pantry. Call (713) 522-8000

Restoration Assistance Ministries

- Help for families facing a hardship. Call (281) 873-4726

St. Charles Borromeo

- (713) 692-6303
Many other food distribution centers are located across Harris County and Houston Texas. Some offer free items, others sell groceries at a low cost or may serve a holiday meal. In addition, staff can often help families apply for SNAP food stamps or find assistance such as free baby formula. Find more free food banks in Harris County.
Free debt and mortgage relief in Houston TX
The Urban League has financial literacy, budgeting and money management too. Consumers can both improve their credit scores and reduce their credit card, auto loan or medical debts. Learn about loan refinancing, credit repair programs, debt management plans, and other options available. They also help with pat due medical debt, including information on forgiveness programs. Call the Urban League at (713) 393-8700 or 713-393-8735. Or get more details on medical debt forgiveness.
Money Management International, Inc. of Houston will work with individuals to set up a repayment schedule to the client's creditors, including credit card companies, medical bills, etc. If the debt repayment program involves reduced payments or past due accounts for the applicant of the program, the client may enroll in a Debt Management Program. Call (713) 923-6339 or (713) 923-2227. Find other debt help programs.
In addition to applying for loans and receiving financial advice at Neighborhood Centers Inc., there are several other debt and credit counseling agencies around Harris County Texas. They can provide everything from debt reduction, credit repair, and foreclosure prevention to low income clients. Read more on non-profit credit counseling in Houston.
Non-profit agencies -Get information on non-profit organizations and counselors in the Harris County and Houston area that provide solutions to a foreclosure. Find Houston foreclosure prevention programs.
Credit Coalition - Provides free foreclosure intervention counseling. They help low-income homeowners and the elderly among others. The non-profit is at 3300 Lyons Ave, Houston, TX 77020, or call (713) 224-8100
City of Houston
Find some information on a few resources specific to Houston. Agencies and organizations may cover only the city area.
Related Content From Needhelppayingbills.com