Assistance programs Hudson County New Jersey and Jersey City.
Find how to get financial assistance, free items, hardship funds and social services in Hudson County New Jersey. Grant money from charities, churches or the government will help pay rent, security deposits, mortgage costs and electric bills of low income families. Get financial help near you in Hudson County and Jersey City.
There is also free stuff and vouchers as well. Learn where get free food, medical care, or clothes in Hudson County. Even find free gas cards, subway or bus passes for work. There are also free cars or back to school supplies, prescription drugs for the underinsured, and Christmas toys in Jersey City.
Financial assistance, housing, and free items from Community Action
The North Hudson Community Action Corporation is an organization that helps tens of thousands of low-income families, the unemployed and working poor every year. People in Hudson County area or Jersey City can apply at multiple locations spread across the county. They offer struggling families resources such as housing assistance, help with utility and heating bills, emergency food and shelter, rent help, and even medical care. Some of the programs that they can offer people are listed below, but also contact them to learn about other resources that may be available.
Rent help, emergency homeless shelter and low-income housing -

A primary goal of the agency is to prevent homelessness in the Jersey City area. To help stop evictions and to keep people in their homes, one-time rent payments and grants are offered to families and individuals in order to prevent evictions. And if it is too late and you have already lost your home, then for those people who are homeless, they can get temporary shelter through a voucher system with area motels.


Free food from community action

- Hudson County people will get free groceries, meals, and nutritional support. For food aid, emergency food vouchers are available for all qualified residents who are running short of or out of food.


Holiday food and free Christmas gifts-

Their distribution assists client families at Christmas time as well as at Thanksgiving. Many charities provide help. Each year thousands of people receive free food or holiday gifts through this completely volunteer effort. Locate Christmas help near you this year.


New Jersey SHARES program -

This program, which provides utility and heating bill assistance to low and moderate income families as well as the working poor. There will also be emergency water bill help in Hudson County NJ. The program assists hundreds of families with assistance and grants in meeting their utility costs.
Free health care and clinics -

The North Hudson Community Action Corporation created the Federally Qualified Health Center (FQHC) in order to provide medical services to people in need. The Health Center provides primary health care at eight (8) locations including, North Bergen, West New York, Jersey City, Union City, Hoboken, Passaic and Hackensack. They also run a mobile health center. Find a list of free community clinics in New Jersey.


Health services

offered at these medical facilities include adult medicine, dental, pediatrics, obstetrics/gynecology, psychiatric, mental health services, and family planning. There are also medical advocates who find billing errors or help families locate medical care.


Mobile health center -

Their mobile health unit travels the local community and Hudson County area providing screenings and information to residents. In addition to WIC enrollment, the mobile's staff screens patients for diabetes, high blood pressure, high cholesterol, and other basic check ups. Referrals can also be made to our various health center sites and other government programs. Find more ways to get help with medical bills.
They also offer free child care, holiday gifts, and more. Contact the North Hudson Community Action Corporation at (201) 866-9320, or their main office at 5301 Broadway, West New York, New Jersey. Or learn more on their services and click here for Hudson County community action agency.
Emergency financial help for bills, housing and more in Hudson County JJ
Bayonne Economic Opportunity Foundation (BEOF) is a locally based multipurpose community service agency providing the following services to qualified families and individuals. There is free weatherization, which may include home repairs or grants. Or there are also window repair programs, and locate government window replacement programs.
The agency also has

free emergency food, meals and a homeless shelter

. There is also a Hispanic affairs program, Head Start, community outreach, as well as free local elderly and disabled transportation program.
BEOF also has a Senior Nutrition Center, Meals on Wheels, and free boost or ensure. One of the main programs is the Homeless Prevention and Rapid Re-Housing Program, which provides rent help, funds for security deposits, and utility assistance. Click here for more rent help programs, or call (201) 437 - 7222.
Catholic Charities has a location in Jersey City. Numerous low income and programs are offered including the federal government funded Homeless Prevention and Rapid Re-Housing (HPRP). They also help single moms in JErsey City, migrants and women facing DV. As part of this, funds are intended to provide short-term financial assistance and cash grants to prevent homelessness in Hudson County New Jersey, and to quickly re-house those that have recently become homeless or who have been evicted.
The catholic

churches in Hudson County also offer other support

. This will include workforce development as well as programs for veterans. They also offer single mother assistance programs so their kids can get support. Immigrants are also major clients. Free meals are offered for the homeless as well as low income, including around the holidays.
Catholic Charities has several churches in Hudson County NJ and Jersey City area. The locations are 246 2nd St, Jersey City, NJ 07302. Phone: (201) 222-8310 as well as 619 Grove St, Jersey City, NJ 07310. Dial (201) 656-7201. Or find details on Hudson County Catholic Charity programs.
Urban League of Hudson County offers information on numerous assistance programs and services from the government. Call them at (201) 451 - 8888. Either information on critical and emergency assistance, or direct aid, is provided to Jersey City residents. The non-profit is a participant in NJ Shares.
A major focus of the Urban League is on housing, employment, and job training, with a focus on women and minorities. There is information on low-income no wait list housing, home buying services, loan programs for buying a house and more. Referrals are made to free food pantries, WIC, rent assistance programs, Welfare/AFDC, Health Institutions, Shelters, and more. The address is 253 Martin Luther King Dr, Jersey City, NJ 07305. Continue with Hudson County New Jersey Urban League assistance programs.
Government benefits and social services are available. Many organizations, such as Department of Family Services and the Urban League, administer or can direct individuals to many of the public assistance and social services in Hudson County NJ. There is TANF cash assistance, SNAP food stamps, Medicaid and other benefits. They are one of the, if not the, leading organization to call for information on public assistance in Hudson County.
Hudson County Department of Family Services - Division of Welfare

– Apply for social services and government aid including LIHEAP program, TAN (Work First Family Assistance) as well as the Food Stamp Program. There are also free government benefits for Nursing Home Care, Child Support and Paternity program, Federal Government Medicaid, as well as housing and foreclosure counseling. Location is 257 Cornelison Ave., Jersey City, New Jersey, 07302, call (201) 420 - 3000
Rent payment help, free motel vouchers and security deposit help is offered. There are several non-profits and government agencies that focus on housing needs, including to tenants in Jersey City and the homeless. Referrals, advocacy and follow-ups to local, state, and federal government programs are our primary focus. They can provide everything from emergency grants or low interest loans to pay rent, up through case management and eviction prevention services. Find a listing of Jersey City and Hudson County rent programs.
Jersey City Episcopal Community Development Center

(phone (201) 604 - 2600) as well as

Let's Celebrate

(dial (201) 433 - 5438) are both non-profit agencies that can provide rental assistance.
HOPES CAP, Inc. – The agency can advise people on programs and also help people apply to them. Get information and enrollment support with Medicare, Social Security, Medicaid, and SNAP Food Stamp. There are also free discount phone and utility service, low cost food programs, free income tax preparation, health education, and more. Or get a free laptop or desktop computer for school or a job, and find a free computer for a work from home job.
They are also a community action type agency for the region. Case mangers will help clients, including the under or unemployed, access job training as well as the resources noted above. Resource Center is at 532 Jackson St, Hoboken, NJ, 07030, phone 1-855-654-6737, or continue with HOPES CAP assistance programs.
United Way of Hudson County can help deal with housing issues and homelessness. For those facing eviction or that need a place to live, inquire into the Rapid Re-Housing Program. Grants may be issued for paying security deposits or short term rental assistance. There is also relocation available, case management, and of course self-sufficiency services. Call (201) 434-2625.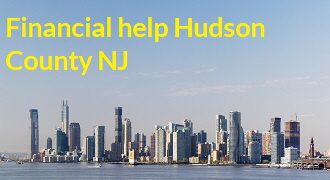 Volunteers of America provides assistance, with a focus on housing needs, in the Hudson County region. They operate regional services such as Agape House transitional homes in the Delaware Valley. Another focus is on preventing homelessness and evictions for veterans and seniors in Hudson County. They also offer advice and transitional housing for single parents. Or referrals may be offered to non-profits that operate shelters or can distribute rental assistance. read Hudson County Volunteers America programs.
Northeast New Jersey Legal Services has free lawyers, both in person and over the phone. Get consultations to stop evictions, help with housing discrimination, or free lawyers for benefit applications including SSI. The firm is at 574 Summit Ave , Jersey City, NJ 07306. Call (201) 792-6363
Hudson County Housing Resource Center has many programs. Everything from emergency rent relief to housing vouchers, moving deposit help, and legal advice. They also work with tenants who need a place to live but have been evicted in the past, including 2nd chance apartments. The location is 830 Bergen Ave, Jersey City, NJ 07306. Or main phone: (201) 795-5615, or locate and locate cheap apartments that accept evictions near you.
PacoAgency runs a multi service center. It offers a number of assistance programs and support services. Examples may be mediation for tenant and landlord relations or referrals to loan and financial aid. Other assistance includes computer literacy, ESL classes, education, or employment tool, even including gas for a car to commute. Look here for more tips on how to get free gas.
Free hardship grant programs

focus on heating and energy bills. Weatherization Assistance Program for low/moderate income tenants and homeowners can help them save money on utility bills. Get free installment of windows, doors, insulation replacement, and furnace repairs. They also administer LIHEAP, which provides funds for the payment of home oil, kerosene, natural gas, electric heating, and propane bills.
Puertorriqueños Associados for Community Organization (PACO) offers many other

social services

. There also support Spanish speakers, immigrants, and transplants from areas including Puerto Rico. Among the resources include a free clothing closet and furniture bank, loans, and more.
Get

referrals to housing assistance

, in particular from the Homeless Prevention and Rapid Re-Housing program. It can offer limited, short-term financial assistance as well as cash grants to prevent homelessness and to quickly re-house those who are now looking for an affordable place to live.
The non-profit also has a free soup kitchen for dinner or breakfast and a free food pantry, and more. They partner with other Hudson County non-profits and government organizations. Address is 390 Manila Avenue, Jersey City, NJ 07302, call 201 963-8282. There is another PACP office to at 4808 Bergenline Ave, Union City, NJ 07087. Call (201) 217-0583.
Jersey City Episcopal Community Development Center also can help prevent evictions by using emergency energy bill or rent assistance. They also help people pay light or heating costs, with a focus on senior citizens and the disabled in Hudson County. Funds from HPRP address housing issues in the region. Or inquire into low income apartments. Location is 118 Summit Ave, Jersey City, New Jersey, 07304. Call (201) 604 – 2600.
Many towns can provide information on low income housing, including disabled and senior, and Section 8 certificates. Examples and contact information is below.
Town of Guttenberg, located at 6900 Broadway, call (201) 861 - 0900
Town of Harrison, dial (973) 483 - 1488
Housing Authority of Hoboken, 400 Harrison St, Hoboken, NJ, 07030. Call (201) 798-0370
A similar service is offered by the Housing Authority of Weehawken. Their office is at 525 Gregory Ave. Call for information on rental vouchers and other aid. Dial (201) 348 - 4188. Or call the Housing Authority of Union City.
Transporation/community in the NJ area is often costly. Many workers need help paying for gasoline, bus, trains, subways, and other mass transit. There is assistance available in some cases. Find details on free bus passes near you.
Housing Authority of Jersey City runs the section 8 housing authority. First time home buyers can also get information and referrals on closing cost programs, mortgage counseling, and more. Public housing and income based units are on site too as well as no-wait list apartments. This is for very low income families, single moms, elderly, or disabled. Address is 400 US Hwy, Bldg 7, Jersey City New Jersey. Call (201) 706-4600 or (201) 547 - 6600 for information. Or read more on section 8 HUD vouchers in NJ.
City of Union offers homeless prevention. If you have been evicted, then assistance offered can help you find a new home or apartment to live in. Get help with paying rent, deposits, and other expenses. Case managers will also help you address the cause of your struggles. 3715 Palisade Ave., Union City, New Jersey, 07087. Main number is (201) 348 - 2764.
Emergency help from Hudson County Salvation Army is offered. This local non-profit agency offers low and moderate income families social services, grants, and other assistance programs. It can provide free food, a homeless shelter, clothing and financial assistance to disadvantaged families, children and individuals. The money can be used to pay rent, electric and heating bills, prescription drugs, and even the occasional mortgage payment. There are also free hotel vouchers in Jersey City.
In addition to the direct cash assistance, the Salvation Army provides individuals with social services, referrals, and guidance. This includes free Christmas or Thanksgiving meals, back to school supplies, and Christmas gifts too. They can direct low income people to employment services and job training, homeless prevention, and even affordable child care. Call (201) 435-7355 or 201- 991-1115. Find a listing of Jersey City Salvation Army programs.
Hudson County transitional housing programs support residents facing eviction, the homeless, single parents, and others that are struggling. Clients will be placed into a home, shelter or apartment and then be enrolled into job training and similar self-sufficiency programs. Limited financial aid may be offered for paying security deposits or similar costs when ready to move. More on Hudson County NJ transitional housing.
Dress for Success Hudson County offers a few services. For people seeking a job, free professional work attire may be provided. This can includes suits, dresses, or other goods. Even find free suits near you.
Or receive employment counseling. The non-profit also serves as an application site for NJ SHARES Energy Assistance as well as water bill assistance from The H2O Help to Others Program. This two programs can assist with paying heating and utility bills, water expenses, and more. Location is 591 Summit Ave #505, Jersey City, NJ 0730. Dial 201-395-0202.
United Water offers payment plans, financial assistance, grants, and other support to low income customers who are in a temporary financial crisis and need water assistance. (866) 657 - 4273. There are many other resources too, and find grants to pay water bills.
Free Christmas and holiday programs provide everything from toys to gift cards and meals. Churches and charities in the Jersey City area help low income families with children. Or they may deliver a holiday meal or Thanksgiving turkey to a senior citizen. More on Hudson County free holiday assistance.
Emergency eviction help is available in Hudson County. The federal government allocates money to the state and charities in Jersey City to prevent homelessness. Everything from cash loans to motel vouchers or grants is available.
Other then being low income and having a pay or quit notice, many other different scenarios can be covered. Short term rent help may be available for families living in poverty, single mothers, veterans and others. Find more information on the application process. read more Hudson County NJ eviction help.
The cost of living in Hudson County is very high. There are steps to take to save money on housing, food, and other bills. Counselors will partner with clients of all ages and backgrounds on this process. Find a list of free money saving tips.
Save Latin America administers several social services and assistance programs. Among them include meals, food, and the NJ SHARES programs. Resources are for the working poor, seniors, and low income facing an emergency. Call (866) 657 - 4273
Metropolitan Family Health Network offers free or low cost medical and dental care, including to the uninsured and low-income patients. Get free physicals, eye exams, dental work, medical transportation and even teeth extractions. Free women's medical is offered in Hudson County too. The clinic is at 935 Garfield Ave, Jersey City, NJ 07304, or call (201) 478-5800.
Free food distribution centers, groceries in Hudson County and free pantries
The following locations may be able to provide free food, groceries, and other forms of non-financial aid, such as clothes or holiday gifts. Easter, Thanksgiving, and Christmas meals are often served too. Many other hunger prevention and assistance programs are also administered. There are also usually soup kitchens on site for the low income or homeless. Or find more free food pantries in Hudson County NJ.
The Sharing Place. - Runs a thrift shop, food pantry, and offers self-sufficiency programs. Location is 440 Hoboken Ave, Jersey City, NJ 07306. Phone: (201) 963-5518
Riverside Cares - Provides food, holiday meals, Christmas gifts, coats to children, and other forms of aid and support. Call (201) 798 - 0642
Free breakfast, lunches and dinner is offered from a soup kitchen. Many churches and charities operate them for the homeless and low-income. Learn how to find a soup kitchen near you.
Credit card help and debt relief
A few different free non-profit housing and credit agencies support homeowners and people who are in debt in the community. The programs will vary, but in general they will offer budget counseling, debt reduction programs either in-person or over the telephone, and foreclosure prevention.
Both free

credit and housing counselors

will work with creditors and your mortgage servicers to help reduce payments and/or interest rates on credit cards. Or get help with auto loans, programs to enter into a loan modifications, and mediate with creditors and your lenders. Services also include money management.
They offer medical and credit card debt help, mortgage programs, and more. Or dial Consumer Credit Counseling Service of Delaware Valley (phone (800) 989 - 2227) and NJ Citizen Action (phone (800) 656 - 9637). Click here for more credit counseling agencies.
Related Content From Needhelppayingbills.com