Assistance programs Sedgwick County and Wichita.
Low income families of Wichita and Sedgwick County will get financial help and free stuff. Charities, the government, and churches provide assistance for rent arrears, money for electric or utility bills, mortgage payment funds and other support. Or get free food, clothing, and more. Get financial help near you in Wichita KS and Sedgwick County.
In addition, the Sedgwick County charities try to offer non-financial support. This ranges from free back to school supplies to case management, legal aid from pro-bono lawyers, debt help, or Christmas gifts for kids. Other advice and social services can be provided too, including referrals to government financial assistance or discount programs in the Wichita region as well as county.
Funds for utility bills, rent, and limited financial help in Sedgwick County
Center of Hope, which is based in Wichita Kansas and can be reached at 316-267-0222, may be able to assists needy families and individuals in the area. The non-profit helps by paying them with help for rent and utility bills, thus enabling them to remain in their own homes or apartments.
The non-profit also has referrals and information on other programs in the Sedgwick County region. This is one of the leading social service agencies in the city. If they can't meet your needs, the center may know who can. The address is 1100 E 1st St N, Wichita, KS 67214. More details on programs from Center of Hope.
United Way Help Center - This center can provide information and referrals to free food and/or case management to low income and those who need help. Many churches and charities are involved in the area, and they may also offer limited financial assistance for bills. Or get immediate help with rent and free medications. The agency also provides services specific to the needs of Hispanics including advocacy and referrals to resources, including Kansas and federal government programs.
Homeless Prevention and Rapid Rehousing grants

provide housing assistance. It helps people with an eviction notice in Sedgwick County, the homeless, and homeowners. Some of the assistance offered will include rental subsidies, funds to pay for utility deposits and security deposits. There is also other financial aid for income-eligible individuals and families. Or locate low-income apartments, including no wait list homes in Wichita.
In addition, this federal government resource, The Homelessness Prevention and Rapid Re-Housing Program offers

long term financial stability resources

. It is also part of ESG funds. The program, which is also being funded through the city of Wichita, is part of the federal government HUD funds that go to the county and local charities each year.
Contact the United Way of the Plains at Phone: (316) 267-1321 to learn more or apply for support. The United Way partners with other groups in the county and region. Or look here for details on a United Way assistance application.
Churches help the less fortunate, no matter their faith. A focus is on senior citizens, the disabled and single moms. One focus is on case management and employment assistance. So clients of a church may be provided counseling or a free gasoline voucher for a job interview.
They also offer homeless prevention in Wichita, and so churches that are part of churches may have grants to pay back rent, overdue utility bills, or a security deposit. Free Christmas assistance, meals from a pantry, and senior programs are offered too. Find more on Wichita and Sedgwick church programs.
Sedgwick County and Wichita Salvation Army - The faith based organization may be able to provide qualified people with free basic needs assistance. This is for low income, unemployed and poverty level families as well as individuals on an emergency basis. Basic needs that may be met and provided for include some or all of the following, depending on resources.
The charity runs Emergency Assistance Centers/Downtown Social Services from several locations across the region. They can be found below, as well as information on resources immediate financial help that is offered. The centers provide for basic needs and emergency assistance to poverty level and low income families, single moms, veterans and the homeless among others.
Free food, including groceries

, hot meals, or holiday baskets. There is a food pantry and voucher.

Free clothing/work related items

in adult and kids sizes from the Salvation Army.

Money for utilities

,

rent

to stop an eviction and heating expenses,

Free prescriptions/medical needs

,

Emergency transportation

(free city bus and Greyhound tickets), or some people in Sedgwick County will be given a free gas card.

Other free stuff

, including school supplies, backpacks or baby items (free diapers and baby formula).
Or get help locating burial plots or any other need that the family has that cannot be met by other programs or non-profit agencies.

Special Thanksgiving and Christmas meals

may be served by the Salvation Army to anyone who needs help in the Sedgwick County community. They also run the Star of Hope and Angel Tree Christmas assistance programs. Read more general information on getting Christmas help for free from charities.
There are multiple locations of the Salvation Army in the county. All resources are limited. They include the following.

350 N Market, Wichita, KS 67202, (316) 263-2769
1910 S. Everett, Wichita, Kansas 67213, main number (316) 943-9893
1739 S Elpyco, Wichita, Kansas 67218, call (316) 685-8699
In addition, other aid may be offered that the family or individual has that cannot be met by other area non-profit agencies or government programs. Click here for details on help from Salvation Army in Sedgwick County.
Brotherhood Community Ministries may be able to offer up to $50 to help with rent or utilities. This can include light, water, and electric bills. There may also be some other services available as well. 8 E. 13th, Wichita, Kansas 67214, call (316) 263-5360, or more on Brotherhood Presbyterian CHR.
DCF - Department for Children & Families is the main government agency. They run the Economic & Employment Services, which will be able to provide help in a crisis. A program may be able to give cash funds to those very low income families or people in poverty who are experiencing a situational financial emergency. The funds are intended for a one time use only. There is also free day or child care for working parents, and locate free infant daycare near you.
The objective is to provide emergency financial assistance for food or housing. There is also long term benefits to provide food from SNAP, LIHEAP utility help, and other aid in Wichita. Typical bills and expenses paid include Heating, Utilities and Rent. Te address is 2601 Oliver, Wichita, KS 67210. Dial (316) 337-7000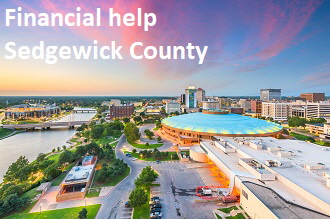 Two churches are part of the Society of Saint Vincent DePaul, or SVDP in Sedgwick County. There is the Blessed Sacrament as well as the St Catherine of Siena Catholic Church. Both provide financial help, free personal items, assistance to the homeless, hot meals and more. They are poverty fighting charities that help people regardless of their race, religion, or beliefs.
The charity also has thrift stores for bargains as well as free vouchers for furniture and household stuff. Referrals are also offered by the volunteer based charity organization. More on Society of Saint Vincent assistance programs in Wichita area.
Employment services also address long term income and career needs. Staff from the non-profit will help the Sedgwick County client in many ways. They can help them gain new skills, look for jobs, prepare for an interview or job fair, and assist the client in many other ways. The process is both charitable and government supported, and read more on job placement from one stop career centers.
Temporary homeless prevention services support tenants and residents that meet low income guidelines. Using federal money as well as donations from the United Way, there is financial help for expenses and case management arranged.
Small dollar amounts may assist with rental, water, heating or utility bill arrears.
Case management is focused on the vulnerable including single parents, seniors, and the disabled.
Applicants can get referrals to section 8 vouchers or other benefits, and read more Sedgwick County homeless prevention programs.
Center of Hope Homeless Prevention Assistance Program – This organization may be able to assist low-income families in Sedgwick County Kansas by helping them with paying rent/utility bills. The objective is to help enable them to remain in their own homes and avoid an eviction or disconnection. The address is 1100 E 1st St N, Wichita, KS 67214, or, call (316) 267-0222
Project Deserve

is run by the Sedgwick County Center of Hope and Westar Energy. The organization may be able to provide financial assistance for energy related needs such as heating, water and other utility bills. They will only pay for Westar Energy bills though.
More general rent & utility assistance may be provided too if someone has an unexpected financial emergency within the last 90 days. It really needs to be some type of life-threatening medical condition or maybe a natural disaster. Dial (316) 267-0222 for and applications.

Resources for paying water bills

are available at the Center of Hope as part of a program known as H2O Care. It is available as a last resort and can help qualified low income families in the Wichita area. Money is raised from the community and paid out to the elderly, families with young children, and the less fortunate in the county. More on water bill assistance in Wichita.
Housing assistance in Sedgewick County Kansas includes emergency homeless shelters, free motel vouchers, transitional housing, and maybe funds for paying deposits or first months rent. Those that are facing eviction or are currently homeless may receive help from the housing and other services. More on Sedgewick County transitional housing.
Find help for paying rent - Sedgwick County low-income families can look into financial programs that can help prevent evictions. Emergency cash in the Wichita KS area can pay rent, security deposits, and other expenses. Some charities and non-profits can also offer transitional housing, shelter, and assistance in finding new, affordable low income housing. Get more details on emergency Sedgwick County rent assistance.
Sedgwick County free holiday programs can help meet seasonal needs. Low income parents, or households in poverty, can get free toys or winter attire for their children at Christmas. The elderly, homebound, and disabled may have a Thanksgiving or Christmas meal delivered, and holiday food boxes or gifts are also available from Adopt a Family services. Read more Wichita and Sedgwick County free holiday assistance.
Wichita Urban League offers everything from eviction prevention for tenants to free foreclosure counseling. They also offer Workforce Development, a job resource center, and can refer potential homebuyers to low interest loans or mortgages. They operate as a fully certified Housing and Urban Development Department agency in the region too, and more on Kansas Urban League programs.
Sedgwick County resource guide provides referrals to other financial aid, charities, and free services in the region. They have support for emergency expenses and help for seniors. Funding can include items such as heating bill help (referenced above under Project Deserve), funds for rent or other housing expenses such as security deposit fees, and free meals for the elderly and seniors in the region. A focus is on preventing homelessness and feeding the hungry.
The guide also has much more. Find out about food pantries, free clothing programs, children and youth services, free drug rehabilitation and more. There is also medical care in Sedgwick County, housing resources, and much more. They are a leading charity in the Wichita area. Learn more on the Sedgwick County resource guide.
Harvest America supports the Wichita area. While a number of resources are available, most of them focus on housing issues. So renters, current and first time home buyers can get help from this HUD agency.
Current homeowners can receive free foreclosure assistance and counseling if they are struggling with their home loan.
The site processes applications for rent help from TBRA.
Counselors from Harvest America can advise families looking to buy a home in Kansas.
Other support is available too. More on Harvest America.
Free basic needs in Sedgwick County - This means that low to moderate income families can get help from non-monetary programs. There are clothing closets, free furniture banks and thrift stores that may offer support, such as the following.
Free Christmas toys

, presents, and meals for children or seniors.

Back to work supplies, including

backpacks or notebooks. There may be free laptops or desktop computers too. Or look here for a free EBT tablet.

Clothing for work

or referrals to employers in Wichita, including clothes for kids or adults.

Furniture vouchers

in Wichita as well as appliances and other free household stuff.
Other goods may be offered too, such as hygiene, furniture, or diapers. Find free clothes, furniture, school supplies and clothing closets in Sedgwick County.
Dear Neighbor Ministries is a charity that provides emergency rent and utility assistance, food pantry, and support for single mothers. Or get free clothes, school supplies for students or even vouchers fore appliances or furniture. The Food Distribution Center and Social Services are at 1329 S Bluffview Dr, Wichita, KS 67218. Phone: (316) 684-5120
Community Action Center grants and resources in Wichita
The Wichita Sedgwick County Community Action Partnership focuses on long term needs. The non-profit partners with other agencies as well, such as the United Way of the Plains as well as partnerships with other groups in Sedgwick County. The partnership offers referrals to limited emergency financial assistance for individuals and families who are struggling, IDA savings accounts, information on job training, housing stability and more.
The Community Action Partner will offer

counseling, provide linkage to financial assistance

, and offer social services. The center may have emergency free food, housing assistance including rent help and shelter; or payment arrangements for paying utility bills. Also get help applying for both federal and state government assistance programs, including for rental relief. Or look here for other rent aid.
The center focuses on

long term stability

. As part of this there will be debt management and budget counseling job search assistance or training; and also continuing education information. Or find additional debt help.
As noted, the focus is on sell-sufficiency and career development. Wichita Sedgwick County Community Action Partnership is based at 455 N. Main, Wichita, KS 67202. Call (316) 462-3775.
Catholic Charities of Wichita helps the poor, low-income, immigrants and single moms. They offer emergency assistance, including rent and utility grants. Or get free food, furniture, car repairs and transportation assistance. The charity also offers counseling services from 437 N Topeka Ave, Wichita, KS 67202. Call (316) 264-8344. Or look here for a Catholic Charities utility assistance application.
United Way and the Laid Off Worker Center is a resource. In general, it is for people who have lost a job due to no fault of their own. There is job training programs, government hardship funds for bills, free gas card or car repairs and other support.
In order to be qualified for financial help, applicants will need to prove that they have emergency needs and in addition they need to show that they have insufficient personal resources to adequately provide shelter, food, and/or clothing. In addition, applicants to this program need to show that they have been laid off from a job in Butler, Sedgwick, or Sumner counties or that they lived in those counties at the time of the layoff.
Emergency financial assistance

for paying mortgage, utility bills, or rent. Checks that are provided for aid will be written directly to the landlord, lender, or utility company.

Debt management

, help with credit card bills or auto loans, and free budget counseling.

Help applying for federal and state government programs

, including unemployment, SNAP or cash assistance, Medicaid and others..
Arrangements and payments for

utility bill payment

plans.

Job training as well

as job search assistance.
Financial literacy, budgeting, and many management workshops. This also helps people save money from coupons too, and locate free coupons.
Other criteria are in place as well. Dial (316) 267-1321 for referrals. Both short and long term resources are offered.
Free food in Sedgwick County and Wichita
A sampling of some food banks and distribution center are listed below. However there are dozens of other churches, charities, and food banks located across Sedgwick County Kansas. There are several other centers in the area, and find more information of food pantries, including phone numbers and addresses. Locate more Sedwick County free food pantries and programs, and call them for details.
Bethany United Methodist Church runs an emergency food pantry for low income and other qualified residents. Get free grocery boxes, meals on wheels for seniors or disabled people, baby formula and more. Call (316) 264-4240, or the location is 1601 S Main St, Wichita, KS 67213.
Community Food Ministry - Provides emergency food needs for singles or families, and people can take advantage of the services up to 12 times per year. Dial (316) 267-4201, or the emergency pantry is at 2130 E 21st St N, Wichita, KS 67214.
The Lord's Diner - The soup kitchen provides a daily hot meal to those in need, serving dinner every day of the year. Homeless adults, kids and others can get help from 520 N Broadway St, Wichita, KS 67214. There is also free pet food and other support. Call (316) 266-4966
Wichita Dream Center - Dial (316) 550-6777. The non-profit can offer a box of food, groceries and choice of clothing articles for the entire family. Food is only offered 2nd Saturday from 9 - 11 am. All clothing, groceries, and food assistance is limited, however no proof of income is required by the non-profit. Address is 13303 W Maple, Wichita, Kansas 67235.
Debt relief and mortgage relief in Wichita area
Urban League of Kansas, which in partnership with the United Way, runs a service known as Help-In Housing. This is a fully staffed, comprehensive housing counseling service that provides a full range of housing and foreclosure counseling. They also help people deal with property taxes or mortgage payments.
As a HUD-approved counseling agency, its primary goal is to offer pre-purchase, post-purchase, and well as help for tenants in the form of pre-rental. Or get help with credit card debt, auto loans, and other bills. There is also mortgage default counseling as well as assistance for first time homebuyers, including grants or low cost loans. Or get free financial literacy help.
There is also reverse mortgage, landlord/tenant mediation, rent advice, and fair housing counseling for customers in need. Click here for additional mortgage assistance programs, such as Hope for Homeowners, or dial (316) 262-2463. The address is 2418 E 9th St N, Wichita, KS 67214.
Free lawyers and legal assistance
Kansas Legal Services - Wichita offers pro-bono, free legal representation and advice to persons with limited financial resources. There are also free lawyers for senior citizens or the low income who reside in Kansas and Wichita.
All areas of law reviewed for help, including foreclosure, consumer debt, government programs, and more. At a minimum, low cost legal advice is usually available after an application is completed. Also, in Wichita they have information on how to find, and apply for, job training programs. Dial (316) 265-9681, or find more on Kansas free legal advice.
Low cost/free health care for low income and uninsured
Brookside Satellite of Hunter Health Clinic is a private non-profit Community Health Center and Urban Indian Health Program. The free medical and health care center is involved in providing free or sliding fee help to the low income, uninsured and people on Medicaid too. Get free medical, dental, mental health to low income and poor. Call (316) 652-0152, or the address is 527 N Grove St, Wichita, KS 67214.
Good Samaritan Clinic - Low income Sedgwick County families can turn to this community clinic. Dial (316) 688-5020 or (316) 866-2000, or the address is 3701 E 13th St N, Wichita, KS 67208. There is free dental care, teeth cleanings, and well as implants or dentures. Or get free women care, OB/GYN, physicals or eye exams as well. Or look here for eye exams for free near you.
Healthcare and Project Access helps with immediate medical needs. Patients, whether insured or not, will get prescription medication, dental work from free dentists, durable medical equipment, homecare and diabetic supplies among other free or low cost health services. The clinic is at 1102 S. Hillside, Wichita, KS 6721. Call 316-688-0600
Mother Mary Anne Clinic - Provides health care. Patients are charged medical and hospital bills on a sliding fee scale. The center is an immediate health care clinic. Call (316) 689-5121, or click here for more free health care information.
GraceMed Health Clinic is an affordable health care center. The organization accepts Medicaid as a form of payment for bills, KanCare, Medicare, and commercial insurance plans. Homeless residents of Sedwick County can get free care. Other low cost services include pediatric and wellness and prevention as well as dental. Address is 1122 N. Topeka, Wichita, KS 67214, or dial (316) 866-2000.
Community clinics, Medicaid, counselors and even patient advocates are all available in the county to address health care needs. Families that have a low income, or that lack health insurance, can get the support they need. Whether dental or medical, assistance is offered. Find more details on free community clinics in Kansas.
Related Content From Needhelppayingbills.com