How to make money online as a teenager.
Find how teens can make money online or in side hustle type jobs. Teenagers have a look of skills that can be used. There are many ways to earn extra cash, including online jobs, smart phone apps and using various technology tools to make passive income. Get details on how teenagers can make money fast or on a long term basis below.
There are online jobs as well as gig type positions. Of course more traditional areas such as fast food and retail abound. However, savvy teens, even as young as age 16, can make quickly and fairly easily spare cash without stepping foot outside their homes. Most jobs that teens can do pay daily, even today, on cash app, Venmo or Paypal.
Younger people are tuned into the online world and ready to use the technology available to them. The world of online commerce has been tailored to teens, who will find it fast and simple to make extra money online. Between school and other activities, why not try making some extra money with companies? They are eager to accept the work of qualified teens.
Online apps, websites and jobs for teenagers to make money
Here are many of the best online jobs for teens as well as uses of technology. Or smart phone apps that can be used on their iOS or Android wireless device. Whether you're looking for quick, spare cash or a solid stream of income, read on to find the perfect job for you!
Surveys, product testing and cash sites cater to teens. Youth can make money almost any time of the day, and get paid on PayPal, Venmo, Cash app or other platforms. There are literally dozens of online survey companies, cash rebate sites, ways that teens can test products, gift card redemption sites, and other fairly simple and easy to use apps out there.
Swagbucks is a survey company that allows survey-takers, no matter their age, to earn gift cards. It pays out daily, even today, and it can be used to make cash quickly. After each survey, survey takers earn Swagbucks.
Teenagers also can earn SB points by shopping online. Every dollar spent shopping equates to additional Swagbucks earned, which can be turned into cash. Swagbucks offers users the ability to earn SB points by watching videos and utilizing their Yahoo! Search Engine.
Swagbucks is one of the most popular survey-taking sites, is free to use and apply to, and is used by millions of people worldwide It is easy to use and legitimate. Swagbucks is great for teens as well, and parents can be rest assured all the surveys and tools are age appropriate.
Users can choose from the usual fare of Amazon, Starbucks, and Walmart gift cards, and more, in addition to PayPal payouts. Gift cards come in amounts between $1-100, while PayPal or Venmo payouts start at a higher threshold of $25.
Survey Junkie is another legitimate online paid survey company. Teenagers can quickly and easily get paid to provide their opinions on products and services, including products, items, and experiences that are tailored at teen interests. In return, they receive a nominal amount of money.
Many survey companies choose to pay survey takers in gift cards. Survey Junkie provides survey teenage survey takers the chance to choose between gift card vendors. Users who prefer PayPal payments have this option as well.
Users begin by filling out a profile with their demographic information, including their age. Anyone over the age of 13 can use it Survey Junkie then matches survey-takers with surveys for which they are eligible, and many of the companies that use survey junkie have products for that age demographic.
Survey Junkie is easy to use between multiple platforms. The company allows survey-takers to take surveys on their computer, smartphone, or tablet and is for Windows, iOS and Adroid operating systems.
Users earn Survey Junkie points through taking surveys. 100 points amount to $1, with surveys paying between $2 and $75, depending on the length. Users can cash out upon reaching a minimum balance of $10. Many other options are out there, and find a list of free to sign up and use online survey companies.
Teens can sell gift cards for fast cash. Many young people get certficiates, vouchers, or presents for their birth, Christmas or other "events". Gift cards can be quickly sold for extra money and/or swapped for another retailer. Learn more on how to sell gift cards for instant PayPal money.
Teens can write for recurring, passing income
Many teens may like to write down their thoughts, journal, blog or express themselves. Why not get paid for that? There are many ways teens can make fast money by writing from home or remotely.
Textbroker is an online blogging platform that works to connect bloggers with paying customers. It is greet for teenagers to use and the service can be part of an influencer campaign – such as link Textbroker to Tik Tok, Instagram, Snap, and other social media networks. No prior writing experience is required to apply to Textbroker. Applicants are asked to provide a writing sample. Another option is Constant Content., and of course teenagers can blog for money.
Textbroker then evaluates the applicant's writing skill based on their provided sample, placing them at a level of writing proficiency between 1 and 5. The higher the writer's level, the greater access they will have to higher-paying jobs and better rates. Textbroker pay rates per word are as follows:
2-star: 0.7 cents
3-star: 1.0 cents
4-star: 1.4 cents
5-stars: 5 cents
Writers can browse the listing of blogs available to be written and select articles that appeal to them. Clients provide their specifications and word count for each article. The writer ensures the articles they write are well-researched and free of plagiarism, and delivers them to clients. So of these companies pay recurring passive income based on the total lifetimes views of the article.
Clients then either accept the articles as-is or request revisions. Teenage as well as other writers can cash out payments every Friday, with a minimum of $10 to Paypal or Cashapp as well as Zelle. Find other websites that pay for writing.
Make money quickly and easily on Social Media
Teenagers, maybe more so than any age group, excel at social media. There are a number of platforms that can allow them to make money quickly - but they do require work and a larger "network" of followers in order to monetize a social media presence. Options for teens to make money include YouTube, TikTok, Insta, Snap, and others.
The video-sharing platform YouTube is a viable career for many teenagers. The platform has propelled many teens, millennials, and generation Z people (as well as adults) into becoming multi-millionaires. While beginning users are unlikely to experience instant riches, YouTube can function as a great way for teens to earn some extra cash.
Original content is eligible for the Google AdSense program. The program pays creators monthly per video view. Creators can count on earning a variable rate per ad view, and while it changes over and is based on niche and other factors, the payment can be as high as 20 cents per ad view (note most videos pay much lower though). Creators at least 18 years of age are eligible for YouTube's Super Chat feature. This allows users to accept direct donations from viewers while live streaming.
Users can build up a base of dedicated viewers. Consistent uploads and community interaction are key. Engaged viewers are more likely to donate to streamers. Users with consistently high views may obtain chances for sponsorship and brand deals. These advantages provide higher revenue than with ads alone.
Instagram is one of the most popular social media sites for teenagers, with hundreds of millions of Americans using it including millions of teeangers. It is the most popular social network, along with Facebook, TikTok and YouTube. Generation Z has an instant advantage over older social media users. Born into the world of social media, most teenagers know how to navigate it instinctively.
With their built-in large follower counts, teenagers have a great chance to reach users. They can do this by leveraging Instagram's algorithms. Those with large followings and reach are more likely to strike a deal with a company willing to work with them. As many major as well as small corporations will pay teen influencers for sponsoring their products or even testing them out.
Influencers and marketers can work to either reach out to brands or may find themselves approached by brands. Brands evaluate the likely return on investment for influencing the campaign. While rates will vary based on the number of followers, comments and likes that the teenager gets on their insta feeds, these brands may easily pay hundreds of dollars or $1000 plus per campaign.
Teenagers may also find Instagram a viable solution to conduct their own advertisements. Instagram is a great way to sell old clothes or advertise freelancing gigs. Learn more on how to quick quick money from social media.
Some teens are great a taking pictures using their smartphones, as Apple and Samsung have great capability and very high tech cameras. It is possible to sell pictures for real cash, and get paid on a recurring basis (passive income) using websites such as ShutterStock and others. Teens can upload pictures they take, even those from their social media profiles, and get paid if/when someone pays for the image. More on real cash from selling pictures from your smartphone.
Teens can freelance online for extra cash
UpWork is a website for freelancers. Similar to Textbroker, writers or other teenage gig workers may be able to find consistent work. However, UpWork is for more than just writers, open to freelancers of virtually any skill from website design to driving, social media account management, surveys and more.
What sets UpWork apart is its bidding and auction system to match clients with freelancers. Users create profiles, attaching their resumes and any relevant work samples.
Teens may be able to find entry-level work on UpWork, allowing them to create and build up a portfolio. Building a portfolio at a young age can also help the teenager as they age into adulthood.
Users browse listings that seem relevant to their interests and then bid on them with Connects. Users are given free 50 Connects every month. Each job costs a varying amount of Connects, between 1 and 4, to bid on.
Once users make their bids, it is up to the client to determine which freelancer's rate and experience is the best match for what they are looking for. Teenagers as well as other gig workers on UpWork can expect to make a highly varying amount of money, dependent on the skill they offer and client rates.
Fiverr is another site for freelancers, with the catch that intro gigs start at $5. It is therefore a great entry level site that can cater to teen workers, entry level workers, and the like. Fiverr takes 20% off the top of any transaction. This means freelancers beginning to work with Fiverr can expect to make around $4 per gig, with payments on cash app or Paypal. Learn more on, and get tips for, how to make money on Fiverr.
Users build up their portfolio over time and are ultimately able to increase the prices they charge for their services. Teenagers can build a following or network using Fiverr.
Fiverr offers freelancers a unique approach to finding clients online. Freelancers can choose a service, say resume review or jingle creation, and advertise their skill on the site as going for $5.
Buyers can also post requests for a gig. This allows freelancers to browse requests that align with their skill level. As teenagers are usually newer to the workforce, that concept can benefit them.
Fiverr funds sit in escrow at the jobs start, meaning the sellers pay Fiverr once the job begins. The company pays out freelancers upon the completion of their jobs. This system helps to take away the stress of wondering whether you'll be paid as a freelancer. Learn about about freelancing from home.
Teenagers can make money from arts and crafts they enjoy doing
Many teens are "crafty" and may have some talents. Even teenagers that are into their hair can sell it for real cash, as some companies resell real hair for wigs, cancer patients, and similar needs. Etsy operates similarly to eBay, but it focuses on creative as well as "arts and crafty" teens who want an online side hustle job. As a seller's marketplace, Etsy allows users to put items up for sale. Etsy's focus is on homemade, personal goods. If the teen likes to draw or has some art skills, then ArtPal.com is a resource.
Teens with a talent or interest in a marketplace can look to sell their goods on Etsy. From jewelry to art, Etsy is a hub connecting those looking for homemade goods with those who make them.
Etsy sellers are more likely to profit if their product is easily customizable, as Etsy customers often turn to the site in search of specialized gifts. This is why if you are a creative teenager, and like to draw, create crafts (like necklaces), etc. Etsy can be a great option.
Etsy charges a 20 cent listing fee, a 5% transaction fee, and a nominal payment processing fee. What it provides, in turn, is payment protection and clout, ensuring buyers and sellers alike feel confident in the security of their transactions.
Users can cash out their payments weekly, with a $25 minimum required for withdrawal. Teen as well as other users can expect their Etsy funds to appear in their account within a matter of 3-5 days, depending on their bank. Find other ways teens can make money from arts and crafts.
As far as selling hair, teens can do that as well. Or donate it. There are charities like Locks of Love. Or, for real, quick cash, explore companies such as BuyandSellHair.com. These too are free to sign up for in order to make a few extra dollars. Learn how it is easy to sell hair for cash.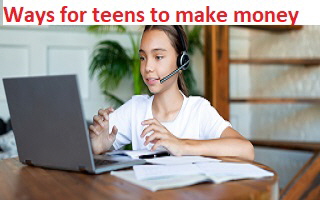 For those with design expertise, selling products on CafePress is a great option. Teenage designers put their ideas up on the site. This then allows buyers to transfer them to over hundreds types of personal products, including t-shirts, mugs, and more.
Users open their own CafePress shop, allowing them to sell their customized designs. Teenage sellers earn a 10% commission for each product sold, earning clout along the way.
There are no start-up costs for a teen or young adult associated with selling on CafePress. This means designers have nothing to lose by setting up their shops. If you are a teenager, with limited funds or access to capital, those negligible startup costs are very handy.
Utilizing social media marketing (like Instagram mentioned above) and pairing it with your CafePress site can lead to a doubly lucrative venture. The more designs you sell and the better your products perform, the larger the performance bonus your shop will receive.
Royalty payments are delivered to designers either by check or PayPal, getting paid on the 15th of every month. CafePress does take 60 days to process transactions, meaning funds will not be quickly available to designers.
Tuto as a teen
SameSpeak is a platform allowing native speakers to help teach their language to global students. For native English speakers at least 16 years old, this is a great way to earn some spare cash. Are you a teenager with decent language skills (multi-lingual) and the willingness to teach others, then try SameSpeak. Other online tutoring websites and apps that teens can use to make money include Tutor.com as well as Chegg.
Teenage coaches can expect to make $10 per half-hour session and require no prior teaching experience. There are tools that the teen can use to help them learn the best techniques.
SameSpeak provides teaching materials and instructions to teachers. They provide audio examples of ideal teaching lesson examples.
This is a great opportunity to add to a resume, especially for aspiring educations. Users can set their hours and only require a high-speed internet connection and headphones.
Once a user's account balance reaches at least $100, they are allowed to cash out the following Friday. SameSpeak advises users that payments will likely require 3-5 days to process, which is very fast in the world of online commerce.
SameSpeak provides a casual learning environment for both the teacher as well as the student. Their learning is based on social interaction, conversation, dialogue, role play, and more. Everything can also be done online or remotely as well, even using platforms such as Zoom, Microsoft Teams and others. Find other tutoring websites.
Teens can play games or watch videos for easy money
While it may be hard to believe, teenagers can make money (or get free gift cards, rewards, prizes, etc.) by watching videos online or playing games. The downside is that the teen may need to share some of their personal data or give feedback, but if willing to do that, these resources are a fast and easy way to make some cash.
A number of games pay out real money (or rewards). They can be used on a smartphone, tablet, or computer. There are options such as Dollar Candy or BingoMania among others. Find free, real games that pay out cash.
It is also possible to get paid to watch videos. Many corporations want feedback on advertisements or movie trailers, marketing gimics, etc. and they pay teens for that input. AppTrailers and Rev.com are but two of the companies that pay out real money to teenagers. Learn more on getting paid to watch videos.
Sell stuff online
There are a number of websites and online marketplaces that teens can use to sell stuff, whether clothes, vintage goods, "collectibles", so called junk/trash or whatever. One easy and simple to use website is Ebay. This is the original seller's marketplace used by everyone from seniors to Generation X to Generation Z. eBay is a great way for anyone, including teenagers, to sell superfluous items for some spare cash. You've likely acquired excess items that you haven't used very often or have extra clothes you no longer wear.
eBay is a great way to take excess items and turn them into spare cash in quick and easy order. Frugal teens can turn their eBay venture into a thriving side business, scouring yard sales and thrift stores for undervalued items. Ebay can even be used in order to turn junk or old stuff into cash.
Thrift flipping--buying items at a cheap price, and then selling them for a slightly higher amount depending on their value--is a great way to make extra money. There are other websites that cater to teenagers as well, including ThredUp, Poshmark, Facebook marketplace and others.
The money you'll make selling items on eBay or another service such as Poshmark is largely dependent on the items you're selling and how much you paid for them in the first place. Users should look to cover the initial cost of the item and then some. Find other online marketplaces to sell items for cash.
Care.com
Care.com is a platform allowing those looking for family care to find easy solutions. Caregivers create profiles, set their rates, and advertise themselves to families. The gig work platform pays weekly and is open to teenage caregivers too.
Families can choose to use Care.com to seek care for their children, elderly relatives, pets, and more. Many families are happy to choose teenagers over other childcare professionals, especially when their rates are low and they have excellent references.
Babysitting has long been a timeless way for teenagers to make extra money. Many children would rather have a younger caregiver than an older stranger taking care of them. Now, these days, dog sitting is and can be just as effective way for a teen to make some extra money, and Care.com allows this as well.
Teenagers can expect part-time, intermittent work from Care.com. Rates start around $10 an hour for those less experienced. Users set their payment preference as either cash or non-cash payments. At this stage, they disclose whether they will be able to provide their own method of transportation.
Sitter City
Sitter City is a website similar to Care.com, requiring users to quickly and easily create profiles with photographs and their experience. Families can screen and interview sitters, no matter their age or experience, before hiring them. This helps to ensure that sitters are the best fit for their family.
Once their profile is created, teenage sitters can apply to job listings. These listings are posted by families looking for babysitters. Rates and forms of payment are discussed and settled upon by both parties upon the job offer.
Sitter City advises users to settle payment details far before beginning their job. Sitter City rates are similar to Care.com rates. They are dependent on what you feel comfortable setting due to your personal experience.
Savvy teens interested in babysitting would be advised to create both Care.com and Sitter City profiles. This will maximize their earning potential and reach the highest amount of clients.
Work from home, customer service jobs for teenagers
There are a number of customer service type jobs that cater to teenagers. U-Haul is but one of them. As with many modern companies, U-Haul has turned to providing a selection of their services online. The company looks for remote employees regularly, including (but not limited too) teenagers.
Working from home, national opportunities working for U-Haul include sales and reservations agent positions. These are flexible, part-time positions open to teenage workers. They allow residents living anywhere within North America to work for the moving company.
U-Haul agents can expect to work between 25 and 32 hours a week. The company provides a good variety of benefits for a part-time position. These include dental and medical plans, 401k, stock options, and more. This is a company position rather than a contract position. U-Haul offers benefits many of the other gigs mentioned in this article cannot.
Part-time agents with U-Haul can expect a variance in pay. The base pay starts between $7.50 and $8.50, with bonuses bringing their average pay up to around $14 to $15 an hour. U-Haul requires applicants to be at least 16 years old and either be enrolled in high school or have their degree or GED.
Conclusion - Teenagers can make extra cash
There are a wide variety of online jobs that pay money fast if not daily for teens, and you can definitely find something on this comprehensive list that works for you. Better yet, teens can yield the best results from their online ventures by combining multiple streams of revenue. Why not participate in surveys, sell goods online, and teach English to make some extra money? Now is the time for teens to get some extra cash in short order or start saving. For teen entrepreneurs, the opportunities to earn money online are endless.
Related Content From Needhelppayingbills.com