Assistance programs Jacksonville and Duval County Florida.
Find how to get financial help and where to apply at in Duval County. There are charity organizations, churches, non-profits, and government assistance programs that provide emergency rent or utility bill help, free food or medical care other resources to low income families in Jacksonville FL and the county. Find assistance near you n Jacksonville FL and the county, including a grant, cash loan, free stuff, and more.
Or some clients are given case management, referrals to foreclosure prevention or security deposit programs or other forms of support. There is also free stuff, including back to school supplies, medications including insulin, Christmas toys fore kids, and even cars or gasoline cards. All of this financial assistance in Jacksonville as well as free items from charities can help struggling Duval County low-income families.
Grants and financial assistance from Northeast Florida Community Action Agency
This community action agency provides grants and other assistance to help struggling families. They have helped thousands of families each and every ear. Community action agencies have a goal of providing short term help to keep families on their feet, while also offering support to ensure individuals and families are self sufficient. Some of the assistance provided to Duval County and Jacksonville families includes:
Housing assistance

, including help with rent, mortgage aid, and funds for utility and cooling bills. They also have other government mortgage assistance programs.

Help with finding jobs

, job training, and educational services.
A wide variety of

financial counseling programs

, such as budgeting skills, debt counseling, or information on car loan payment help.

Medical care for free

, including prescriptions and dental services

Free food and a pantry

is on site. There may be other goods passed out too, and find more free stuff.
Foreclosure prevention services and counseling, including from a free lawyer in Duval County.

Housing includes low-income

apartments with no waiting list as well as grants to help pay first months rent in Jacksonville FL. Call them for the list of rental programs as well as affordable apartment.
Several other programs are also offered. There are multiple offices, but call the Northeast Florida Community Action Agency at (904) 398-7472. The address is 4070 Boulevard Center Dr #2, Jacksonville, FL 32207. More information on Northeast Florida community action agency.
Financial help with utility bills, basic needs and rent in Duval County
The Salvation Army, which can be contacted at (813) 962-6611 or (904) 366-9222, offers an emergency as well as a crisis assistance program for people facing short term hardships, such as an unexpected job loss or medical emergency. The Duval County branch assists local families and Jacksonville residents with programs including free food, clothing, or households supplies. There may be emergency funds for paying utility bills, money for rent and security deposits and more.
In addition, as funding allows there are

free vouchers or social services

. This is available from the Salvation Army on some occasions for transportation, free prescription drugs and other medicines and other basic needs are provided.
There may be cases in which they just can't help. In those times, referrals to other federal and Florida programs and other resources are provided to the person in need of help.
Salvation Army programs are also in high demand during the holidays and back to school season, and families can receive free food,

school supplies and Christmas gifts

for their children. Also, case managers and social workers will work with applicants so that they can become self-sufficient by finding a job or increasing their income. Several different centers are located in Duval County. More information on Salvation Army Duval County assistance programs.
The Salvation Army also has

Family Services Duval.

The non-profit provides food, utility and cooling bill help. There may be minor HVAC repairs from grants too or back rent assistance. Based in Jacksonville. Dial 904-356-8641.
Another charity organization to turn to for help is the Jacksonville area Catholic Charities. The phone number is 904-354-4846. They can help people of all faiths, and provide people in need with the basic needs necessary to pay bills, rent, and prevent homelessness.
A major focus is on single mothers in Jacksonville, women facing DV, seniors

and

immigrants. They have funds to deal with an applicants crisis situation, such as a job loss or medical emergency. Some of the assistance they offer can pay for rent or mortgages, utility bills, low cost food, as well as security and utility deposits. Free gas cards can be offered for local work in Jacksonville FL.
The Catholic Charities of Duval County provides some or more of the following to the needy. Apply for financial assistance with paying rent, utility bills, and medications. At the same time this process is ongoing, work with volunteers and case managers to access employment and job training services. Transportation and other aid may be distributed too. Learn more on Catholic Charities assistance programs Jacksonville and Duval County.
Arlington Community Services is based in Jacksonville Florida. The non-profit can offer limited cash grants and financial assistance for paying rent and electric bills, typically $100 maximum. Also an on site food pantry is available along with other support. Dial (904) 503-8496 or (904) 743-7402, or more on help from Arlington Community Services.
Beaches Emergency Assistance Ministry (BEAM) may be able to help at-risk beach area residents. Services offered for residents include a food pantry, rent and utility bill assistance, and information on other Florida and federal government programs. Phone (904) 241-2326.
Downtown Ecumenical Services Council - Limited financial aid and a free food pantry is available for those who qualify. In addition, financial help for households with children, senior citizens and the elderly, or help is available for people with a documented disability or illness which prohibits work. DESC also offers clothing, including for single moms, and other forms of support, such as loans, in Jacksonville Florida. Call 904-358-7955, or find details on programs from Downtown Ecumenical Services Council.
Department of Family Services - This Jacksonville Florida based government agency provides social services and cash assistance for qualified low income residents across Duval County. Resources provided include free food, WIC, SNAP food stamps and free cash assistance for bills and living expenses. More on public assistance in Jacksonville.
COJ / Community Services Division may only provide assistance to Ryan White clients and people living with HIV/AIDs. The non-profit offers limited, emergency temporary financial assistance for paying rent, mortgage, utilities, and security deposits for qualified low income families. You need to make an appointment, and it is first come first served. The address is 3400 Building, 1809 Art Museum Drive, Jacksonville, Florida 32207. Call (904) 630-0835. Or find details on chronic medical condition medications.
Senior Life Foundation, Inc. supports the elderly and senior citizens in Duval County. Services available may include prescription assistance, repair of essential appliances, medical supplies, and maybe even rent help. Jacksonville Florida based. Call (904) 268-9128.
Jewish Family & Community Services, Inc. - When funding is available, the center may provide emergency assistance for paying rent, housing costs and utilities, including electric, water and fuel only. The location is 6261 Dupont Station Ct E, Jacksonville, FL 32217, main number is 904-448-1933. The agency supports the entire county and all of the First Coast region. Read more on programs from Jacksonville Jewish Family Services.
Electric and water bills - The main energy provider in the county, JEA, has several financial assistance programs for qualified low income customers. Funds can be distributed from programs such as Neighbor to Neighbor and LIHEAP among other options. The company also has partnerships with local non-profit organizations in the Jacksonville metropolitan region. Read JEA low income programs.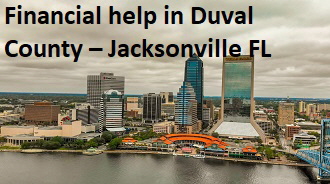 Housing programs can help people facing eviction, the low income, and currently homeless. Assistance offered ranges from emergency shelters to transitional housing. As part of these programs, staff will also help clients with self-sufficiency type resources. This will include assistance with finding a job, locating permanent housing in Duval County, and applying for government benefits. Those who use these housing programs may also be provided with meals, and many other services. More on Duval County housing programs.
Division of Behavioral and Human Services offers an emergency financial assistance program. The city of Jacksonville can coordinate cash assistance for a number of needs. Note that while resources are limited, there may be money for paying rent, utility bills, funeral expenses, or security deposits. There may even be mortgage assistance in Duval County and special programs targeted at seniors. Click more Jacksonville Behavioral and Human Services.
Duval County Council On Aging, or COA, is a Jacksonville and St. Augustine, Florida non-profit focused on older adults. Call 904-209-3700 for intake. The non-profit will also offer programs such as congregate meal dining, free case management, meals on wheels, transportation, and social activities. Senior citizens can also explore assistance programs for paying FPL and gas bills. Or get help with Medicare applications, home care for the disabled or elderly in Jacksonville FL and other resources.
Area Agency on Aging is located in Jacksonville Florida. Dial 904-391-6600. The non-profit runs programs for senior citizens across the region. Some aid is directly provided, and other resources are referred too. Learn about food pantries, home delivered meals, government health care such as Medicaid, LIHEAP, and other supplemental services. Click here senior assistance Duval County.
The elderly and disabled in Duval County often have mobility issues. They may need food or meals brought to them. Non-profits and charities provide support in those cases. As one example, find details on how to get free meals on wheels.
Lutheran Social Services of Northeast Florida - This is the local Duval County branch of the nationwide charity. Assistance is for seniors, immigrants, and refugees. Staff also provide referrals and other support to the working poor and less fortunate. They also have the Second Harvest food bank that is an option for the general public. Numerous resources are available. Read more Lutheran Services of Northeast Florida.
Non-profit rent assistance - Several charities in Duval County, as well as government agencies, focus on preventing homelessness. Families with an eviction notice may be able to qualify for emergency, one time rental assistance. There are also programs, including government grants, that can help pay security deposits. These programs are also focused on seniors as well as the disabled in the Jacksonville Florida region. More on emergency rent assistance Duval County.
Duval County Society of Saint Vincent De Paul - The charity offers several assistance programs to the working poor, senior citizens, and low income. While resources are limited and the organization relies on donations and volunteers, some of what is offered includes rental and utility bill assistance. There is also free clothing, food, and maybe even gasoline vouchers or free cars offered in donations from auto dealerships. Meals are served to Jacksonville families around the holidays and other services include free furniture, school supplies, and other aid. Continue Jacksonville St. Vincent assistance.
Navy Family Service Center of Jacksonville Florida only supports actively military members, their families, and veterans. Staff can direct families to assistance programs, including housing, VA benefits, medical care and more. There are also rent and security deposit grants from SSVF. Telephone - (904) 542-2766.
Emmett Reed Center may have rent, electric bill, or mortgage assistance. Other resources are funds for paying water bills, prescription medications, child care, and maybe even transportation. Or apply for Education/job training includes tutoring, GED/ABE classes, and case management. Address is 1093 West 6th St, Jacksonville, Florida 32209, call (904) 630-0958.
Regional eviction and rehousing assistance - Low income families or the homeless may be assisted, as funding is available. Non-profits help veterans, the disabled, single parents and others in the community. Components of it are as follows.
Individuals that have stabilized their situation and have a source of income may receive financial aid for rehousing.
Short term housing, ranging from shelter to motel vouchers, may be issued to the recently evicted.
Federal grants can help with energy bills, back rent, pay for case management services such as credit counseling and more. Find homeless prevention assistance in Duval County.
An agency known as NFCAA / Homelessness Prevention and Rapid Re-Housing Program (COJ HPRP) offers this program, which can offer rental assistance, money for paying utilities deposits or security deposit. There are also free landlord-tenant mediation services, low-cost housing as well as cash for paying first month rent. Phone (904) 398-7472.
The Rescue Mission helps homeless people in Jacksonville FL too. Other groups and charities that will help the homeless and poor include the Trinity Rescue Mission (Call (904) 355-1205). The faith based charity provides a homeless shelter, rent help, and food assistance to the area's homeless.
Non-profit and private companies provide cash loans in Duval County. The money can be used any way the borrower sees fits. Some of the uses, and available sources of funds, include the following. Low income, single parents, and residents with no credit can all apply.
Loans can pay for car repairs, food, home updates, rent, and energy bills.
Places to turn to include pawnbrokers, payday lenders, title loans, and non-profit community action agencies.
Find more details on emergency loans in Jacksonville Florida.
Jacksonville Area Legal Aid, Inc. provides advice and legal representation to low income individuals in Duval County. Dial 904-356-8371 for a free lawyer and to learn about the programs offered. There are consultations, advice and other support from free lawyers in Jacksonville FL. They have staff, including the possibility of free full tine attorneys on call, as well as other legal professionals. The non-profit, pro-bono will meet with qualified homeowners to go over their options
One of the main legal issues for Jacksonville and Duval residents is illegal lenders, questionable bank loans, and similar. Or get free legal help to stop an eviction or to apply for government benefits in Florida. The address is 126 W Adams St # 101, Jacksonville, FL 32202.
Jacksonville based Family Foundations counsels and supports struggling households. They help low-income families or single moms or dads, while providing them with limited financial assistance as needed. There are hardship grants, immediate financial aid, foreclosure assistance and workshops. There are also emergency food boxes for kids or adults, and get information on other programs that can provide help as well. For example, learn about food banks.
Or look into family counseling, information on

local charities and government programs

from Family Foundations. Clients will get access to job training, and much more. The even provide debt counseling reduction plans and settlement programs, including for a mortgage. For example, click here to learn about the Florida hardest hit fund.
There is a

wide variety of free financial counseling

. The services offered will help individuals and families handle challenges by improving their money management, budgeting and financial skills. They also help Duval County households save money on their bills.
The non-profit also offers debt and budget counseling,

including for credit cards. There is also free enrollment into free debt management plans. There is also credit counseling and repairs, bankruptcy advice, foreclosure prevention, on information on mortgage programs. Call (904) 396-4846.
Duval County free items and vouchers to help
Free stuff, material goods and free basic needs - Churches, charities, and non-profits in Duval County provide families with low cost or free items. This can include clothing, diapers, furniture, school items, and household goods. Some centers offer free work clothing or baby supplies. While not common, some Duval County clothing closets may offer financial help for emergency needs, such as utility bills if someone is faced with a disconnection. Or access services such as resume review or career counseling. More details on free clothes, furniture and school supplies in Duval County.
Get free assistance at the holidays from charities, churches, and donation programs. For income and otherwise qualified families, they may be given a free toy or box of food. There are also holiday meals on wheels services for the homebound or elderly, Christmas assistance for children from unemployed or working poor households, and other aid. Click Duval County free Christmas assistance.
Duval County supplies for babies and infants - New low to moderate income parents, as well as single mothers, can get help. Everything from free clothing to diapers, infant formula, and counseling is arranged. Agencies assist those adopting a kid as well as natural child birth. More on Duval County free baby supplies.
New parents can get free items for a newborn. Duval County as well as Jacksonville Florida agencies know this is a critical time for a baby. There may be everything from infant formula to cribs, car seats, furniture, diapers, and so much more. Find details of free baby items for low income parents.
The Jacksonville Urban League is a local, HUD approved counseling agency for Duval County This agency works closely with the City of Jacksonville and other local non-profits to provides a network of housing counselors as well as free legal representatives. They also help with employment, debt relief, and even business start up classes.
The resources are intended to assist homeowners and help them identify solutions to mortgage situations, and provide foreclosure prevention services. They also run the mortgage crisis center. Dial (904) 723-4007 to learn more about foreclosure assistance programs. Learn more on assistance programs from lenders such as Bank of America.
Fannie Mae - The federal government sponsored mortgage servicer/lender operates a center in the area that can provide Jacksonville and Duval County homeowners with free counseling and information on assistance programs. Lean more on the Duval County mortgage help center.
Another lender, Chase, is also providing free foreclosure counseling in the Jacksonville area. Chase has opened a center for distressed homeowners. Read more on Chase Jacksonville mortgage center.
Emergency food for a crisis and potentially other aid
These groups may offer food in a crisis situation or other items such as diapers, clothes, baby food, nonperishable items, and/or household products. They help feed the homeless and poor in Duval County.
United Community Outreach Ministry

is based at 3349 St Augustine Rd, Jacksonville, FL 32207. Call (904) 396-2401).

Christ Church of Peace

(phone (904) 387-2020) runs a food pantry in Jacksonville Florida.
Another charity is

World Outreach, Inc.

, which can be reached at (904) 573-1333.
If you need more locations to call for free food or groceries in Jacksonville and Duval County, there are options including soup kitchens too. Get information on more Jacksonville Florida free food pantries.
Jacksonville area free health care
There are several local clinics in the Jacksonville area that offer provide free doctors visits, pay medical bills or give healthcare. There may also be free medications for children, their families, and adults. Two are listed below. Or find more free Duval County community clinics.
One is C.B. McIntosh (call (904) 244-4472) which is a medical clinic in Springfield for children. Additional clinics are located on the eastside, Dunn Avenue and another clinic is located in Brentwood on Village Center Drive. They give free check ups, diabetes supplies, physicals and more to the low-income or un nsured. Both adults and children can go for health care needs.
These clinics treat people of all income. You just need identification. They treat with who have no health insurance, or that are underinsured, and even people who have insurance can get help. The clinics also have a free medication program and provide prescriptions. In addition, if you have already run out some medical bills, find how to get medical assistance in Florida.
We Care Jacksonville, Inc. provides free medical treatment, health care and when necessary, hospitalization to Duval County patients in need of medical aid. Phone - (904) 674-6450 or (904) 309-2218
Jacksonville Florida agencies and programs
The non-profits, charities, and government programs and agencies listed above focus on both Duval County Florida as well as Jacksonville. Click here for additional support, and Jacksonville Florida focused programs.
Related Content From Needhelppayingbills.com