Assistance programs Pasco County Florida.
Find how to get financial help in Pasco County. Locate grants and loans for paying rent or utility bills, free boxes of food from pantries or school supplies from charities as well as other forms of assistance. Find charities, churches, and government assistance offices to apply at for everything from free government money to job programs, personal or household stuff, mortgage help, or debt relief services. Get financial help near you in Pasco County FL.
The agencies in Pasco County also focus on employment, budgeting, stress the importance of saving accounts for kids, as well as debt reduction services. Seasonal support is also for children, such as free Christmas gifts or toys. Case managers also help with applications to Meals on Wheels, elderly case, and benefits such as SSI or SNAP food stamps. Find more details on free stuff, social services and financial resources below
Some of the local agencies that provide financial assistance for paying bills, debts, rent, and other expenses include the list below. Whether unemployed, in poverty, or a low income, assistance is offered.
Community action grant money in Pasco County
Mid Florida Community Services, Inc. serves Pasco and is the community action agency for the region. Numerous social services, counseling, and financial assistance is available. They also have applications to free government grant money.
The non-profit offers

short term, emergency financial assistance

for paying rent and electric bills. The uninsured and seniors can get help with prescription needs as well. Much of the utility bill assistance is offered as part of the Low-Income Home Energy Assistance Program, or LIHEAP.
More

aid is offered as part of CSBG

. This provides case management and financial assistance for low-income and working poor households that are striving towards family self-sufficiency. The center can provide assistance with mortgage, rent payments, energy costs, and RX.
Another Mid

Florida Community Services program is Weatherization

, which provides free home repair measures related to energy conservation.
The Pasco County agency also processes applications for Head Start program. It helps children from low-income families, preparing them for kindergarten and providing health, mental health, free nutrition, and dental services.
With

many seniors in the area, they may also receive support

from the community action agency Department of Senior Services. This offers qualified elderly a wide array of services and resources meant to help the elderly, their families, and caregivers. It can include Meals on Wheels, prescription assistance, guidance for programs such as Medicare, and more. Seniors, through weatherization, may even qualify for repair or replace inefficient heating & cooling units.

Emergency utility, cooling, and electric bill help

is offered too. The goal is to help people keep their lights and power on, and the agency provides information on what to do with an electric shut off notice.
The local community action agency, Mid Florida Community Services, Inc., can be reached at (352) 796-1425. They run the Low-Income Home Energy Assistance Program (LIHEAP), which provides cash grants and other forms of financial aid to help pay utility and cooling bills. The Mid Florida Community Services, Inc. is located at 820 Kennedy Blvd, Brooksville, FL 34601. The agency will do its best to meet the needs of the community or refer people to resources. Read more on MFCS Community Services.
Rent, housing, food benefits and utility bill assistance in Pasco County
Each year, the county gets federal government funds as part of homeless prevention and rapid rehousing programs as well as ESG grants. The federal government funding will make money available to help residents who may be at risk of becoming homeless, those facing eviction, and the financial assistance will be used to help them pay back-rent as well as utility bills.
People who are facing eviction, who have lost their homes, or who are homeless today may be eligible for assistance to help pay security deposits, utility connection costs and their rent for up to six months. Or other housing costs can be paid on a case by case basis. The rent help can be extended for up to 18 months as well.
Recipients of the funds must have a job, be collecting unemployment, or they need to some other source of income to qualify for assistance. The reason being is they have to be able to sustain the home after the assistance runs out, and the program is not meant to be a program that pay people indefinitely.
If you are interested in learning more or applying, the first thing someone should do if they need help is to call Pasco County Human Services. Then set up an appointment or they can go to their closest Salvation Army office to learn more or apply. Call (727) 834-3297.
The money is split between different groups each year. In some years, applications may be processed by the Pasco County Housing Authority (phone (352) 567-0848) and a handful of nonprofit agencies and other charities. For example, The Homeless Coalition may get funds as well as The Paco County Salvation Army (dial (813) 991-6830).
Christian Social Services - This agency provides assistance for anyone in need of clothing or food, school items, and basic supplies. Free Easter, Thanksgiving, and Christmas programs are administered as well. They also offer financial assistance for Progress Energy customers and their utility bills. Call (813) 995-0088, or more on Pasco County Christian Social Services.
Neighborhood Care Center (phone number (813) 780-6822) - Offers several programs including free food, furniture, clothing and household items. They can also provide financial assistance with paying for part of electric and water bills if those services are being disconnected. Also, money for prescription medications may be offered. Read help from Neighborhood Care Center.
Pasco County Human Services Division - This government agency offers a variety of programs and also partners with other local non-profits. Receive assistance with everything from utility bills, rent, and mortgage payments to health care and prescription medications. They also assist with SNAP food stamp applications (including the emergency service), elderly home care, and other benefits.
Another option is the DCF - Emergency Financial Assistance for Housing Program.

This helps low-income Pasco County families with housing needs. The state of Florida government administers

the Emergency Financial Assistance for Housing Program (EFAHP). This resource will help renters and homeowners who need direct financial assistance and cash grants for helping with overdue mortgage or rent payments. In addition to that, the service may help with paying security deposits. Or learn more on Florida mortgage help programs.
They can also help the low income, seniors, and disabled apply for government or public assistance. Some of the maybe lesser known resources available include medical bill assistance from the Health Care Responsibility as well as funds for paying for funerals. There is also of course Medicaid as well as Medicare for the elderly.

Burial as well as funeral help

is available for the indigent in Florida. Human Services works to arrange this. Whether financial aid or free cremations, tombstones, or other support, assistance is offered. More on help with funeral costs.
If you are struggling, and if you need help with paying your monthly rent, utility bills or security or electric deposits, call Pasco County Human Services and request an appointment. They are located at 13853 15th St. Dade City, FL 33525 and also at 8620 Galen Wilson Blvd., Port Richey, FL 34668. Call (727) 834-3297, or more details Pasco County public assistance.
Salvation Army of Pasco County - Phone number (352) 521-3126. The charity provides financial assistance for housing costs, including rent, electric bills or utility service disconnections. A number of other services are also provided, including Christmas assistance as well as free gifts or toys for kids from low-income families. There are also free holiday meals in Pasco County FL. Other emergency assistance in the region can include funds for rent, a homeless shelter, and even job training.
There are also low cost thrift store, furniture banks at the Salvation Army, as well as school supplies that are given away. Or learn about the Thanksgiving turkey dinners or free motel or hotel vouchers. More on Salvation Army in Pasco County.
Society of St. Vincent de Paul - This agency helps needy and low income people. Assistance including food is given once a month. Or low-income families, seniors or single moms can apply for emergency financial aid and cash grants, which are given once a year to with a utility bill or rent. Applicants need to have a shut-off notice or eviction notice in order to receive help. Call (813) 949-6094, or more on Society of St. Vincent de Paul assistance programs Pasco County.
Pasco Crossroads operates programs for veterans in the area. Assistance ranges from transitional housing to employment and federal government grants. Much of the financial help is for housing needs, such as rent or energy costs. There is also low-income, no wait list apartments in Pasco County. However they also support female veterans and provide services such as Vocational Rehabilitation Employment. More information on CrossRoads.
Center of Hope – The non-profit charity organization, which is part of the Salvation Army, provides temporary assistance to families and individuals. The agency supplies basic needs such help with rent, free food, utilities (only funds for Duke Energy - Progress Energy bills). All emergency assistance distributed depends on funding.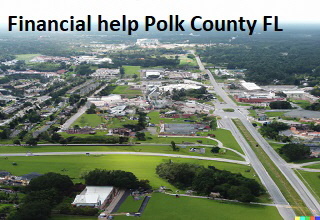 In addition note that clients may need to pay their monthly rent or bill down before they can apply. In addition, the Salvation Army may be able to assist with prescriptions (not including narcotics or psychotropic), clothing and referrals to other collaborating agencies and state of Florida public assistance programs. The address of the charity is 7745 Ridge Rd, Port Richey, FL 34668. For more information, the phone number is (727) 815-8539.
Pasco County Homeless Coalition partners with agencies across the region. Together they use money raised from the community and federal government grants to provide emergency rental assistance. The non-profit also arranges for free transitional housing, gives vouchers to pay for a motel room in Pasco County and funds to pay the security deposits to the homeless and people facing eviction. Programs from the coalition include Housing First, case management from FIT, Homeless Emergency Assistance, and other aid. More details on Coalition for the Homeless.
Daystar Hope Center – Meet with a counselor. You may be able to get free food, clothing and other items from the on-site store. Or low-income families, the homeless or single adults will receive help with prescription medicine, rent (if funds available), utilities, and other necessities as requested. The address of the charity is 15512 Highway 301, Dade City, FL 33523, dial (352) 523-0844
Local churches – Several local churches are part of the St. Vincent organization. They are listed below. The churches and assistance program may be able to help with offering help for bills at most once per year. There is also free food boxes once a month, money to help with air conditioning or utility bills, and more.
St. Michael's, 8014 SR 52, Hudson, Florida 34667-6763, phone (727) 819-5170 or (727) 868-5276
St. James, 8400 Monarch Drive, Port Richey, FL 34668, call (727) 869-3132 or (727) 869-3130
OLOR - Land O'Lakes, 2348 Collier Parkway, Land O'Lakes, Florida 34639, call (813) 949-6094
Faith in Action North Lakeland, Inc. – The non-profit runs financial assistance programs that make rental payments for people who are faced with eviction. Emergency funds for paying utility and cooling bills is offered too, as well as non-emergency programs. These include applications to the federal government Low Income Home Energy Assistance Program (LIHEAP).
Meals and senior programs, such as rides and transportation, are also offered in Polk County FL. Location is 1123 Omohundro Avenue, Lakeland, Florida 33805-353. Call (863) 686-0009
Women's Resource Center -Winter Haven-Ave A – Offers referrals for clients in Pasco County as well as phone intake and assessment. There is assistance for single mothers in Pasco County, expectant women and others in need. Or get no-wait list homes or apartments for moms in Polk County.
They also help parents with educational services, budgeting, and financial literacy, including information on saving money. The address is 165 Avenue A NW, Winter Haven, FL 33881, phone (863) 294-5318. Or learn more on importance of saving accounts for kids.
Agricultural and Labor Program – This is a nonprofit, private organization that works with the state of Florida to provide financial assistance, resources and services to seasonal farm and migrant workers. There is also help for disenfranchised persons throughout Pasco County, and the rural poor. They also help immigrants and Spanish speakers.
Both financial aid is provided, as well as loans for emergency needs, job placement, and other support in Pasco County. Address is 300 Lynchburg Rd, Lake Alfred, FL 33850, phone (863) 956-3491, click more details Agricultural and Labor Program assistance programs.
Emergency homeless shelter and transitional housing programs are widely available in Florida, including Paso County. Units focus on the recently evicted and also longer term homeless. Some of the services available may include case management, low income apartments, food, credit counseling, and much more. Read transitional housing Paso County.
Agencies that focus on rental assistance - Several locations, including non-profits, churches, government organizations and and charities can offer emergency rental assistance. There are also security deposit assistance and moving programs. Funds can pay housing costs if an applicant has an eviction notice or they face homelessness. Read more rental assistance Pasco County.
HUD Section 8 low income apartments, houses, and homes

are offered as well. These are more long term benefits given to the low income, working poor, people in poverty, and others. Tenants need to pay some of their income for their rent. there are also emergency section 8 and no-wait list apartments for low-income families in Pasco County. Find more details on Florida section 8 requirements.
Church Service Center Bartow – The church can help lower income families in times of crisis with food, clothing, and household items. There is help for migrant workers, the homeless, and working poor in Pasco County. The address is 495 E Summerlin St, Bartow, FL 33830, dial (863) 533-5822
Free regional holiday and Christmas assistance programs work to spread the joy among the working poor and families living in poverty. Charities pass out toys, free Christmas gifts, food baskets, gift cards and hold parties. If someone needs help at Christmas or another holiday, find more information on free holiday help in Pasco County.
Mulberry Community Service Center – Offers prescription drug assistance. There are free RX vouchers, information on patient assistance programs as well as other services. The non-profit can help patients, including the uninsured or people on Medicaid in Pasco County, with paying for prescription drugs. Aid is focused on who would be in an emergency situation without financial assistance. Address is 211 NW 1st Ave, Mulberry, FL 33860, call (863) 425-1523
Help of Fort Meade - The program offered is known as Community Aid & Emergency Services . The charity helps low income families with offering free food, free furniture, small appliances, and clothing. Location is 202 W Broadway St, Fort Meade, FL 33841, phone (863) 285-6600
Metropolitan Ministries Of Pasco provides numerous programs. They include Food Pantries, GED Instruction, clothing, rent or utility assistance, and general case management. They also arrange budgeting for both kids as well as adults. Support is for the homeless too.
Additional social services are offered by the non-profit, as the goal is to help people in Pasco County that have no money as well as low income families. Location is 3214 US Highway 19 Holiday, Florida 34691, call (727) 937-3268. Learn more on help from Metropolitan Ministries.
Catholic Charities operates in Dade City and Pasco County. The charity organization may be able to assist families regardless of their religion. They have programs for single parents, the working poor, homeless, seniors, migrant workers and others.
When funding is available, the organization and its partners may offer some or all of the following. Numerous housing services are available, including foreclosure counseling or emergency funds for paying rent. They also have information or run transitional housing housing programs. Basic needs, such as food, clothing, baby formula, and more is also generally available in Florida. More on Pasco County Catholic Charities.
Zephyrhills Wesley Chapel Ministerial Association runs a resource known as Samaritan Project. This assists with rent expenses, utility bills, water costs, and other help as needed. There will also be free gas cards for work reasons in PAsco County. Funding is limited and they will only assist provided funds are available. Call (813) 810-8670 or 813-782-7510
Healing Hearts Ministry - Offers assistance with electric as well as light bills. They may provide support with needed payment through contracts with Duke Energy. Location is 5510 River Road Suite 103, New Port Richey, FL 34652, telephone (727) 389-9086.
Basic needs, such as free school supplies, clothing, furniture and vouchers for hygiene items, may be provided by clothing closets or furniture banks. Volunteers and charities run these centers, and they offer a wide variety of items. Some of the Pasco County centers will items for a small fee, others give goods are for free. Click here free school supplies, clothes, and furniture banks in Pasco County.
The elderly and disabled, as well as caregivers, can get help from Area Agency on Aging of Pasco-Pinellas. The non-profit has government assistance as well as volunteers that assist. Get applications to Medicare or LIHEAP in Florida, Meals on Wheels, free medical staff, and other resources. Transportation can be arranged for medical or shopping trips in Pasco County, Congregate meals and other resources. Continue with Pasco County Agency on Aging programs.
Free legal aid and lawyers in Pasco County help the low-income and elderly. Contact Bay Area Legal Services to speak to a non-profit law firm. Receive free legal advice and representation. They can help stop evictions, handle consumer debt issues, assist with benefits, and other support. Call them at (800) 625-22 or (352) 567-9044, or click here to learn more about Florida free legal advice.
Free health, medications and dental centers in Pasco County
Free or discounted prescription medications can be offered in Pasco County too. St. Vincent de Paul Resource Center - Health Services provides assistance for obtaining long term medications to those patients who live on a limited income. There are also free checkups from volunteer doctors or dentists as well as other services. The help is for people that have either a limited or no prescription health insurance coverage. Find out more on free prescription medications, or call them at (727) 868-8160.
One of the leading non-profit health care organizations in the Pasco County Florida region is Premier Community HealthCare. They have several different locations around the county. Call (352) 518-2000. A number of free or low cost health care programs, prescription medications, dental exams for patients on Medicaid and more is offered to income qualified people.
Another option is the Good Samaritan federal government qualified health center. ((727) 848-7789). If these locations can't meet you medical needs, find the phone numbers and addresses of additional Pasco County free community clinics.
Food assistance programs, free pantries and distribution centers
A couple dozen free food banks, soup kitchens and centers operate around Pasco County Florida. A number of assistance programs and resources provide free meals, groceries, and other aid, such as clothing and baby formula, to residents who need help. Three of the leading places to call for help are below. However there are many other options in Pasco County. Pantries, government help, feeding sites, and more is offered. Or click here for free food pantries in Pasco County.
Shepherd's Cupboard

- Offers government surplus food, holiday meals, and more. Call (727) 849-2762. Based in New Port Richey Florida.

Church of New Port Richey

- Dial for food in an emergency. Dial (727) 372-8600

Neighborhood Care Center

- Has an on site food bank. Phone (813) 780-6822
Free foreclosure assistance, debt help and mortgage relief in Pasco County
Mortgage relief is available from a local Consumer Credit Counseling agency (phone number (813) 347-9639 or (877) 854-1446). The non-profit has on staff HUD approved mortgage counselors that will work closely with a homeowner. They will review their housing situation and determine that type of mortgage assistance they can provide. This will include forbearance, mortgage relief, loan modifications and more. They will also help homeowners that are on the bring of foreclosure.
Or it can help Pasco County residents in advance, if their income situation may change in the future. The service may also people homeowners that may already be in the foreclosure process. Call to learn more on mortgage help.
Consumer Credit Counseling also can help people get out of debt, pay car loans or credit cards and offer other free services. The non-profit will help borrowers lower interest rates on their debts or loans, or eliminate it altogether. The service is often free for low income families and offered in Spanish too. A credit counselor will work with the individual to explore various options, including debt management plans, credit card hardship plans and consolidation loans. Call the agency at (877) 720-7587 or (877) 854-1446, or learn more on debt help.
Many other assistance programs are arranged for debts, loans, budgeting, credit repair, and more. Non-profits as well as charities offer support. There is also DIY ways to improve your financial conditions. Or even learn about using loans to repair credit.
Related Content From Needhelppayingbills.com