New York free food banks and food pantries.
Free food banks, pantries and distribution centers in New York State help low-income families, seniors and the disabled. They provide free boxes of groceries, serve hot meals, or help people with no money apply for government benefit programs including SNAP. Many locations are open today and also have soup kitchens. Find a free food bank near you in New York.
The charity and non-profit organizations and pantries listed below by county as well as town are the primary free, emergency food pantries located across the state. They partner with hundreds of local charities, non-profits, churches, and government agencies as well, and can direct people to the food bank or soup kitchen in NYS that is nearest to them. Learn about programs such as food stamps, WIC, Thanksgiving and Christmas meals, free pet food (cat or dog), and drive thru pantries too.
Call or stop by one of the food banks listed below to learn where you can turn to for free or low cost food as well as groceries. There is also a phone number at the bottom of the page for other free food programs in New York. In addition, many of the organizations are part of Feeding America, which is the nations largest non-profit hunger prevention organization.
People, low-income families or single moms who need help in New York can not only call the centers listed below, but they also have other options that are offered in their county. This ranges from Meals on Wheels to free baby formula pantries, soup kitchens for a meal near you, free pet food banks and hygiene supplies. Ask one of the centers below on additional assistance programs, including EBT items, that are offered in your county. Or find details on surprising stuff you can buy with EBT.
Local free food banks in NY
Several of the main food distribution centers are located on this page. However there are hundreds of other pantries, charities, churches, and non-profits that operate in towns and cities across New York that may be near you. They serve low income families in these areas, and can provide meals, canned goods, holiday programs, and more.
Regional free food distribution centers in New York State
Each county has a local Feeding America center. They give referrals to pantries, soup kitchens, and other services such as USDA commodities for kids or seniors, Kids Cafe & Afterschool Snack Programs, Produce programs and more.
Referrals are available to other pantries and soup kitchens that are located throughout the state. There are hunger prevention coalitions that provide this service, for free, to anyone that needs assistance and guidance. In some cases, qualified low income families can also learn about the application process for New York State benefits and federal programs. Continue with hotlines for emergency food in New York.
Regional Food Bank of Northeastern New York serves over 10 counties in the NE part of the state. They partner with undress of charities, churches and food banks. Together they offer USDA commodity applications, Mobile food pantries, and SNAP outreach. There is also a Kids Cafe to help feed kids free meals during the school year, fresh, nutritious boxes of groceries and more.
Tens of thousands of low-income families, the poor and unemployed get help. The counties supported include Albany, Clinton, Columbia, Delaware, Dutchess, Essex, Franklin, Fulton, Greene, Hamilton as well as Montgomery. The Feeding America site also covers Orange, Otsego, Putnam, Rensselaer, Rockland, Saratoga, Schenectady, Schoharie, Sullivan, Ulster, Warren, and residents of Washington County. The address is 965 Albany Shaker Rd., Latham, NY 12110. Call 518.786.3691.
Island Harvest and Feeding America Long Island Cares, Inc. is for the Nassau and Suffolk NY community. The non-profit works closely with churches, charities, and social service agencies across the greater Long Island area. Offers free food, groceries, and meals to the needy in the community. Also learn about other emergency programs such as expedited SNAP food stamps or soup kitchens for meals. They also help with EBT, including apps to manage accounts such as the Fresh EBT app.
The address for Island Harvest is 126 Spagnoli Road, Melville, NY 11747. Call 516.294.8528.
Long Island Cares is another option, and the non-profit is based at 10 Davids Drive, Hauppauge, NY 11788. Call 631.582.3663
Food Bank For New York City as well as City Harvest provides assistance to the greater NYC region, including the boroughs of Bronx, Kings, Manhattan, Queens, Richmond, and Brooklyn. The two feeding America non-profits partner with thousands of free food pantries, soup kitchens, homeless shelters and social service office in NYC. Together they pass out free groceries, help people get personal toiletries, feed the homeless and immigrants in NYC and more.
Kids Cafe Program free meals and snacks to low-income children as well as students on break through a variety of community locations including Boys and Girls Clubs, YMCAs, and churches. There is also a Senior Grocery Program as well as Meals on Wheels from the food banks, which helps the elderly and seniors get nutritious food (Boost, Ensure, meat, produce, etc.) that they can prepare and consume at home. Many other programs are offered too.
The Food Bank For New York City is at 355 Food Center Dr., New York, NY 10474. Call 718.991.4300
City Harvest is another option at 150 52nd Street, Brooklyn, NY 11232. For referrals, dial 917.351.8700
FeedMore Western New York, Inc helps the poor, low-income, and families with no money or that are struggling. Dozens of food banks, soup kitchens and pantries are part of the FeedMore network. Referrals are given. Those centers in Buffalo and other cities, including faith based organizations, pantries, pet food banks, churches, and soup kitchens provide free groceries, produce, baby formula and more.
The counties supported include Cattaraugus, Chautauqua, Erie, and Niagara. There is also SNAP Outreach and applications for EBT cards, cooking classes, mobile pantries and additional resources. The main address is 91 Holt Street, Buffalo, NY 14206. Call 716.852.1305
Food Bank of the Southern Tier is for the counties of Broome, Chemung, Schuyler, Steuben, Tioga, as well as Tompkins. The non-profit, and its partners distributes emergency food boxes and meals to low income, seniors, homeless, and other who need help. May have information on free clothing programs and school lunches for children as well. Also get help in applying for government programs such as SNAP food stamps and WIC.. Address is 388 Upper Oakwood Avenue, Elmira, NY 14903. Dial 607.796.6061.
Feeding Westchester is the main Feeding America distribution Center for the county. Get free cooking classes, wellness or nutrition education, CSFP - Commodity Supplemental Food Program and more. Location is 200 Clearbrook Road, Elmsford, NY 10523. Call 914.923.1100.
Food Bank of Central New York is for the counties of Cayuga, Chenango, Cortland, Herkimer, Jefferson, Lewis, Madison, Oneida, Onondaga, Oswego, as well as St. Lawrence. The main address is 7066 Interstate Island Road, Syracuse, NY 13209. Get free filling, shelf-stable foods, Thanksgiving or Christmas food baskets, instant milk, dairy and more. There are also bi-monthly Healthy Cooking demonstrations, Summer Food Service Program, TEFAP emergency food and additional services. Call 315.437.1899
Foodlink, Inc. provides help to immigrants. the low-income, seniors and others in Allegany, Genesee, Livingston, Monroe, Ontario, Orleans, Seneca, Wayne, Wyoming, as well as Yates County. They do this in partnership with dozens of drive thru food banks, local pantries and other non-profits. The location partners with charities, churches, and non-profits. Canned goods, surplus government commodities, snacks for students, and other aid is offered from their partners. The main address is 1999 Mt. Read Boulevard, Rochester, NY 14615. Call 585.328.3380.
Feeding Westchester
200 Clearbrook Rd, Elmsford, NY 10523. Phone: 914-923-1100
Call for meals, food, Thanksgiving and Christmas food baskets, and much more. A great non-profit to contact for referrals too.
Long Island Cares, Inc. - The Harry Chapin Food Bank
This is a free regional Food Distribution Center. The main address is 163-1 N Wellwood Ave, Lindenhurst, NY 11757. Call (631) 991-8106
Thousands of residents, including the unemployed and less fortunate, use this center. Perishable items, canned goods, and single mother help is offered.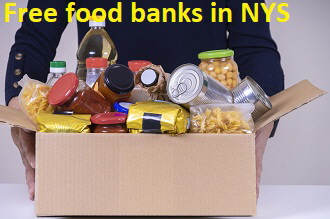 Food Link of Rochester
Address - 2011 Mt Read Blvd, Rochester, NY 14615. Phone (585) 328-3380
United Way Of Buffalo And Erie County
Primary address - 742 Delaware Ave, Buffalo, New York 14209. Main food bank number - (716)887-2626
Low income individuals across long island can call this food banks for meals, free groceries, assistance around the holidays, and referrals. They partner with local churches and charities in the region too.
Magdalene Project Soup Kitchen
1910 Falls St., Niagara Falls, New York 14303. Call 716 282 - 0908
Supports the low income, seniors, and homeless in western New York and Niagara County. Call for free food, fresh fruits and vegetables, holiday meals, clothing, household items, and other aid.
Assumption Church Food Pantry - Fat Friar Confections
Food bank location - 812 N Salina St., Syracuse, NY 13208. Telephone number is (315) 473-9101
Provides assistance to low income families in Onondaga County and central New York. Free boxes of food, clothing referrals, holiday meals and more is offered.
Fathers Heart Ministries
543-545 East 11th St., New York, NY 10009. Call (212)375-1765
The homeless, migrant workers and low-income will get free food. There will be meat, dairy, gluten free groceries, bread, rice, pasta and other goods.
Catholic Charities NYC
Address: 1011 First Avenue, New York, NY 10022. Call the hotline at (888) 744-7900
Covers the greater New York area. Get help from this food, hot meals and clothing bank. Stop by for groceries, meats, breads, dinner or breakfast and a soup kitchen. Also can direct people to government aid like food stamps, or local school lunch programs or clothing closets. Provides hot meals, boxes of food, applications for food stamps, and more to qualified New York City residents as well as migrants or women facing DV.
Catholic Charities Of The Southern Tier
388 Upper Oakwood Ave, Elmira, NY 14903. Call (607)796-6061
Offers a number of social services programs and assistance. Get help with everything from free food to clothing and help for paying bills and rent. A food pantry and thrift store are located on site.
New York free food pantries - alternate locations
Many other locations are in NYS. Dial (518) 930-7000 to find more pantries and free food banks near you, including from the main Feeding America service. Another option for individuals in need are government programs.
So while the organizations above can provide free food and groceries to all people across New York state, or direct those in need to food banks near them, there are other options. Click here to learn more about government food assistance programs and options.
Related Content From Needhelppayingbills.com