Assistance programs Montgomery County Pennsylvania.
Find information on where to get help with paying electric bills, rent, housing costs including mortgage assistance in Montgomery County Pennsylvania. Or locate places for free food, gas vouchers or stuff like Christmas toys or school supplies for children. Numerous charities, churches, and government assistance programs are in place to help low-income families. Get financial help near you in Montgomery County PA.
Long term stability and financial support is offered too. Whether that is financial literacy or assistance in paying down debt or car loans, case managers are available. They also help with employment needs, applications to section 8 housing or SSI benefits, senior care and other social services.
Montgomery County Pennsylvania Community Action Agency hardship grants
One of the first places to ask for help from is the Montgomery County Community Action Development Commission. This agency can be reached at (610) 277-6363. Below is a sampling of the programs offered. Call them to learn about these or other services.
Debt counseling and reduction programs

- Some struggling with paying their debts can receive one-on-one counseling from a credit counselor. The sessions will help the consumer understand budgeting, money management, and credit issues. They will also explore options available to them to reduce their debts, such as consolidation and debt management plans (DMP). The workshops were created to provide individuals with a general overview in budgeting and also how to repair and maintain good credit scores, and eliminate their debts. Find additional information on debt management plans.


Foreclosure prevention and mortgage assistance

- Receive information on mortgage relief services ,including the Pennsylvania Homeowners Emergency Mortgage Assistance Program. This program was created to help homeowners who are experiencing a hardship. It is targeted at homeowners who are unable to make their monthly mortgage payments and are in danger of loosing their homes to a foreclosure. The program was created by the state of Pennsylvania to help bring delinquent mortgage payments current, and get them back on track for long term success.
Food pantry and access to free groceries

- The Montgomery County Community Action Development Commission has an operation in Norristown, Pennsylvania known as the Food Resource Center. This center partners with over thirty local charities, churches and agencies to offer supplies of food and groceries, and offer information that maximize the availability and use of food by low-income consumers. They offer an emergency food program, SHARE, and commodities.


Employment training and job finding services

- The agency can help you find a job as well in Montgomery County PA. They offer various job programs, including resume building, interview and computer training, counseling, and access to at home counselors. More on how to find legitimate work from home jobs.


Budgeting and financial literacy

- Community Action works with clients to help them manage money, learn about saving and investing, budgeting and more. As basic financial literacy skills are critical to long term stability, and learn more on how to get help with financial literacy.


Weatherization

- This is a federal funded program that will install free energy conserving measures in an applicants home. For example, receive additional insulation, furnace and hot water repairs, window replacement, and many other forms of assistance. Click here to learn more on weatherization.
Call the Montgomery County Community Action Development Commission, or stop by their office in Norristown, to learn more or apply for aid. Phone number (610) 277-6363. Additional services are also available for qualified low income families. Or to find additional information on assistance from CADCOM, read more community action Montgomery County.
Financial assistance with bills, free stuff, housing and more
Another of the top non-profits to turn to is Family Services of Montgomery County. They offer a resource called Project HOPE. The services offered include rent help and finding affordable housing, including no-wait list apartments. There is free food and nutrition, provide patients with medical and dental care. The non-profit will also help people increase their income and provide transportation assistance. Dial 610-630-2111 to learn more. The address is 3125 Ridge Pike, Eagleville, PA 19403
The Salvation Army serves both Montgomery County and other local families in the Delaware Valley. Among the services they provide include Social Services (financial help for paying bills and general social services), a free childcare center, and subsidized senior housing. There is also free holiday assistance programs from the Salvation Army (like Christmas toys or Thanksgiving meals), Easter baskets and much more. Kids in Montgomery County can also apply for free back to school giveaways.
The Montgomery County Pennsylvania also offers a number of self-sufficiency type resources. This can include activities like resume review and employment assistance, up to a free vouchers to pay for gas. They also operate low income free back to school supply programs. Or get referrals to other regional and state government assistance programs. Call the agency at (610) 275-4183, or read Salvation Army Montgomery County Pennsylvania.
Free samples from non-profits and companies are available. There are products sent in the mail. Everything from cosmetics to food, beverages, beauty products, games and more can be sampled by people of all income levels. Locate free samples by mail.
Catholic Social Services of Montgomery County (phone 610-279-7372) also offers information on other local and federal government programs. From time to time may have limited funding available to help pay bills and housing expenses. Additional resources provided in the region include assistance for seniors (such as home delivered meals), shelter, information on heating bill assistance and much more. Continue with Montgomery County PA Catholic Charities assistance program.
Inter-Faith Housing Alliance - Provides emergency homeless shelter and transitional housing. Note the non-profit only takes referrals for from Your Way Home. There is also information on prviate landlords that offer housing to people with bad credit. Call 1-877-646-6306, so all residents need to go through that agency.
Rental and security deposit help - The low income, seniors, and disabled who are faced with an eviction may be able to access financial assistance for paying their rent and avoiding homelessness. Other programs can help people who are currently homeless with finding and moving into new apartments or homes. Some money may even be offered for security deposits or first months rent. Montgomery County Pennsylvania families can also receive housing counseling and case management services. Read more Montgomery County Pennsylvania emergency rent help.
Society Of St. Vincent De Paul, which is based in Norristown and can be reached at (610) 275-5601 or 484-704-7153, offers numerous types of support and help. From time to time they may be able to provide limited financial assistance for housing expenses and energy bills. They can also have food, clothing, and other aid.
The thrift store also provides basic needs, including some for free or at a reduced price. Everything from back to school supplies to clothing, furniture, or Christmas programs are administered. Click St. Vincent Montgomery County.
Boyertown Area Multi-Service, Inc. runs several energy bill assistance programs. They include the Customer Assistance Program (CAP), Low Income Home Energy Assistance Program/LIHEAP, and free Energy Conservation Program (WARM), including weatherization. There is also information on low-income water bill assistance in Montgomery County. The address is 200 West Spring Street, Boyertown, Pennsylvania, 19512, call (610) 367-6957
Montgomery County residents can get some assistance from the Community Action Committee of the Lehigh Valley, also known as CACLV. The primary resources for the county include food, free groceries from pantries, hot meals and personal hygiene stuff. There is also the Second Harvest food bank as well as heating bill assistance.
The non-profit can also generally offer referrals to homeless prevention resources, such as funds to pay a security deposit fee or maybe a portion of back rent due. They also administer job training in the region and have information on other social services. Read Lehigh Valley Community Action Committee programs.
Montgomery County Center in the Park – Counselors can provide information and guidance on financial assistance programs and other emergency resources. This program is a homeless prevention resource, addresses hunger, and offers basic needs. Funds for paying rent and utilities are limited. Basic needs provided include free food, furniture, kitchen appliances and clothing. Or receive counseling on landlord/tenant disputes or budget, debt and credit counseling. Take advantage of their job finding programs too. Learn about local non-profits and government programs too. Call (215) 848-7722.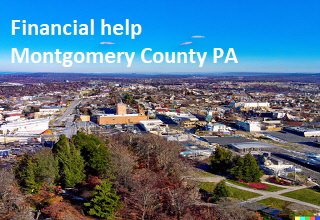 Helping Hand Foundation offers Senior Assistance Services and Hardship Programs. Many elderly are struggling to buy food or medications, and this non-profit can help. They encourage volunteers and other community members to address the needs of the less fortunate, and they may be able to refer seniors to assistance programs and resources in Montgomery County. Call (267) 536-1077
Manna on Main Street - Emergency aid is offered for those facing a crisis. Funds are paid directly to your landlord or utility company. An example is the Summer Cool Down Program. During the summer it can pay electric bills for seniors so that they can run air conditioners or fans. Or even locate resources to get power turned back on fast with no money.
Housing is arranged too. There is also limited renters assistance for struggling, low-income tenants or single mothers. Location is 514 W Main St, Lansdale, Pennsylvania, 19446, call (215) 855-8241
The Open Line offers programs to help meet the critical needs of income eligible residents. They do this by providing financial assistance for basic utilities, fuel, housing costs, and medical prescriptions. Services include public Assistance (food stamps, medical bill and cash assistance); LIHEAP; and FEMA Funding for housing and utility bills. Funds are distributed as available to eligible residents. Eligibility varies by program. Address is Pennsburg, PA. Phone number is (215) 679-4112
Homeless Prevention part of Your Way Home. This is a county wide eviction and foreclosure prevention program. It is administered by the local government, businesses, charities, and other groups. Many situations can be addressed, such as evictions, utility disconnections, or home foreclosures.
Using grants, clients of the service can receive money for keeping their home. So funds can help pay water bills, rent, and more. Or applicants will be enrolled into stabilization services to help them address credit or other housing issues. More Montgomery County eviction and rehousing help.
Montgomery County Assistance Office and the Department of Public Welfare offer many resources including applications to government benefits. They include SNAP Food Stamps, Child Care and Early Learning, cash assistance from TANF, payments for heating bills, among others. There is also Medicaid insurance and SSI for disabled individuals. The office is at 24 Robinson Street, Pottstown, PA, 19464. Call (610) 327-4280. Or a second location is in Norristown. Dial (610) 270-3500.
Ministries Hospitality is a faith based group that can provide shelter as well as basic needs to families in poverty or the homeless. They serve a breakfast and run a food pantry. Referrals are offered as well as part of their on demand case management service. The Norristown based agency can be reached at 610-277-1321, or click more information Ministries Hospitality assistance programs.
The Peak Center, Inc. specializes in offering referrals and information. A coordinator can refer people to assistance for needs such as affordable no wait list housing, employment opportunities, and transportation. Assistance and guidance is available to complete benefit applications for PACE/PaceNet, Property Tax and Rent Rebates, Medical Assistance, LIHEAP, and Food Stamps (SNAP). Main phone is (215) 362-7432
Phoenixville Area Community Services has limited amount of direct assistance. Get information about food assistance, health and social services. There are free clothes, educational supplies, computers for adult workers or students and more. Specialists can also provide referrals for services, benefits and other non-profit resources in the region. Call (610) 933-1105
Veterans Multi-Service and Education Center can offer veterans and their families access to low income housing and case management. They also can coordinate emergency utility bill assistance, credit counseling, and meals, with a focus on very low income / homeless veteran families. There are also SSVF grants, VA benefits as well as other public aid. Location is 605 E Lincoln Hwy, Coatesville, Pennsylvania, 19320. Dial (215) 923 - 2600.
Montgomery County MONTCO SAAC supports seniors and the elderly. The non-profit coordinates Meals on Wheels services, offer referrals to government benefits such as LIHEAP or Medicare, and operates a low cost thrift store. Location is 536 George Street, Norristown, PA, 19401. Phone: (610) 275-1960.
Jewish Relief Agency (JRA), offers free kosher food once a month to individuals and families in need of assistance. Food packages are delivered to homes throughout the Greater Philadelphia area. This is part of a Meals on Wheels Service for the homebound. For more information visit their website at jewishrelief.org or call 610-660-0190.
Job fairs, training, and classes are available. Montgomery County undereducated, people with GED, the unemployed and others can use computers, get help finding a ob, or go through training. A job and higher income are key to getting out of poverty. Find free job and career programs in Pennsylvania.
Pottstown Cluster of Religious Communities/Cluster Outreach Center has programs that could potentially help only qualified Pottstown residents. Apply for emergency financial aid to pay for rent, housing, utilities, prescription and medical needs, eyeglasses, employment related needs, and heating oil. Call (610) 970-5995
Rescue Relief For Senior Citizens connects the elderly and senior citizens to information and resources to meet their basic needs. Counselors can help people negotiate unpaid debts and bills with their creditors. Other assistance programs and services include prescription drugs, free food and meals, clothing, and emergency utility assistance. (215) 426-1977. Several other programs help the elderly in Pennsylvania. Read more on Agency on Aging Pennsylvania.
MontCo Anti-Hunger Network (MAHN) focuses on hunger prevention in Montgomery County. Free groceries, clothes, financial help for bills and more is arranged. There is also referrals to free pet food banks in Montgomery County, Meals on Wheels services and other support from ​PO Box 1086 Lansdale PA 19446. Phone number: (215) 648-2189
Regional Housing Legal Services and the Pennsylvania Utility Law Project (PULP) can help people keep their power and heat on. Get assistance and information regarding payment arrangements and utility terminations. Also receive help in dealing with your landlord. This is a statewide program. Call (717) 236-9486 for details.
Montgomery County Pennsylvania free holiday resources are available from several non-profits and charities. Qualified families can receive free gifts, toys, and clothing for themselves and their children. Some locations will also have Thanksgiving or Christmas food items and meals. Read free holiday assistance Montgomery County.
Free food, groceries, clothing and more - Located across Montgomery County Pennsylvania are a number of food and clothing banks. The exact types of assistance provided to people across the county will vary by location and center, however it can range from low cost or free food, clothing, diapers, and perishable items up through household products. In addition, most of the pantries can also help people apply for public assistance from both the federal government and state of Pennsylvania. Find listing of Montgomery County free food banks.
Project Outreach, which is located in Royersford at 410 Washington Street, provides support. Various programs are available, ranging from assistance for heating and gas bills to grants for paying a security deposit or rent. They also offer tenant education services, arrange mediation, and can offer referrals to low income subsidized housing. Phone - 610-948-5111.
Free health care
Norristown Regional Health Center offers health and medical care to low and moderate income patients on a sliding scale. Some of the services provided include general health care, dental assistance programs, GYN, pediatrics, and limited acute care. There is free medical and dental for the uninsured as well as people on Medicaid in Montgomery County PA. Dial 610-278-7787. The address is 1401 DeKalb St, Norristown, PA 19401.
HealthLink Dental Clinic has free, pro-bono dentists /Cleanings, teeth extraction and other care is offered. There are also income and sliding fee dental care done. Location is 444 N York Rd B3, Hatboro, PA 19040. Call (215) 364-4247.
Government dental

clinics, including some run by charities, are available. Low-income people, adults and kids can get care, ranging from preventative to emergency surgery. Learn how to find a free government dental clinic.
Community Health Clinic is another location that can help low income and uninsured. Dentists provide dental care, extractions and more. Doctors offer free OB/GYN, telehealth, eye exams and other health care. Dial (215) 235-1818 or 610-278-5145.
There are many state of Pennsylvania and federal government resources that help low income families access dental or health care. Free dental cleanings and exams for children or seniors, government health insurance including Medicaid, prescription drug saving plans, and more is available. Find details on state of Pennsylvania health care for uninsured.
Free legal assistance programs, attorneys and free advice
If you can't afford a lawyer, and need legal help for a civic case, contact the Montgomery County Division of Legal Aid Services of Southeastern Pennsylvania. They help immigrants, the low income and elderly among others. They provide legal representation for such cases as foreclosures, illegal debt collection practices, divorce, domestic violence, and more. Call them at 610-275-5400 for more information on the legal programs.
Also, many of the agencies that have operation in Philadelphia also can help Montgomery County families. Learn more on Philadelphia assistance programs and contact these agencies and non-profit organizations for help as well.
Free mortgage or debt help and foreclosure prevention
Montgomery County free credit counseling and debt reduction programs are available. There are offices in the Philly area and county. Trained counselors go over a clients financial situation. There are budgeting workshops, free credit counseling programs, help with financial literacy, bankruptcy workshops and more. They also assist with car loans and credit card bills. Find Pennsylvania free debt and credit counseling services.
CLARIF - Consumer Credit Counseling Service of Delaware Valley is a HUD approved debt and credit counseling agency that provides mortgage as well as foreclosure help. They also offer debt reduction classes, information on financial literacy, and bankruptcy help. or get free help in dealing with auto loans or credit card debt in Montgomery County. They offer what is called delinquency counseling, which is really a foreclosure prevention program. Click here to learn more on Pennsylvania foreclosure programs, or call them at 215-563-5665.
Related Content From Needhelppayingbills.com