Assistance programs Erie County New York and Buffalo
Find financial help in Buffalo and Erie County. Charities, churches as well as government assistance programs from Social Services offer funds to pay for utility or heating bills as well as rent. Charities offer free gas cards or transportation programs, grants for paying a mortgage, and there is also free groceries from a pantry. Get financial assistance near you in the Buffalo and Erie County NY area.
Low income families, seniors, and the disabled in Buffalo and the county are a focus. They can find how to apply for help below. Not only that, there is also government financial assistance and cash for paying bills. Residents can also find free winter clothes, school supplies, household items like furniture or free diapers as well as Christmas toys. Many resources are offered in the Buffalo region.
Help with bills from Community Action Grants in Buffalo NY area
The Community Action Organization of Erie County (CAOEC) provides several resources and social services to Buffalo residents. There is also help for every town, city and village in Erie County. Government hardship grants to help pay bills, employment programs, emergency financial help and more is offered. Find additional resources and services below.
The

CAO has a primary goal of counseling and assessing

an applicants situation. They can provide short-term assistance to families and individuals during a crisis or an emergency that threatens their ability to maintain basic needs, such as clothing, free food, and shelter. The emergency assistance program provides information, referrals and financial assistance (based on budget available) to qualified households, following an assessment of their situation and need.


CAO's emergency assistance funds

are disbursed to help pay for expenses such as basic shelter, including a rent or housing payment. The money can provide essential nutrition or medical attention, and funds can even be used to help people obtain clothing necessary for protection against the weather.

Job placement is offered.

The Community Action Agency of Erie County

also offers assistance with job search. They help people locate a job, review resumes, prepare clients for interviews and more. Or get referrals to career fairs, CAO partner agencies, and companies.
Financial help for bills or housing

, or referrals to programs such as HEAP, from Emergency Services Division. They also partner with other agencies and charities that are located throughout Erie County New York.


Information on food pantries

or SNAP food stamps. There are free groceries, applications to SNAP food stamps, and WIC vouchers.


Community Action Organization of Erie County CAO New Ventures housing program

is offered too. This offers housing, mortgage, and rent assistance to low income families and individuals. Some of the financial aid that can be provided include a grant for first month's rent, funds for one month past due rent (to prevent eviction). They may even be able to offer funds for one month past due mortgage payment to prevent a foreclosure filing. Find additional mortgage assistance programs in New York.
Additional help is offered by the community action in Erie County NY. The services CAO provides include mental health counseling, mortgage relief, and Family development, chemical dependency. There is also grant money for minor home or roof repair, senior services, Head Start, and more. The non-profit supports all of the city of Buffalo and county of Erie.. Much more is offered too, including referrals. Click community action programs in Erie County.
Emergency financial assistance programs in Erie County
The Buffalo NY area Salvation Army provides crisis assistance as well as free stuff to low-income households. They run the Emergency Family Assistance Program as well as gives out free items or case management. Based on resources they provide people with free food from an on site pantry, run a holiday and free Christmas Assistance Program (including toys or meals). There is also free Thanksgiving turkey dinners as well as clothes during the winter for kids or seniors.
Case management

is also offered in Erie County. The Salvation Army has employment and job finding program. Or get help in applying for government benefits in western NY.
They may also have

grants that can be used for paying rent, gasoline

or other critical costs. This program can help people pay for bills, including medical, rent, and utility bills.
Occasionally the Salvation Army can also provide

money for heating, propane or fuel

bills during the winter.
The Salvation Army will give out

free school uniforms as well as back to school supplies

. There are backpacks for students in Erie County, information on free government tablets or iPhones and other devices. Read more on free government phone giveaway programs in NY.
Apply for emergency food assistance, grocery boxes, holiday baskets and vouchers.
They also run the Neighbor 4 Neighbor utility assistance for seniors when funds are available. In addition, apply for rental assistance for Niagara and Erie County residents
The are multiple sites. The main center is at 960 Main St, Buffalo, NY 14202. Phone: (716) 883-9800. Another location is 46 Broad Street, Tonawanda NY 14151, (716) 693-3110. Learn more on the Salvation Army Erie County assistance programs.
Old First Ward Community Association - Housing Rehab assistance for qualified Owner Occupants. The non-profit can help senior citizens or disabled people in Buffalo fix a roof, replace windows, or make the home safe. The organization also offer housing information and referrals, homebuyer assistance. Senior Nutrition & transportation, and a Youth Afterschool program. The Buffalo River Food Pantry is also on site. (716) 856-8613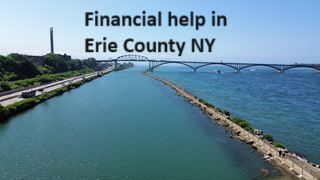 Several churches and St. Vincent centers operate in the region. Additional services such as prescription medications, self-sufficiency (known as Back On Track), free clothing and more is offered. There are also low cost thrift stores. A volunteer will often visit the Erie County New York family to determine eligibility. Continue with St. Vincent Buffalo and Erie County assistance programs.
St Vincent De Paul St Amelia

(phone (716) 836-0011 and address 210 St Amelia Dr, Tonawanda, NY 14150) - This non-profit, faith based charity provides food assistance to low income individuals and families who are in need of help. Also, the center provides financial assistance for paying for appliances, furnace repairs as well as free heating units and utility bills if needed by qualified applicants. More information on St Amelia assistance programs.
WNYHeroes Inc. – Military veterans and families can get help with basic needs and expenses, including rent help, housing, or shelter. There is also money for mortgage, free food, grants for heating and utilities, medical bills, holiday meals, and much more. The address is 1001 E Delavan Ave, Buffalo, NY 14215. Call (716) 630-5020.
Bridging Hearts Grant

is for veterans, military members and their families. A grant can be issued to pay for expenses such as monthly rent, food, medical bills, and even Christmas gifts/meals. Any money is paid to the vendor, landlord or energy company. They also help with transportation, such as free cars for veterans or a fix to an auto. Call (716) 630-5020
Erie County - Social Services Department – Apply for government assistance, including Temporary Assistance TANF cash aid. There is Adult & Child Protection or applications to SNAP Food Stamps as well as free insurance from. Grants are part of HEAP; Emergency Assistance; and get Information & Referral to local charities and assistance programs.
A focus is on senior citizens and disabled people as well as the very low income. The address is Rath Building, 158 Pearl Street, Buffalo New York 14202. Phone (716) 858-8000. Or read more New York public assistance.

Emergency Assistance - ECDSS Social Services

. The office is at 478 Main Street. They run the government programs, ranging from food assistance to furnace repairs, HEAP, and others. The intake number is (716) 858-6265, and all of these are for low income - working poor families.
Catholic Charities – Several resources are offered, including the Neighbor for Neighbor Heat Fund for National Fuel. This heating assistance program was created to provide financial assistance for energy bills and heating to low income, disabled, elderly, handicapped, or those Erie County NY with medical emergencies or hardships.
Additional financial help is offered. The Buffalo NY area Catholic Charities also administers various rent, housing and supportive services. These can include, but are not limited to, housing need assessments. The staff also help people identify new housing opportunities including information on low-income no wait list apartments. Or get utility and home repair advocacy.
They also provide provide relocation assistance; application for entitlement program; landlord/tenant mediations; short term case management services. A focus is on the poor, single moms, and immigrants too. The location is 128 Wilson Street, Buffalo New York 14212, phone (716) 896-6388. More details on Catholic Charities assistance programs in Buffalo.
Help for heating expenses - When the cold and snow hits Erie County and western New York, many utility companies and the government offer funds. There is immediate financial help for paying heating and gas bills. Money can also pay for the repairs of your furnace or fix a roof. Thousands of people receive assistance every year. Find help with paying heating bills in Buffalo.
HEAP - Buffalo Home Energy Assistance Program

– Call them to learn about or apply for emergency assistance for paying electric, gas, oil, heating bills etc. and even funds for some heating equipment repair. Low income families and individuals can apply for heating assistance. They also offer weatherization program as well as crisis LIHEAP. The location is 478 Main Street, 1st Floor, Buffalo New York 14202, call (716) 858-7644. Or learn more om immediate LIHEAP crisis grants.

Older homes often use

heating oil, propane, or similar fuel types

. There are some companies as well as charities that offer free oil during the fall, winter, and spring. Quantities will be limited, however find how to get free heating oil.
Rent payment help is available across Erie County NY. Tenants, single mothers and low-income renters will be able to get emergency financial help to stop an eviction. There are also security deposit assistance programs, government grant money and other resources available. find other Erie County and Buffalo rent assistance programs.
Erie County transitional housing and shelters

- Families facing eviction and the homeless can receive help from several non-profits and local housing programs. Services range from providing a place to stay for a night or two (emergency shelter) to longer term self-sufficiency and an apartment, which is a form of transitional housing. More on Erie County transitional housing programs.
Buffalo Municipal Housing Authority can help place people into low income and/or public housing as well as affordable housing from private landlords in Buffalo NY. The agency can also issue section 8 housing vouchers.
The program will pay a portion of monthly for a home or apartment, and the tenant will need to pay the balance based on their income. The government organization focuses on addressing housing needs, including mortgage questions.
Various application sites are in Erie County. One location is 300 Perry St., Buffalo, New York 14204. Main Phone: 716-855-6711. Another agency to call for information on this resource is Rental Assistance Corporation of Buffalo (telephone (716) 882-0063).
PathStone Corporation supports eligible farm workers and possibly others who meet very low income levels. Assistance programs offered include the following. A focus is on farm workers in the county.
Rental assistance

and support for first-time home buyers.
The agency can coordinate

minor home repairs

.

A food pantry and vouchers

are offered too.
Or sign up for programs such as

English as a second language, adult basic education

or get help in finding full-time employment. More on English as Second free classes.
They cover a wide territory. The non-profit is at 114 Hickory St, Buffalo, NY 14204. The phone number is (716) 310-4460.
Hispanics United of Buffalo offers language interpretation for government programs such as Medicaid, SSI etc., food pantry, advocacy and information regarding social services. Or get help applying for public aid. Energy conservation is also offered.
Senior citizen services are available in Erie County too, including meals. Last, but not least, register for job readiness and/or life skills/prevention workshops or learn about money saving programs such as cash back rebate websites.
Latinos can also get free legal assistance from volunteer lawyers and representation is offered to Hispanics. Or call them for information and referral, as the organization has extensive details on public and private resources. The non-profit is at 254 Virginia St, Buffalo, NY 14201. Dial (716) 856-7110
Housing Options Made Easy – Applicants need to be referred by a mental health provider. Assistance available includes ongoing rent payment subsidies, free bus passes, or funds for security deposits. There may be free vouchers and some transportation programs, including free car ot truck repairs in Erie County NY. (800) 421-1114. The location is 75 Jamestown St #1413, Gowanda, NY 14070
Kenmore-Tonawanda Office (((716) 877-8800) as well as a site in Amerhest (phone (716) 839-4066) offer intake and case management. The end result will hopefully be self-sufficiency which may include Emergency Relief Assistance and Advocacy, job placement, or maybe even heating bill assistance from programs such as Neighbor for Neighbor or food from WIC - Women, Children and Infants
Erie County SSVF - Supportive Services for Veterans is also for the region's veterans. There are a number of components to this, include short term financial aid for security fees, rent, storage fees or utility costs. Loans may be used for longer term support. However the focus of SSVF is on employment assistance, legal and financial counseling, medication, and help in accessing public benefits from both New York and the federal government. Address of the site is 1280 Main Street, Buffalo NY 14209. Main phone - (716) 424-1892
Cash assistance in an emergency - Families who are faced with a crisis and who meet low income guidelines can contact the government run Social Service office for help. Financial assistance can be provided to pay for a wide variety of basic needs, such as rent, energy bills, food, and more. Case managers can also help people apply for public assistance in the region. Learn more Erie County emergency assistance.
Buffalo and Erie County Emergency Solutions Homeless Prevention – Families who are at risk of losing their homes or facing eviction from apartments may qualify for help. Some of the assistance provided includes short-term emergency rental assistance and money to pay rent arrearage. This is combined with mediation as well. In addition money can be used to help pay rent over the so called medium term.
Other housing assistance is available as part of Outreach. Grants for paying security deposits and utility deposits can be applied for, as well as current heating and utility bills. Motel or hotel vouchers and well as cash for moving and storage cost assistance round out the aid offered. Address is 525 Washington Street, Buffalo, NY 14203, phone (716) 856-4494 x317, or read Buffalo Housing Homeless Outreach.
Federal government Homelessness Prevention and Rapid Re-Housing Program. It provides financial help and cash grants to families and individuals who are at risk of being evicted and finding themselves out on the streets. It can also help those who have already been made homeless by the recession, and maybe they have been evicted or maybe they lost their home to foreclosure. The services offered as part of the program range from short-term rental assistance and housing relocation, to help with security deposits, utility deposits, and even utility bills.
The different agencies and charities distributing the funds include the American Red Cross,

Neighborhood Legal Services

((716) 847-0650), Catholic Charities,

Saving Grace

((716) 893-1840), Community Action Organization, the Homeless Alliance and the Lt. Col. Matt Urban Center.
Housing Resources of Western New York also operates in Erie County. They are a HUD approved Counseling Agency and can help both tenants and homeowners. Get information on foreclosure counseling or loan modifications. Other support can include eviction prevention and referrals to emergency rental assistance. The homeless can explore transitional housing, section 8 subsidized housing units, and both utility and security deposit assistance programs.
Belmont shelter Corp - 33 Spruce Street, North Tonawanda, New York 14120-630. Call (716) 213-2784
1195 Main Street, Buffalo NY 14209. Phone (716) 884-7791
Grants from Rapid Rehousing and also locally run Homeless Prevention Programs can be used to help income qualified tenants and families living in poverty that have a housing crisis. Federal money can be used to pay for utility costs, including heating or water bills, as well as rent or relocation. Ongoing case management is also given to clients of RRHPP. Read Erie County eviction assistance and rehousing.
Financial assistance for water bills - Low income people who live in Erie County and Buffalo New York have two main programs that can help with water bills. One is a payment plan, and the other is a resource offered by Neighborhood Legal Services. Read more and find details on the options available that help with water bills in Erie County.
Dozens of churches operate in Western NY and Erie County. They provide the poor and struggling with everything from food to clothes, emergency financial help, basic medical and more. Find information on assistance from churches in Erie County.
City Mission - This charity focuses on the very low income, homeless, and poor. The resources available in Buffalo are wide ranging, and include free food, shelter, and employment services. Other programs include free Christmas and Thanksgiving help, clothing and household goods from the Bargain Hunter Paradise thrift store, and transitional housing or information on low income apartments. More on Buffalo City Mission.
The Child & Family Services Ways to Work Loan Programs is an option that offers low interest loans to qualified individuals. Money can be used to pay for bills, household appliances, furniture, medical bills and other emergency needs. Car payments or repairs can be paid using a loan.
There are also loans for paying rent or a mortgage arrears, vehicle repair or purchase, security deposits, home repair, or even child care. People who are working at minimum part time or who may be going back to school are eligible to apply for the program. Click here to find other Salary Advice loan programs, or dial (716) 335-7400.
Other lenders, including non-profits as well as banks in Erie County like M&T, provide short to long term loan funds as well. People with no credit or bad scores can apply too. Various low cost loans may be offered, including to the ":un-banked, meaning no bank account. The goal is to provide capital to lower income families both in Erie County as well as outside Western New York. Find bad credit loans for low income households.
Matt Urban HOPE Center - People facing an eviction and at risk of losing their home or apartment, or those who are currently homeless, can contact this agency. Dial (716) 855-2124.
Buffalo NY area free home repairs and improvements are offered too. A leading agency is the non-profit. West Side Neighborhood Housing Services. Low-income families, people with no money and the poor with a broken furnace or heating unit can get grant money or low-cost loans. There is also assistance for homeowners who need a window or roof replacement and more. The city of Buffalo partners with West Side Neighborhood Housing Services to offer homeowners options and programs to resolve their crisis.
Some the repairs and improvements that can be provided include defective heating system, repair or replacement of water heaters and furnaces, roof repair, replacement of water pipes, and much more. The address is 359 Connecticut St, Buffalo, NY 14213. Call (716) 885-2344, or learn more on home repairs for free for low income.
The Buffalo Urban League offers career programs, helps people start a business and more. There is also information on low-cost housing and free credit repair services. They administer an Employee Transition Service that offers entry level employment opportunities as well as internships. The non-profit will provide job training and help to people who are new to the workforce or who have limited work experience or skills. Get a list of entry level jobs.
They will also assist individuals who are professionals who have been affected by layoffs or that need new career skills, such as IT, health care, or even high tech manufacturing. The Urban League will help people who are seeking to upgrade their employment or gain new skills, and can also help skilled workers. Location is 15 Genesee St, Buffalo, NY 14203. Call (716) 250-2400.
Free stuff, vouchers and basic needs for low-income people in Erie County
Free help for the holidays - Everything from free meals to toys and Christmas gifts is provided to people in poverty, children and low income families. Churches and other non-profits in Erie County strive to provide the less fortunate with some type of Thanksgiving and Christmas assistance. Find free holiday and Christmas assistance in Erie County NY.
Stuff, including free clothes, furniture or back to school supplies, may be offered for free. There are a number of Buffalo NY as well as Erie County clothing closets, furniture banks and thrift stores. Several non-profit organizations will provide these items for free to qualified low income families. There are also There are also free diaper banks. Some locations will sell goods to anyone, regardless of their income levels. .
Some of what may be provided includes vouchers for free winter coats, school supplies, diapers, furniture, and other needed items. Many locations will also offer special Christmas and holiday assistance programs to Buffalo area families and children or they offer free backpacks, supplies, and uniforms for school. Continue with free clothing closets, furniture and school supplies n Erie County.
Free low income back to school supply programs help students of all grades, ages, ethnicities, and gender. Whether it is uniforms or clothes for boys or girls or teens, or free backpacks or notebooks or even Chromebooks, items are offered. More on free school supplies in Erie County NY.
Food pantries and free grocery assistance in Erie County
There are several food assistance programs and places to obtain free vouchers from in the Erie County and Buffalo New York area. Many also serve free hot meals year round and at the holidays. Or clients can get help from emergency food stamps and other USDA benefits. They include:
Antioch Baptist Church

- (716) 895-0198

Buffalo Lutheran Food Pantry

- (716) 892-7682. The social service office and food bank is at 900 Genesee St, Buffalo, NY 14211.

Calvary Missionary Baptist Church

- (716) 895-3642
Delevan Community Food Pantry -

Get a box of groceries, baby formula in Erie County or a free hot meal or lunch. The charity is at 21 Delevan Ave, Delevan, NY 14042. Phone: (716) 492-1292

First Presbyterian Church

- (716) 884-7250. Address is 1 Symphony Cir, Buffalo, NY 14201.

Lackawanna Neighborhood Service Center CAO

- (716) 825-2147
There are many other free food banks as well as soup kitchens in Erie County. Or click here to find information on dozens of other free food pantries in Erie County.
Medical care and health care clinics
Free clinics and medical facilities that offer individuals care include the following. Often dental and regular medical services are arranged.
Community Health Center of Buffalo - Phone (716) 986-9199 and address 34 Benwood Ave, Buffalo, NY 14214. This clinic offers complete primary medical, health and dental care for entire famil, including those with no insurance or on Medicaid. No one is refused due to their inability to pay for their medical or hospital bills. Get telehealth, physicals, immunizations and free medical for kids or adults. In addition, learn about New York medical debt collection laws.
ECMC Outpatient Clinic Services - This facility offers care and the fees charged to patients will vary depending on service and the patients income. Both dental and medical care is offered. Call (716) 898-3152
Free psychiatrists, or those that take Medicaid, are available as well. They help the low-income and people with mental health needs. Or medications, such as anxiety or anti-depressants can be provided. The free or low-cost psychiatrists are available online or in person. Find a free psychiatrist near you.
Low income, the underinsured, adults, and children have other options for free health or dental care. Find information on dozens of other free community clinics in Erie County and Buffalo New York.
Mortgage relief, foreclosure prevention, and debt reduction
The Urban League of Buffalo offers Erie County New York homeowners foreclosure relief and mortgage help. They have an on site Housing and Community Development Department that provides housing assistance. HUD approved counselors will work with the family to help them keep their home. In addition, the program also provides budget and credit counseling to get finances back on track. They also have a predatory lending assistance program. Call them at (716) 250-2400.
Another option is West Side Neighborhood Housing Services (716) 885-2344). They provide one on one counseling, mediation services, information and access to loan modifications, and a host of other foreclosure programs and solutions to mortgage defaults. Click here to learn more about additional government mortgage programs.
Belmont Housing Resources for WNY also offers foreclosure assistance to low-income homeowners, minorities and those even behind on their property taxes The center is a HUD Certified Housing Counseling Agency that provides home ownership & rental counseling to Erie County and Buffalo residents; including pre-purchase, reverse mortgage, foreclosure advice and mortgage default counseling. Dial (716) 884-7791.
In addition to those agencies listed above, several other non-profit credit and housing counseling organizations are located in the area. They may be able to provide income qualified consumers and homeowners with free or low cost debt reduction and mortgage assistance. Find information on credit counseling organizations in Erie County.
Free lawyers and pro-bono legal aid in Buffalo
Erie County Bar Association Volunteer Lawyers Project, Inc. - Volunteer attorneys offer free legal advice for civil issues. Get advice for all issues including, but not limited to, unemployment insurance benefits; Family Law (divorce, adoption, guardianship, or meet with an attorney on standby guardianship.
Free lawyer consultations will help Buffalo NY families with a name change and non-parent custody petitions); foreclosures; consumer/bankruptcy; real property/small estate; evictions, and more. Click here for more free legal advice, or dial (716) 847-0662
Low income legal support

- Additional volunteers and attorneys from firms in Buffalo and Erie County advise the less fortunate, including online or over the phone. Some seniors may qualify for help regardless of age. Receive help stopping evictions, applying for government benefits such as disability or HEAP, and more. Consumer debt matters can be addressed too. More on Erie County legal aid.
Related Content From Needhelppayingbills.com