Assistance programs Cameron County Texas and Brownsville.
Get financial help or free stuff in Cameron County. Find funds to help pay electric or utility bills, security deposit assistance, low cost housing, free food and more in Brownsville and the Harlingen TX area. The programs are available from churches, charities and government agencies. Locate financial assistance near you in Cameron County.
Charities as well as Health or Human Services help the low-income, seniors, immigrants or migrants and single moms among others. Low income families can also get free basic needs met in Brownsville. This includes clothes, back to school supplies, medical care from clinics and even Christmas toys. The agencies not only give grant money or loans to pay bills or a mortgage/housing payment, but also address employment, debt, and other needs of struggling family.
Community Action hardship grants in Cameron County
The Cameron-Willacy Counties Community Projects, Inc., which is located in Brownsville and can be reached at (956) 544-6411 will help low-income families, the unemployed and people living in poverty. The non-profit helps people find, and apply to other programs.
Energy help in the county is offered. Programs can help people, including senior citizens,

either save money and reduce their energy bills

. Or it can provide them with cash grants to pay utility bills, fix an air conditioner and prevent their service from being disconnected or ensure an AC is provided. Or read more on how to get free air conditioner.
The

Texas Department's Comprehensive Energy Assistance Program (CEAP)

, is an utility bill co-payment assistance program that provides direct cash grants to pay bills. It also also helps qualified households better manage their energy consumption, and save on their bills, for a safe, affordable environment.

Another option is Weatherization

, which is a federal government funded program that provides Cameron county people with free energy saving upgrades to their homes. The upgrades help them save and reduce their electric bills. People can save hundreds of dollars by such improvements as insulation, caulking, new windows, HVAC tune ups, and more.
The non-profit

provides other assistance as well

. Whether it is information on Head Start or if someone needs help in locating (and paying the rent on) a low income home, the non-profit may assist. They are a leading poverty fighting organization. There is also help finding immediate, no wait housing in the region. Locate other resources for low-income housing with no waiting list.
Other programs are offered by Community Action. A major focus is on self-sufficiency. Thy try to help people get a job or new skills, improve their finances, and gain stability. The main office is at 1144 Professional Dr, Brownsville, TX 78520. For information, dial (956) 544-6411. More on Cameron-Willacy Counties Community Projects programs.
Emergency financial assistance for bills in Cameron County
Programs are offered by the Ozanam Center. Phone number is (956) 831-6331 or (956) 831-6331. There is help for migrant workers, immigrants, and Spanish speakers too. Individuals or families facing a crisis situation are provided access to federal government as well as state of Texas program. There are also charity resources in the Cameron County region. One of the most critical needs these days is for rent help. Click here to find options for people who are struggling with their rent.
Housing resources are offered

. The non-profit, also known as The Bishop Enrique San Pedro, Ozanam Center, Inc, gives access to the homeless prevention and rapid re-housing program. This provides free government hardship grants for utilities and rental assistance or a moving deposit depending on availability of funds.
The services provide free food, shelter, rent assistance and access to other community resources to improve self-sufficiency during their time of crises. Or get free meals for the homeless in Brownsville, clothes and hygiene supplies. This includes temporary shelter 30 days, clothes, casework, hot meals. The goal is to provide short term help to pay bills, and at the same time help people become self-sufficient for long term success. The Center is at 656 N. Minnesota, Brownsville, TX 78521. Or call Call (956)831-6331.
Comprehensive Energy Assistance Program – This utility, cooling, and energy bill assistance program is run by many non-profit organizations and other agencies in Cameron County Texas. They are listed below. Among other services, it offers help for paying for heating and cooling bills. In addition, CEAP will retro-fit or replace central A/C units, replace window air conditioning units and other major appliances. In addition, an Energy Crisis Program can offer emergency financial assistance for paying for weather related emergencies or bills, with a focus on disabled adults or seniors in Brownsville, Harlingen, and other cities.
Cameron And Willacy Counties Community Projects, Inc., 2224 Delia North Isabel, Brownsville, Texas 78521, phone number (956)544-6631
El Ranchito Multi-Service Center, 24380 West US Highway 281, San Benito, TX 78586. Dial (956)361-2247
Harlingen Multi-Service Center, 702 South M Street, Harlingen, TX 78550, (956)428-9476
La Feria Multi-Service Center, 914 East Highway 83, La Feria, Texas 78559, (956)797-2270
Los Fresnos Multi-Service Center, 213 Oribe Drive, Los Fresnos, Texas 78566, (956)233-9259
Luis and Consuelo L Lucio Multi-Service Center, 1035 East 11th Street, Brownsville, TX 78520, (956)542-3338
Port Isabel Multi-Service Center, 1441 Santa Isabel, Laguna Vista, TX 78578, (956)943-4304
Rio Hondo Multi-Service Center, 121 North Arroyo Street, Rio Hondo, TX 78583, (956)748-2072
San Benito Multi-Service Center, 700 West Expressway 83, San Benito, Texas 78586, (956)399-0260
Senior Citizen Multi-Service Center, 45 North Coria, Brownsville, TX 78521. Main phone (956)544-2767
Southmost Multi-Service Center, 2435 Southmost Road, Brownsville, Texas 78521, (956)541-3176
Learn more about CEAP LIHEAP applications in Texas.
The Cameron County Salvation Army - The faith based Christian charity provides emergency assistance with paying for utilities, groceries, rental, food, clothing, and other expenses when funding is available. A thrift store is also operated on site that sells low cost items. In addition to those direct financial assistance programs, the Salvation Army offers social services, a homeless shelter, and more. Free hot meals are served to the homeless as well. Or look here for help paying for hotel room.
For example, free Christmas holiday gifts are distributed from Angel Tree. There are also free school supplies including backpacks for students. Senior housing resources are available too. The main location is 201 East Monroe Street, Harlingen, Texas 78550, phone (956)423-2454. Or click here for more information on these and other programs, and find more details on Salvation Army Cameron County assistance programs.
Catholic Charities of the Rio Grande Valley – The charity organization helps the poor, migrants, women facing DV and others. A number of churches provide support, ranging from baby formula to clothes, free hygiene stuff, and counseling. When funding is available, the charity provides financial assistance with the following expenses. Housing needs, rent, mortgage, utilities, food, clothing and counseling. Or learn about affordable apartments and safe places in Cameron County.
A key resource is known as the Emergency Assistance Program, and it can also offer free holiday assistance, medications, free food, vouchers, and other aid. Catholic Charities in Cameron also administers programs for immigrants and seniors, with free or low cost legal aid for asylum, Green Cards and Work Permits. Location is 955 West Price Road, Brownsville, Texas 78520, Call (956)541-0220, or get more information on Catholic Charities Cameron County.
Loaves And Fishes Of The Rio Grande Valley, Inc. – Another not for profit that can offer grant money and emergency financial assistance. The funds can help with paying rent, metered utilities and cooling bills and prescription medicines. They also try to help seniors or the disabled in Brownsville TX area fix a home, patch a roof, and give medical supplies.
In addition, note that

emergency non-financial assistance

is also available in the form of free food, clothes, and other household items. Or get free diapers in Cameron County, baby stuff or formula. Financial assistance is available for utility disconnection notices or electric deposits too. They also partner with churches as part of their Clearing house center and give referrals, or find details on help from churches.
The charity can also assist Cameron County residents with other needs. There may be employment services from the Job Shop as well as some basic free medical or dental care. They can also refer some families to loan programs for certain needs, such as rental costs. Loaves and Fishes is a faith based group, and all resources depend on volunteers and money raised from the community. Location is 514 South E Street, Harlingen, TX 78550. Call (956)423-1014. More on Cameron County Loaves and Fishes.
South Texas Adult Resource Training Center offers assistance to the homeless including rent assistance, security deposits, and funds for utility bills. All aid is very short term in nature. Another focus is on getting the low income and homeless to be self-sufficient from jobs, etc. They also help migrants and immigrants with ESL or adapting. Location is 743 North Sam Houston Boulevard, San Benito, Texas 78586, dial 956-399-7818. Or find free ESL for Spanish speakers.
Eviction prevention and rent help is used to stop homelessness in the county. The resources range from grants for paying housing expenses ranging from a security deposit to back rent. There are also services focused on individuals such as single parents or the elderly in the area. Find more details on rental assistance in Cameron County.
Community Action Corporation Of South Texas provides help to the low-income, working poor and single moms among others. CAAST offers numerous programs such as housing assistance, ESG grant, and help finding no wait list apartments. Or get free job training, educational services, and energy assistance programs in Cameron County. They also provide access to the Head Start program for kids or infarcts. The location is 1828 W Jefferson Ave, Harlingen, TX 78550. Phone: (956) 423-1100
Good Neighbor Settlement House, Inc. offers programs that can help people that need assistance with paying their rent while searching for new jobs. Support may also be paid out while they enroll into re-education/training for better work opportunities so they can sustain themselves financially. The location is 1254 East Tyler Street, Brownsville, TX 78520, call 956-542-2368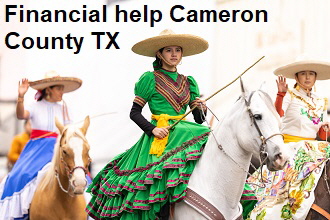 Housing Authority of the City of San Benito and Cameron County has a few offices in the region. The government agency can offer assistance with Section 8 vouchers, information on apartments and housing units and other support. The government office also addresses housing discrimination, such as for immigrants or minorities. They also help people in Cameron County that need to rent with a past eviction. The San Benito office is at 956-399-7501, or call Brownsville (956-541-4983) or try the Harlingen Texas office at 956-425-3521.
When the section 8 waiting list is too long in Cameron County, Brownsville, or any location, there is an

expedited program

. This can give low income families a priority HCV voucher. It is especially effective for the elderly, sick, or disabled. Find more details on how to get section 8 priority vouchers and the program.
Basic needs, free furniture and clothing assistance is available from Cameron County non-profits. Several groups run thrift stores and clothing banks for low income and needy families. What may be provided includes items for work and school, Christmas toys and gifts, supplies for children, and more. There is also free furniture banks and school supplies. Find more details on free clothing closets, furniture and school supplies in Cameron County.
Residents with unpaid bills or debts can get free debt help, counseling, and assistance. There are non-profits that meet with clients in person in Brownsville or online or on the phone. Everything from automobile loans to credit cards, medical debt help, and other financial services are arranged. Whether payment plans, debt management programs (DMP), forbearance, or some other solution, find debt help from Texas non-profit credit counseling.
Cameron County Health & Human Resources Government funded programs - The county, in particular the social services department, provides a number of assistance programs. The low income and indigent may qualify for free medical care, energy bill saving programs like LIHEAP, and food from WIC and SNAP food stamps.
There is also free health insurance from Medicaid, cash assistance from the government as well as elder care. Human Resources helps the low income, unemployed in Cameron County, seniors and others. The office is at 1390 W Expressway 83, San Benito, TX 78586, or dial (956) 247-3685. Learn more on public assistance Cameron County.
During the holidays, there are some seasonal free Christmas and Thanksgiving assistance programs. Kids can get many items, such as free Christmas toys, gifts, and games. There may also be meals for families, Turkey dinners, and many other presents and resources available. Locate more details on applying for free holiday help in Cameron County.
Federal funded housing programs stop homelessness and rehouse families. There is financial help, including grants or interest free loans, to help tenants that are behind on their rent. Other financial aid may include water bill or air conditioning help as well as free emergency shelter/motel vouchers.
The non-profits in Cameron County also assist the vulnerable, such as single parents or the disabled in the community. The goal is to stop evictions and keep families in their current home or apartment. More on Cameron County homeless prevention.
Society of Saint Vincent de Paul serves the less fortunate, immigrants, and vulnerable in the county. The main resource is a thrift store, which sells low cost gently used kitchen supplies, beds, coaches, furniture, and many other goods. That store allows some limited financial aid, food, and other support as well. More on Cameron County Society of Saint Vincent de Paul assistance programs.
Emergency cash, loans and funds will be provided to the under banked or people with no bank account. While not always the best option, this can be an option while borrowers get a SSN or build credit. Look here for emergency loans no bank account.
Proyecto Juan Diego provides many programs. Families can receive access to numerous resources, social services and health care programs to improve the quality of their lives. This is accomplished through community education, health clinics, advocacy, and referrals. There is also medical care as well as prescriptions for immigrants in Cameron County.
There is free counseling, immigration services, referrals to soup kitchens or food banks as well as continuing education. Other support is offered too, including information on government money or grants. Look here for free money for immigrants, or the address is 3910 Paredes Line Rd, Brownsville, TX 78526. Dial (956) 542-2488.
Cameron County Texas RioGrande Legal Aid (TRLA) is free, pro-bono lawyers and attorneys. They give consultation, advice, and support. The address is 300 S Texas Blvd, Weslaco, TX 78596. Get free leg aid on housing issues, including for tenants with an eviction. Get help with public benefits, and family law matters, including wills or divorce. Call (956) 447-4800
Free food programs Cameron County
Food assistance and hunger prevention services - There are a number of charities as well as churches that operate pantries or soup kitchens. Those will be for short term assistance. If a Cameron County resident needs long term support, then they can look into programs such as SNAP food stamps or even WIC vouchers for single moms and infants. Some of the locations are below.
Good Neighbor Settlement House

has a free food pantry and soup kitchen with meals 3 times a day. Or get free clothes, hygiene products, personal stuff and other wellness resources. Address is 1254 E Tyler St, Brownsville, TX 78520, or dial (956) 542-2368

Bishop Enrique San Pedro

, Ozanam Center food bank is in Brownsville.

Christ the King Food Pantry

feeds the poor and elderly, among others. The address is 2255 Southmost Rd, Brownsville, TX 78521. Phone: (956) 546-1982. They also feed kids, teens, and homeless adults with a breakfast, meal or something else.

First "United Church - St. Stephens Society

is located in Port Isabel. Programs include groceries, boxes of food, and other social services. Location is 101 W Adams St, Port Isabel, TX 78578. Phone: (956) 943-2485.
Non-profit also offer advice on saving money including cheap food programs.
There are several other non-profit food pantries as well as soup kitchens in the region as well. The exact resources available will vary based on many factors, but the agencies may be able to help. Everything from Meals on Wheels to surplus USDA commodities are offered. Most are run by churches or charities in the county of Cameron as well as city of Brownsville. Locate free food pantries in Cameron County.
Health centers and free clinics in Cameron County Texas
Brownsville Community Health provides many free medical, dental, and behavioral health care services. They help the low-income, people with no insurance (including immigrants or asylum seekers), and the homeless in Cameron County.
They give everything from immunizations the free medical checks ups, emergency teeth extractions, physicals or vaccinations, women's care and more. Many volunteer doctors and dentists also work at the free, income based clinic. The location is 191 E Price Rd, Brownsville, TX 78521, or call (956) 548-8845 for appointments.
Emergency dental can help immigrants, people with no insurance or the low-income. Kids and adults can get care, most of which is free. There are root canals, oral surgery, teeth extractions and other care. Look here for low income teeth removal.
Other free medical care is offered too. Families, kids and individuals who are under or uninsured, or who may be classified as low income, have a number of different clinics that they can contact for free health or dental care. They will give free family care, prescription medications, eye exams, and dental cleanings. Find a listing and read more Cameron County free community clinics.
Related Content From Needhelppayingbills.com