Assistance programs Stearns County.
Find how to get financial help or free stuff in Saint Cloud and Stearns County Minnesota. Non-profits, charity organizations, churches, and the government provide hardship grants, free money and assistance for paying utility such as electric and heating. Or get rent help as well as other housing assistance. Locate financial assistance near you in Saint Cloud MN and Stearns County.
There is also free food from pantries or assistance from medical professionals at clinics, free vouchers for clothes, medications or school supplies, and many other types of support. The goal is to help families get financial help as well as get back on track with their bills. Stearns County agencies may also provide car loan help for borrowers with bad credit or help families pay down debts or get a job.
Agencies that offer financial assistance in Saint Cloud MN area
The local Stearns and Saint Cloud community action agency is the Tri-County Action Program, Inc. (Tri-CAP). This non-profit offers various programs to help low-income people or families through difficult times. The services offered include.
Help for heating or electric bills

- They administer the Energy Assistance Program (EAP) which will help income eligible households with paying a portion of their home heating bills during the winter. If your income is to high for EAP, you may be able to qualify for Reach Out for Warmth (ROFW). This program provides help for heating expenses, and the income requirements are not as strict as EAP.

Free Weatherization

- This program will help people reduce their home energy bills. There are also some basic home repairs, including for a roof, window replacement services in Stearns County and heating system repairs. Charities provide other help too, and find a free volunteer carpenter from a charity.

Homeless assistance

- The Family Homeless Prevention and Assistance Program (FHPAP) helps people who are undergoing an eviction or who may be homeless today. The program provides services such as first month's rent, budget or debt counseling, and funds that assist with damage deposits. Or get a free motel voucher in Saint Cloud as access to a homeless shelter tonight.

Free food

- This can be provided by local pantries and case managers can direct low income families to applications for SNAP food stamp benefits.

Free basic needs

- Tri-Cap helps low income families meet basic needs and giveaway free stuff. That may be clothes, free personal hygiene items, work attire, diapers, and furniture. They can all help families save money. Even find help from free furniture banks.
Mortgage and rent help

- The federal government funded Emergency Food and Shelter Program helps people who are faced with losing their home. Grants from the program can provide rent or mortgage assistance. TRICAP offers loans for various housing expenses, such as emergency money for back rent, as well as coordinates transitional housing in Stearns County.

Budget and financial literacy

is available from FAIM and other classes.
Call the Tri-County Action Program, Inc. (Tri-CAP) at (320) 251-1612. There are many other emergency programs administered, based on funding and money raised from the community. Continue with Tri-County Action Program financial assistance.
Stearns County Catholic Charity - A number of churches, non-profits, and other organizations are part of and contribute to the Catholic Charity organization. Most of the financial aid offered is meant to address basic needs. For example, the charity may provide items such as free food, prescription medications, and clothing. Special seasonal programs can provide free Christmas assistance, such as toys and meals to lower income families. A major focus is on helping single mothers in Stearns County MN, immigrants and farm workers.
Housing can be offered, including shelters and short term transitional housing. While more limited in Stearn County Minnesota, some financial help may be offered in a crisis. This can be for items such as rent, heating bills, or even gasoline. Read more on Catholic Charities in Stearns County.
There is another food center focused

Catholic Charities of the Diocese of St. Cloud. It also

offers a number of services for the low income, seniors, disabled and needy. Among them the agency will provide a housing subsidy for persons with serious mental illness. Meals on Wheels Program delivers a nutritious meal to the homes of at-risk, vulnerable persons age 60 +, elderly, homebound, and ill. Also provides donated food staples, household items, used clothing, and paper products to families in need. The location is 157 Roosevelt Road, St. Cloud, MN 56301. Call (320) 229-4560
Federal government job training programs are available in Stearns County. They are paid for by WIA grants and run in partnership with the state of Minnesota. There are various services offered, including:
Laptop computers

as well as use of a computer lab.
Some Stearns County residents

need transportation for a job

, but they can't afford a car loan or payment. Or their credit does not allow it. Learn more on loan help for borrowers with bad credit.

Resume review

, job fairs in Saint Cloud area, and counseling.

Training for health

care careers, IT, web development, and more.
Find a list of other government job training resources.
St. Cloud Salvation Army – The faith based charity helps low-income families and single adults too. The agency offers energy, electric and heating bill assistance from a program known as HeatShare. Limited financial assistance may be offered for other needs as well, such as rent or a back mortgage payment. Heatshare program is a last resort energy assistance program for paying heating or gas bills in a crisis.
Other resources provided can include free food, clothing, back to school supply giveaways, and free Christmas toy assistance. Address is 400 Highway 10 S, St. Cloud, Minnesota, 56304, telephone (320) 252-4552. Click more St. Cloud Salvation Army assistance programs.
Housing and Redevelopment Authority of St. Cloud – Administers the Bridges rental/housing assistance program. The goal is to stop homelessness and/or rehouse people. It was created to serve as a temporary rental assistance to help people avoid homelessness or evictions while they are on a waiting list for Section 8 Housing Choice Voucher or look for a no-wait list home to lease. The non-profit may also have information on security deposit assistance as well as low income apartments in Strearns County, including from landlords that do not have a credit check.
Bridges/ Ending Long Term Homelessness Initiative Fund (ELHIF) is another program that for Stearn County families that was intended to fill the gap between a person paying a large portion of their total household income towards a housing cost or having no place to live. It is available as a form of a section 8 housing voucher. Location is 1225 W Saint Germain St., St. Cloud, MN, 56301. Continue with the St. Cloud Housing and Redevelopment Authority.
Albany Area Community Senior Center is located at 741 Lake Ave, Albany, Minnesota, 56307. Dial (320) 845-2343. Offers help for seniors, including food, energy bill help, and other support. Or find other places for senior support, even including homebound meals on wheels programs.
Stearns County housing and rental assistance may be available to prevent homelessness. The government issues grants to non-profits, which then provide funds to residents that are in a crisis. Charities may also have money for paying security deposits, rent, and other needs. More on rent help in Stearns County.
St. Cloud Area Legal Services (phone 320-253-0121) provides free lawyers, including over the phone or a hot line. There is low-income legal representation or free legal advice to qualified and individuals in its service area for these types of civil cases.
The free lawyers help with foreclosure, citizenship/immigration, mortgages and predatory lending. Or get help applying for Minnesota health care, education law, family law, housing law, as well as government and public benefits law. The address is 110 6th Ave S #200, St Cloud, MN 56301. Click here for information on free legal services in all of Minnesota.
Stearns County Human Services Department is the local government social services department. The government provides numerous benefit programs, including assistance with medical costs from MA or Medicaid. There is free or cheap child care for low income families, food benefits from SNAP, cash, and emergency help. Other government grant money and benefits also help seniors, the disabled and poor in Stearns County. The location is 705 Courthouse Square, St Cloud, MN 56303. Phone: (320) 656-6000
Lutheran Social Service of Minnesota helps low-income families, veterans, the homeless and low income in Saint Cloud MN. There is also help for single moms. The charity offer a variety of services such as financial counseling, mental health support, disability services, and youth homelessness support. The location is 2835 W St Germain St, St Cloud, MN 56301. Call (320) 251-7700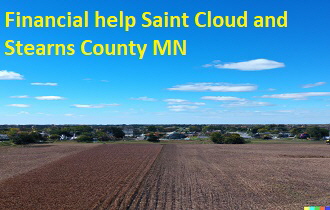 CentraCare - Family Health Clinic provides cheap, income based medical or dental care or free services. There is also behavioral health. the low-income and uninsured will get help, including eye exams, dental cleanings, physicals, eye exams and emergency teeth work or extractions too from 1555 Northway Dr, St Cloud, MN 56303. Call (320) 240-3157. Or look here for emergency dentists that give free care.
Free food pantries, groceries, and vouchers
There are several places to contact for free food, groceries, and maybe other essential household products. Or get hot meals, including at Christmas and Thanksgiving, from Stearns County soup kitchens. The options include the following. There are also places for free pet food near you.
Kimball Food Shelf (St. Ann's Church)

- Call

320-398-2211, or the free food pantry is at 441 Hazel Ave E, Kimball, MN 55353.

Rice Food Shelf

- Dial 3

20-393-2915

Place of Hope

- Free groceries, hot meals, hygiene supplies and more is from 511 9th Ave N, St Cloud, MN 56303. Call

320-203-7881
The above list is just a sampling of the pantries in Stearns County. Several other churches and charity organizations may also serve meals, pass out bags of groceries, or offer free food in a crisis. Find details on free food pantries in St. Cloud and Stearns County.
Free

housing and debt counseling in Stearns County
One of the agencies to contact is Catholic Charities Financial and Housing Counseling. This organization will assist families and individuals to help them take control of their finances. For example, programs can help them deal with debt and mortgage problems and offer relief. If you are accepted as a client, a qualified Financial Counselor works one on one with each client to develop an individualized plan to help them reach their financial goals. Call 320-650-1550, or find more information on mortgage payment assistance.
Two other places that provide mortgage help and foreclosure prevention services include Tri-CAP (their number is below), as well as Village Financial Resource Center, which can be reached at 1-800-450-4019.
Related Content From Needhelppayingbills.com