Assistance programs in Minneapolis and Hennepin County.
Charity organizations, churches, and government agencies provide financial help in Hennepin County. The assistance will help pay for rent, security deposits, medical costs, a mortgage and other expenses like utility bills in the Minneapolis area. Or locate free stuff for low-income families, including food, a car or gas voucher for work and more. Find where to get financial near you in the Minneapolis area.
Charities also giveaway free items. There are free groceries, clothes, school supplies for kids, foreclosure and eviction prevention services and other stuff. Immediate financial assistance in the Hennepin County MN community also provides free legal aid and budgeting as well as job programs. There is also support in Minneapolis including free furniture programs, hardship grants for paying winter heating bills, and year round car repairs.
Financial assistance for rent, electric bill or food in Minneapolis - Henneppin County
Community Emergency Assistance Program, Inc. - This organization, which can be reached at 763-566-9600, has a variety of assistance programs for low-income families, the working poor, and people with little or no income.
Rent help

is arranged. CEAP offers an eviction prevention program

when someone is not qualified for any other assistance from the county

. The

CEAP Homelessness Prevention

program can give grant money, counseling, and referral services to persons and families who may be at risk of homelessness. CEAP focuses on eviction prevention and providing funds to keep people in their homes in order to make best use of limited resources.

Free stuff, bargain items or basic needs

- There is also a free food shelf, low cost thrift store, and free groceries from the pantry. Vouchers may be provided for some furniture too, including a couch, appliances or other items.

Car repair help or buying programs

- The

Community Emergency Assistance Program, Inc

. has a program that provides zero percent interest loans to people that need to be used for car repairs or purchase. The total value of the loans for either a vehicle purchase are maximized up to $4,000 or a maximum loan of up to $750 for vehicle repair. Learn more on car repair help.
The non-profit covers all of Hennepin County. Call 763-566-9600. The main address is 7051 Brooklyn Blvd, Minneapolis, MN 55429.
Funds for rent and security deposits are available in other locations as well. Tenants can call upon charities and government organizations for hardship grants, free lawyers for tenants and funds. In fact about 30 other agencies and non-profits can provide rent help and low income, no wait list housing to qualified low income and struggling individuals. The money paid out in an emergency can be in the form of a loan, or some centers rely on government grants. More on Minneapolis rent assistance.
Hennepin County homeless assistance can provide both short term financial help (including grants or emergency money from a charity) as well as other services. When a tenant has a vacate notice from a landlord or utility cut off letter, they can seek help. It also supports the homeless in Minneapolis.
Depending on the applicant's needs, there may be grants for paying certain bills (mostly heating or water) as well as back rent. Or if the family has children or is now living in poverty, then rehousing is often used to end the crisis. More information on Hennepin County eviction or rehousing assistance.
The Minneapolis Urban League (phone 612-302-3100) provides a housing stability program. It provides eviction prevention and homeless intervention services. In addition, the agency has HUD approved housing counselors that can provide homeowners with free foreclosure prevention, information on mortgage relief and counseling services. Click here to learn more on Minnesota foreclosure programs. Or the Urban League is at 2100 Plymouth Ave N, Minneapolis, MN 55411.
One of the top places to turn to for emergency help is the Catholic Charities of the Archdiocese of St. Paul and Minneapolis. Phone number 612-664-8500. They offer a host of programs. Immigrants, the unemployed, single moms or women facing DV and others are a focus. They also help migrants and asylum seekers in Hennepin County.
Some of the include

emergency financial assistance

for paying rent, energy, and heating bills.

Case management, counseling, and referrals

are also available which can direct people to other local charities and non-profit, as well as federal government and state of Minnesota programs.
The charity does its best to help provide

stable, affordable housing options

to low-income families, single moms or dads and adults. It works through arrangements and partnerships with landlords and for-profit developers; provides monthly rental subsidies and financial help.
The charity offers family

mentors and counselors

, and long-term intensive case management services to families.
Other services include School Based Counseling Services, Family Service Center, as well as free groceries from Food Shelves. There is also Hope Street Shelter, Hispanic Outreach, homeless prevention, and many more. The address is 1007 East 14th Street Minneapolis, MN 55404. Find details on Minneapolis Catholic charities.
The Salvation Army, which can be called at 651-746-3400, may also provide crisis and/or emergency assistance programs. The non-profit has multiple locations across Hennepin County, and they administer several programs for low income families and senior citizens. Examples of the assistance programs offered include food pantries, heating and utility bill assistance, and free transportation/gas vouchers.
Some of the

free seasonal aid includes free Christmas and Thanksgiving meals

and gifts, school supplies from Target as well as other groups, and thrift stores. The Minneapolis centers help thousands of local residents every year. Seasonal services are administered and include holiday programs for Easter and Thanksgiving and school supplies.
Additional

Salvation Army Minneapolis and Hennepin County

resources focus on fixed-income seniors, people with disabilities, and families with an unexpected crisis. Workshops offer budgeting and money management classes from FreshStart.

Receive free vouchers for clothing

, including free winter coats, and furniture from thrift stores or clothing closets. There are items for adults or kids, and read more on how to get free clothes near you.

Food pantry

is available on site. Baby items include formula and/or diapers.

Case management and support

such as assistance with applications for Food Support, SSI/RSDI and Minnesota Health Care Program. They also have substance abuse treatment centers.

Employment services include job leads

, resume assistance, and job search techniques instruction. Last, but not least, get referrals to rental assistance, HeatShare, car repair services and debt counseling.
The Salvation Army offers other social services. Call (612)789-1512. Click here Minneapolis Salvation Army programs.
Additional immediate financial help is paid out during the winter, mostly due to the need for heating bill help. The government and local charities do their best to assist. Grants, conservation programs and other aid can be arranged. As an example, learn more LIHEAP emergency crisis grants.
City Life Center is located at 1909 Nicollet Avenue South in Minneapolis 55408. The non-profit may be able to assistance for pregnant women in a crisis or a short term hardship. They focus on baby supplies (clothes and referrals to other items) as well as counseling. The agency can be reached at 612-874-1808, or find additional information on free baby supplies.
Hennepin County Human Services and Public Health Department – A great place to call for information and guidance. Among other programs and services they offer include Minnesota Supplemental Aid (MSA), Section 8, as well as cash help from TANF. There is also the application and recertification interviews for Minnesota Family Investment Program (MFIP), Diversionary Work Program (DWP), General Assistance (GA), as well as EBT cards from Food Support.
If so, there may be emergency grants to pay for energy bills to stop a utility shut-off, rent for eviction, foreclosure, or deposit/moving expense. the Department may also coordinate for free home repairs, or help the poor in need or furniture or appliance replacement or repair.

Additional benefits

include immediate Low income Housing, Health Care Programs and Emergency Programs. They can also provide community-specific information and referrals to charities and non-profits. In addition to the human services indicated above, a number of other government assistance programs are offered for the low income.
Find more information on cash and public assistance in Hennepin County, grants, medical bill help, and other resources. Location is 6840 78th Ave N, Brooklyn Park, Minnesota, 55445, (612) 596 - 1300. Another site is 25 Portland Avenue South, MC L965 Health Services Building, or dial (612)596-1900.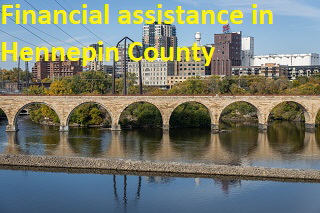 Agate Housing and Services - St. Stephen's Human Services, Inc. – May offer assistance with rent for single or married persons without minor children, or someone with a child who is younger than 17. They offer a computer lab complete with computers and connections to job banks. Also look into assistance with paying the cost of child care, transportation, materials, tuition or other expenses necessary to help participants access needed job training. Address: 2309 Nicollet Avenue South, Minneapolis, MN 55404, call (612)767-4446 or (612) 874-0311.
People Serving People can address housing, employment, and other needs of qualified Minneapolis families. The non-profit operates shelters and transitional housing units. For job seekers, there is a technology center with access to computers and employment tools. Other assistance can include affordable day care, transportation, free hot meals and food, and referrals to community resources in Hennepin County. Read more on People Serving People resources.
Lutheran Services of Hennepin County - Most of the programs address the region's housing needs. The non-profit charity may have funds for paying rent or security deposits. However, more than likely the resources available will include emergency homeless shelter, free transitional housing, and homeless prevention services. They also offer Permanent Supportive Housing in Minneapolis in partnership with non-profits and government organizations such as HUD. More on Minnesota Lutheran Social Service programs.
Jewish Family and Children's Service (JFCS) – Can write interest-free loans to members of the Jewish community experiencing a short-term emergency crisis or financial hardship. There may also be assistance available for others as well, including job search assistance or limited financial aid for paying for basic needs in the Minneapolis area. Meals on Wheels for the homebound in Hennepin County too. Call (952) 546-0616. More on Hennepin County Jewish Family and Children's Service.
Caring and Sharing - This is a leading charity in the Minneapolis St. Paul region. The organization relies on donations and contributions from the general public. All of the money goes towards helping the less fortunate. Funds can be used to pay for shelter and transitional housing, emergency rental assistance, and more. Dental and medical bill assistance may also be provided as well as job training, bus tokens, and other transportation assistance. Continue with Caring and Sharing charity help.
Local Hennepin County churches provide financial help. They may offer funds for rent, heating bills, or operate food shelves. But the most common service offered (maybe surprisingly) is health or medical care. A partnership of churches in Minneapolis provide "navigators" to help patient find, and apply for, affordable or free health insurance plans. They also support immigrants, seniors, and other poor families. More on Minneapolis church programs.
Angel Foundation can only support cancer patients. Can provide financial assistance for basic non-medical bills such as rent, housing payments, utilities, food and other basic needs. There is also details on free cancer exams and screening. The location is 1155 Centre Pointe Dr Suite 7, Mendota Heights, MN 55120, call (612) 627-9000. Or learn how to get free money for cancer patients.
Minneapolis Public Housing Authority administers Housing Choice (Section 8) Vouchers to eligible low income people in Hennepin County. The vouchers are in effect subsidized rent payments. They also work with landlords on income subsidized homes, second chance apartments, and other apartments for low-income families. Call (612) 342 – 1437 or (612) 342-1400
St. Louis Park Emergency Program (STEP) provides emergency financial assistance in specific crisis situations with a focus on housing expenses as well as food, such as rent or mortgage payments. Or get free food boxes, meals, and other stuff. Call (952) 925 – 4899, or location is 6812 W Lake St, Minneapolis, MN 55416.
Metropolitan Agency on Aging supports seniors citizens and the disabled in Hennepin County and the Twin Cities. A help line has been created that provides information on services available in the region. Some may be as follows.
Free home repairs

for safety issues, including for a roof or window.

Free basic household items

, including furniture, appliances and similar goods. Find more details on free furniture programs.

Referrals to Medical Care

services, including discounted medications or Medicare.

Support for a senior caregiver

.
Many other services are available by Agency on Aging Centers. Everything from home or nursing care to information on financial support in Minneapolis. Learn more senior assistance programs in Hennepin County.
EAP, Inc., or Volunteers Enlisted to Assist People, can provide a number of services, which include, but are not limited to, limited help for housing and rent assistance. There are also free gasoline cards, utility bill assistance, Bus tokens, Car repair, and Daycare assistance. Address is 9600 Aldrich Ave S, Bloomington, MN 5542, dial (952) 888 - 9616
Minnesota AIDS Project (MAP) – Financial assistance is only offered for HIV and AIDs patients. Apply for help at most once per year, and you may be able to access financial assistance for paying utilities, rent, heating bills, child care, mortgage, and groceries. 1400 Park Ave, Minneapolis, MN, 55404, call (612) 331-7733 or (612) 341-2060.
Western Community Action Network (WeCAN) – This non-profit agency provides assistance and grants for monthly rent, mortgage payments, and utilities. Assistance must resolve the situation and the aid is not a charity program. Individuals may also be able to qualify for temporary assistance with gasoline for car and bus tokens, and support is only for a limited service area. Address: 5213 Shoreline Dr, Mound, MN 55364, (952) 472-0742
Working Partnerships- AFL-CIO and Teamsters Community Services – Help for Union members only who are in a crisis situation. Emergency situation can include, but is not limited to, energy or heating service shutoff, eviction, foreclosure filing, or grants to help with medical problems.
The agency also offers free mortgage foreclosure, unexpected layoff or job termination, or in general some type of severe financial crisis. The program is known as Reside in Working Partnerships. Location is 312 Central Ave SE Ste 524, Minneapolis, Minnesota, 55414. The phone number for the program is (612) 379-8133 or (612) 379-8130.
Emergency assistance and social services - Low income families in Hennepin County have access to a program that is offered county wide. The resource can provide grants and financial assistance to people faced with a crisis. Financial assistance can be used to pay for a number of basic needs, including housing, utilities, rent, medical bills, and much more. Read more on Hennepin emergency assistance.
American Indian Community Development Corporation, or AICDC, offers housing services. Subsidized housing, referrals, and more may be provided to the American Indian Community. Dial (612) 813-1610 for information.
Cradle of Hope, phone (651) 636-0637, may have immediate financial aid for childbirth and pregnancy related expenses such as clothing, medical bills, housing, rent, diapers, food, and cribs. The charity is at 1970 Oakcrest Ave #104, Roseville, MN 55113, or learn more about free crib for the low income.
Intercongregation Communities Association (ICA) may have financial assistance for those facing a crisis. This can include a bus pass for an interview/medical appointment, funds to pay rent or mortgage in face of eviction or foreclosure, and utility bill assistance. Location is 11588 K-Tel Dr, Minnetonka, MN 55343. Call (952) 938-0729
North Memorial Medical Center can provide referrals to the Pay It Forward Fund. This is for women cancer patients in Hennepin County and Minneapolis region. Get help with buying groceries, money for heat or energy bills, mortgage assistance, and even car repairs. Address: 3300 Oakdale Ave N, Robbinsdale, Minnesota, 55422. Dial (763) 581-4817.
St. Olaf Social Outreach Program - Samaritan Ministry is a leading Hennepin charity organization. Financial assistance programs offered include limited rental or light bill assistance, medical co-pays, or bus tokens. Or get referrals for ongoing resources such as mental health support, employment training and job search, immigration assistance, and affordable housing. Location is 215 S 8th St St. Olaf Catholic Church, Minneapolis, MN, 55402. Call 612-332-7471.
Temporary housing programs - Low income and/or homeless families can access everything from emergency shelters to low income, transitional housing units in Hennepin County. Guests will receive case management services, food, and job training as well as the use of a housing unit or apartment. Hennepin County and Minneapolis transitional housing.
Assistance from Community Action Partnership of Hennepin County is wide ranging. This is one of the leading non-profit community action agencies in the region and they are involved in administering several emergency assistance programs and social services for the low income and working poor. Short and long term needs can be met by the agency. Resources administered are one or more of the following.
Several housing programs are administered by CAPSH, including funds for rent, foreclosure counseling, and other housing costs.
Housing resources such as repairs and tenant/landlord mediation.
Government grants for paying heating and utility bills.
Much more is offered as well, such as food stamps, job training, and general support. Read more on Community Action Partnership of Suburban Hennepin - CASH.
Hennepin County Society of Saint Vincent is an organization of churches and volunteers that can help the poor, senior citizens, and families that are at risk. Funds can be available for expenses and needs such as rent, transportation, food, and energy bills. Christmas assistance, holiday gifts/meals, and more seasonal services such as school supplies are offered. Another focus is on helping with job searches throughout Minnesota as well as providing shelter and housing. Continue with Minneapolis St. Vincent financial assistance.
People Reaching Out to Other People (PROP) focuses on homeless prevention. Security deposit, rent, mortgage, and other financial assistance for housing costs may be paid out, including to private landlords that take people with evictions. While more limited, also apply for electricity re-connections, natural gas expenses, medical and dental bills, or inquire into employment assistance or second chance homes. Main address - 14700 Martin Dr, Eden Prairie, MN, 55344. Telephone (952) 937-9120, or find details on private owners that accept evictions near me.
Minnesota Assistance Council for Veterans (MACV) assists with housing needs. The non-profit will help veterans and their families that are facing an eviction or that are currently homeless. Receive financial assistance with paying rent, mortgage, security deposits and transportation costs. They also offer food, case management, job placement, and other basic needs. There may be free donated cars for veterans in Hennepin County MN. The goal is stability. Call (612)726-1327.
American Red Cross of the Twin Cities Area can assist members of the armed forces. There may be emergency financial assistance, including the possibility of zero interest rate loans. Money can pay for utility bills, rent, funeral expenses, automobile repairs, bus fare or even gasoline. Also access referrals to non-profit community resources in Hennepin County. Office is at 1201 West River Parkway, Minneapolis, Minnesota 55454. Dial (612) 871-7676.
Minneapolis area holiday programs can help low income families and those in poverty. In an effort to spread Christmas and even Thanksgiving joy, there may be toys, gifts, gift certificates, and free meals served, among other items. More on Hennepin County free holiday assistance.
Community Action of Minneapolis supports the metropolitan area. Most of the financial aid and resources available are focused on energy bills and disconnection prevention, but other services are administered as well. Some of the utility bill assistance programs include weatherization, savings for Xcel's customers, and cash grants from LIHEAP.
The non-profit

.

also runs a program that offers

interest free loans to low income

, working families who need a car for work. The loan is intended to allow working families to buy a car for employment reasons. The funds can only be used for that reason. Or find additional ways to get free loans.
The agency, also known as CAMPLS, provides other support. They offer case management, Family and Children Development, and referrals to government benefits and non-profit programs. This may include emergency rental or security deposit fee programs or food stamps. Continue with Community Action of Minneapolis.
Transportation is always critical for employment. Hennepin County families know the weather can be a barrier with car accidents, inclement weather, and more. When needed, there are low income free car programs for those that lack transportation for work or a job interview.
People Responding In Social Ministry (PRISM) - There are several resources offered, as noted.
For families in the service area, there is the

marketplace food shelf/bank

. The other option for basic needs is the Thrift Shop known as Shop for Change, and this is open to everyone.
Residents of the area supported can access the

free

Birthday Room, back to school supplies

and also a holiday gift program for children.

Limited financial aid

is for families in the service area only that are qualified. Provides families with 0% interest loans to cover housing costs related to mortgage or rental expenses in times of financial crisis.
An employment service is available too. The address is 730 Florida Ave S, Golden Valley, Minnesota, 55426. Call (763) 529-1350.
Free stuff, basic needs, including furniture, school supplies and clothing - Dozens of churches, charities, and non-profits in Hennepin County offer services to low income and struggling families. Clients can receive items such as free clothing, school supplies, furniture or appliances or winter coats. There are multiple free furniture and clothing banks However the focus is on providing nonmaterial goods. Find free clothes, school supplies, and furniture in Minneapolis area.
Minneapolis legal advice is for the elderly and low income. If you are facing a foreclosure, eviction or have other housing issues, Mid-Minnesota Legal Assistance provides free legal aid. They also can help with housing discrimination, assist people with applying for benefits such as SSI, and offer other free civil legal aid. Contact the non-profit law firm at 612-332-1441.
Free credit repair, mortgage and debt relief services
Free non-profit credit counseling helps borrowers in Hennepin County. Individuals who are behind on their bills or who may be struggling with paying credit card or medical debts can contact a credit counseling agency. There is also car loan payment help, assistance refinancing, and general transportation programs in Hennepin County.
Specialists will meet with consumers to review their financial condition, and they will take a holistic approach to this review. Learn about and enter into debt management plans, get help in reducing or waiving fees, lower interest rates, and much more. Read more on non-profit Minneapolis credit counseling agencies.
One of the nations largest banks, JP Morgan Chase, provides struggling homeowners with a number of programs and resources to both stop a foreclosure, and to help them get back on track with their home loans. They can include interest rate reductions, help in applying for government mortgage aid, and even short sales when all else fails. Read more on the Chase Minnesota mortgage center.
People who live in the greater Minneapolis region have several other options when it comes to paying their home loan. Find a listing of agencies that offer foreclosure prevention in Minneapolis, and get details on counseling and resources they offer.
Hennepin County free food pantries, meals and free groceries
Receive emergency food aid from Emergency FoodShelf Network, Inc. The organization provides additional food resource options to eligible clients. Dial 763-450-3860. The address is 8501 54th Ave N, Minneapolis, MN 55428.
Northpoint Health & Wellness Center, Inc. also provides low income and qualified individuals with emergency and supplemental food resources. The free groceries, formula, Boost or Ensure and more is a short-term crisis intervention for families and individuals to help them prevent homelessness and hunger. Call 612-302-4767 or (612) 543-2500.
360 Communities helps cover basic needs by providing nutritious food and groceries to people in need of food assistance and help. The non-profit will help lower hunger rates by providing prepared meals and free food to the homeless and working poor in Hennepin County, while connecting them with services and government programs to enhance their overall well being and self-sufficiency over the long term. Dial 952-985-5300.
If the food banks above can't provide you with the help you need, or if they are not close to you, Hennepin County residents have dozens of other free pantries and meal sites available to them for food, groceries, and support. The centers are located across the entire county. Find more details on Hennepin County food pantries.
Minneapolis employment & training assistance program
The Minneapolis Employment and Training Program (METP) creates and manages a wide variety of training and employment programs. All of the services were created to help Minneapolis adults, youth, and also Minneapolis area employers. Often times the employment resources are combined with financial assistance.
The

Minneapolis Dislocated Worker Program

provides training and employment services to individual workers who may lose their jobs due to reorganizations, business closings, or other permanent layoffs and this program will provide assistance with the transition to new employment and a new career.

Adult Programs will help Minneapolis families

and residents with low incomes. It will help them find and keep jobs or pursue training opportunities that will lead to a job.

Free coding classes and bootcamps

- The city, working with non-profits and IT companies, will help adults and students gain, or improve their computer coding skills. Find a free coding bootcamps.
In addition, the

Minnesota Family Investment Program

will offer both case management services and job training eligible people who receive family cash assistance and grants. There may also be clothes and transportation assistance in Hennepin County.
The

Individual Referral Program

will provides student aid and tuition grants and funds. It will also assist low-income residents who are seeking employment-related training and provide help with student loans.
The main workforce center can be reached at 612-673-3000. The goal is to help adults, youth and others get new career skills or a job.
Job training and employment services are offered by other non-profits too. If you help finding a job, or assistance in developing skills these groups will help.
East Side Neighborhood Services, Inc

. (612-781-6011) provides low income , the unemployed and other qualified Minneapolis applicants with help finding a job. Get new skills and barriers assessment, job counseling services, job training and placement services from 1700 NE 2nd St, Minneapolis, MN 55413.

Project for Pride in Living, Inc.

is another agency that provides employment, job finding skills, and education services to low income individuals. The organization will assist low to moderate income individuals and help them stable jobs with livable wages and benefits that will help them become self-sufficient. Phone - 612-455-5100.
Free or discounted health care
Clinics throughout Minneapolis and St. Paul, which are run by the Sisters of St. Joseph of Carondelet, St. Paul Province, provide either low cost or free health care to low and moderate income families and uninsured people who live in the metro area. Hundreds of volunteers, including doctors, nurses, admissions people, drivers, interpreters, and miscellaneous helpers contribute to the clinics. The free medical clinics deliver primary care and can refer people to specialists.
Patients with no insurance

get medical or dental. The patients helped at the clinics are not enrolled in government subsidy programs such as Medicare, Medical Assistance or MinnesotaCare and they have no private health insurance. Many of the patients are temporarily unemployed, working low-paying jobs where they receive no health care benefits, or they may be between jobs, or they can't afford to pay the employee portion of the premium.
They even provide free medications at the clinic or they give vouchers for Cub Pharmacy. This are also resources for vulnerable groups, including free prescription drug programs for senior citizens. All of this assistance is offered so patients can get the care they need. This includes free prescriptions. To learn more or to make an appointment at St. Mary's Health Clinics call 651-690-7029 or (651) 287-7777
Some of the other facilities throughout the area that provide free health care include the free clinics and centers below. Or clients can find more details and a list of free healthcare services.
Community-University Health Care Center (CUHCC), located at 2001 Bloomington Ave. S., Minneapolis. CUHCC provides medical, mental health, dental and social services. There is free dental work, dentists for people with no insurance, eye exams ad more. The non-profit has an on-site pro bono legal clinic as well. Call (612) 301-3433.
Native American Community Clinic, located at 1213 E. Franklin Ave., Minneapolis. Free medical, therapy, womens health care and more for Native Americans. The free clinic has comprehensive and periodic evaluation of hearing, vision, and dental screening services to under and uninsured pediatric patientsThe center is at 1213 E Franklin Ave, Minneapolis, MN 55404, or call (612) 872-8086.
New Americans Community Health Center has an office at 1213 E Franklin Ave, Minneapolis, MN 55404. Health care and medical services provided are focused on the needs of the African immigrant and refugee community. This clinic provides for the dental, medical, and mental health needs of families and persons who either lack health insurance coverage or who are grossly underinsured. The agency also provides a comprehensive array of health maintenance and prevention services to qualified people. Call (612) 872-8086.
There are other federal government qualified health centers that operate across Hennepin County and administer a number of assistance programs and services for the low income. Some facilities have waiting lists, and other strict conditions that need to be met before providing assistance. The best options is to call the clinics near you. Find a listing of Minneapolis medical clinics.
Dental clinics are scattered across Hennepin County Minnesota as well as the twin cities. They can offer free dental programs. More Minnesota dental clinics.
Related Content From Needhelppayingbills.com