Assistance programs in City of Baltimore.
Learn how to get financial help in Baltimore City and the immediate surrounding area. Find programs that help with energy or utility bills, rent or mortgage payments, medical bills, and other needs. Charities and the government may also give free food, back to school supplies, cars for work or clothes as well as assist with employment costs. Get financial help near you in Baltimore MD.
Free stuff is also given away by charities or churches. There may also be section 8 housing homes near you. Emergency financial assistance is for low income families. There are also government benefits, grants to pay security deposits, free money in the city of Baltimore as free Christmas toys for kids or furniture for families. Find the main churches, charities, and government agencies to apply at below.
Grant money and social services from Community Action
If you need help in the Baltimore Maryland area, Community Assistance Network, Inc. (CAN) is a private, nonprofit, community action agency that offers several resources and services to people in their time of need. CAN responds to local needs of low and moderate income families. Some of the programs they offer include those below. They have several offices in the area, but the main office is located at 7900 E Baltimore St, Baltimore, MD 21224, phone (410) 285-4674.
Emergency services in Baltimore

are offered by CAN. They provide food aid, emergency shelter, eviction prevention services, utility bill assistance, clothing, as well as free and discounted prescription medication. There is also transportation, basic household items, community connections, referral services, and more.


Job Searches, Training, and Employment -

If you are out of work or underemployed, the organization can help with Job counseling. CAN coordinates training or placement and job retention/upward mobility services. Or the non-profit has career counseling, reemployment services, and computer skills. Or families can even learn about other money making opportunities, even including free online surveys.


Housing Assistance -

Find programs and resources that offer Mortgage foreclosure prevention, Rent eviction, mobility counseling, family stability counseling, and mortgage payment help. In addition to eviction prevention assistance, CAN also helps with the following housing-related issues as they impact low-income Baltimore County residents

Foreclosure prevention, mortgage delinquency and default resolution counseling
Loan loss mitigation counseling
Home Equity Conversion Mortgage (HECM) counseling for seniors
Grants for rent and renter assistance counseling
Referrals to Maryland's mortgage assistance programs.
Reduce your Utility Bills -

Save energy from weatherization assistance programs that provide residential energy saving activities for low and moderate income Baltimore residents. CAN runs this energy efficiency program.

The community action agency may also have information on resources that can assist residents with paying

water and sewer bills

. Low income families have options available to them when it comes to this expense as well. Read more on Baltimore water bill assistance.


Grants and Funds for Utility and Heating Bills -

Baltimore Gas and Electricity and CAN have an agreement in place that established a Fuel Fund of Baltimore County. The program goes towards helping low-income residents pay heating bills and utility bills incurred throughout they ear. Struggling families can now receive year-round help to prevent shutoff of their utilities from resources provided by CAN and matching credits and assistance from BGE.
CAN helps very low income and people living in poverty apply for cash assistance. It is part of the federal government TANF program, and it is temporary short term grants combined with self-sufficiency, job training, child care and marriage support. Continue with cash aid in Maryland.

The

Community Assistance Network, Inc.

(phone number above) also partners with local free health care centers and clinics across Baltimore to coordinate free dental care, medical services, medications, and family health care. Many programs may be free to income qualified individuals.


Community Assistance Network, Merritt Point Center

((410) 285-4674) offers financial assistance with prescriptions, eviction prevention, utility turn-offs. Criteria exist for each program. In addition, they also run a food pantry. A weatherization program they run will help people reduce their heating and utility expenses
To learn more about the programs above, call the Baltimore based Community Assistance Network, Inc. (CAN) at (410) 285-4674. Or find financial help from Community Assistance Network.
Low income emergency financial assistance programs to pay bills
Assistance from Samaritan Community has a wide variety of resources. There is free stuff, food and basic needs. There is also emergency financial assistance and grants, counseling and referrals to other charity organizations They help everyone, and their motto is that the person who walks in the door, no matter who it is, is the program, and they will meet with any struggling family or single person..
Funds for transportation, including a free gas card for an interview in Baltimore.
Counseling and help for medical hospital bills.
Free clinics for general check ups, eye exams in Baltimore, and dental care.
Housing and rent assistance to stop homelessness.
Grants for utility and heating bills
No interest loans for certain expenses, maybe including security deposits
Referrals to benefits such as food stamps or SSI disability
Money to pay for legal bills. There are also free volunteer lawyers for the low-income, poor and disadvantaged, or get referrals to free legal services
Other resources were offered as well. Samaritan Community is located at 1401 Bolton Street, Baltimore, MD 21217, and the phone number is (410) 225-9500. Continue with assistance from Samaritan Center.
Baltimore City Commission on Aging and Retirement Education can help the disabled and seniors over the age of 60. They provide information on resources and screen applicants for public, long term support and other benefits. There is also free money from the government for seniors in Baltimore. They process applications for SHIP, Medicare, and health programs such as Medicare Advantage or prescription plans. Home care is arranged for the disabled or elderly.
Other basic needs, such as free emergency food is offered by the aging office, including the Meals on Wheels program. Some of the more financial support includes transportation at discounted rates. Very limited amount of loans or funds are available for solving utility cut-off, rental assistance, eviction prevention, prescriptions, and security deposits. Call 410-396-2273, or find details on Baltimore Department of Aging programs.
Senior Community Service Employment Program - This resource helps low to moderate income individuals who are age 55 and older with their search for employment and will help them find a job. Call Agency on Aging at (410) 767-1100.
Food assistance - Contact Our Daily Bread, which is Baltimore Maryland's hot meal program. This may be the largest charity for breakfast, lunch, or dinner in the city. It serves nutritious lunches and meals every day of the year to the hungry of Baltimore City. The homeless, children, students, low income, and anyone that is hungry can partake. The organization may have referrals and other resources available for the working poor and homeless. Call (667) 600-3400
Churches and Catholic Charities - The organization itself can provide low income, qualified individuals with financial assistance for bills, rent, and other expenses. Much of their aid is focused on addressing the cause of the hardship. So clients can receive job training and more.
Other programs include free day care, emergency financial aid, transitional, and assistance with completing applications for resources such as food stamps or LIHEAP. They also help immigrants and newcomers to the region. They can also refer low income individuals to various local charities and non profits. Some of the groups they work with are mentioned below. You can reach Catholic Charities at (667) 600-2000. Continue with Baltimore Catholic Charity assistance programs.
Salvation Army, Greater Baltimore Area - This agency has limited funding, but they can help meet the short term needs of residents. Some of what they offer can include an on site food pantry as well as a clothing closet and soup kitchen. They can also provide low income families with emergency financial assistance for groceries, rent payments, clothing, toiletries, and small household items and products.
In addition, short-term financial relief may be also be provided through financial aid for mortgage payments, utility and heating bills, burial expenses, transportation costs, and prescription medication assistance. Also receive access to a senior center and holiday assistance programs, including free Christmas gifts as well as a back to school supply even prior to the new year. Dial (410) 783-2920 to learn more or apply for help. Or click here for additional details on Salvation Army assistance programs in Baltimore.
New Creation Christian Church Love Outreach Ministry provides free non-perishable, canned goods and perishable food items once a month from the pantry. If you are facing an eviction or utility disconnection, then grants can be issued to help with paying rent or energy costs.
The non-profit also has financial education classes tailored especially for teens, adults and children. Sessions can include getting out of debt; creating and maintaining a budget; saving; creating wills; and investing for your needs. Address is 5401 Frankford Avenue in Baltimore. Dial 410-488-5653.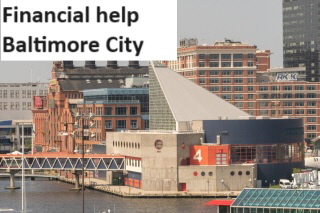 Fontana Village Community Center - When funds are available, this non-profit aid organization may be able to help. They can offer rent help for eviction prevention programs, and funds for utility cut-off and prescription bill expenses. Dial (410) 682-6607 or (443) 376-7331.
American Legion National Headquarters focuses on veterans in Baltimore City. For families with children, there may be financial aid for food expenses, rent, or other costs, such as utility bills. Education and maybe scholarships are offered. The non-profit also has information on government benefits for veterans. 101 North Gay Street, Baltimore Maryland 21202. Dial 410-752-3104.
Bon Secours Baltimore Health System – Arranges family support. Resources can be free tax filing, financial assistance to pay rent, and employment. For example, job placement, resume review, and GED/ABE classes are offered in Baltimore. 26 North Fulton Avenue, dial 410-362-3629 or (410) 362-3000
Baltimore City Mayor's Office of Human Services can help people apply for public aid, coordinates food programs, and offers water bill assistance and more. They operate a free food bank/pantry and staff can help the low income apply for Medicaid, SNAP, public and Section 8 housing applications, disability or MEAP. There are several centers around the city. Call for information, referrals and other aid.
Government assistance

- Several local, state, and federal government resources are available for low income and working poor families. Assistance ranges from food stamps, child care assistance, and LIHEAP to job training and career counseling. Social workers and representatives from the city and County of Baltimore can help families apply for a number of assistance programs and support. Read Baltimore public assistance.
St. Vincent de Paul of Baltimore only supports city residents. If you have previously applied for MEAP and Fuel Fund, then the charity may offer additional aid for energy costs. They may also have limited funds for paying rent, if the applicant meets numerous conditions, including they need to have some form of income. They do not assist residents in public housing apartments.
This charity program supports low income and needy families in Baltimore Maryland. Limited amounts of financial assistance can be paid out in order to help people deal with a crisis. Money can be used for rent, utilities, and medications.
Other St. Vincent services help people regain control of their lives. For example, work with a case manager to access job training, employment services, social aid, GED and computer classes. The goal is to help people regain self-sufficiency. . The main address is 2305 N Charles St Ste 300, Baltimore, MD 21218. Call (410) 662-0500. Read more Baltimore St. Vincent De Paul programs..
Community Crisis Center provides free food and groceries, financial assistance and clothing. Money is made available to people who are faced with an eviction or having their heating or utility service disconnected. Dial (410) 526-7111 to speak to this Baltimore non-profit agency.
St. Joseph Monastery offers emergency financial assistance to lower income qualified individuals. Gain access to aid for eviction, utility disconnections and prescription drugs. Other support is given too. Learn more on low income programs.
Catonsville Emergency Food Ministry not only provides food, but they may have funds to help with bills. Grants may be available for those faced with legal evictions, utility turn-offs, and occasionally, prescription medications. Dial (410) 747-4357.
Assistance Center of Towson Churches offers a host of services and resources to low income, the elderly, unemployed, and other struggling individuals. They cover both housing and utility expenses, and may be able to provides limited financial assistance once a year with Baltimore Gas and Electric turnoff notices and funds to prevention an eviction. Vouchers for prescription medication may be available. Clothing and food can also be distributed. Call (410) 296-4855.
Zion Baptist Church offers emergency financial assistance for utility bills and rent. Other resources include non-perishable food items from a local pantry. 1700 North Caroline Street, Baltimore Maryland, 21213. Call 410-837-4181
Franciscan Sisters of Baltimore will help people regardless of religion. Assistance programs include a free soup kitchen or food pantry. Other resources provided include clothing, emergency financial assistance, health care screenings, holiday assistance, and access to a technology resource center. Holiday meals and gifts for children are available at Thanksgiving and Christmas time. There are even mailing of school supplies.
If you need rental assistance, an eviction (and proof of it) needs to be imminent. Other aid offered includes prescription medications and bus tokens occasionally available for emergency or employment-related situations in Baltimore. Address is 101 West 23rd Street, Baltimore MD. Call 410-467-5340
Community Action - Baltimore Housing also offers aid. They administer many state of Maryland and federal government programs, as noted here. The primary services include the following.
Job training from resources such as People Accessing Continued Employment.
Rental help is part of section 8 vouchers. Or get referrals to home loan or deposit assistance.
They partner with HUD on section 8 subsidized homes and apartments. Continue with section 8 housing near you.
Heating bill assistance from Maryland Energy Assistance Program, the state's version of LIHEAP.
Head Start, self-sufficiency workshops and more is offered.
Continue with Baltimore Housing Community Action assistance programs.
The City Temple Outreach of Baltimore offers basic needs such as clothing, free Christmas and Thanksgiving programs, and a soup kitchen. There may be some funds for paying BG&E turn-offs, rent help to prevent evictions, prescriptions and even funeral expenses. 317 Dolphin Street in Baltimore. Telephone - 410-383-8040 or (410) 462-4800.
John Wesley Church – This charity operates a clothing closet for children, students and workers as well as a free food pantry. One day a week there may be some money for making partial rent, security deposit, or utility bill payments. The church is at 3202 West North Avenue. Phone - 410-383-1525
Social services and emergency financial assistance - Grants and funds can be used to pay rent and utility bills. The program is run by the Baltimore social services department, and priority is given to families with children, those faced with eviction or shut off of their utility service. Read more on Baltimore emergency assistance.
Volunteers of America offers solutions across Maryland, including Baltimore. Short term housing, such as the Pratt House, is for the formerly homeless. They can also offer basic needs, case management, and referrals to other local and national housing assistance programs. Read more on Volunteers of America in Chesapeake.
Sacred Heart Catholic Church Outreach Program may have funds to pay a water bill, offer money for gasoline, and funds for rent and heating/utility bills. Dial (410) 371-3509 or 410) 342-4336
Pro-bono legal aid - Whether a low income family needs help in applying for public assistance (such as social security SSI or food stamps) or legal support on stopping an eviction, free advice may be offered. Many other consumer issues are addressed as well, ranging from debt reduction to counseling. Learn more on free legal aid in Baltimore.
Free legal help and representation is available from other locations

. There are a few law firms and non-profits in Baltimore Maryland that provide free legal aid to qualified individuals. Try theMaryland Volunteer Lawyers Service. Get free legal help with the following. Landlord/tenant disputes, foreclosures, Bankruptcy filing, private and government pension benefits, debt collection issues, predatory lending, including mortgages, and family law. Call (410) 547-6537 or click here for additional free legal programs in Maryland.
Housing assistance from Project PLASE is extensive. They offer Shelter Plus for the disabled, transitional housing, Single Room Ocuupancy Units, and help the low income find a place to live. The non-profit focuses on homeless prevention and advocate for minorities, the black community, and disadvantaged in Baltimore.
In addition, while limited, there may be some limited financial aid as well as medical services from a Baltimore clinic at PLASE. All of those support though is limited. Read more on Project PLASE assistance programs.
Eastern Community Action Center has several offices in the city as indicated below. The non-profit will offer referrals for local food pantries. Case managers can help people sign up for water bill assistance and discounts that are available in Baltimore. A focus of this program is on senior citizens. However other local income families in the city can get help.
Other services include assistance with applying for government aid such as SNAP, Medicaid, public and Section 8 housing applications, MEAP, and more. Or get assistance and referrals for emergency needs, such as eviction prevention or preparing and filing income taxes. The non-profit community center will provide crisis management services as well as referring clients to community and Baltimore city resources.
1400 East Federal Street, 410-545-0136
3411 Bank Street, telephone: 410-545-6518
5225 York Road, call 410-396-6084
3816 Edmondson Avenue, dial 410-947-1335
Crisis Intervention Fund (CARES) runs a food pantry, and also may be able to provide financial assistance for utility turn-offs (must be eligible and apply for MEAP first), legal evictions, prescription medications, and eyeglasses (up to $100). (410) 523-2273
Other non-profits, charities, and aid organizations to call in the Baltimore Maryland area include Southwest Emergency Services (410-247-8154) and St. Rita Catholic Church ((410) 284-0388).
The city of Baltimore has several non-profit agencies that really focus on housing issues. They may offer emergency rent assistance, legal support in dealing with landlord issues, help with discrimination, and low income housing opportunities. Learn more on some of the specific emergency rent and housing programs in Baltimore.
Housing placement services

are offered in the city of Baltimore. It can be a challenge for a low income family, minority, immigrant or single mom to find and get approved for a safe and affordable apartment or house. Help is available. There are government help for apartments.


Subsidies for paying rent

are available from the RAP Program. The state and county of Baltimore can provide qualified low income and working poor families with very short term financial assistance that can be used to pay a portion of their housing costs. While funding level do change, a few hundred dollars per month can be paid out. Continue with Baltimore RAP assistance program.

The root

cause of homelessness

is addressed from the city as well as non-profit partners. Clients facing a crisis can also apply for emergency help. What may be offered to low income families and those in poverty that are struggling with housing is as follows. Information on affordable health care; job placement; referrals to affordable apartments and housing; grants for water, utility bills, or rent; and other services. More information on eviction assistance in Baltimore.


Baltimore City low income and short term housing

- There are over 20 charities and government agencies that operate shelters or provide transitional housing to struggling families. Some will also focus on single parents or senior citizens. The housing, long with shelters, is combined with support to help the client find, and pay the rent on, their own future home or apartment. More on transitional housing in Baltimore.


Baltimore Housing

offers numerous housing and energy programs. They offer grants for heating bills as part of EAP and EUSP. The Electrical Universal Service Program (EUSP) helps with paying electricity bills. Or explore low income energy assistance from the federal government is par of MEAP. Other key programs are loans for home repairs or referrals to rental assistance and deposits as well as weatherization. 2700 North Charles Street. for information, call 410-396-5555
Baltimore charities that give out free items and financial support for basic needs
Free school supply giveaways take place in the city of Baltimore. Multiple charities, the United Way, and Social Services help students from low income households or those in poverty. Get backpacks, laptops, free school items, and other goods. Find how to get free school supplies in Baltimore County.
Non-profit and charity clothing and furniture banks - The resources available will change throughout the year and depend mostly on what has been donated. Centers may provide low income Baltimore residents with vouchers that can be used to pay for needed items. Other goods can include free clothes, Christmas assistance, school supplies, furniture for a new rental home or apartment, and more. Continue with Baltimore free clothing closets, furniture banks and school supplies.
New and pregnant moms in Baltimore can get help. There are counseling centers and charities that provide support. Everything from financial advice to counseling and material support is provided. Receive free disposable diapers, wipes, high chairs, cribs, and more. That is in addition to the free advice from counselors on what to expect (and to do) as a parent. Read free diapers in Baltimore.
Easter, Thanksgiving, and Christmas help - Numerous organizations provide children, seniors, and low income families with free goods around the holidays. This can include meals, food, gifts, and toys. Thousands of low income families receive assistance every year. More on Baltimore free holiday assistance programs.
Health care services and free medical assistance
There are a few organizations in the Baltimore area that can provide low income, the un and under insured with access to health care programs and medical services. They include the following. Also, find information on other Maryland free community clinics.
Community Health Charities of Maryland - This non-profit group coordinates clinics and health care providers in the area. You can call them at 800-242-4356 to lean who can provide hands-on health care, services and programs in your area of Baltimore.
MEDBANK of Maryland - This organization provides free or discounted prescription medications to people in Baltimore who do not have health insurance, or whose insurance does not cover their medications. Phone - 1-877-435-7755.
Lutheran Mission Society of Baltimore County Maryland offers qualified individuals assistance with eye exams and eyeglasses. They also offer food and clothing to the first five people at Wed, 9AM each week. Call (410) 391-6877.
Peoples Community Health Center offers a multitude of health care, including case management and medical care, to people, and fees and bills are based on a sliding scale. Dial (410) 467-6040.
There are other charities that offer free eye tests, healthcare or dental cleanings among other services. More on Baltimore free community clinics.
Food pantries, grocery resources in Baltimore and free meal programs
The Maryland Food Bank coordinates local charities and non-profits. The organization distributes food to these manufacturers, wholesalers, retailers, charities and government agencies. These other entities then provide free food to the state's low income and hungry population. Phone: 410-737-8282.
Bethel Outreach Center ((410) 728-2557) offers clothing and also provides groceries every six months per qualified client. A soup center is also on site of this Baltimore facility.
Concord Baptist Church, which can be reached at (410) 367-1117, runs a food pantry. They also have other benefits for struggling Baltimore families, including the program known as Self Help and Resource Exchange.
Good Shepherd Baptist Pantry (dial (410) 462-5864) runs a food pantry, provides holiday assistance, distributes meals, and has an on site clothing closet.
St. Elizabeth's Church Food Pantry ((410) 675-8260) is another center to contact.
Many of the agencies listed above, such as the Salvation Army, offer nutritional support. In addition, several other food and clothing banks and pantries can help the low income and needy in the county. Hot meals during the holidays, baby formula, and more is available from free pantries, applications to SNAP food tamps and soup kitchens. Find the phone numbers, addresses, and services offered by more Baltimore free food banks.
Foreclosure, debt and mortgage help in Baltimore
Comprehensive Housing Assistance - Numerous housing programs are offered, including homeownership and credit counseling. There is a housing counselor available to speak with clients concerning foreclosure prevention and mortgage issues. Dial (410) 500-5300
Guidewell / Consumer Credit Counseling Service - Credit counselors from this non-profit contact client's creditors and assist client in developing a plan to pay down medical or credit card debts. Housing counseling is also offered. The non-profit counselors will provide free mortgage and foreclosure counseling towards mortgage delinquency prevention, foreclosure prevention, and loss mitigation. Pre-bankruptcy counseling and advice is also offered. Find ways to get help from debt collectors in Maryland. Call (800) 642-2227 or 877-254-1097
Baltimore families who need free debt reduction or budgeting advice can get assistance. Counselors, credit card companies, and many others offered support. they can even help a consumer and show them how to write a credit card hardship letter to ask for relief.
Related Content From Needhelppayingbills.com