How to save money on weddings.
There are many ways to saver money on a wedding celebration, ranging from a venue to food, dress, and other costs. A number of websites provide deals or free wedding supplies or clothes and there are also free services for people on a budget. Find how to save money on an upcoming wedding.
The fact is a wedding day is one of the most important events in a person's life and, potentially, one of the most costly. While studies vary, the average amount spent is about $20 to $25,000 depending on location, size and other factors. There are different things you can do in order to save money on your wedding, whether you go big or small with the event.
Starting out married life deeply in debt simply as a result of inviting friends and family to witness this special day is not the wisest financial move. Fortunately, there are numerous actions you can take to reduce the costs of your wedding day and still maximize the memories.
Free wedding supplies
While there are never any guarantees to getting free wedding stuff, and it does require some searching around/research and effort, if you really want to save money then these resources should be explored. Whether it is free supplies for your wedding, clothing, discount codes to save money with vendors, or anything else, there is assistance out there.
A number of websites may have free or surplus items out there. While these are not focused strictly on the wedding industry, they can be searched. There are website options like Freecycle, Swagbucks, Sample a Day and others. Freecycle is even a non-profit with a social cause, in which free new or gently used items are available, and look here for Freecycle items near you.
There are other online sites for free wedding supplies to help you save. All of these either list free products from the community, manufacturers, or discount codes as well. Find a list of legitimate websites for free items.
Charities or non-profits can also be sometimes turn to for wedding help as well. The primary option will be low cost thrift stores. To be married couples can buy low cost decorations, high quality fake flowers, cameras, trinkets to pass out and many other items. in general, thrift stores can allow people to buy what they need on pennies on the dollar. Find a list of thrift stores near you.
Affordable alternatives as well as ways to reduce wedding expenses
Location of the wedding and reception. One of the first decisions you will make is where to hold the wedding and reception. For couples that rent out a venue, the average cost is about $10,000 according to the Knot (though it varies widely based on location, type, and size). The number of people you plan to invite will guide your options.
If you anticipate a small crowd, consider holding the ceremony in a park, at a beach, nature preserve, or campground. Parking is usually plentiful and these locales provide a variety of scenic backgrounds, and some of them also allow celebrations free of charge (or charge minimal fees to rent it for a wedding party).
Don't overlook using your own backyard as a convenient, no-cost option for a small event. The large home of a friend or family member may also work great, provide sufficient outdoor space and also serve adequately for the reception. Food can be prepared and stored in advance using the kitchen.
The local courthouse may provide a venue at virtually no cost as well. Judges can perform marriage ceremonies. Ask a judge to use the courtroom once daily calendared activities have concluded. Not only will you get sufficient space for a moderate sized crowd, you also get the officiant at low cost.
Other less costly options may be the banquet room at a golf course, Elk's Club, American Legion Hall, a meeting room at the local rec center or a vacation rental home that can serve as the honeymoon suite as well.
Explore catering alternatives. If you choose a reception venue that does not require you to employ its catering service, bring in your own food, settings and beverages. Plastic utensils and disposable plates and glasses are perfectly fine for an outdoor or informal reception.
Consider a potluck style reception to which guests each bring a dish. Guests can even bring a dish of food/meal instead of a gift – this can help your guests also save money on the wedding. Potluck or not, serve food buffet style. Buffets are far less costly than a catered sit-down meal. Serve hors d'oeuvres at the reception rather than a full course meal particularly for a morning or mid-afternoon affair. Find other ways to save money on meals as well as food.
Open bars are costly, and the average is about $50 ($20 to $90) per person for a four hour wedding. Mixed drinks are even more costly. Beverage price markups at hotels are significant. Avoid those by purchasing beer and wine in bulk from a warehouse store., and this another cost saving advantage to certain wedding locations such as a house, park or beach. Limit your drink menu. If you want something beyond beer and wine, offer one or two special mixed drinks. This makes it easier on the bartender and reduces the cost of stocking a full service bar.
Select an off-peak time. The most popular time for weddings is on a Saturday from May-September. This also tends to be the most expensive time to rent a wedding venue, hotel rooms and almost anything wedding related.
You may save thousands of dollars simply by moving your event to a weeknight, early spring or mid-autumn. Not only can you save money on the wedding venue, but any guests who may need to travel can also save, as hotels and airfare is 20 to 40% more expensive during peak travel (wedding) season. Winter weddings can be great when followed by a honeymoon in a tropical locale.
Let nature guide you. Wedding flower arrangements can quickly bust a budget, with the average cost around $1500 according to Weddingwire.com. Save money by choosing local, in-season flowers. Select flowers from your own yard or from a friend's garden. For example, lilacs typically bloom in late April and into May. One or two bushes can easily provide dozens of blooms to create an attractive setting. Decorate using larger potted plants from friends and family to economically fill up space.
Simplify wedding invitations and decorations to save money. Printing your own invitations and thank you notes on a home computer can save hundreds of dollars. With the variety of online templates and fonts available, a small investment in quality paper and simple matching envelopes will cost far less than professional printing, and the result can be just as attractive. For the technologically inclined, consider e-mail invitations and thank you notes rather than paper.
If your venue is an outdoor location, let the scenic beauty substitute serve as the décor. Use candles or family photos rather than flowers for interior table settings. Inexpensive paper streamers can quickly enhance the festive atmosphere. Dollar stores usually stock a wide variety of low cost decorations.
Save on wedding gown costs. Unless you are set on keeping a dress that is appropriate to wear at one event in your life, consider finding a store or website that specializes in pre-owned dresses. Or you can also rent a wedding gown from companies such as Rent the Runway.
You will find many once-worn gowns that may only require slight alteration. Even better, after the wedding you can sell it back to the store. Or if you rented one, just return it to the store. Other options include choosing a gown that has been used for display or choosing a less fancy dress from a department store.
Rely on friends for low cost or maybe free services. You and your intended spouse may have friends with valuable talents who can save you a lot of cash. Ask friends with bartending, photography and music skills to lend a hand. While they may volunteer their services if asked, even paying them a reasonable amount will likely result in substantial savings compared to hiring someone unknown. As these extra services are costly, with the average photographer cost around $1000 (not including pictures) and DJs going for a few hundred dollars minimum. Other tasks might include helping to make and install decorations for the ceremony and reception, setting up chairs and cleanup.
Ask a friend or family member who is licensed to perform weddings to act as officiant. Many states allow persons to become ordained online and, thus, eligible to perform marriage ceremonies. Online ordination typically involves minimal cost and less than 30 minutes to accomplish. Find other ways to budget money in life.
Sell unwanted or surplus wedding gifts for extra cash. Or cash in gift certificates. It is very possible to raise a lot of money from selling gifts. Of course you may not want to share that with the gift givers, but if you truly would rather spend money on the ceremony itself, you can trade in the gifts you are given. Find online websites for selling gift cards.
Sometimes you may want to sell your wedding stuff after the event. A dress, tuxedo or suit, and other accessories can be sold for extra money. Or if you get physical items you want to sell, then find websites for selling surplus stuff.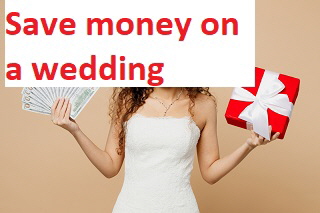 Stay within a budget on a wedding. No matter how fancy you want the wedding to be, determine how much you can spend, create an estimated budget and stay within the amount. List every expense you can think of and then begin to get estimates. Also, think about your wedding budget in relation to your life goals as well. Such as, would you rather spend say $20,000 for a wedding? Or would you rather spend $10,000 or $5,000, and use that savings of 10 to $15,000 towards the down payment of a house?
Re-evaluate priorities as you obtain prices, and make the hard choice to eliminate items if they are nor top priorities. Adding 10 to 15 percent as a buffer to cover unexpected expenses is a smart precaution.
Final tips and suggestions to save money
A few final tips. Opt for a shorter wedding cake and supplement it with less costly sheet cakes that you can decorate, or choose a different dessert than cake. Rather than giving each guest a wedding favor, make a charitable donation on behalf of all the guests. Limit the guest list. A reduction of 10-20 guests at a moderate sized wedding can save more than $1,000. Reduce your photography costs by cutting the cake early at the reception so the photographer can take pictures and then leave. Act as your own wedding planner rather than spending $1,500-3,000 to hire one. Use a price comparison service as well such as https://www.weddingwire.com/cost..
Waking up the day after your wedding only to realize you have a big financial headache to deal with can be avoided with a little planning and, at times, a group effort. The size of the cake and fancy decorations will not be what you will remember most. No matter what you spend, your lasting memories will be of the friends and loved ones who shared this special event and the feelings you had for your spouse in that moment.
Related Content From Needhelppayingbills.com