Assistance programs Anoka County.
Everything from grant money to help pay electric bills or rent along with free food, gas vouchers, and job training programs are available in Anoka County. Low income families, seniors or the disabled can apply at a church, charity, government organization below for emergency help for housing, transportation, energy bills, and more. Find financial help near you in Anoka County MN.
The financial help, or even free stuff like back to school supplies or Christmas gifts, can come in the form of grants or vouchers. Some agencies will use loans. Regardless, city of Anoka as well as Blaine MN and county residents can get help. There are even resources such as on how to gain self-sufficiency, tools to budget money, and winter attire during the cold winter months.
Assistance programs from Anoka County Community Action Program, Inc.
This non-profit agency offers low-income families and struggling people with access to a wide variety of programs, hardship grants and social services. Find a sampling of the programs below.
Hardship grants for crisis assistance

- The community action agency offers a crisis assistance program that provides qualified applicants with cash grants or emergency money. Funds are available for assistance to families and individuals who are in a crisis situation or facing a short term hardship. These grants can be used for paying a wide variety bills and purposes. The money is for

non-housing expenses

. For example, get help with paying for prescription drugs, medical bills. It does not cover rent.


Energy Assistance Program (EAP) -

This program helps low to moderate income residents. It will pay for a portion of their home heating costs. This is the Anoka County MN version of LIHEAP.


Money to prevent utility disconnection

- The assistance program is known as the Reach Out for Warmth. If you are not eligible for assistance from other funding or assistance programs, then this is the option that is for you. It is a fuel fund that was created to help customers who are facing a crisis or an emergency with paying their home heating bills and who do not meet the requirements for the Energy Assistance program or other government or local programs.
Free minor home repairs

- The community action agency will help seniors, the disabled and working poor with minor home repairs, most of which are energy focused. This can include roof repair grants for seniors, window installation or replacement and more. Continue with details on window replacement program.


Child care expenses

- The action agency will also administer a Child Care Assistance (CCA) program which provides subsidies to help pay for a family's child care costs. It can be free for some, and others will pay a nominal fee. The expenses are based on a sliding fee program.


Anoka County foreclosure assistance

- Several different housing programs are offered to people who are currently in a home, or looking to buy a place. One of the options is the Foreclosure Prevention Program. It will help Anoka County homeowners who are facing default with their mortgage payments, and who may be on the verge of a foreclosure filing. Some of the services they offer include providing information, education, mediation, and foreclosure counseling. Click here to read more on Minnesota foreclosure programs.


Reverse mortgages

- This is mainly targeted at seniors who need additional income or money. The Reverse Mortgage Counseling Program is available to people who need cash, including senior citizens who own their homes. As an example, seniors who need more income or additional cash to make ends meet or who need income to complete maintenance on their homes have the ability to learn more about reverse mortgages and other loan products through this program, and apply for a loan.


Weatherization Assistance Program

- For information or to apply, call 651-482-8260 as this is know run by CAPRW. This is a free program, and it will help people save on their heating and energy bills. The weatherization program is funded by the state of Minnesota as well as the federal government, and it provides free energy saving improvements to low to moderate income-qualified households of the Energy Assistance program. As part of the program, an auditor will inspect the applicants home, water heater and furnace to determine if weatherization work is required for the applicants home. It also helps to make the home more comfortable and safe as well. Phone 651-482-8260.
Government benefits

- Staff from ACCAP can offer help and outreach in applying for resources such as SNAP food stamp, disability or grants from ESG for paying a security deposit. There are several different benefits for very low income residents.


Uninsured or low income medical care

- Case managers help the low income, indigent, and working poor (as well as uninsured) get the health or dental care they need. Whether information on prescription drug discounts, free dental cleanings, health exams, or other care, help is offered. Even find other places for free health insurance policies.
Many services are available. Both financial, advice, and material aid. Dial (763) 783-4747 to reach the Anoka County Community Action Program, Inc. Or read more on Anoka County Community Action Agency.
Financial assistance for bills, housing and basic needs in Anoka County
Social services and the Anoka County charity offers free food or groceries. The non-profit Community Emergency Assistance Programs (CEAP), is a food shelf located inside the Anoka County Human Services Building at 1201 89th Ave NE, Suite 130, Blaine, Minnesota 55434. There are groceries, cooking classes, hygiene supplies and more for low-income families. Please call 763-783-4930 or (763) 422-7200 for more information.
The Salvation Army has multiple sites inn Anoka County. They can help people apply for government and non-profit financial assistance programs. Or provide direct resources. A number of social services, emergency help, free items and case management is offered too. Some examples of the programs administered include the following.
HeatShare. This can help lower income families pay their heating bills when they are facing a shut off.
Salvation Army case workers can also help residents apply for SNAP food stamps, EBT card or other free federal government child care.
Free household stuff as well, including furniture and more. Locate a furniture voucher near you.
Transitional housing, rent assistance, and more homeless prevention services are offered too.
Or receive free food from a pantry, including holiday meals, as well as apply for free school supply giveaways.
Free Christmas toys are given to kids in Anoka County, and there are also meals, holiday food and other support.
Get additional details on assistance from Anoka County and City Salvation Army.
Christmas assistance - During the fall months, there are agencies focused on assisting children, seniors, single parents, and families that would go without during the holidays. The locations in Anoka may pass out clothing, small toys, or more than likely volunteers will serve a hot meal to the poor or low income. More on free Christmas help in Anoka County.
Community Aid is a non-profit that administers a number of social services and assistance programs for the community. Examples of the resources are below. Also call the Anoka County agency at (763) 441-1020 for more details or information.
Holiday and Christmas programs

, including free gifts, toys, and free holiday dinners, in particular for children.
If you are out of options, limited

financial assistance for paying bills

, rent, and other critical needs.

Emergency food and groceries

for families, children, and seniors in need.
Anoka County households in poverty can also

apply for government benefits

. Examples may be free school lunches, SNAP, and others.

Free stuff

from The Community Aid includes basic needs such as

paper goods and toiletries.

Those with special dietary needs in Anoka County can receive support as well. This can include programs for seniors, including Meals on Wheels and home delivered items.

Basic financial literacy tools

, including around saving, investing, and budgeting money - all of which are critical to self-sufficiency. Find tools to budget money.

Support for single parents

in the county, ranging from food to information on low income housing.
Many other services are administered, and find financial help from Community Aid.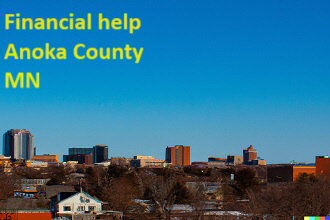 Anoka County Human Services - Economic Assistance Department may offer financial help. Human Service Center is the main government social service agency in Anoka County
For those

residents that have spent 30% of their income on housing costs

, the agency may offer government grants for rent or utility/heating bills. The applicant needs an eviction notice or shut off letter from their energy company. They may also offer money to pay for up to one month of a security deposit, or offer loans for rental or mortgage payments.


Referrals are provided

. The county may also offer referrals to food stamp application sites in Anoka County, senior centers or Meals on Wheels, free clothing for work from TANF, Medical Assistance, and holiday/Christmas help as well for very low income families with children. Any money is paid to the vendor(s), and the amount of funds is based on many factors, such as household size. Read more about public assistance in state of Minnesota.

They offer the very low income and working poor access to

several government and public assistance programs

. They range from resources such as food stamps to EA (LIHEAP) energy bill assistance. There are also Medical Assistance applications (Medicaid), day care programs and job training as well as free phones (including iPhones) for people on benefits. More on ways to get free iPhone.
Additional resources can address housing needs, provide assistance to senior citizens or the unemployed, and may offer cash grants or general assistance for basic living needs. The Department is located at 2100 3rd Avenue, Anoka, MN 55303-5048. Phone (763)422-7200. More information on public assistance in Anoka County.
Find funds for paying rent in Anoka County and access other housing. There are a combination of non-profits and charities that can advise tenants on services available, ranging from grants to legal aid. Some government agencies can also offer rental assistance in a crisis or help families apply for section 8 vouchers and other support. Click more details on Anoka County rent assistance.
Catholic Charities of Anoka County is part of the Twin Cities Charity. Phone (763) 441-6288) may offer referrals to financial aid. There is also a thrift store, and basic needs such as clothing, food, a sliding fee community clinic and more. There are also free items, including couches, appliances, and furniture. Single mothers, immigrants and others are a focus.
Cars for Neighbors helps fix cars, trucks and vehicles. They have volunteer mechanics and auto repair shops that help low-income families or people that need a car repaired for a job. The location is 12527 Central Ave NE Suite 110, Blaine, MN 55434. Call (763) 717-7755, or look here for free vehicle repair programs.
Anoka County Jewish Family and Children's Service - While most of the financial aid or free material items are for people of that faith, other resources may be offered too. Employment workshops include interview preparation or resume review. Very limited help, or referrals, to energy bill and rent programs may be offered. Several other options are also for income qualified families. More information on Jewish and Family Services assistance programs.
Free budgeting and money saving tips are available from non-profits in Anoka County. Agencies help people pay off debts (credit card or medical), car loans, and other bills. There is also information on saving money, free budgeting classes, as well as other tools. Even learn about simple steps to take such as which websites give free stuff, which can also be beneficial.
Minnesota Assistance Council for Veterans (MACV) only supports veterans in Anoka County. The government will issue grants for housing expenses such as rent, utilities or a security deposit for a new apartment. Other non-material assistance will be credit counseling, emergency shelter, and applications to VA benefits. Call (612) 726-1327
Mid-Minnesota Legal Assistance provides free legal advice, consultations and representation to low to moderate income families as well as individuals. The attorneys will help prevent evictions and the loss of shelter. It will also help people obtain repairs needed to make housing safe and affordable. Or meet with a free lawyer for other civil issues. Call 612-332-1441, or click here to learn more on Minnesota legal programs.
Food pantries and free food shelves
Several food shelves are listed below. Residents have other options available to them as well. Whether it is help in applying for benefits such as SNAP food stamps or free meals for a child, pantries and soup kitchens can provide support. There are other free food or meal programs too. Locate more Anoka County free food pantries.
ACBC Foodshelf and Clothing Store - Free emergency food and gently used clothing is available to local residents one time each month. The location is 2615 9th Ave, Anoka, MN, 55303, main phone (763) 422-0046.
Centennial Community Food Shelf - Our Savior's Lutheran Church – This center may be able to offer up to five days of free food, groceries, and related supplies. They run an emergency food shelf. Main number is 763 – 784 -2013.
Anoka County Site and the Community Emergency Assistance Program, Inc. (CEAP) (see above) also provides free food, meals, etc. The phone number is (763) 783-4930, and additional details are above.
Islamic Center of Minnesota helps people of all backgrounds and religions. Call (763) 571-5604
North Anoka County Emergency Food Shelf, Inc. - Offers emergency food, groceries, clothing, and perishable items for needy residents in Anoka County. Get groceries, baby formula, Ensure for seniors and meals for the homeless too. It is located at 18511 Highway 65 NE, East Bethel, MN, 55011, call (763) 434-7685.
A "sister" pantry is the Southern Anoka Community Assistance – SACA, 627 38th Ave NE, Columbia Heights, Minnesota, 55421, telephone (763) 789-2444.
Food banks - In addition to the centers and pantries referenced above, several other locations operate across Minnesota. Click here for information on charitable food banks in Minnesota..
Free clinics, dental and medical assistance
St Mary's Health Clinic also services the Anoka County area. Free basic health care, dental, medications, eye exams and more. They also take Medical Assistance (Medicaid) and help homeless people too, including with dental needs. Call (651) 287-7777, or look here for dental no insurance MN.
Islamic Center of Minnesota offers free basic medical care and the following services. Health screenings including blood pressure, mammograms, diabetes testing, and flu shots. An eye clinic is offered one day a week. The clinic uses Volunteer specialists in many areas, and also health education programs. 1401 Gardena Ave NE, Fridley, Minnesota, 55432, (763) 571 - 5605
Mercy Hospital – Unity Campus has income based medical care, with some charity or free services. All are limited. Low-income families or the uninsured can get free medical check ups, urgent care, physicals, OBGYN and more. The address is 550 Osborne Rd NE, Fridley, MN 55432. Phone: (763) 236-5000
Related Content From Needhelppayingbills.com