Assistance programs in Alachua County and Gainesville.
Find how to get financial help, including free grant money to pay rent or a mortgage, utility bill assistance, free medications, and more in Alachua County. Low-income families will get assistance in an emergency (including with housing or free food) along with social services. Locate financial help near you in Gainesville FL and Alachua County.
There are hardship grants as well as free stuff and long term case management. Charities, churches, and government assistance programs in the Gainesville region provide immediate help to low-income families, seniors and single moms. Or get free school supplies, clothes, gasoline vouchers, furniture for a home or apartment and even Christmas toys.
Help with bills from the Central Florida Community Action Agency Inc.
This is a local nonprofit agency that offers government grants, job placement, budgeting and also financial help with bills for people in Alachua County. They offer a wide variety of resources including emergency financial assistance. Community Action will provide cash grants to help pay energy bills, rent, provide free food boxes, and more. They also manage the local weatherization program which will provide free energy saving upgrades to homes.
Other services include direct financial assistance and referrals for basic needs for low-income Alachua County residents. The other resources include those listed below. Each has an application process. Resources are limited too, and often combined with money saving ideas.
Their primary goal is to offer people short term aid, with counseling and support to ensure they become self-sufficient over the long term. They are located at 411 N Main St Ste 210, Gainesville, FL 32601. Call (352) 373-7667. More on the Community Action Agency in Central Florida.
Financial help with housing, electric bills, food and more in Gainesville area
Volunteers Of America has rent and utility assistance for veterans only. Other homeless or low income can get information on housing resources, shelters, and other aid. They administer the Homelessness Prevention and Stabilization Services to veterans and their families, which is known as SSVF. Get help in obtaining public benefits, emergency rental assistance, funds to paying utilities, outreach, and help in applying for VA benefits.There are also free motel vouchers for veterans and job programs. The address is 2130 NW 31st Ave Unit G6, Gainesville, FL 32605. Phone: (352) 519-8755
Help with rent from non-profits - Additional assistance for both housing expenses and rent can be obtained from non-profits, churches, and local charities. Services range from cash assistance and free legal aid for tenants to no-wait list apartments. Or low comst apartments and security deposit assistance can be arranged in Gainesville. Find a listing of more Alachua rent assistance programs.
Alachua County Social Services Program offers many of the following assistance programs. They are a countywide agency for struggling households.
The Alachua County Social Services Program helps the poor, college students, single moms or dads and others. The location is 218 SE 24th St, Gainesville, FL 32641. For information, call (352) 264-6750.
The Salvation Army of Alachua County Florida provides free clothing, Electric and Gas Service Payment Assistance, Free food, and more. The non-profit supports low income residents, seniors, and families with children. Other resources may include funds to pay rent in a crisis and job placement/self-sufficiency.
There are also free summer camps for kids in the Gainesville FL area as well as snacks or meals for after school care. Or apply for seasonal support such as free Christmas toys, school supplies, and Thanksgiving meals. Phone (352) 376-1743. More details on Salvation Army Alachua County programs.
Gainesville Community Ministry is at 238 SW 4th Ave, Gainesville, FL 32601. This ministry provides financial assistance for rent, utility bills, and prescriptions, as well as food and clothing assistance. There is free kids for adults or kids, baby supplies, grant money and a free food pantry. Christmas help is also offered, including toys, meals, and more. Call (352) 372-8162, or more on Christmas help near you for families.
Free stuff and money - Low income families often struggle to balance their budget. The programs in effect free up the income for paying living expenses. There is the cost of housing in Alachua County, food expenses, medical care, and other bills that are always due. To this end, charities give items and even money for free.
St Francis House is a faith based organization. It gives away emergency food or hot meals. Or use the free homeless shelter, transitional housing, and employment services. A focus is on homeless individuals, single people and families. The location of the charity is 413 S Main St, Gainesville, FL 32601, or call (352) 378-9079 for intake.
Gainesville Catholic Charities (phone (352-372-0294) runs a free food pantry. This will have groceries, baby formula, Ensure for students and also breakfast or lunch for homeless people. They also offer other aid. Among other services, they provides emergency services for rent assistance, utility and cooling bills assistance, and prescription medications for qualified individuals. The church - charity is at 1701 NE 9th Street, Gainesville, FL 32609.
Three Rivers Legal Services Inc, including free lawyers for low-income families and seniors in Alachua County is an option. Dial (352) 372-0519. They help stop evictions or foreclosures, assist with applications to benefits, and help with civil needs. Office is at 1000 NE 16th Ave, Gainesville, FL 32601.
Alachua County emergency eviction and rehousing assistance - Most of this is part of HUD and the HPRP program. Using grants as well as volunteer attorneys, several non-profits assist both tenants and homeowners. There is assistance for single moms, the disabled, and others for paying their rental or energy bills, deposits, phone connection fees, and more. More on eviction help in Alachua County.
Lutheran Services – Resources from this agency range from free food to help for seniors and immigrants. Get information on programs such as financial literacy for seniors, food pantries, and help for immigrants in Alachua County Florida. More on Lutheran Services in Florida.
DCF is the main government benefit office. Apply for free insurance from Medicaid, TANF or SNAP benefits for bills or food, and get other support. There is help for the disabled, nursing home services, elder care, and help for college students. The local office is at 1000 NE 16th Ave, Gainesville, FL 32601, or dial (866) 762-2237
Free health care for the uninsured and low-income in Alachua County
Prescription assistance is part of the NACO program. This will help low-income as well as uninsured people. The Alachua County Prescription Discount Card is a free discount prescription drug card program that helps county residents cope with the high cost of RX drugs.
It is free to obtain and use at local pharmacies. The RX card is free and also available to all county residents regardless of their income levels. Benefits include: There are no enrollment fees; Get average savings of up to 50 % on prescription medications; No paper work or forms are required; Unlimited use; and it even covers per and vet medication. There are also applications to medical credit cards to help pay for care. Call (352) 264-6750, or learn what a medical credit card is.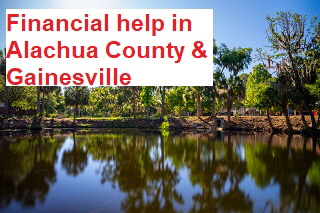 Gainesville Community Ministry offers free medical advice/referral clinic and physical therapy clinic to low income and uninsured. There are also STD checks, mental health therapy (including for college students), free physicals, and dental care or teeth cleanings. Call (352) 372-8162, or the location is 238 SW 4th Ave, Gainesville, FL 32601. There is also free dental work, and look here for free root canals near you in FL.
Equal Access Clinic - This is an organization and a program that can provide health care for workers, people with no insurance and individuals in Alachua County. The services are for those who do not have health insurance. Health care and medical care services are available throughout the county in existing dental offices, clinics, and medical facilities. Address is 410 NE Waldo Rd, Gainesville, FL 32641. For information on free or cheap medical or dental, dial (352) 273-9425
Gainesville After Hours Clinic provides heath care to anyone in need of medical or health care. Call (352) 379-1049. There are free volunteer doctors, dentists, and psychologists too. The address is 926 NW 13th St, Gainesville, FL 32601.
Free food programs in Gainesville area
Lazarus Restoration Ministries, Inc. runs a food pantry. The charity is at 3019 NE 20th Way, Gainesville, FL 32627. There is free fresh or canned food, dairy, holiday meals and other items. Call (352) 213-8970
Bread of The Mighty Food Bank another leading free, emergency food distribution center. Address is 325 NW 10th Avenue, Gainesville, FL 3260. The poor, elderly and college students will get free food, hygiene supplies and more. Phone: (352) 336-0839
There are other food assistance programs for the county. Whether it is a box of groceries, holiday meal, diapers, clothing or applications to SNAP food stamps, if those two locations can't help you, find more Alachua County food pantries.
HUD foreclosure counseling and debt help
Florida Rural Legal Services Inc, offers numerous housing, mortgage, and debt reduction programs. They offer Housing Delinquency/Foreclosure Counseling or loan modifications. The goal is to help stop people from losing a home. The agency has counselors that will help clients and homeowners work with mortgage lenders when needed.
Also, credit counselors can advice people on debt management and reduction programs. Most of the assistance is free. Learn how to reduce credit card debts, and deal with bankruptcies. Other support is offered too for credit cards. Or call the agency at (561) 993-0003.
Related Content From Needhelppayingbills.com