Free food banks, pantries and soup kitchens New Jersey.
Free or low cost food is given away from a variety of distribution center in New Jersey. There are free food banks, meal sites as well as pantries that provide immediate assistance, often today. Low-income families and people with no money can get free groceries or hot meals from charities, churches or the government. Find free food banks and pantries near you in NJ.
The locations listed are the major distribution centers, but they also have partnerships with other local non-profits, charities, and even free pet food pantries across the state. In addition to receiving free or low food, groceries, and other items from these locations, many will provide other forms of non-financial aid as well, such as personal hygiene supplies and referrals to USDA assistance programs. If a pantry is not near where you live, a phone number for referrals to additional locations is at the bottom of this page.
In addition, low income individuals can get help from other programs in their county. Call a center and ask them for referrals in order to learn more on additional assistance programs in New Jersey or government benefits. There are SNAP food stamps, USDA commodities, free drive thru food banks, Meals on Wheels in NJ and more. Many restaurants also offer support, and learn what restaurants accept EBT.
Local New Jersey food banks
Find information on additional free food pantries as well as soup kitchens for your county. They are specific to the city or county, and may have meals, clothing, free food, holiday meals and other forms of support. Or scroll down the page for other places for free food in NJ, as a more ranging list is below as well.
Regional free food box distribution centers in NJ
Fulfill - Food Bank of Monmouth & Ocean Counties
3300 State Route 66, Neptune - NJ, 07753. Call (732) 918-2600
This is a Feeding America partner of Monmouth and Ocean County. Get free Fruits, vegetables, diary products, meats and more may be offered. Seasonal and special food assistance programs can include free baby formula, snacks for students, and special dietary meals. Or apply for the Summer Feeding Program, Commodity Supplemental Food Program, and free Meals on Wheels for seniors or the disabled.
Community Food Bank of New Jersey
6735 Black Horse Pike, Egg Harbor Township New Jersey, 08234. Call (609) 383-8843
This location does not generally serve the public, however they work with regional pantries in New Jersey. Hundreds of soup kitchens, feeding sites, and food banks work with the non-profit organization. The counties supported include Atlantic, Bergen, Cape May, Cumberland, Essex, Hudson, Hunterdon, Mercer, Middlesex, Morris, Passaic, Somerset, Sussex, Union, and Warren.
The location also operated other Feeding America programs in NJ. There are Nutrition Education, free Cooking Classes and a baby pantry, which has free infant formula, dupers and other supplies for low-income parents as well as single mothers.
Another location is at 31 Evans Terminal Rd, Hillside New Jersey, 07205. Dial (908) 355-3663 for referrals. Similar to the location listed above in that it partners with other charities. A leading food pantry in the region. Fresh foods, canned goods, and other aid is offered. For example, get help in applying for government aid such as food stamps or WIC.
Food Bank of South New Jersey
Location - 1501 John Tipton Blvd., Pennsauken NJ, 08110. Call (856) 662-4884
As the name implies, supports the low income, homeless, and hungry in the southern part of the state. May have information on other resources too, such as free summer meals and snacks for students or Meals on Wheels type programs for the homebound.
The Feeding America distribution center is for people with no money or on a low income in Burlington, Camden, Gloucester, and Salem Counties. There are free drive thru food banks with partners that are open today. Or get holiday food baskets or more wide ranging benefits, such as USDA Farm 2 School. grocery shopping workshops for saving money and long term EBT benefits.
Philabundance, while headquartered in PA, is for the NJ counties of Burlington, Camden, and Gloucester as well. The main address is
3616 S. Galloway Street, Philadelphia, PA 19148. Call 215.339.0900
Part of the Feeding America national organization. It offers boxes of food, groceries, and more to local churches and non-profits. Those centers then support the needy, low income, immigrants and working poor. Or apply for Senior Brown Bag / Food Box Distribution, WIC vouchers, SNAP Outreach Program and other government benefits. There is also a free dog and cat food bank too.
Northeast Organic Farming Association of NJ
334 River Rd, Hillsborough Township, NJ 08844. Dial (908) 371-1111
Dial for referrals to fresher, healthier food. Or find free food from local farms.
Franklin Township Food Bank
Location is 224 Churchill Ave, Somerset, NJ 08873. Phone - (732) 246-0009
The site partners with local churches and charities to provide fresh fruits, frozen foods, and other support to needy families in New Jersey.
Lacey Food Bank Incorporated
102 Station Dr, Forked River, NJ 08731. Dial (609) 242-2848
Palisades Emergency Residence Corporation of New Jersey
Main address - 108 36th St, Union City, NJ 07087. Dial 201-348-8150
If you have no other options available, call for referrals or information on free groceries, meals, and programs for senior citizens.
St Luke's Episcopal Church - Toni's Kitchen
A soup kitchen and food pantry location is 73 S Fullerton Ave, Montclair, NJ 07042. Phone: (973) 744-6220 or Call 973-860-0768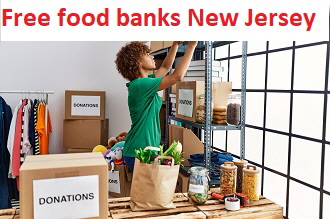 The Crisis Ministry of Princeton and Trenton
120 E Hanover St, Trenton, NJ 08608. Main number is 609-396-9355
Hot meals, a lunch, and more may be offered. From time to time can have goods such as clothing, diapers, or other so called material assistance.
The Samaritan Center of Glassboro, - Glassboro Food Bank
Address: 123A High St E, Glassboro, NJ 08028. Phone: (856) 863-9030 or (856) 863-9030
Free boxes of food and groceries may be passed out. This can include healthy meals and also canned goods.
Food Bank Network of Somerset County
409 Mountain Ave, Bound Brook, NJ 08805. Call (732) 560-1813
Thousands of children, seniors, and low income families receive help every year. Perishable and canned goods (such as beans and rice) may be passed out as resources allow.
Norwescap
201 Broad St, Phillipsburg, NJ 08865. Phone: (908) 454-4322
The community action agency has a free food bank. Or get information on SNAP applications in NJ, free baby formula for newborns, USDA benefits and more. There are boxes of groceries, holiday food baskets, and help for kids or seniors too. Hunterdon, Sussex and Warren Counties are supported. Offers various social service programs, food boxes, holiday meals, and other aid.
Mercer Street Friends
Primary location is 824 Sylvia St., Ewing, New Jersey 08628. Phone: 609-406-0503
This non-profit only provides assistance to Mercer County. If you or your family is going hungry and needs help, try this regional food bank. They can also refer qualified individuals to public assistance such as WIC or food stamps.
Southern Regional Food Distribution Center
6140 Mays Landing Rd, Vineland, NJ 0836. Dial 856-327-3143
Atlantic, Camden, Cape May, Cumberland, Gloucester, Mercer
Cathedral Soup Kitchen, Inc.
1514 Federal St, Camden, NJ 08105. Phone: (856) 964-6771
Meals, food, perishable items are provided to the low income and homeless.
Gospel Tabernacle Church
Location of food pantry is 5029 Kennedy Blvd., North Bergen, New Jersey 07047. Call 201-863-1000
Loaves & Fishes Interfaith Food Pantry
66 Palisade Ave, Garfield, NJ 7026. Dial for free food - (973) 253-8557
Regardless of religion, call about a free box of food or groceries. This can include canned goods and excess government commodities as well. Call for referrals and support.
Family & Children's Service Inc. Of Monmouth County
191 Bath Avenue, Long Branch, NJ 07740. Dial (732)222-9111 for hours and the application process.
St. Mary's Food Pantry
22 Lakeside Ave, Pompton Lakes, NJ 7442. Dial (973) 831-4442
Whether you are homeless or low income, a free hot meal may be served by volunteers and staff. Please donate or volunteer if you can with this New Jersey feeding site.
Flemington Area Food Pantry
Address - 110 Broad St., Flemington, New Jersey 08822. Phone number - (908) 788-5568
Freehold Area Open Door, Inc.
39 Throckmorton St, Freehold, NJ 07728. Call (732)780-1089
Information on additional free food banks in New Jersey
The centers listed above are just some of the food banks and distribution centers that are located in the state of New Jersey that may be near you. Many other non-profits, emergency pantries, free pet food pantries and charities exist across the region. Organizations, including Feeding America NJ, are focused on providing free food and government aid to the low income in the community. Dial (908) 355-3663 to get more information.
Related Content From Needhelppayingbills.com