Free food banks and emergency food pantries in Connecticut.
Charity food banks and free pantries in Connecticut help people with no money as well as low-income families who are facing a difficult period. The distribution centers provide free groceries, hot meals, information on government assistance such as SNAP or WIC benefits and other support. Find a free food pantry or food bank near you in CT.
While the exact type of assistance provided will vary based on the pantry or resources available at the food bank, in general many will provide perishable items, vegetables, bread, frozen items, infant formula, and others forms of nutritious meals or groceries. There is also a referral phone number at the bottom of this page for more locations of free food distribution centers in CT that are open today. There are also free drive thru food banks that giveaway grocery boxes.
Most locations will also have counselors on site who advise qualified individuals about low income government assistance (such as SNAP food stamps or WIC) programs as well as other charities that are located in the town, city, or region where the individual lives. There are also places for free dog or pet food in CT for the low-income. Or families can learn about formula and supplies for newborns, and locate more information on free baby items in Connecticut.
Each county in Connecticut also has other agencies that can provide assistance, such as the Salvation Army, community action agencies, church run pantries, or similar. Find more information below on other food assistance programs that may be available in your local community near you.
Food pantries and food banks at the local level in Connecticut
Find a location that is in your town or county. Get information, addresses, and phone numbers of distribution centers to turn to for meals, free or low cost food boxes, clothing, and other aid. The major counties are below, or find a longer list as you scroll down this page.
Regional free food banks in CT
Feeding America - Connecticut Food Bank is a major distribution center. The address is 2 Research Parkway, Wallingford, CT 06492. The non-profit works with churches, charities, and non-profits across the state. The food bank provides those other centers items. There are also other social services, including Meals on Wheels, SNAP intake sites, a free pet food bank for the low-income and more. The partners then distribute free food and government commodities to the low income, seniors, and people who need help. Call Phone number - 203-469-5000, or look here for free government food commodities.
Connecticut Food Bank-Waterbury Branch address is 5056 Eagle St, Waterbury, CT 06708. Phone: (203) 759-1919
Plymouth Community Food Pantry
Food pantry address - 20 Dewey Ave, Terryville Connecticut, 06786. Call 860-584-1750
Can provide free meals, emergency food boxes, and other items such as baby food, diapers, and personal hygiene products. They are a Feeding America partner, and everyone from the elderly to homeless and unemployed will get free food.
Gifts of Love
34 E Main St, Avon, CT 06001. Phone number - 860-676-2323
Seymour Oxford Food Bank Inc.
The pantry is located in Boys & Girls Club Of LNV as a separate Community Center, 20 Pine Street Basement of, 20 Pine St, Seymour, CT 06483. Dial (203) 888-7826
Community Action Agency of New Haven
419 Whalley Ave, New Haven, CT 06511. Call (203) 387-7700
Offers various social services and financial assistance in the New Haven area. Services include a food pantry, LIHEAP heating bill assistance, summer lunches for students, clothing closet, and more. A major focus is on feeding the low-income in New Haven from a free food banks. Groceries, applications to SNAP in Connecticut and government food assistance is offered.
Amazing Grace
16 Stack St, Middletown, CT 06457. Dial (860) 347-3222
Ecumenical Food Bank Inc.
75 Spring St, Naugatuck, CT 06770. For information, call (203) 723-1922
Hands On Hartford
Main address is 55 Bartholomew Ave, Hartford, CT 06106. Call 860-728-3201
A major non-profit for the city as well as county of Hartford. In addition to offer emergency food for those in a crisis, they also provide referrals and social services to clients.
Guilford Food Bank
45 Stone House Ln, Guilford, CT 06437. Phone: (203) 453-8009
Foodshare Inc.
450 Woodland Ave, Bloomfield CT, 06002. Dial for food and help - 860-286-9999
Believe in Meed Food Pantry
Address: 423 Dixwell Avenue, New Haven, Connecticut 06511. Phone: 203-772-2771
They only support the Newhallville region and low income families in that area.
Food Bank Of Lower Fairfield County Inc.
461 Glenbrook Rd, Stamford, Connecticut, 06906 . Call (203)358-8898
Thousands of families from Norwalk, Stamford, and surrounding towns use this center. Free food, baby food, fruits, and more are passed out. They also have items for the seniors that live in the community. Free dog or pet food is offered for the elderly and disabled in Fairfield CT, as donations allow.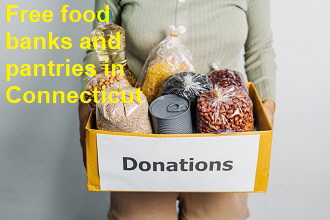 End Hunger Connecticut!
800 Connecticut Blvd, East Hartford, CT 06108. Phone: (860) 560-2100
There are free summer meals for kids out of school. Or get help applying for an EBT card in Connecticut, a box of groceries and advocacy.
St. Vincent Depaul Place
34 Willow Street, Waterbury, Connecticut, 06721. Call (203)754-0000
The local offices of one of the nations leading non-profit charity organizations. Seniors, low income families with children and others receive food boxes, free Easter, Thanksgiving and Christmas meals, gifts for children, and much more. Referrals, guidance, and financial assistance for bills and housing is provided too.
Norwich CT St. Vincent de Paul Place is at 120 Cliff St, Norwich, CT 06360. Telephone - 860-889-7374. Similar services are offered at the center listed above.
Masters Manna Food Pantry and Resource Center
428 S Cherry St, Wallingford, CT 06492. Call 203-678-3042
This non-profit organization is a full service food bank and pantry operation. Other forms of assistance are also provided. For example, the center also runs a Free Wellness Clinic. Both adults and children can get dental care. These are some examples of the many services and assistance programs that are provided to Wallingford, Durham, Meriden, North Haven, Cheshire, Middlefield, and Southington,CT families in the community.
The Five Corner Cupboard
124 Scantic Rd, East Windsor, CT 06088. Phone: (860) 758-7763
Both food items and household products are available here.
Community Action Committee Of Danbury
78 Triangle Street, Danbury, CT 06810. Call 203-744-4700
As a typical example, a family of four receives enough food for three meals for three days or nine meals in total. Access to the Food Pantry is limited to once a month. The agency's goal is to keep people from being hungry.
Apostolic Community Church
A free soup kitchen and pantry is at 146 Center Street, Meriden Connecticut, 06450. Call for information - (203) 639-0780
A food pantry is available for low income and needy residents.
Saint James Episcopal Church Daily Bread Ecumenical Food Pantry
25 West Street, Danbury -Connecticut 06810. Call (203) 748-3561
Food pantry for families and individuals in need is open. People can get help once per once. Various churches and non-profits contribute to the food bank and pantry.
Additional locations of Connecticut free food banks and pantries
If you need information on other food assistance programs in Connecticut near you, or want to know where to go to if the food banks above are not convenient to you, dial (203) 469-5000. There is also the Feeding America resources in CT as well as other charities. Referrals are provided to families of all income levels.
Related Content From Needhelppayingbills.com