Assistance programs Clayton County Georgia.
Emergency financial assistance is offered from charities, churches, and government agencies in Clayton County. Find how to get free grant money to help pay utility bills, funds to assist with rent, medical bill or security deposit assistance, free food and more. Locate financial help near you in Riverdale, Forest Park, and College Park GA as well as the county.
The agencies help single moms, the poor or low income families (and those in crisis) get through a hardship. Clients can also get free gasoline vouchers, legal aid, job placement or a car and free debt reduction services in the region.
Faith based groups and churches also help the poor, low income, or unemployed in Clayton County. They are in addition to the programs and nonprofits listed below. Some give out free clothes, Christmas toys or meals, furniture or financial help. They are also a source of meals, counseling, and general advice.
Get help with bills, rent, legal aid, and other financial assistance
Salvation Army of Clayton County. This non-profit agency provides emergency financial assistance as well as free basic needs to persons and families in a crisis situation. Among other social services they provide include free food, holiday programs including Christmas toys, clothing, lodging, or rent and utility bill assistance. Other free personal stuff is offered.
There Salvation Army also offers

counseling as well as referrals

to other comprehensive crisis centers, including for back to school supplies or Adopt a Family holiday help. They also partner with charities, churches, or Clayton County GA social services. As noted, referrals are given, even to churches in the region, and find more churches that help pay bills.
In addition, they run the federal government funded Homelessness Prevention and Rapid Re-Housing (HPRP) which provides temporary financial assistance for expenses such as rent, electric bills, gas, or water (includes deposits). There is also stabilization, and housing relocation services, including no waiting list apartments. The address is 130 Spring St, Jonesboro, GA 30236, and dial (770) 724-1680 or (770) 724-1681, or more on Clayton Salvation Army programs.
Samaritans Together for Clayton County, Inc., which is based in Forest Park and can be reached at(470) 776-7391, provides financial assistance and cash grants to help with paying rent, utilities, or deposit. There is also funds for partial mortgage payments in addition to operating a free food pantry for families in need of help. Find additional ways to get help with utilities. The address is 1000 Main St, Forest Park, GA 30297.
Faith Walk Ministries, Inc. - This church is a referral site for the Atlanta Free Furniture Bank and also runs a free food pantry. In addition, energy bill assistance is available for Clayton County residents only, and all services are by available appointment only. Clients can receive food or groceries up to three times per year. Or learn about beds, mattresses, appliances and other free furniture for low-income households. Dial (770) 994-0033. The location is 6084 Riverdale Rd, College Park, GA 30349.
Free furniture banks are located nearby that can help low-income families. There is also free furniture for formerly homeless people or veterans, among others. Get everything from kitchen utensils to pots and pans, beds for kids, kitchen appliances or washers and dryers, couches and more. Find free furniture near you.
Clayton County Community Services Authority, Inc. - They are the regional community action agency. They assist the poor, unemployed, elderly, disabled and others in need. Programs offered by this non-profit include:
Pro-bono legal

aid - Receive access to legal (non-criminal) services, and the programs are open to low-income citizens of Clayton County who are faced with civil problems and complaints. Examples of the legal aid include Domestic Violence, Divorce, Foreclosure, Child Custody, Adoption, Consumer Finance, or Guardianship. Free lawyers also offer consultations on Eviction Defense, Landlord / Tenant and Probate. Learn more on Georgia free legal aid.


Low Income Home Energy Assistance Program (LIHEAP

).This utility assistance program is designed to provide cash grants and financial assistance to eligible working poor, senior citizens, disabled, homebound individuals, and low income families. The free grants help Clayton County GA people with their energy and heating bills during peak seasonal months.
Emergency Food Assistance Program

- The goal is to end hunger. Provides food and groceries or applications to SNAP.


Emergency short term cash grants and financial assistance

- Services and resources are available, along with case management services and resource referrals to families or individuals. Get help with expenses and issues such as evictions, foreclosures, rent assistance, or funds to stop utility and heating disconnections.

Weatherization

- Improvements and measures are performed on a home that has a direct result on reducing energy bills.


Borrowers in debt can get help

- Community Services Authority staff can advice families on credit card assistance programs, medical debt resources, and other programs. They can help arrange debt consolidation low interest rate loans.


Homelessness Prevention and Rapid Re-Housing

Fund - Money is available to both help people avoid an eviction, and also assistance for the currently homeless.


Housing

- The non-profit may offer referrals to eviction prevention services or offers help to the homeless in Clayton County. This may be loans or other forms of financial support for security deposit fees or paying a partial rent payment.

The non-profit also provides

provides outreach services to communities

and disenfranchised neighborhoods. The services provided to qualified individuals included financial assistance, GED classes, job search, child care tuition program, and after school programs. They also advocate for affordable homes and transportation for job reasons.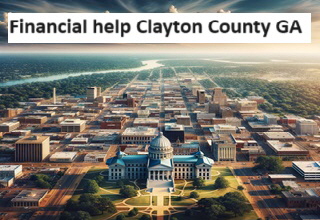 Call the Forest Park Georgia based Clayton County Community Services Authority, Inc. at (404) 363-0575 to get more information or to apply for help. Various other grant, loan, and case management services can be arranged too. Or click here Clayton County Community Services Authority.
Jonesboro Housing Authority can offer programs such as section 8 vouchers and possibly referrals. There is also affordable senior subsidized housing or apartments. The vouchers can be used by qualified, low income families as a form of subsidy on their monthly rent payments. There is usually waiting list for the program. Location is 203 Hightower St., Jonesboro, Georgia 30236. Call (770) 478-7282
Clayton County Housing Authority

is another option. They also have Section 8 applications, home-buying services, and support for veterans and income based apartments. Self-sufficiency and budgeting is offered too. The location is 732 Main St, Forest Park, GA 30297. Call (404) 362-1200
Clayton County DCFS provides benefit programs, public aid, and government assistance. Both state and federal programs are offered. they range from SSI disability to grant money for veterans, TANF cash assistance (welfare), Medicaid insurance, burial or cremation help and more. The address is 877 Battlecreek Rd, Jonesboro, GA 30236. Call (770) 603-4600.
Clayton County Society of St. Vincent de Paul is part of the the regional parish network. Various social services and assistance programs are offered for the poor, homeless and low income. Examples include GED instruction and life skills education, a free food pantry, financial help for rent or energy bills, and more. Some limited free motel vouchers or a homeless shelter is offered and SVDP also has a thrift store with bargains. A formal application and intake process is in effect. Find details on help from Saint Vincent in Clayton County.
Rent payment help is available. A number of churches, charities and government agencies provide hardship funds for back rent in Clayton County, storage costs or a moving deposit. The goal is to stop or limit homelessness and rehouse people. Locate rent assistance in Clayton County.
Clayton County Family Care, Inc. – The non-profit agency provides financial assistance for utilities including gas, water, and electric. There is also immediate rent assistance, mortgage payments, and prescription medicine. Other services include financial management and credit counseling.
The non-profit, charity organization can be a great place to contact for referrals as well. Family Care staff can guide low income families to resources such as applications for food stamps or SSI disability, and they may have information on grant programs as well. The address is 1000 Main St., Forest Park, Georgia 30297, call (404) 366-5527, or find emergency help from Clayton County Family Care.
Free foreclosure prevention and mortgage relief assistance
The Housing Authority of Clayton County runs a program known as the Clayton County Foreclosure Resource Center. It is a partnership among several local non-profit organizations, banks, free HUD counselors and charities in Clayton County Georgia. The goal of the center is to reverse the trend of the increasing number of foreclosures in our community, and help people who are currently facing a foreclosure Services are free of charge to homeowners and available 24 hours a day.
Services include educating the homeowner about resources and options available through the lender. Staff help with discussing alternative mortgage and loan repayment plans; negotiating changes with the bank or lender that can be made to the terms of the loan; and other alternatives for which homeowners may be eligible. Learn about programs such as the federal government short sale, or a new government mortgage program that helps the unemployed. For details, dial (404) 362-1200.
D & E, A Financial Education and Training Institute is another non-profit credit and housing counseling agency to contact for help. This non-profit agency offers free or low-cost HUD approved counseling. Staff assist borrowers or homeowners with mortgage delinquency and default resolution counseling, as well as information on federal government as well as state of Georgia housing programs.
Staff also help with personal finances/budget counseling, predatory lending awareness programs, eviction prevention, and give out free individual counseling in Clayton County. They also offer help getting out of a title loan. There is also housing down payment loans/grants, debt management, and senior housing information and referral. Phone - (770) 961-6900
Food pantries and other basic needs in Clayton County GA
Divine Faith Ministries International - They operate both a food pantry and clothing closet. They also personal financial management counseling and debt assistance. Get free groceries, baby formula, jackets, personal toilteries and more. The pantry and clothing bank is at 9800 Tara Blvd, Jonesboro, GA 30238. Call (770) 603-0025
Willie M. Simpson Evangelistic Ministries, Inc. of Jonesboro Georgia (phone ((678) 249-5323) provide free food and counseling to families and individuals. They also can direct people to programs such as cheap groceries from partner stores.
Strong Tower Church of God - This is a church that is involved in offering a food pantry to residents of Clayton County. Call (770) 472-0081.
Hearts to Nourish Hope, Inc. is located in Riverdale and the non-profit can provide a food pantry, GED program. education and a dropout prevention program.
Those locations are just a few of the food pantries. There are also soup kitchens too. The county does have a number of other clothing closets, thrift stores, and food banks. Low-income families, single moms and the homebound can get free hot meals, boxes of groceries, hygiene supplies and more. Read more free food pantries in Clayton County.
Free community clinics and free health care
Receive free health care from Good Shepherd Clinic, Inc. Doctors and dentist often volunteer their time to help people with no insurance or on Medicaid. This is the local community clinic that offers free primary medical, dental and health care for residents of Clayton County Georgia who have no other alternatives. The medical clinic helps low-income families, adults, and children too. There are also services for those people who are not covered by any private or government insurance program.
There is help for those who do not qualify for Medicare or Medicaid from the federal government. Services provided by the community clinic include diabetes screening, pap smears, adolescent medicine, eye exams, dental cleanings, extraction and urine tests. Call (770) 968-1310
Related Content From Needhelppayingbills.com