Assistance programs Calcasieu Parish.
Find how to apply, and where to get, financial help or free stuff in Calcasieu Parish as well as Lake Charles. Low-income families will receive help with rent or a security deposit from a charity in Lake Charles, free food or clothes from a church, grants from the government for paying electric bills. Locate financial assistance near you in Calcasieu Parish.
Also discover job training programs or ways to make money. Or low-income people in Lake Charles will get free medical or dental care, back to school supplies, case management, and even prescription medications for the under-insured. Other social services are offered too. They include free Christmas toys, gas cards and information on car repairs Calcasieu Parish.
Assistance with bills, housing, food and financial resources in Calcasieu Parish
The Lake Charles Salvation Army offers several different programs for low income as well as struggling individuals. There is also priority for senior citizens, single moms and the homeless in Calcasieu Parish. Gain access to character-building programs, which are available for youth grades 1-12. They also run and provide structured activities for the older generation and senior citizens.
In addition, apply for immediate

emergency financial assistance for paying for expenses

, including food, rent, clothing, and utility bills for families in a crisis situation. In addition, receive access, if need be, to emergency homeless shelter in Calcasieu Parish, a free hotel voucher and two meals for individuals in need of temporary shelter.
They also offer holiday as well as a free Christmas Assistance Program which offers food and toys for the needy in the area. There are Thanksgiving turkey meals, Angel Tree Christmas toys and other free holiday stuff. Free back to school supplies for kids, including backpacks, are also passed out. Call (337) 721-8068. Or click here Salvation Army assistance programs Calcasieu Parish and St. Charles.
Another non-profit agency to turn to for help is the Calcasieu Parish Community Services, which can be contacted at (337) 721-4020. Some of the programs they offer to qualified residents include the following.
Health, free dental and medical care services

- Local medical professionals, including doctors, nurses, dentists, and other professionals volunteer their time every week to provide low-income individuals, the uninsured and people with no money access to medical services.

Vision and eye care

- Receive access to a Vision Exam, Screening, Glasses, and free Eyewear Voucher assistance. This can help the low income as well as uninsured. Even find free eyeglass programs near you.
Prescription medicines and drugs

- Vouchers, discounts, rebates and other forms of prescription assistance are available depending on current funding and client eligibility for the program.


Health and general referrals

- Referrals for the medical services and dental programs may be available for general health check ups. This includes health care education and free dental services. Or get free health care for chronic contentions, teeth extractions in Lake Charles and other support. A number of charitable resources are available in the region, and even find details on dental clinics near you for a wide variety of assistance.


Energy and utility bill assistance

- Receive government grant money from the government funded Low Income Home Energy Assistance Program (LIHEAP). The program focuses its assistance on low income individuals, the elderly, and the disabled. The bottom line is that people who pay a high percentage of their income towards their monthly utility bills may be able to receive help from LIHEAP.


State energy programs

- In addition to the federal government funded LIHEAP mentioned above, the state of Louisiana also offers its own utility bill assistance programs. Receive financial assistance and cash grants towards paying a household's energy bill. In addition, you can also receive emergency energy bill assistance if a household's home energy service is shut off or if the consumers service is about to be shut off. In addition, qualified individuals may be able to receive access to a wide range of other energy-related services from the state of Louisiana. For example, receive energy conserving updates from the weatherization improvement program, utility and cooling equipment repair and replacement, and other aid.


Free food assistance programs

- This is another resource offered by the Calcasieu Parish Community Services. There are qualifications to the program, but if you meet the criteria, this food program will provide a 40 pound grocery box having an approximate value of $50.00 to income eligible recipients and households.


Self-sufficiency

- Calcasieu Parish Community Services also works with clients on long term support. Job programs, resume reviews, side gig jobs, and more is arranged. Even find workshops on saving money on a low income.
Housing programs

- They are wide ranging. Homeowners can look into free foreclosure counseling and information on mortgage help. On the other hand, tenants may be able to receive information on rental assistance programs, long term loans, landlord / tenant mediation sessions, or funds to pay a security deposit on a new more affordable home or apartment. Calcasieu Community Services tries to prevent homelessness in the parish.
A number of other resources are available from the community action type agency. If they can't meet your needs, they social workers may also have referrals. The center is a leading non-profit organization for low income families, seniors, and the disabled. The address is 2424 3rd St, Lake Charles, LA 70601. Click more Calcasieu Parish Community Services.
Manna Ministries at St Luke-Simpson United Methodist Church - The site is open very limited hours. It may provide financial help for paying utility bills and maybe for other basic needs. There are limits as to how often aid is paid out. Other support may be as follows.
Free food from a pantry

, including free senior commodities, cheese, baby formula for low-income families in Calcasieu Parish and more.

Basic needs

such as clothing for work or school. There will also be free laptops, tablets and items for people on Medicaid. Learn where to apply for free stuff available with Medicaid.

Counseling, advice

, and case management.
Referrals may be given to many income qualified families. The address is 1500 Country Club Rd, Lake Charles, Louisiana 70605. Telephone number - (337) 802-3729 or (337) 474-1500, or click Manna Ministries assistance programs.
Emergency rent, security deposit and low income housing programs can help stop homelessness. There is everything from section 8 or 202 vouchers to money for housing costs such as rent or utilities. Several charities as well as non-profit focus on addressing this need. More on rent assistance Calcasieu Parish.
Catholic Charities of Southwest Louisiana offers social services and emergency aid to those who need help. A major focus is on the elderly, immigrants, unemployed and women facing DV. This includes the following.
Free air conditioners

for the disabled and senior citizens in Lake Charles LA.

Get help with filing income taxes

from the Volunteer Income Tax Assistance/VITA center.

Free stuff in Calcasieu Parish

, including clothes, furniture vouchers, beds, small appliances and other goods.
Some referrals or limited financial aid may be offered. More on financial assistance Southwest Louisiana Catholic Charities.
A food pantry and free meals may be passed out too by Catholic Charities in Calcasieu Parish. Additional Thanksgiving and Christmas gifts and food baskets may be offered. Other programs include Disaster Relief Services, Identification cards, and much more is offered. Call (337) 439-7436, or find more Louisiana food pantries.
Cameron Community Action Agency, Inc. really focuses on self-sufficiency. Programs include emergency Skills Training, Emergency Utility and Medicine Assistance, and Head start for children. The agency also administers an After School Pregnancy Prevention Program, LIHEAP Utility Assistance, FEMA Assistance, as well as Government Commodities. They also help train people for work, including information on CDL license training for free near you.
Staff of course also give Information and Referral, including to resources such as the Child and Adult Care Food Program. Or get information on free day care and child care assistance. They also help families pay down as well as avoid debt, or provide details on car loan help. The address is 965 LA-384, Lake Charles, LA 70607. Telephone number is (337) 598-5158, or borrowers can even learn more on getting out of an overdue car loan.
Volunteers of America Lake Charles is the local branch of one of the nation's main housing assistance organizations. They oversee shelters, low income apartments and Supportive Housing, subsidized units, and provide assistance to veterans. For families facing eviction, the Calcasieu Parish organization may have referrals or suggestions on emergency financial aid. Several solutions are administered. More details on Baton Rogue area Volunteers of America.
Anyone looking for a meal or a box of groceries can try a food pantry. There are dozens across the parish, and many are run by charities or churches. Those who are found qualified can receive emergency assistance or referrals. Find more information on food banks, holiday meals, personal hygiene items, soup kitchens and more. Read more about Calcasieu Parish free food pantries.
Care Help Of Sulphur is a charity for the low-income. There is emergency assistance to low-income families, including utility bill assistance, prescription medication vouchers, and help with rent or mortgage payments. A free Food Distribution Center is also on site, and the location is 112 E Thomas St, Sulphur, LA 70663. Phone: (337) 287-4793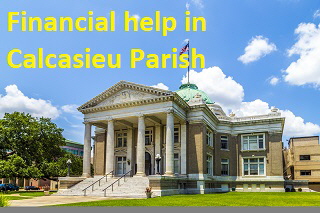 Department of Children & Family Service (DCF) helps the poor, disabled and unemployed among others. Get applications to the Supplemental Nutrition Assistance Program (SNAP), or food stamps. There is also free government money from Temporary Assistance for Needy Families (TANF), Medicaid applications, SSI funds and Child Care Assistance Program (CCAP). The address is 650 Petro Point Dr, Lake Charles, LA 70607. Dial (888) 524-3578.
Free attorney or lawyer for the low-income - If you are dealing with a civil legal issue, the Southwest Louisiana Legal Services Society provides those in need with legal help. Free lawyers are available to seniors, the poor, and people with civil issues. The legal advice is either offered at no cost, or there may be a minimal fee and it depends on the individuals total household income levels. Call (337) 436-3308, and the pro-bono is at 1011 Lakeshore Dr #402, Lake Charles, LA 70601.
Free medical and dental care in

Calcasieu Parish

Thousands of people in Lake Charles and Calcasieu Parish do not have health insurance. They do have options. The Calcasieu Community Clinic, which can be reached at (337) 478-8650, provides low income and uninsured patients with free dental and medical care. There is also help for people on Medicaid.

The various medical assistance programs are offered to low-income working individuals and families in the five parish area of Southwest Louisiana. There are eye exams, free OB/GYN for women, physicals, dental cleanings or dentures, emergency surgery and more. The clinic is at 550 E Sale Rd # 217, Lake Charles, LA 70609.

SWLA Center for Health Services is a low-cost, free medical clinic. The providers offers a wide range of healthcare services including medical, dental, vision, and behavioral health services, including immunizations and telehealth. They accept Medicaid, Medicare, and offer a sliding fee scale based on income for uninsured patients. The address is 2000 Opelousas St, Lake Charles, LA 70601. Call (337) 439-9983
Senior and elderly programs
Calcasieu Council on Aging offers programs from people who are 55 and older. Some of the services include prescription and energy bill assistance programs for senior citizens, including those on Social Security. They also help clients gain access to home-delivered meals, which are provided to elderly residents of Calcasieu Parish; and also some Homemaker Services are offered.
Last, but not least, nutritional and ombudsman services, as well as job finding assistance and employment opportunities for those 55 and older. They also help older residents identify and avoid scams that target seniors. Call the Agency at (337) 474-2583
St. Charles Center on Aging provides support to people age 60 and over. Examples include Congregate and Home Delivered Meals. Other programs include Medicaid Enrollment Center, Free Legal Assistance, Utility Bill Assistance, Wellness screening, and Medication Management. Address is 965 Highway 384, Lake Charles, Louisiana 70607. Call (337) 905-6000
Related Content From Needhelppayingbills.com