Assistance programs Warren County Ohio.
Find places that offer emergency boxes of free food, grant money to pay rent or electric/utility bill assistance, interest free loans, and other forms of financial assistance in Warren County and Lebanon Ohio. The funds, which may come from charities, the government, or churches, are for low income or struggling families. Get financial help near you in Warren County OH.
There is a focus on seniors, the working poor and disabled in the community. Warren County residents, when they are struggling, can apply for financial help, free credit counseling, job programs, or other social services. A major focus is on hunger as well as homeless prevention. This means that help with utility bills may be combined with housing or free groceries. Another focus is on self-sufficiency, including free school supplies for students (adults or kids) as well as budgeting, financial literacy, and similar support.
Crisis and emergency financial assistance programs or social services
The Warren County Community Services, Inc. is the local community action agency. They have numerous programs as well as services for local residents.
The organization can provide

grants, loans and other financial aid

to help people deal with emergency situations. The WCCS staff may provide families funds that can be used to pay for utilities, rent payments, medical bills and prescription medication.

Counselors and WCC staff members will assists families with

problem solving, counseling

, and referrals to other agencies to help people become self-sufficient. They can even provide information on Ohio's mortgage assistance programs.


Heating and Utility Bill Assistance is offered.

The Ohio Winter Crisis Program run by Community Services provides cash grants and other forms of assistance to eligible households that are currently disconnected, or who may be threatened with disconnection of their primary or secondary heating source. Help is also available for people who have less than a ten day supply of bulk fuel or heating oil. You can only apply for aid once per year. Or learn more on and find help with utilities.
During the hot month in Ohio (and Warren County) there are grants from the

Summer Crisis Program. If you need help with paying your cooling and air conditioning bills during the the hot summer months, the Ohio Summer Crisis Program is an option. The program may provide financial assistance and cash grants to eligible seniors, who are age 60 or older, on their summertime electric bill. You can usually apply around June of each year.


Job Assistance from the Employment Advocate Program is a focus of community action.

Yet another resource offered by Family Services/Community Services is help with finding a job and improving career skills. People can now help unemployed workers maintain, increase or keep their income, and ensure they are becoming self sufficient by overcoming the barriers to employment. The job training and assistance program has information on updating job skills, completing ones education, information on which companies are hiring in the area and where the jobs are and how to apply for them. In addition, addition help is available for:

Improve interviewing skills
Resume advice and development
How to answer difficult interview questions
Develop a 30 second "commercial" on your skills
Resources and tips for searching for jobs on the internet
Networking advice


Weatherization services

are offered too. This is a federal government funded program, and Warren County Community Services (WCCS) Inc., administers this program for local families. They provide weatherization services that assists income eligible residents that live in Warren County, and the goal is to help them reduce energy costs and heating bills by improving the energy efficiency of their homes. The program is free to homeowners. Weatherization provides free energy saving measures such as:

Making minor door and window repairs
Insulating walls, attics, and basements
Repairing or cleaning heating systems
Performing safety inspections and tests of the homes
Sealing air leaks around doors, windows, and other areas of the homes
Wrapping hot water heaters, pipes, etc.
Filling plumbing around homes with foam to save energy
Insulation to a home. This can help reduce energy costs, or find more details on free insulation programs.
Budgeting, financial literacy and debt relief advice

is offered by Warren County Ohio Community Services. It is all part of assisting clients with long term financial stability. There are counselors and other professional that can help with debt.
Call or stop by the main Warren County Community Services office at 570 N. St. Rt. 741 Lebanon, OH 45036, and the phone number is (513) 695-2100 to learn more.
Community Action Partnership of the Dayton Area can also provide various forms of "coverage" in parts of Warren County. The non-profit provides a number of low income programs, self-sufficiency services, housing, and more to the less fortunate. Some of the focus is on heating bill assistance, the Ohio Benefit bank, and other crisis support. Read more on free grants from Dayton area community action.
The Warren Metropolitan Housing Authority (phone number (513) 695-3380) will often get government funding. They then pass the funds to low income households as well as people who have a job but that are still struggling. The address is 990 E Ridge Dr, Lebanon, OH 45036. The grants can be that is to be used to provide rent, prevent evictions, and give housing assistance. There are also section 8 vouchers for the low-income in Warren County.
The rent program offered by MHA was established back in 1991, and the primary goal is to assist the Warren County's families who are facing an eviction. There is also support for people who are currently homeless, and others who seek housing help. They assist families through a two-year program. In addition, the program works closely with local charities and shelters to provide rent assistance, supportive services, and housing.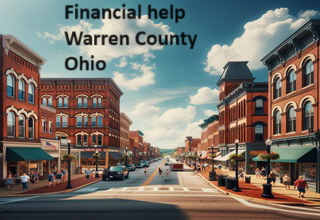 Services offered from the authority include case management, medical bill advocacy, subsidized housing, money management, as well as general life skills classes. The Housing Authority will also focus on employment skills, help tenants find jobs, and access educational training. Contact the housing authority to learn more at 513-695-3380.
This is also generally financial help from the Federal Emergency Food and Shelter Program. Most years funds are provided to Warren County and Lebanon Ohio. The money will be provided to local charity organizations and non-profit groups, and they will use the money to supplement or expand ongoing feeding, sheltering and rent/mortgage or utility assistance in the county. They also help stop evictions, and learn more on how to fight an eviction in Ohio.
The following groups should be distributing the funds to people in need. Contact them to learn more or apply. for assistance. Applications will be processed by the Franklin Area Community Services (call (937) 746-7791), Lebanon Community Services, Interfaith Hospitality Network ((513) 934-5250), Warren County Community Services and New Housing Ohio-Bernie's Place for the disabled (dial (513)554-4567).
Rent assistance, homeless prevention and rehousing programs in Warren County Ohio include emergency rent help; grants to pay utility or security deposits; free motel vouchers; moving cost help and more. There are also homeless shelters and transitional housing programs in the county as well as resources for single moms or veterans. Continue with rental assistance in Warren County.
Society of Saint Vincent de Paul (SVDP) is a national charity that has, from time to time, local assistance programs in Warren County. The charity is mostly operated by volunteers who help the poor, less fortunate, elderly, and those seeing guidance. Based on donations, a number of financial assistance programs, basic needs, or general "guidance" may be offered. Continue to find a St. Vincent de Paul phone number and parish near you.
Free food boxes are available for low-income families in Warren County Ohio. There are pantries, food banks as well as charities that help feed people in the region. Everything from vouchers to produce to a bag of groceries is passed out, and look here for a food pantry in Warren County Ohio.
Kings Local Food Pantry

is located at 83 N Section St, South Lebanon, OH 45065. They have free groceries, holiday food boxes, and information on government benefits in Warren County Ohio, such as SNAP applications. Phone: (513) 494-2692
Liberty Community Services is a non-profit that has help. There is a food pantry as well as social services, with limited funds for bills. The address is 190 New St, Lebanon, OH 45036. Call (513-228-2555).
Warren County Human Services - Job and Family Services is located at 416 S East St #1, Lebanon, OH 45036. Get applications to SNAP food stamps assistance, Medicaid, Work First (TANF) cash assistance which is free government money and more. There are other government benefit programs as well, ranging from emergency grant money to SSI, housing resources and more. Call (513) 695-1420, or learn more on Ohio Work First cash assistance.
Family Promise (Interfaith Hospitality Network) provides a few different housing and homeless prevention programs in Warren County. There is free furniture and household items from Heaven & Hearth Ministry, homeless shelters as well as transitional housing, and a Homeless Crisis Response Program which can give referrals, financial aid, grant money and more. Continue with Family Promise assistance programs in Warren County.
Salvation Army of South Lebanon is another agency to call for help. They may have very limited financial assistance for paying rent, utility, and electric bills, including heating costs during the winter. They can also provide free food and groceries. The non-profit supports the low income and poor across all of Warren County Ohio and nearby regions as well.
Non-financial aid is offered too, such as a thrift store, free clothing, and general case management/job programs. Another focus if the Salvation Army is on seasonal support, and they help students from K-12 (who are from low income families) get free school supplies, uniforms, or even laptops. There are also Thanksgiving turkey dinners, winter shelters to keep the homeless warm, Easter baskets and Angel Tree as well as Adopt a Family. Call 513-423-9452, or read more on Salvation Army assistance programs in Lebanon and Warren County.
Faith Ministries (phone (513) 970-6737) may also be able to help the low income, working poor, and unemployed. Appointments are needed - call first. There can be free clothes, school supplies for kids, boxes of groceries, hygiene stuff and limited financial help. The location is 6315 S, 6315 Mason Montgomery Rd, Mason, OH 45040.
Assistance for senior citizens is arranged by Southwestern Ohio Council on Aging. The non-profit provides some or all of the following programs in Warren County.
Food and meals from home delivery and free Meals on Wheels.

Care Transition for those in a hospital or nursing home.

Applications and help in applying for Medicare or prescription drugs.

Other programs may include Assisted Living Waivers, help for medical bills, rides to an appointment and more. Click here for Agency on Aging SW Ohio.
Free holiday assistance programs - Whether it is Thanksgiving or Christmas, dozens of organizations help the less fortunate. Many free toys, gifts, and presents are passed out in Warren County Ohio. Other assistance includes free hot meals, deliveries for seniors, turkey dinners and holiday events for children. More on Warren County free holiday assistance.
Free

credit counseling, debt reduction, and foreclosure assistance
All of the above financial management issues, and much more, are provided by Consumer Credit Counseling Service. You can call the agency to speak one on one with a credit counselor, or HUD approved foreclosure prevention specialist. They can also advice on such items as bankruptcy advice. Or learn about car loans, and rolling them over as well. Call 513-366-4500, or get more details on rolling negative equity into a new car loan.
Lifespan Credit Counseling (phone 513-868-9220) is another credit/debt counseling agency to try. Free advice on debt reduction, auto loan payment assistance, and other financial services are offered.
Related Content From Needhelppayingbills.com