Assistance programs Sullivan County Tennessee.
Find financial help and places that give free stuff in Sullivan County TN. Local churches, charities, government assistance offices and non-profits offer money to help pay electric bill or rent, grants to pay a mortgage, or give out free food or medical care. Low income families, the elderly, and disabled will get immediate help. Locate financial assistance near you in Sullivan County TN.
In addition, low-income families will access everything from free legal advice from a lawyer in Kingsport TN to dental care, job placement, and other support. There are other free items (household supplies, furniture, Christmas toys) as well as educational and job placement services. In addition, charities can even provide free meals, including at Christmas (with toys) or deliver services to the homebound in Sullivan County.
Grant money to help with bills from community action
Upper East Tennessee Human Development Agency, Inc. is the local community action agency. They offer the following programs and more. Free government grant money for low-income families in Sullivan County, job programs, housing resources and more is offered, including in Blountville and Kingsport TN.
Emergency assistance

- As funding allows the agency may be able to help Sullivan County, pay rent, energy bills, mortgage, or other critical expenses.


Energy bills

- Learn about and sign up for the LIHEAP program, which was designed for low and moderate income households who are in need of assistance to help with the expense that occurs with their utility bills. The type of bills that can be paid include electric, gas, wood, coal, LP gas, kerosene, and heating oil.


Employment and money making resources

- Upper East Human Development focuses on self-sufficiency. They do this using a combination of job programs, budgeting, and even income producing opportunities. As one example, read about raising money by selling plasma, so there are opportunities such as those.


Reduce energy bills

- You may be eligible for the free weatherization program. It helps low income and elderly residents reduce their home heating and energy bills. There are other resources as well to help people save, and look here for free government weatherization near you.


Public assistance

- The local social service agency can direct individuals to government assistance. Some may be offered by the federal government, and other resources are provided by Tennessee. Programs such as food stamps, Medicaid, and other aid is offered. Learn more on Tennessee public assistance.
Emergency Food and Shelter Program

- This federal government funded program assists struggling families or individuals and low income families with providing for special emergency needs for such expenses as mortgage, rental, or utility bill assistance.
Other government benefits and self-sufficiency is offered too. The address is 301 Louis St, Kingsport, TN 37660. Phone: (423) 246-6180. Or learn more on public assistance programs.
Sullivan County Tennessee emergency financial assistance
Bristol Faith in Action - This charity is a so called interfaith resource and referral service. So they administer their own assistance programs, and can also refer people or the homeless in Sullivan County to other local agencies as well as government programs.
They provide free material financial assistance to those in need, including help with housing expenses, food, rent assistance, or money to pay essential utilities including water or light bills. There is also vouchers for prescription medications, bus tickets, and vouchers for gasoline. In addition, the agency also provides social, spiritual assistance, and emotional assistance. Call them at 276-466-8292.
Free motel vouchers help homeless people among others. There are charities, churches, and faith based groups that coordinate a room to sleep for a night or two. These church programs are for a crisis only, and look here for churches that help with motel vouchers near you.
Another option for individuals in need is People, Incorporated. This agency also helps low to moderate income families and individuals.. The agency operates over 30 different social services and financial assistance programs, including health education, child and family education, as well as job finding services.
Other resources range from low cost loans for paying bills to youth development, housing improvement, employment, as well as economic development and community services. There will be free computers for students or adult workers in Sullivan County, clothes, volunteer car repair services and more. Call this non-profit at 276-466-5587.
The Sullivan County Salvation Army (phone 423-764-6156) also provides ongoing crisis and emergency assistance for individuals and/or families in the immediate area. It helps those people that are in need of rent relief, shelter, meals, utility bill help, medication, or food. There are also resources for veterans only, such as local transportation and other services essential for achieving independent living. Or single moms and the elderly in Sullivan County will get help, including funds for paying bills for short term solvency.
The Salvation Army provides seasonal support and case management too. Whether it is free back to school supplies or backpacks, or assistance finding a job or Christmas gifts for kids, help is offered. The address is 137 M.L.K. Jr Blvd, Bristol, TN 37620. More on Salvation Army in Sullivan County.
Kingsport Salvation Army

is located at 505 Dale Street, Kingsport, TN 37660, (423) 246-6671. They are a leading social service agency. Programs include congregate meals, shelter, food, and clothing. Other emergency programs can help make rental payments for people who are at risk of homelessness or eviction without some form of assistance. Other resources include a soup kitchen, temporary financial assistance, and a homeless shelter. Read more Tennessee Salvation Army.
Higher Ground - Jerusalem House is a Christian based organization that helps people of all religions and backgrounds. The charity provides help to local Sullivan County families in the form of education and training. There is , advocacy referral and case management, limited food and financial assistance, counseling, and mentoring. Address is 1625 Lynn Garden Drive, Lynn Garden, Tennessee 37665, phone (423) 247-6776, or more on programs from Jerusalem House.
Colonial Heights Baptist Church provides help to needy families that live in the zip code of 37663 only. The address is 108 Colonial Heights Road, Kingsport, TN 37663. Some of the services include free disposable diapers or baby wipes as well as infant formula, housing, and rent or electric bill help. The church can be reached at (423) 239-5123
Neighborhood Service Center - Kingsport provides Utility Assistance as well as information on local housing authorities. Or get a free box of groceries as well as personal or household stuff. There is also Electric Bill Service Payment Assistance, Outreach Programs, and Referrals. Even learn about a wide variety of low income assistance. Address is 301 Louis Street, Kingsport, Tennessee 37660, call (423) 246-6180
Veterans of Foreign Wars Tommy Miller Post #4933 may have aid for military members and their families. Get free grant money from SSVF, a ride to the doctor or store, bus passes and more. Location is 830 Minga Road, Kingsport, Tennessee 37663, phone 423-323-3919
Central Baptist Church of Kingsport. They have a food pantry at 301 Carver Street, Kingsport, TN 37660, phone (423) 245-6978. The church is involved in providing bags of food for emergency situations for the needy. Meals are delivered to the homebound on Saturday. Get ensure, produce, fresh fruit or vegetables and other items. Any local resident who may need assistance needs to contact the church office for more details.
Rent relief programs and money for a moving deposit is offered. Tenants, the working poor, and vulnerable (including seniors or single mothers) can apply for emergency rent help. Sullivan County non-profits are focused on ending evictions and rehousing the homeless. They assist with past due rent, lease application fees, security deposits, and other expenses. Find help for rent in Sullivan County.
First Broad Street United Methodist Church of Kingsport can help with child care, a food pantry,clothes closet, or furniture. There will be some free small appliances, beds, or couches too. Other assistance is provided through Carpenter's Helper or KCMC. 100 East Church Circle, Kingsport, Tennessee 37660, telephone (423) 246-4471
Free Christmas, Thanksgiving, and Holiday programs - Toys, free meals, gifts for kids, and much more is available. Struggling families can benefit from programs such as Angel Tree or Toys for Tots, and find how to apply for help. Click here free holiday help in Northeast Tennessee.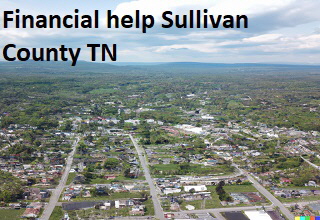 Feeding and food assistance programs - Most of these are run by pantries in Sullivan County or soup kitchens. Families, the working poor, and homeless can get either free boxes of food or even meals. Or they can use a nearby clothing closet.
There are many charities and churches that

combat hunger

. They include

Haven of Rest

(dial (423) 968-2011),

Tabernacle Baptist Church

in Kingsport, and about 15 other locations. Both food pantries, USDA resources and soup kitchens are all available. Find a listing of free food pantries in Sullivan County.
The federal government and state of Tennessee also provide hunger prevention programs. There are free school meals (breakfast or lunch) for kids. SNAP food stamps or EBT cards as well as WIC vouchers also help feed families in or near poverty. Other support is arranged too. Learn more about free school meals.
Free stuff is offered, including school supplies, clothes or furniture. When it comes to other basic needs (such as clothes) then a resident can turn to a charity for help. People should inquire into a clothing or furniture bank or low cost thrift store. Using donations from the community, these centers may offer uniforms for work or school, supplies, free winter coats to children, and much more. Click here Free clothes, furniture and school supplies Sullivan County.
Legal Aid of East Tennessee is a non-profit that may help. The free lawyers at the charity law firm as well as related agency provides consultations to the low-income, elderly and poor. Get free civil legal assistance, help stopping an eviction, landlord - tenant mediation and other services to low income families in the area. Call (423) 928-8311 or 800-821-1312. Look here for more free legal aid lawyers in TN.
Free medical, dental, and health care programs
Healing Hands Health Center, Inc. is a health care clinic. It is a part of Christian ministry that provides free medical, health care, dental, chiropractic, podiatry, hearing and eye care. They also help the uninsured in Sullivan County. The organization also gives counseling to the working uninsured low-income persons of the Greater Bristol Tennessee area. Call 423-652-0260 to learn more or make an appointment. Or find free community clinics in Tennessee.
Information is available on local Sullivan County health insurance and medical bill assistance as well as national resources. Counselors or non-profits help the low income and struggling families get the care they need. There are even more innovative solutions, such as free dental school clinics for kids or adults.
Related Content From Needhelppayingbills.com