Iowa free food banks and pantries.
Low-income families across Iowa can turn to free pantries, soup kitchens and food banks for the help they need. The distribution centers that are near you and listed below, most of which are run by non-profit groups, churches or charities, give out boxes of groceries, serve hot meals, and assist low-income families or people with no money. Find a free food bank or pantry near you in IA.
A number of hunger prevention programs are offered. Based on the location, they can provide free food, groceries, perishable items, free cat or dog food, and other forms of support to residents. There are also free drive thru food banks in Iowa in local communities as well as meals on wheels programs.
Staff and volunteers at the locations can sometimes have other items for clients as well, such as holiday meals, Ensure for senior citizens, infant formula, and more. There will also be food boxes for single moms in Iowa, snacks for kids on the weekend or summer break and other resources offered. Or get information or referrals to government resources such as SNAP food stamps. There also a referral phone number at the bottom of the page for information on other locations that may be near you, including to farmers market that take EBT.
The non-profit food banks also work with other charities across the state. If a location is not near you, people who need help can call the food bank or soup kitchen closest to them to find a distribution center that may be more convenient to them. Many will provide details on other resources and assistance programs that are located in your area of Iowa.
Local food banks, pantries and soup kitchens in Iowa
Several counties in the state also have their own non-profits that help feed struggling families, and select your county or city below. They offer everything from groceries from a pantry to holiday meals, produce or information on SNAP food stamps. These centers only support residents of the county. Or find a list of other pantries as you scroll down the page.
Regional food distribution centers in IA
Food Bank of Iowa is the main Feeding America location for the state. The address is 2220 E. 17th Street, Des Moines, IA 50316. Call 515.564.0330. TThis non-profit partners with charities and food banks across the state, and those locations provide help directly to individuals and families. The counties covered include Adair, Adams, Appanoose, Audubon, Boone, Buena Vista, Calhoun, Carroll, Cerro Gordo, Clarke, Clay, Dallas, Davis, Decatur, Des Moines, Dickinson, Emmet, Franklin, Greene, Guthrie, as well as Hamilton in Iowa.
The non-profit also supports low-income families in the counties of Hancock, Hardin, Henry, Humboldt, Jasper, Jefferson, Keokuk, Kossuth, Lee, Louisa, Lucas, Madison, Mahaska, Marion, Marshall, Monroe, O'brien, Osceola, Palo Alto, Pocahontas, Polk, Ringgold, Sac, Story, Taylor, Union, Van Buren, Wapello, Warren, Wayne, Webster, Winnebago, Worth, and Wright. They work with soup kitchens, pantries, senior programs, and shelters.
Ottumwa Distribution Center is also part of Food Bank of Iowa. The location is 705 W Main St, Ottumwa, IA 52501. Call (641) 682-3403. This non-profit works with churches, soup kitchens, and other aid organizations. They offer boxes of food, meats, frozen items, and more to those other non-profits.
Another location is 2810 1st Ave, Perry, IA 50220. Call (515) 564-0330 for intake.
HACAP Food Reservoir provides support for the counties of Benton, Cedar, Iowa, Johnson, Jones, Linn, and Washington. There is free food, produce from the CSA farm program, Cooking Classes and SNAP outreach. The Feeding America site works with soup kitchens, drive thru pantries and other places to service low-income people. Location is 1515 Hawkeye Drive, Hiawatha, IA 52233. Call 319.393.7811
Northeast Iowa Food Bank main office is at 1605 Lafayette St, Waterloo, IA 50703. The center works with non-profits, charities, and feeding sites in that part of Iowa. Free canned goods, surplus government commodities, and other items are available. People in the counties of Allamakee, Black Hawk, Bremer, Buchanan, Butler, Chickasaw, Clayton, Delaware, Fayette, Floyd, Grundy, Howard, Mitchell, Poweshiek, Tama, and Winneshiek can use the center.
This food bank may be able to provide free food to families and individuals. The distribution center provides crisis, emergency and supplemental food assistance to struggling and low income families and individuals who need help. The free food boxes provided consist of fruits, vegetables, snack items, protein items (such as peanut butter), breads, pasta, soup, cereal, fresh produce, and other perishable items. They also partner with local charities and non-profits. Call (319) 235-0507.
River Bend Food Bank main office is at 4010 Kimmel Drive, Davenport, IA 52802. Dozens of pantries, soup kitchens, and churches in the counties of Bureau, Carroll, Fulton, Hancock, Henderson, Henry, Jo Daviess, Knox, La Salle, Lee, Mc Donough, Marshall, Mercer, Putnam, Rock Island, Stark, Warren, Whiteside, Clinton, Dubuque, Jackson, Muscatine, and Scott use the center. They also help people shop and save on groceries. Call 563.345.6490, or locate coupon sites for groceries.
Another site is the River Bend Food Bank, St. Stephen's Branch. Location is 3145 Cedar Crest Ridge, Dubuque, IA 52003. Call (563) 557-7474. Boxes of groceries, healthy food, and more is distributed.
Food Bank for the Heartland covers multiple states, including Iowa. The address is 10525 J Street, Omaha, NE 68127. Call 402.331.1213. The Iowa counties include Cass, Cherokee, Crawford, Fremont, Harrison, Ida, Lyon, Mills, Monona, Montgomery, Page, Plymouth, Pottawattamie, Shelby, Sioux, and Woodbury.
Neighborhood Food Bank
215 S 4th St., Forest City Iowa 50436. Dial for food assistance - (641) 585-1360
Hawkeye Harvest Food Bank
122 S Adams Ave, Mason City, IA 50401. Call (641) 424-3073
Free food boxes available includes a variety of canned and shelf stable foods. Low-income families, the disabled, elderly and others will get cereal, fresh eggs, frozen meat, tuna, farm fresh produce, and fresh fruit and vegetables as well as pet food.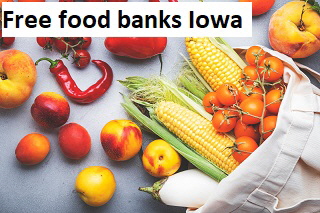 Fayette County Food Shelf
107 E Water St, Fayette, IA 52142. Phone number - (563) 425-3399
Food Bank Of Siouxland Inc.
1313 11th St #1, Sioux City, IA 51105. Call 712-255-9741
Siouxland Community Soup Kitchen Inc.
717 W 7th St, Sioux City, IA 51103. Call 712-255-3577
Hot meals, lunches, and breakfast may be offered. Senior citizens, children, and even the homeless can receive a free meal.
CommUnity Crisis Services
1121 Gilbert Ct, Iowa City Iowa, 52240. Call (319) 351-0128
South Tama County Food Pantry
137 W 3rd St, Tama, IA 52339. Main number is (641) 484-4805
Linn Community Food Bank
310 5th St Se, Cedar Rapids IA, 52401. Phone - (319) 364-3543
One of the main pantries in Iowa. Some of what may be offered includes rice, canned goods, information on government benefits such as food stamps and WIC, and other social services. They also process applications for Nutrition Education and give out free government commodities in Iowa, such as cheese, dairy or milk. There is also a Mobile Pantry.
Oelwien Community Kitchen Cupboard
31 1st Ave NE, Oelwein, IA 50662. Phone: (319) 283-3595
In a crisis, may have some assistance for the unemployed, children, and members of the community.
Mapleton Food Bank
315 Main St., Mapleton Iowa, 51034. Call (712) 881-1128 for information
Free emergency boxes of food may be served. A number of families turn to the center.
Table to Table
1049 US-6 E, Iowa City, IA 52240. Main phone number is (319) 337-3400
The Urbandale Food Pantry
7611 Douglas Ave., Urbandale - Iowa, 50322. Call (515) 251-6688
Get groceries or food once every 30 days for emergency assistance or a crisis. There is canned meat, personal toiletries and free meals for homeless people. Easter, Thanksgiving and Christmas food baskets are provided as well.
Care and Share House
1808 5th Avenue, Council Bluffs Iowa, 51501. Phone number - 712-323-4889
This location is both a free food pantry and also runs a free store with household supplies and other items.
Other Iowa free food banks and places for assistance
The Food Bank of Iowa, Part of Feeding America, is the best organization to call for a comprehensive list of non-profit food banks and charity agencies in Iowa that fight hunger. You can call this statewide agency at (515) 564-0330. They can give referrals to food pantries that may be near you, public benefits including SNAP or WIC, soup kitchen in Iowa and much more.
Related Content From Needhelppayingbills.com