Assistance programs Ogden and Weber County.
Find where to get financial assistance as well as free stuff in Ogden and Weber County. Charities, churches, and the Department of Workforce Services provides immediate help for utility or electric bills as well as housing costs, including rent or mortgage payments. There are free food boxes from pantries as well as furniture from furniture banks, back to school supplies, and other items.
Find assistance with paying bills from the charities and government agencies below or vouchers, including to free furniture banks. There are many options in Ogden area for low income families, and even free social services including credit counseling, legal aid and more.
Get emergency financial help in Weber County
First and foremost, St. Vincent dePaul Resource Center provides emergency hardship grants and other forms of financial assistance. This includes free basic material goods, such as clothes or furniture. Or get financial resources and services to low to moderate income individuals and families. This is part of the regional Catholic Catholic Community Services.
For example, qualified families may be able to receive funds for paying rent, utility bills, prescription medications, and more. In addition, St. Vincent also assists new refugees with setting up and establishing homes and living residences by providing furniture or household items to these individuals. There are also soup kitchens, free food banks and other resources. Dial (801) 394-5944 or (801) 363.7710, or more details on Catholic Community Services assistance programs.
Joyce Hansen Hall Food Bank & Social Services provides financial help as well as free stuff, such as a box of food, clothes, baby formula and more. Rent assistance and housing programs are offered. Families may be able to receive grants as well as utility and heating bill assistance.
In addition to the free emergency food bank, they run a program that is formally called the

Homeless Prevention Services

. Using government and donated grant money, this service

provides rent and utility assistance for those in need of help.
Another program run by the Joyce Hansen Hall Food Bank is of course a free pantry. It provides food aid, and it is located in Ogden Utah. There are help for low-income families, seniors and the unemployed. The food program serves seven counties across the Northern Utah area. While the program is extensive, the bottom line is that the food bank provides grocery baskets for low income families as well as homebound residents.
There are other programs too. They also coordinate local social services and will get referrals. The main address is 2504 F Ave, Ogden, UT 84401. Phone: (801) 428-1292.
The Ogden-Weber Community Action Partnership, Inc. will assist families and individuals of Weber County in obtaining proper nutrition though an on site food pantry. They also offer applications to other government benefit programs, including food stamp benefits in Utah. The community action agency also offers everything from applications to government grant money to job programs, housing resources, and other low-income assistance programs. Call (801) 399-9281.
If you are unemployed or looking to increase your income from a new career, the community action agency

Ogden-Weber Community Action Partnership, Inc.

offers residents several resources. Stop by and receive job counseling, referrals to local companies and agencies and much more. They can also provide job seeking skills, such as practice interviewing and resume reviews. They can even provide transportation (such as a free gas card or volunteer ride), so people can get to an interview or to their first day at work. Dial (801) 399-9281.
Many other free food banks and pantries support the area. There are other locations that offer free food, hot meals and other programs in Ogden and the region. Some of those additional services include, but are not limited too, Thanksgiving and Christmas meals, clothing, and seasonal support such as holiday toys. The elderly can also get free Meals on Wheels. Find Weber County free food pantries.
Families living in poverty or that are struggling, such as from a job loss, can turn to

statewide agencies

too. Case management is combined with emergency assistance. Or locate additional UT food pantries.
Another option may be the Ogden Salvation Army. Call them at (801)-621-3580. People can receive material financial assistance (such as free clothes or furniture), and they may be able to provide grants to families in economic emergencies.
Funds may provide

help with rent or other bills

. Or get emergency assistance with utilities and shelter. Other services from the center include furniture, transportation, counseling, women's residential drug & alcohol rehabilitation, and household products.
The Weber County center also helps kids by offering free school supplies and holiday services, such as Christmas gifts or food baskets free meals from a soup kitchen, a food pantry in Ogden and other support. The address is 2615 Grant Ave, Ogden, UT 84401. Read more information on Weber County Salvation Army assistance programs.
Another charity option for emergency financial aid or free goods may very well be Lanter House / St. Annes Center, and their phone number is (801)621-5036. The Ogden charity helps both the low income and homeless in Weber County. If someone needs financial aid, such as a grant for rent or a security deposit, then referrals are given. Other services from the center include emergency shelter, clothing for work or school, meals, and hygiene items. The address is 269 W 33rd St, Ogden, UT 84401. Call (801) 621-5036, or learn more onlSt. Annes Center.
American Red Cross Of Northern Utah offers disaster services for victims of disasters, such as a fire. Other programs offer services to military families, such as emergency communications, counseling, and financial and credit services to military families. They also run the Utilities Assistance Program to clients with disabilities and the elderly in Weber County Utah. 2955 Harrison Boulevard Ste 204, Ogden, UT 84403, call 801-627-0000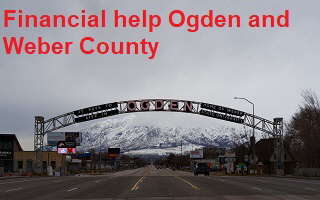 Weber Housing Authority is located at 237 26th St # 224, Ogden, UT 84401. Low-income families, the elderly and disabled can apply for section 8 HUD vouchers as well as homes to live in. They also help with homebuying programs, self-sufficiency, and operate public housing and no-wait list apartments. Call (801) 399-8691
Many similar services are run the the

Ogden Housing Authority

. Location is 1100 Grant Ave, Ogden, UT 84404, or call (801) 627-5851. Or look here for section 8 houses to rent in UT.
Weber HEAT Programs – May have emergency federal government funds for paying heating bills and preventing disconnections. Call 801-394-9774. Or find more information on utility and energy bill assistance in Utah..
Utah Department of Workforce Services (DWS) offers various social and public assistance programs, including SNAP food stamps or an EBT cards. There is also free government money from TANF cash aid, WIC, and low income housing resources. There may also be information on home care, Medicaid, and benefits for the disabled as well as elderly. Call the Eligibility Services Division at 1-866-435-7414. Click here for more details on TANF.
Family Promise of Ogden has homeless services. This includes a home shelter, transitional - temporary housing, as well as referrals to rent or deposit help. People that are homeless, whether adults or single moms, will get the support they need, including clothes, meals and guidance. The charity is at 256 24th St, Ogden, UT 84401. Or dial (385) 298-1081
Free medical and clinical care in Weber County
A non-profit charity organization that provides quality clinical care to people in need is Family Counseling Service of Northern Utah, Inc. The organization will help people regardless of their income, and it offers help to children, couples and families residing in Northern Utah and Weber County. Call ((801)399-1600)
Free government funded dental clinics help the low-income and uninsured. There are multiple centers, dental practices and providers that accept government money, therefore they need to provide free or affordable dental care to all patients. Find details free government dental clinics near you.
There is also help for hospital and medical bills in Weber County. Two places to go to for medical and health care include the McKay-Dee Hospital Foundation (phone (801)387-7183) as well as the Midtown Community Health Center, Inc. (which can be reached at (801)393-5355 and the address is 2240 Adams Ave, Ogden, UT 84401).
Both of these are committed to helping people across the community. They meet this goal by providing free medical care to underinsured and uninsured residents and patients who live in Northern Utah. There are free eye exams in Ogden UT, basic dental care, RX medications and other support. The clinics and volunteers who support these places offer services including treatment for acute and chronic illnesses, regular check ups, and preventive, oral and mental health care.
Related Content From Needhelppayingbills.com