Eviction prevention and rehousing programs Louisiana
Low income families that are facing eviction can get help from the government, non-profits, and other organizations. There are programs to stop homelessness as well as rehouse low-income families. Or locate emergency funds to delay an eviction, legal aid, government grant money for tenants and more. Find eviction prevention programs in Louisiana.
Much of the funds come from Emergency Solutions Grant program. It was created by the federal government and is run in partnership with the state of Louisiana and various non-profit, housing focused agencies listed below by parish. Financial assistance, including emergency rent help for tenants with a pay or quit notice , is available to families on the verge of eviction as well as the currently homeless.
While assistance is available for a number of issues, most of the resources are focused on low income families with children, seniors, the disabled, or even groups such as veterans. The crisis also needs to be unexpected and can't have been caused by the applicant.
Emergency financial help to stop homelessness in Louisiana
The program, also known as ESG, is often combined with the Continuum of Care. Both of them are focused on preventing homelessness in Louisiana. When combined together they may have financial aid in Louisiana, case management, as well as rehousing services available to qualified applicants. While all resources are very limited, some of the components of it are as follows.
Emergency,

one time funds for paying back rent to stop an eviction

. This will only be for qualified low income families with an eviction notice.
Homeless individuals that are on a path to self-sufficiency can be placed into h

omeless shelters or receive a grant

to pay a security deposit on a low income apartment. There are also free motel rooms for homeless people in a crisis.

Free legal aid

is offered in the form of landlord/tenant mediation or attorneys will provide information on the eviction process in Louisiana.
Housing, eviction prevention resources or rental assistance may be offered for

veterans, victims of domestic violence in Louisiana, or the disabled.

Homeowners in Louisiana may also get help. Assistance may be available for completing mortgage modifications or general counseling.
Any funds paid out may be done so in a somewhat shorter time frame. So this is intended to be an emergency program. While the non-profits will try to offer help in the form of a grant, in some cases a loan will be issued to otherwise qualified families or individuals. Regardless, any rental assistance or case management is only available to applicants that are facing imminent homelessness.
Applicants with a disability or mental condition can take part in behavioral health services, medical care, and other services. This is done as the client often needs to address other challenges if they are to find any long term, housing stability. Many other rent and eviction prevention programs are available for Louisiana tenants with a disability. They use vouchers from HUD in order to keep them funding. Locate housing assistance for the disabled.
Veterans in Louisiana can often get help from SSVF, or Supportive Services for Veteran Families. This is another federal government program that is focused on the housing needs of veterans and their immediate family members. Grants may be issued to pay rent, provide transitional housing, or cover the security deposit on a new home. Other components of this include case management. SSVF and the agencies that administer it do what they can to prevent the eviction of a veteran who has served our country.
Louisiana rapid rehousing programs
Lower income tenants as well as homeowners often need an attorney or free legal aid. Maybe the eviction or foreclosure filing was illegal. Or the landlord sent an eviction letter for an issue other than missed rent, such as a noise disturbance. Attorneys in Louisiana also help stop homelessness, and can also mediate solutions with lenders (or landlords), represent people in housing court, and give free advice. More on free legal aid in Louisiana.
The Emergency Solutions Grant program will also provide other support services. Workshops are held on case management and self-sufficiency. This will include referrals to job training and placement services in Louisiana. Also, many of the agencies that offer rental assistance or other support coordinate resources among themselves. Staff will also advocate on behalf of the poor and low income in the state as well, as they try to ensure housing is available to people of all incomes, races, and ages.
Rehousing in Louisiana will help help tenants, or homeless people, with bad credit find a place to live. There are landlords as well as private apartment community, credit rebuild programs, and other resources that will help. They are often combined with transitional services, and look here for details on low income apartments no credit check.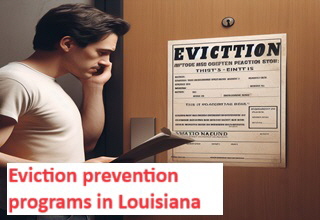 As noted, the resources and number of people that can get helped is limited. All of the funds come from an annual grant from HUD, or the Department of Housing and Urban Development. The amount paid out to Louisiana will change every year, and some charities or non-profits may not even receive funds in a particular year. However, in most cases an organization will still try to refer residents to other rental assistance programs or solutions in their town or county.
Local Louisiana eviction, homeless prevention and security deposit help
A list of the major parishes, towns, and cities are below. Or find other resources at the bottom of the page. A number of government grants are available in Louisiana as well as loans, free legal aid from attorneys and more. Each is focused on stopping evictions and homelessness (including foreclosure and rehousing) in the state.
Shreveport eviction prevention
There are other local agencies as well, as noted below. They help tenants threatened with an eviction in the respective parish or city in Louisiana.
Acadia Parish
Job Center - PJ ASSIST Agency, 11 N. Parkerson Ave. Crowley, LA 70526, dial (337) 788-7550
Ascension Parish
Quad Community Action is at 717 E Ascension St, Gonzales, LA 70737. Phone: (225) 644-8532
Beauregard Parish
June Jenkins Women's Shelter, 202 W 1st St, DeRidder, LA 70634, Telephone - (337) 238-4141.
Victims of domestic violence, single moms, and other homeless or evicted women can get assistance. Shelter, referrals to programs for paying first months rent and other aid is available.
City of Alexandria
Shepherd Center Shelter, 1400 Jackson Street, Alexandria, LA 71301, (318) 448-3752
City of Baton Rouge/ Parish of East Baton Rouge
Capitol Area Alliance for the Homeless, 153 N 17th St, Baton Rouge, LA 70802, Phone: (225) 388-5800
SSVDP - Bishop Ott Shelter is at 1623 Convention St, Baton Rouge, LA 70802, call (225) 383-7341
VOA America House - Housing First, 933 Carolyn Sue Drive, Baton Rouge, LA 70815, call (225) 928-9398. They offer information on emergency rental assistance to tenants facing eviction. Other solutions from VOA include help with placement into a new permanent home, and federal grants from ESG for the security deposit. Some homeless applicants may also be provided free motel vouchers while they wait for a shelter.
City of Bossier City
Providence House, 814 Cotton St, Shreveport, LA 71101, dial (318) 221-7887
City of Kenner
Jefferson Parish Community Development - Address is 1221 Elmwood Park Blvd # 605, Harahan, LA 70123. Main phone: (504) 736-6262.
The government agency partners with HUD and federal agencies on ESG grant money, homeless prevention and rapid rehousing and other housing resources.
City of Hammond
Southeast Spouse Abuse supports several areas in Louisiana, call (985) 542-8384 for details
City of New Iberia
Iberia Parish Homeless Shelter, 307 Robertson St, New Iberia, LA 70560, call (337) 369- 9900
City of Lafayette
Acadiana Cares, 198 Mims St, Lafayette, LA 70501, dial (337) 233-2437
Acadiana Outreach Lighthouse, 625 N University Ave, Lafayette, LA 70506, call (337) 237- 7618. Families, including veterans and the disabled, can receive help with addressing eviction notices and also learn about public aid that may help with unpaid rental expenses.
Faith House, 1453 W Willow St, Lafayette, LA 70506, call (337) 232-8954
SMILE Community Action Agency, 501 St. John Street, Lafayette, LA 70501, dial 337- 234-3272
City of Lake Charles
City of Lake Charles/Southwest Louisiana Continuum of Care's Access Center is at 2001 Moeling St., Lake Charles, LA 70601. Call 337-494-5841 or 337-721-4033
Southwest Law Center, 1011 Lake Shore Dr #402, Lake Charles, LA 70601, dial (337) 436- 3308. Free legal aid is offered from this Louisiana non-profit firm for housing, eviction, and foreclosure challenges. Lawyers work with tenants to stop an eviction or deal with housing discrimination in Louisiana.
City of Monroe
Our House, 205 Smith Ave, Monroe, LA 71203, Phone: (318) 345-5556
The Wellspring Alliance for Families Homeless Office is at 405 Hall St, Monroe, LA 71201. Call (318) 807-6200. They offer free motel vouchers, help families rebuild their credit to rent an apartment, and also have intake forms for emergency eviction prevention support.
City of New Orleans
Community Service Center, 4000 Magazine St, New Orleans, LA 70115, call (504) 897-6277. Homeless prevention services are offered to both working poor tenants and struggling homeowners.
Total Community Action is at 1420 S Norman C. Francis Pkwy, New Orleans, LA 70125. Call (504) 872-0334. The agency may have funds to pay a security deposit or other eviction assistance programs.
City of Opelousas
Lafayette Catholic Services: New Life Center, 411 E Landry St, Opelousas, LA 70570, call (337) 948-3161
Refinery Mission - Opelousas Lighthouse Mission, 704 W South St, Opelousas, LA 70570, call (337) 948-8865
Faith House, 1453 W Willow St, Lafayette, LA 70506, call (337) 232-8954
City of Ruston
Domestic Abuse Resistance Team (DART) helps women facing DV, immigrants and single moms from 108 W Alabama Ave, Ruston, LA 71270. Phone: (318) 251-2255
City of Shreveport
There are a few places for eviction prevention programs to help tenants, the poor and currently homeless. The agencies are noted below.
Providence House, 814 Cotton St, Shreveport, LA 71101, call (318) 221-7887
Christian Services, 1244 Sprague St, Shreveport, LA 71101, phone (318) 221-4857. They help people regardless of their faith. There are several other homeless prevention and rehousing programs in Caddo Parish.
City of Slidell
The Caring Center of Slidell, 125 Kilgore Ct, Slidell, LA 70461, Phone: (985) 646- 1368
Jefferson Parish Council
Metropolitan Battered Women's Program, P.O. Box 10775, Jefferson, LA 70181, 1-888- 411-1333
RHD Catholic Charities/Jefferson Cares. The location is New Orleans, LA 70158-8009. Call (504) 523-3755. Regardless of religion, housing programs are provided. Case managers work with clients on locating and helping them move into low income apartments and applying for financial aid for a rental or utility deposit.
Lafayette Parish Government
501 St. John Street Lafayette, LA 70501. Call (337) 234-3272
Livingston Parish
Women Outreaching Women, 26852 Louisiana 1032, Denham Springs, LA, (225) 665-9100
Many, Town of
Project Celebration, 580 Main St, Many, LA 71449. Phone: (318) 256-6242
St. Mary Parish Government
Chez Hope, Inc., 745 Tetreau St, Thibodaux, LA 70301, call (985) 449-1301
St. Mary Parish CAA, 330 Cardinal St, Morgan City, LA 70380, call (985) 384-7446. Low income housing and other homeless resources are administered.
St. Tammany Parish Government
St. Tammany Community Action Agency, 620 N Tyler St, Covington, LA 70433, Phone: (985) 893-3923. The non-profit receives occasional funding from CSBG and private donations across Louisiana. Loans may be issued for paying housing expenses, and other support includes placement into transitional housing and landlord / tenant mediation to stop evictions.
Terrebonne Parish
Homeless Center - Beautiful Beginnings Center, 300 Bond St. Houma, LA 70361. (985) 580-8105
Related Content From Needhelppayingbills.com