Individual Development Accounts help how-Income families achieve goals.
Find out how saving money in an Individual Development Account helps low-income families buy a home or car, pay for college, education or a computer, and assist with other financial goals. The IDA program is provided by government agencies, bank or credit unions as well as non-profits or charities. Learn how to save money, apply, and get free money from matching funds using Individual Development Accounts below.
Saving money to attend college, buy a home, or start a new business can be difficult for low-income families, single moms and households that live in or close to poverty levels. For individuals who are struggling to pay their bills each month, reaching those long term goals is even more difficult. Opening a matched Individual Development Account (IDA) can help struggling families achieve long term success, and maybe even help them break the cycle of poverty.
What is the IDA program?
IDAs have existed since 1990 as a way for low-income persons to build assets and become financially stable. It can help households build a long-term financial future for themselves, their kids, and their families. IDAs are free matched savings accounts designed to help low-income persons achieve specific objectives within a set time frame, whether it is buy a house, pay for a car or college or home repairs or other goals. In general, the free matched money from the IDA program is intended to help savers increase the ability to become self-sufficient.
The IDA accounts are generally partnerships between government agencies or non-profit organizations, community action agencies and banks. Each dollar the account holder deposits is matched by the sponsoring agency. This makes saving money as part of the IDA program as in effect free money. Matching funds come from local and state governments, foundations, churches, charities, and other sources.
The most common matches from Individual Development Accounts are one to three dollars for each dollar saved/deposited, although some IDAs provide up to five matching dollars. While low-income persons generally have little left over after paying for food, rent, and basic necessities, it does not take much to accumulate a sizable savings amount. In a 3:1 matching IDA, a $25 deposit by the account holder is matched with a free $75 from the sponsor for a total of $100 set aside for future use.
Eligibility requirements for Individual Development Accounts
There are hundreds of IDA programs across the U.S. and each has its specific requirements, obligations, and rules. In general, the following guidelines need to be met.
An IDA applicant must have an annual income below twice the federal poverty level.
Alternatively, some programs will set income levels at 80% of the local area median income.
Applicants generally cannot have more than $10,000 in assets, excluding a home and one vehicle. This varies by program, with some allowing up to $20,000 in assets.
The applicant must have a regular earned income. Wages from jobs are the most common source, but many programs also consider Social Security, SSI, disability payments, and unemployment as allowable income. Money received as gifts does not count as income.
Program sponsors usually check credit history and examine credit card balances to ensure the applicant will be able to consistently deposit at least a small amount into the account.
In general, the guidelines for free matched savings from an IDA program is for low-income households. This can, and often includes, single moms or dads as well as anyone who live paycheck to paycheck and struggles to pay the bills.
How IDAs operate
IDA programs can last up to five years, but the typical savings program runs from one to three years. Sponsors often set a maximum amount they will match during a year. The account holder may deposit more, but those deposits won't be matched.
For example, some IDA program offers a free 3:1 match for up to $1,000 a year for three years. In that example, a person may deposit a total of $3,000 and receive $9,000 in matching funds. (That $9,000 is in effect free money). Then, as noted, that money will need to be used for certain goals such as starting a business or paying for college or job training. Or maybe pay for a car or truck for work or to buy a laptop or computer for online learning or remote jobs. Programs run from six to 36 months.
Match rates are typically determined by the program length and the amount of matching funds available. Shorter programs often have higher match rates. A minimum amount must be deposited on a monthly or quarterly basis to remain in the program. Twenty-five dollars per month is a common minimum deposit. Most programs require that an account be kept open for at least six months.
As an account holder, you will work with an IDA program sponsor to identify a specific savings goal, including the amount to be saved and a purpose for the funds. IDA participants can select one major goal or several smaller objectives. For example, goals might include paying tuition for one quarter at a community college plus paying for college textbooks or tools for a vocational training class.
Individual Development Account holders are required to attend free financial education classes. These may take place in a group, a one-on-one setting, or online. Class topics focus on the basics of saving and investing, debt reduction, taxes, budgeting, and money management. Typical programs include between six and 16 hours of classes. Read more on where to get financial literacy advice online.
Once the financial education classes have been completed and the specified savings goal has been reached, funds can be withdrawn from the account with the approval of the IDA program sponsor. The funds are usually sent directly to the vendor or organization providing the service or product.
Service fees and minimum balance requirements are usually waived for IDA accounts. Account holders receive monthly statements showing the total amount of deposits, matching funds, and interest accumulated in the account.
Having an IDA will not affect Supplemental Social Security Income (SSI) benefits or SSA retirement funds. The money deposited (saved) into an IDA, along with matching funds and interest, do not count as earned income for determining SSI eligibility.
Matching funds from the government or a non-profit are not taxable. The funds provided by the program sponsor are considered a gift rather than income. As such, the account holder does not have to pay taxes on those funds.
What free IDA funds can be used to help pay for
The goal of the IDA program is to provide individuals with an asset that will help to provide future financial stability. Federally-funded IDA programs generally limit the use of funds to three purposes which included buying a home, starting a small business, or paying for a college education or job training.
While an IDA won't generate sufficient funds to buy a home, the funds can be used toward a down payment or to pay closing costs that often total several thousand dollars. This can be particularly helpful for low-income first-time home buyers.
In addition, the non-profits that operate IDAs work to try to help people increase their income or make money, as those funds can saved. There will be everything from gig type jobs, real online work, games or apps that pay people money (or rewards) to use them and more. As at the end of the day, the more money the Individual Development Account participant saves, the more cash they will have for their goals. Even learn about playing games online, using rebate sites on a a smartphone that will pay out. Find real games that pay real money.
Many IDA programs are now funded by states and alternative sources and have expanded the purposes for which IDA funds can be used. For example, some states IDA programs provide a 3:1 match with a maximum of $4,500 in matching funds. Funds can be used to purchase a home, expand a small business, obtain an education, make essential repairs to owner-occupied housing or purchase a vehicle for employment, education, or job training purposes.
Some state or non-profit IDA programs allow low-income individuals with disabilities to save up to $2,000 and receive the same amount in free money from charitable matching funds. Funds can be used to pay for "assistive technologies" needed for any purpose, including independent living, recreation, education, and employment. Assistive technology is broadly defined as any device that maintains or enhances the functional capabilities of the disabled person.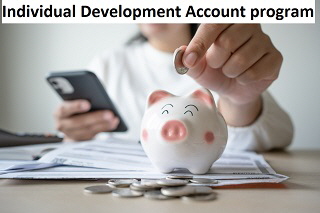 Some programs allow computer purchases, since having up-to-date technology can be critical for success in business and school. At least a few IDA programs allow funds to be accumulated for retirement. In reviewing IDA programs, check to be sure your specific goal is among the objectives supported by the sponsor.
Most IDA programs allow emergency withdrawals from the account when funds are needed to obtain medical care, prevent eviction or pay for necessary living expenses following the loss of a job. Only individual contributions may be withdrawn. Matching funds and interest cannot be used for these purposes. An account holder must usually repay the funds to the account within 12 months, or the person will forfeit all matching funds and be terminated from the program.
Apply for free matched savings from Individual Development Accounts
There are several ways to locate IDA programs. Check with your state agency that administers the Temporary Assistance for Needy Families (TANF) program, which is generally a department of Human or Social Services as many states operate IDA programs via TANF. Each county and state has an application process, and learn more on how to apply for TANF benefits.
Non-profit community action agencies often run Individual Development Accounts in local cities or counties. The non-profit agencies partner with banks and the government on local matched savings account for low-income households. Locate community agencies near you.
IDAs have been successful in creating wealth in low-income communities and moving people out of poverty. National research indicates that IDA participants are 35% more likely to own a home, 84% more likely to own a business, and nearly twice as likely to attend college. Learn more at the Social Security Administration on IDA savings.
Matching contributions typically motivate account holders to make deposits more frequently. As a result, IDAs have created a path for many people to achieve financial goals much more quickly than would have been possible with a standard savings account. Individual Development Accounts continue to provide an effective tool to help reduce poverty and increase housing and employment opportunities for low to moderate-income individuals.
Related Content From Needhelppayingbills.com