Assurance, TracFone, Q Link or SafeLink free cell phone programs.
Find how to get free smartphones, discounted monthly wireless plans and other assistance from Lifeline cell phone service providers including Assurance Wireless, SafeLink, TracFone, Q Link and others. These companies provide free cell phones, internet service, texting and more to low-income families as well as seniors or people on disability. Find how to get help from government approved Lifeline providers, including SafeLink, Assurance Wireless, and TraFone.
Families, including low-income parents, who receive government benefits will automatically qualify to help from companies including Q Link, Safelink and others. In addition to receiving a discount or cheap monthly phone service, there are a companies that may provide a free cell phone to low income families as another component to Lifeline.
The options for consumers include Assurance Wireless as well as one of its major competitors known as TracFone, which provides the SafeLink service. They give out free Apple iPhones, Google Pixel phones, Samsung Galaxy and more, with Apple being the most common option. Look here for details on a free iPhone.
Help provided by Lifeline phone service providers
The federal government manages the program at the national level, but each wireless company has their own terms and condition. Qualified lower income families or those on public assistance (SNAP, Medicaid, Section 8, TANF, etc) may qualify for both a monthly discount on their plan and even a free telephone, so the assistance provided is extensive.
The terms and conditions of each program will vary by each company and every state as well. While the service is mandated by the federal government FCC and the Universal Service Fund and is part of the Lifeline program, each state can slightly modify the terms and conditions if they so desire.
When applying, the Lifeline companies will require proof of eligibility, and the assistance provided will only last for one year at most. Applications are accepted by Assurance, TracFone / Safeline and other providers both online and over the phone. At that time, the household will need to reapply. This is even more of a focus as there has been abuse of these phone programs, and companies such as Assurance Wireless have even put more emphasis on verifying eligibility prior to enrolling people.
The applicant will need to have proof of household income, information on all members of the home, and also any benefits they receive, whether Supplemental Nutrition Assistance Program (SNAP), Medicaid, LIHEAP, or something else. This will always be required before a free cellular phone is issued.
When seeking one of these phones, be prepared with some or all of the following documents. Individuals should have a benefit ID card for any public aid they are receiving or other program participation document, proof of income or unemployment, benefit statements, Social Security information, or an eligibility letter from an authorized agency.
Each household will only receive one free telephone, regardless of how many people live there. Also, they can't get both a landline or wireless unit, so the limit is strictly enforced. However there will be free iPhones or Samsung phones given by the companies, whether Safe Line, Assurance Wireless or another provider. However, some states will allow some leniency on this, such as maybe a person that lives in a homeless shelter can enroll with SafeLink or one of the other providers.
While the government funds this service, the programs from TracFone, Q Link and other wireless companies are not available in all states as the companies focus on certain areas. The carriers can provide the details on exactly how Lifeline works when applying. However, even if say Assurance Wireless does not provide coverage in the county, town, or state where the application is coming from, the family can look into other options such as TracFone. It is more than likely that at least one of these telephone companies will operate in the state in which someone lives.
Senior citizens as well as households that have a disabled member may also qualify with Assurance and SafeLink. As noted, while there is only one phone per home, this can include temporary addresses too. So if an individual is residing in a nursing home or some type of hospital or receiving long term care, they too can apply for a free phone.
Discounts from Assurance Wireless, SafeLink, TracFone as well as a free phone
The service providers will offer other help as well, and this is targeted more on assisting families with their monthly bills. Not only will a household receive a free cell phone (Samsung, Google, iPhone, Android, etc) from Q Link, Assurance, Safelink or TracFone, but they will be enrolled into low cost monthly plans as well. The smart phones may be the latest models too, and find details on Samsung smartphones for free.
Some of the companies may provide free minutes that a customer can use on their cellular phone, unlimited text, or low cost access to the internet too. So the terms of each company, whether it is Assurance or some other company such as Safelink will vary. In addition, many lifeline providers, including TracFone, will give out a free tablet to qualified low-income families or those with kids. Rad more on tablets for free
The payment methods can vary as well. T Mobile offers the Top-Up card to its Assurance customers, and this is a way for individuals to pre-pay for additional minutes or texts on their account. it will help reduce the monthly cell phone bill.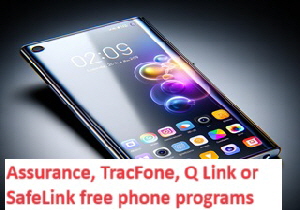 Will the plans can change over time, one example of what is offered is from SafeLink Wireless, also known as TracFone. They have a few different calling plans that customers can choose from, all that have different rates and billing amounts that are due. For many of these options, there are not even contracts required or any fees to activate the phone, so the companies that offer prepaid cell phones and other forms of communication are flexible in what they will offer.
Apply and phone numbers
Each provider has their own application process and customer service number to apply.
To learn more on

Safelink,

call 1-800-723-3546.

TracFone

customer service is at 1 (800) 867-7183.

Assurance Wireless

, which is owned by T Mobile and uses their network, can be called at 1-888-898-4888.

Q Link

is another Lifeline provider, and their phone number is 1-855-754-6543.
Proof of income and other documentation is required, and the customer will also need to reapply every year in order to continue to receive this assistance. However qualified low-income families, or those with no income, will be able to get a free phone, tablet, or cheap wireless plan from this companies such as SafeLink or others.
Related Content From Needhelppayingbills.com