Rental assistance in Snohomish County and Everett.
Everett and Snohomish County programs provide rental assistance to low income families, seniors and the disabled. A number of financial resource are available to pay housing costs. Find help with rent, security deposits or moving costs from churches, government agencies or charities as well as access to affordable apartments with no waiting list. Locate rent assistance near you in Snohomish County.
In addition to receiving emergency rent payment help, many of the organizations can provides funds to pay security deposits or a utility bill. There are also free lawyers for tenants as well as motel vouchers. Or get grant money for first and last month's rent on a new home. The goal of most of the non-profit organizations and government programs is to help people who are faced with an eviction in the Everett and Snohomish County Washington area.
Some of the programs that help with rent or housing needs can include the Washington state section 8 housing voucher program as well, which is also a combined with private landlords who offer apartments to people with bad or no credit. Or find other cash assistance to pay rental or moving costs. Most of these are only available to those that qualify and are in a crisis situation, including section 8 emergency housing today.
Organizations that help pay rent or a deposit in Snohomish County
Everett Housing Authority
Located at 2715 15th St, Everett, WA 98201, phone number 425-258-9222.
The agency offers rental subsidies and income based housing as part of section 8. The public housing authority manages homes, apartments and no-wait list houses for the low income and working poor. Section 8 is available when the waiting list is not in place.
Housing Authority of Snohomish County

provides permanent supportive housing as part of Shelter Plus Care Program (for the disabled). There is also section 8 too. They also have information on shelters and subsidized rent assistance programs in Everett and the county. Location is 12711 4th Ave W, Everett, WA 98204, call (425) 290-8499.
Salvation Army Everett Corps – A wide range of programs, both monetary and non-financial, are offered to help people with no money and low-income families during difficult periods. Services provided by the Salvation Army to qualified applicants include rent assistance, free motel and hotel vouchers, case management, as well as a homeless shelter. There is also financial help in Snohomish County for other expenses too as well as free furniture vouchers for tenants. Address is 2525 Rucker, Everett, Washington 98201, call 425 259-8129
Maryville United Methodist Church
Address: 5600 64th St. NE, Marysville, WA 98270. Phone: 360-659-8521 or (360) 363 – 8300
UMC works with faith based organizations and other nearby churches. The center will also have lists of centers that can help with a crisis, with priority given to renters faced with an eviction. There is rehousing for homeless people or adults, a shelter, emergency rent payment help and other support.
Take the Next Step
They only provide information and referrals. Receive details on local rental assistance programs, low income housing, grants, addiction services, and more. All callers need to live in Monroe, or the Sky Valley area. The address is 202 S Sams St, Monroe, WA, 98272. Dial (360) 794-1022 for details on rent and housing.
Northwest Justice Project - Snohomish County Legal Services provides low income and working poor with eviction assistance from a free tenant lawyer. There is also help with section 8 applications and housing discrimination. For those that meet income levels, lawyers offer free legal aid and representation. Phone number is (888) 201-1014. The address is 2822 Colby Ave Suite 400, Everett, WA 98201.
Lutheran Community Services - Family Center Of South Snohomish County - They will only provide help as part of the Kinship Program. So if a relative is raising another family member, then financial aid or no interest loans may be offered for rent, energy bills, or housing costs. This will be for aunts, uncles or maybe grand parents raising a kid. Call (425) 670-8984. Address is 330 195th St SW, Lynnwood, WA 98036.
ARC of Snohomish County - Clients need to have a developmental disability. Children and adults may get emergency rental assistance. Location is 127 E Intercity Ave, Everett, WA 98208. Call (425) 258-2459.
Domestic Violence Services of Snohomish County
(425) 259-2827
The agency helps mostly women, refugees and children fleeing, or that are surviving, abuse or violence. They offer free transportation to transitional housing or shelters as well as rent or mortgage help. Funds may help pay security or utility deposits as well on a safe home. Or get housing, including second chance homes when evicted in the past.
Holy Cross Catholic Church – A very limited amount of financial support can be provided to Granite Falls and Lake Stevens Washington residents for expenses such as rent. It is an Emergency Needs Program. Address of church is 9613 20th St SE, Lake Stevens, WA 98258. Phone: (425) 334-6817
Pathways For Women – YWCA – From time to time may have limited funds to offer rental assistance when funding is available to prevent families from becoming homeless. Single moms, expectant women and females will get emergency rent help, low cost housing and more from 6027 208th St SW, Lynnwood, WA, 98036, call (425) 774-9843.
Saint Vincent De Paul - Snohomish County Council – Can help meet critical needs. The charity has a Helpine that can be contacted, and a volunteer will take down the callers information. Volunteers will schedule an appointment and determine how SVDP may assist with with rent, money for storage or a deposit or other support.. Note that no type of financial aid for bills, housing, rent or anything is provided over the phone, and Saint Vincent will pay the landlord, property owner or utility company directly.
Based on funding, SVDP in Everett offers furniture (including delivery), assistance for paying back rent to stop homeless or utilities. There are also Snohomish County PUD Project PRIDE applications as noted above. Address is in 6424 Broadway, Everett, WA 98203. Dial (425) 355 - 3504. Or find more details on Snohomish County St. Vincent rent programs.
Community Information Line is a free service. The program is provided by Volunteers of America. Get information on rent grants available today in Snohmoish County or free transitional housing programs. Or learn about motel and hotel vouchers for a place to stay tonight. The center is at 2802 Broadway, Everett, Washington 98206 dial 425-258-4227
Sound Families Project runs a rental and housing voucher program. Working with YWCA of Snohomish County, Catholic Community Services ((888) 240-8572), Housing Hope ((425) 347-6556), and Volunteers of America, there may be low income housing and subsidies for paying rent offered. Other resources include programs for security deposits, self-sufficiency and guidance.
Snohomish County Human Services Department and the HEN program (dial (425) 388 - 3360) provides a variety of homeless prevention solutions. There may be funds for security or utility deposits as well as money for a portion of back rent. All of the eviction prevention is combined with counseling, access to free legal support and help in applying for government grants.
Stanwood Camano Community Resource Center runs a service known as Basic Subsistence - Emergency Financial Aid. They help the poor, unemployed, seniors and others. The agency can offer limited financial assistance for essential services or basic needs, such as rent and housing, for persons residing within the boundaries of the Stanwood-Camano School District. Location is 9612 271st St NW, Stanwood, WA 98292. Phone (360) 629-5257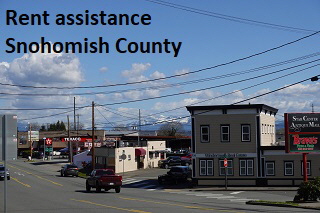 Snohomish County HUD grants for homeless prevention are distributed to local non-profits. The money is provided for rent, utilities, and security deposits. HPRP also provide emergency money for rehousing into low income apartments, and there may be rental deposits or free motel vouchers provided. More on Snohomish County eviction and rehousing help.
Tulalip Tribes of Washington – Provides federal government FEMA funds and cash aid. Can provide rent assistance to tribal members, with focus on Tulalip Tribes Members. Location is 6406 Marine Dr, Tulalip, WA, 98271. Call the non-profit at (360) 651-4580.
Veterans' Assistance Program - Snohomish County Human Services
Location is 3000 Rockefeller Avenue, Everett, WA 98201. Call 425-388-7255
Financial help, including for rent, storage fees, utilities and more is for veterans, their spouses and families. Government grant money will also pay lot rent or a mortgage as well as lease application fees.
Additional Snohomish County government rental assistance programs
DSHS Rental Assistance and the HEN program. This service can provide help for rent as well as utilities and address affordable housing issues in Snohomish County. Dial 211
Snohomish County Government Rent Assistance - General intake is 425-388-7200. If you have a 3 day pay notice to be evicted, then emergency rental assistance may be offered. The program may run out of funds on occasion. They also have information on shelters and transitional housing units
Local DSHS housing program
Each community has a Human Services Office. They help residents only. There are hardship funds for disablled adults, money to pay the rent for low-income families or the elderly and other resources. The phone number is ((877) 501-2233, with addresses below.
DSHS Alderwood Community Service Office – Can offer low income, public assistance, and cash aid. Main office is at 20311 52nd Avenue W, Lynnwood, Washington 98046, (Serving Zip Codes: 98012, 98020, 98026, 98036, 98037, 98043, 98275).
DSHS Smokey Point Community Service Office is at 3704 172nd Street NE, Suite P, Arlington, Washington 98223, phone (360) 794-1350. Can provide public government assistance and housing programs.
DSHS Everett Community Service Office – Offers financial assistance, including rent and housing support. Includes TANF/WorkFirst, Diversion Cash Assistance and other low income housing aid. 840 N. Broadway, Suite 200, Everett, WA 98201
DSHS Skykomish Valley Community Service Office, 19705 State Route 2, Monroe, WA 98272. The government agency may offer emergency rent and housing assistance. The government affiliated agency will also have referrals and information on low income government housing.
Related Content From Needhelppayingbills.com