Rental assistance in Colorado Springs and El Paso County.
Colorado Springs and El Paso County charities, churches and government programs offer rental assistance to a limited number of eligible low income families. Find organizations to apply at for housing programs. Find emergency rent or security deposit help or locate lawyers that offer free legal aid to stop an eviction. Get help with rent near you in El Paso County CO.
A number of low income housing and rent assistance programs are run throughout the region for qualified families, single parents, veterans as well as individuals. There is government grant money for immediate rental relief, funds from charities and help from non-profits in Colorado Springs. There are also short term, transitional housing and apartments that have no wait list. Learn more on transitional living near you.
Low to moderate income tenants, the elderly, and disabled are the primary recipients of immediate rent help in El Paso County CO. Find information on the agencies to call to apply for help, including for section 8 or security deposit grant money.
Get financial assistance to help with paying rent in the Colorado Springs area
Northern Churches Care (Mercy's Gate) offers services to help struggling tenants pay back rent. A large number and wide variety of emergency financial as well as crisis support programs are administered to El Paso Colorado and Colorado Springs residents. The partnership of local churches can help with rental and other housing expenses, such as electric bills.
Mercy Gate only helps with current months rent. A partial payment may be offered. Applicants need to be otherwise self-sufficient, or on the path to it. The charity is also at 4360 Montebello Drive, Colorado Springs, Colorado 80918. Free legal advice for landlord – tenant issues can also be applied for. The phone number is (719) 277-7470.
Community Action Agency – This non-profit, also formerly known as Pikes Peak, can offer rent help. Most of the financial help is for residents "outside the city limits" of Colorado Springs. They refer qualified applicants to other charities and government programs such as ESM for in town rent needs. They can also help with utilities and heating for city residents, with a focus on renters who need utility help to prevent an eviction.
The address is 31 N Tejon St, Colorado Springs, Colorado 80903. Dial (719) 358-8396, hours 8 to 4:30 Mon thru Friday. The agency is formally known as Pikes Peak Community Action Agency. More on housing assistance from El Paso County community action.
Salvation Army, located at 908 Yuma St, Colorado Springs, CO 8090 (phone 719- 636-3891), can offer a homeless shelter, free motel vouchers and emergency rent help, as funding allows. Or learn about case management as well as Housing Placement services from the charity. Transitional housing units and cold weather, emergency shelters are also available in El Paso County.
Westside Cares offers rent assistance to qualified low income families. Hours of the center include 9:30AM — 12:30PM (Monday — Thursday.). The address is 2808 W Colorado Ave, Colorado Springs, Colorado, 80904. People in need to make an appointment for any type of rent or housing assistance. Dial (719) 389-0759
Eastern El Paso Community Center – This non-profit provides coverage to the Eastern portion of the El Paso County - outside city limits of Colorado Springs. Rent assistance, money for security deposits or utilities and referrals are offered. It is part of the community action network. There may also be no-interest loans for deposits and housing needs. The Center Address is 450 Colorado Ave, Calhan, Colorado 80808. Dial 719-347-2976.
Southern Colorado Health Network only helps residents with HIV. Rent as well as energy bill help can assist with housing needs. There is also medical transportation, placement into low-income affordable housing that is also supportive as well as other resources. The location is 1301 South 8th Street, Colorado Springs, CO 80905. Main Phone - (719) 578-9092.
Billie Spielman Center / REACH Pikes Peak. Location is 312 S Weber St, Colorado Springs, CO 80903. Programs focus on Colorado Springs Westside residents. Dial 719-358-8396 for free food and other emergency aid, such as housing and rent. A combination of government grants and other private funds can be used for assisting with rental expenses or a security deposit for a new home.
Colorado Springs Housing Authority - While there is almost always a waiting list, they administer section 8 in partnership with public housing authorities. However immediate section 8 is offered to veterans, seniors and the disabled in El Paso County CO. This low income, rental assistance programs also relies heavily on federal government allotments. The number is 719-387-6700. The address of the PHA for section at can be found at 831 S Nevada Ave, Colorado Springs, Colorado 80903.
Pikes Peak Christian Church also provides social services and assistance for rent to a limited area, and that is the zip codes of 80817, 80911, 80916, 80925, or 80926. The main Housing Program provides services to prevent evictions and the resulting homelessness, with the goal of allowing families to remain in their homes or apartments. Low income, qualified clients are assisted with partial rental assistance. If you apply for rent help and are accepted, both debt and budget counseling workshops are a mandatory component. The main address is 4955 Bradley Rd, Colorado Springs, CO 80911. Call (719) 392-9061.
Home Front, a military network, provides assistance to veterans, their spouses, and kids who are in crisis. Everything from grant money for transportation or rental expenses to legal aid, counseling and more is offered from 1120 N Circle Drive, Colorado Springs, Colorado 80909. Call (719) 577-7417.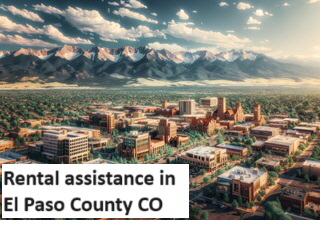 El Paso County Colorado eviction prevention and rapid rehousing combines government grants, loans, and financial aid for paying rent as well as other bills. Tenants and the homeless in Colorado Springs can also apply for motel vouchers, security deposit programs, case management, and other temporary assistance programs for their rental costs. More on El Paso County homeless prevention.
Rocky Mountain Human Services (RMHS), while based in Denver also supports El Paso County. Dial Dial (303) 636-5600. The offer homeless and eviction prevention help. There may be government grant money to help with back rent, the utility or security deposit for a new home, or even money for first months rent. Case management is also offered.
There are multiple churches in El Paso County. Funds for housing or rent are limited. Working poor, immigrants, the unemployed, veterans and others can apply for emergency homeless prevention services. such may be grants for back rent or utilities. There is free furniture for a home, support for women fleeing domestic violence, and other aid too. More on church assistance programs El Paso County CO.
Colorado Springs Housing works with local non-profits, charities, renters, landlords and organizations to provide support. There are classes/workshops on tenant and landlord rights, advocacy services for affordable housing, referrals, and grant information too. Even learn about Homelessness Prevention and Rapid Re-Housing Program. The main address is 702 E Boulder St, Colorado Springs, CO 80903. For information, dial (719) 385-5912.
Tri Lakes Cares offers emergency financial assistance (for housing, rent, mortgages or utilities) in the zip codes of 80132, 80133, 80921, 80840, and parts of 80908. The funds are paid to the landlord and/or utility company - not the tenant. Any financial help for rent or security deposits is first come-served. The address is 235 Jefferson St Ste B, Monument, CO 80132. Or dial (719) 481-4864.
Tri-Lakes Cares: Monument

– Call 719-481-4864. The non-profit offers assistance to residents of the Tri - Lakes area. Limited hours. From time to time there is help with rent for the low-income, working poor, and single mothers among others. The charity is at 235 Jefferson St Ste B, Monument, CO 80132.
Silver Key. Numerous housing and other services are offered to persons 60 and older. The location, which can be reached at (719) 884-2300, may offer funds assistance with paying rent, home maintenance and repair, mortgage help and more. The focus is on senior citizens and their caregivers. Address 1605 S Murray Blvd, Colorado Springs, CO, 80916.
Colorado Legal Service of El Paso County is a free, non-profit funded by the government and donations. The office is at 617 S Nevada Ave, Colorado Springs. Lawyers will work with renters to stop an eviction. Or get free help in applying for section 8 HUD housing, cash aid, or other benefit programs. Senior citizens, families in poverty and others can get free legal aid and consultations around housing issues. Call (719) 471-0380.
Walt Fortman Community Center, also known as Reaches Pikes Peak - Phone number: 719-382-8515. WFCC's Family Stabilization Services (FSS) can help with paying rental arrears, a mortgage and other housing expenses such as repairs and household products. They may also help with moving or storage costs. Address of the non-profit is 501 East Iowa, Fountain, Colorado 80817.
Mt Carmel Veterans Service Center, which is located at 530 Communication Circle, Colorado Springs, CO 80905, only helps active military members or veterans. There are housing programs, including funds to pay for security deposits, moving costs or first months rent. Or get help with budgeting, home buying services, and applying for VA benefits. A major focus is on basic needs of veterans, with housing assistance offered. Call (719) 309-4752.
Related Content From Needhelppayingbills.com