Rent assistance programs in Oklahoma County.
Find rental assistance, security deposit help, and housing resources from government agencies, churches, and charities in Oklahoma County as well as the city. The agencies focus on offering grants, loans or vouchers as part of emergency rent assistance as well as housing resources to the low income, elderly, and disabled in the community. Tenants with an eviction notice or in a hardship get immediate help. Learn how to get help paying rent in Oklahoma County below.
They may have grant money, loans, or direct financial assistance that they can offer for paying back rent. Or OKC agencies may be able to refer individuals to emergency crisis programs such as lawyers to help with evictions or free motel voucher. Find eviction lawyers near you.
Many of the Oklahoma City rent assistance programs and agencies that operate them do have limited funds. They will also have strict income criteria that need to be met before distributing funds. In addition, there is oftentimes a waiting list, especially for the section 8 housing voucher program.
With that being said, every year thousands of low income individuals, senior citizens, disabled, single moms and unemployed individuals do receive support. They can get payment for rent, security deposits, placement into affordable housing and other aid.
Organizations that help with rent in Oklahoma City and County
The Bethel Foundation - Single mothers may be able to benefit from this non-profit organization. The agency can provide temporary housing for single parents and mothers or referrals to rent assistance programs. They can also arrange other necessities in times of struggle. Dial (405) 286-3700 in Oklahoma City.
HEARTLINE - This is a regional non-profit, with a focus on veterans who are close to eviction or homeless. Referrals are given to clients. Programs people facing a short term hardship. The government supported agency provides referrals to loans to renters, supportive services, and home ownership opportunities.
There is also information on SSVF Homeless Financial Assistance Program. This is for veterans (or their families) in Oklahoma County, ESG grants for paying back rent or security deposits, short term loans for families with poor credit and more. An SWCOC-ESG intake form is required. The office is in Oklahoma City, OK 73116, or call 211. If this agency does not assist with housing needs, find other resources for help paying rent.
Catholic Charities of the Archdiocese of Oklahoma City - A number of assistance programs are offered. There is immediate rentAffordable housing is offered for seniors as well as transitional housing and rent help for single mothers. 1501 N. Classen, Oklahoma City, OK 73106, dial (405) 523-3000.
Homeless Alliance - Provides help and guidance to people at risk of evictions/foreclosures and the currently homeless. There may be referrals from the Alliance to resources such as the Continuum of Care or Emergency Solutions Grant Program. These are federally funded and, as funding allows will offer emergency rent help, security deposits, utility assistance, and other financial aid. They can also direct individuals to section 8 housing vouchers. The address is 1724 NW 4th Street, Oklahoma City, OK 73106, (405) 415-8410, or read more Oklahoma City eviction assistance.
Central Oklahoma Community Action Agency - Can provide utility and rental assistance. Homeless shelters are offered at some locations too as well as grants to pay security deposits. Other government benefits may be administered from the non-profit in both OKC and Canadian County. Some clients are issued a interest deferred loan to pay rent or other bills, such as energy. Dial 405-232-0199, or try 405) 701-2120 or (405) 282-4332. There are multiple offices as follows.
319 SW 25th Street Oklahoma City, OK 73109
Another community action center is at 1124 N Douglas Avenue, Midwest City, Oklahoma 73130
Travelers Aid Society Of Oklahoma City, Inc. - This non-profit organization is focused on helping the homeless, low income, people who are traveling and poor. There is also support for people that are stranded in the region. They are involved in assisting clients by providing stabilizing resources, such as housing and rent help, free hotel vouchers or buss passes to meet basic social needs. They also work with families for long term success. The location is 1033 N Walker Ave, Oklahoma City, OK 73102. Dial (405) 232-5507.
The Salvation Army has multiple sites in the county. A number of assistance programs and social services are offered, including emergency rent help, food, furniture, and motel or hotel vouchers. They also help former inmates, provide substance abuse services and shelters, utility help and more. The location is at 1001 N Pennsylvania Ave, Oklahoma City, OK 73107. Dial (405) 246-1100.
Exodus House - People who are being released from prison can find temporary housing, possible money for security deposits and first months rent. 433 N.W. 25th St, Oklahoma City Oklahoma 73103, dial (405) 525-2300
St Lawrence Ministry at Christ the King provides rental and maybe other assistance in a limited area of the churches boundaries. They include Britton to north; Portland to west; Kelly to east; 50th by Western & Penn; 39th Expressway by Portland. - The faith based group may have very limited assistance for paying rent, housing needs, shelter, and more. The address of Christ the King Catholic Church is at 8005 Dorset, Nichols Hills 73120. Dial (405) 842-1481.
Latino Community Development Agency - The non-profit can provide transitional housing or financial assistance for immigrants, Latino, and Spanish speakers in Oklahoma City. There is rent help, job programs, funds to pay for moving and more for clients, including homeless families fleeing domestic violence situations. Legal support and other aid is available as well. Location is 420 S.W. 10th Street, Oklahoma City, 73109. All applications are in Spanish and English. Call (405) 236-0701
Carolyn Williams Center (dial (405) 604-9442). Services available include Transitional Living Program for homeless young men ages 18-24. There may also be charge due from clients. This can include $100.00 for paying a security deposit, $175.00 monthly program fee (includes utilities and food). Other resources from the center include a Case Manager and Resident Manager on Site, Individual furnished bedrooms, community living environment, and also health and social service referrals are provided.
Neighborhood Services Organization - Call for a variety of housing assistance programs, including permanent housing for the mentally and chronically ill, transitional living and rent assistance for families who are homeless. There is also help for those that are now living in shelters.
The non-profit also provides transitional housing for homeless pregnant mothers, and low income housing for homeless young men ages 18-24. They are also a church / faith-based organization that offers both rent and housing solutions and teaching skills to transform lives. Address is 431 S.W. 11th ST, Oklahoma City 73109, ( (405) 236-0452
Hope Center of Edmond is a charity at 1251 N Broadway,, Edmond, Oklahoma 73034. Tenants with an eviction or disconnection notice may get help. Limited grant money, referrals, budgeting help or more aid may be offered. Call (405) 348-1340.
Legal Aid Services of Oklahoma assists with civil legal matters. Services can help with security deposits disputes or illegal or unneeded evictions. Get advice on preventing evictions and homelessness. Tenant / landlord mediation may be provided for rent issues and they also address housing discrimination. The pro-bono firm is at 3800 N. Classen Blvd., Oklahoma City, OK 73118. Free eviction defense is offered too. Call (405) 557-0020.
Saint Vincent De Paul society - There are multiple parishes in Oklahoma County. A number of resources, including rental assistance be available. The OKC churches offers other financial aid too, around housing, eviction help, and homeless prevention services. Or get free furniture, information on job programs, vouchers for gasoline or hotels and more. Call a SVDP for information on rent help or grants.
St Monica Catholic Church is at 2001 N. Western Avenue, Edmond, OK 73012-3447. Dial 405-341-8128
St. Thereda of Avila is at 1576 Tom Holt Drive, Harrah, OK 73045. Phone number for this SVDP parish, which may have funds is at 405-343-2938. The zip codes of 3020, 73045, 74851, and 74857 are supported.
Saint Charles Borromeo Catholic Church is at 5024 N Grove, Oklahoma City, OK 73122. For details, dial 405-445-0414
St. Francis SVDP of Assisi is at 1901 NW 18th, Oklahoma City, OK 73106. Call 405-602-8909
St Vincent - St. Eugene of OKC - 2400 W Hefner Road, The Village, OK 73120. For information on services, dial 405-751-7115
St John the Baptist Catholic Church
They only help low-income families in the parish area. 42 E 9th Street Edmond, OK 73034. Call (405) 216-7554
Only services income qualified people in the parish area. After an interview, the charity may have emergency funds or loans may be issued for paying rent. aid includes information on low income housing, security deposit programs, and other housing solutions.
Oklahoma City Housing Authority - Provides section 8 housing rental assistance for elderly, low to moderate income families, people who lost jobs and have side hustles. There program will also offer information on home ownership opportunities and self-sufficiency, emergency section 8 programs, and loans for buying a house, including rent subsidized no-wait list homes. The PHA is at 1700 NE 4th St., Oklahoma City OK 73117. Dial (405) 239-7551. Or learn more on OK section 8 housing authorities near you.
Oklahoma County DHS offers cash aid and referrals to homeless prevention/rehousing programs. The TANF cash aid can help pay rent, mortgages or utilities. There is also disability grants, funds for the elderly, and other temporary help from 7201 NW 10th St, Oklahoma City, OK 73127. Any financial aid or cash assistance is limited. Call (405) 470-6200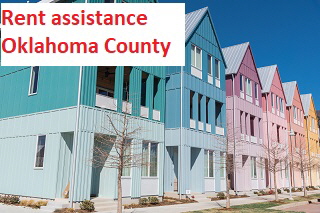 Oklahoma Housing Finance Agency - Assists homeless individuals and families with special needs, and helps people obtain rental assistance and section 8. The office is at 100 N.W. 63rd, Oklahoma City, Oklahoma 73126-0720, (405) 848-1144.
Upward Transitions, Inc. is at 1134 W. Main Street, Oklahoma City, OK 73102. They help the homeless and poor find, and pay for, apartments, housing, and a place to live. There is also case management, security deposit or funds for months rent help, identification for immigrants or the homeless and others. A major focus is on single mothers and people facing violence. Call (405) 232-5507.
YWCA - Women and children who are victims of domestic violence can access short term or transitional housing. the charity is at 2460 W. I-44 Service Rd, Oklahoma City OK 73112. Call (405)948-1770.
City Rescue Mission (dial (405) 232-2709) can provide a few services. There is a homeless shelter as well as emergency meals or food. Once clients are stabilized, they can get funds to pay rental or utility deposits or help with moving. There are also showers, mailboxes and other support from 800 W California, Oklahoma City, OK 73106.
Oklahoma Indian Legal Services - Low income Native Americans can receive free legal support. Programs can deal with housing and tenant issues, including discrimination, unsafe living conditions, as well as eviction prevention support. They support the city and greater Oklahoma County region. (405) 943-6457..
Oklahoma Housing Foundation advocates to help address affordable of housing, apartments, and fights poverty. The non-profit is at 9807 Broadway Ext, Oklahoma City, OK 73114. Phone: (405) 848-9944
Other Oklahoma County agencies to call for rent assistance
The following churches, non-profits, and charities may also all offer emergency funds to pay rent and/or security deposits. All support is limited. But the social services help struggling residents of the county.
Jesus House - 1335 W Sheridan, Oklahoma City, OK 73106, (405) 232-7164
St James the Greater Catholic Church - 4201 S McKinley, Oklahoma City, OK 73109, (405) 636-6804
Related Content From Needhelppayingbills.com