Eviction prevention programs and rehousing New Jersey
New Jersey families facing an eviction will get help from non-profits, charities and government agencies. There are programs ranging from hardship grants for back rent to free lawyers for tenants, security deposit money and more. There are many homeless prevention and rehousing programs. Find how to stop an eviction in NJ near you below.
Federal government agencies, non-profits and The Department of Community Affairs partners with organizations across the state to offer various Eviction Prevention services. In addition, individuals that are currently homeless are another focus and they to can receive assistance from the Rapid Re-Housing Program. There are several resources listed below by city and county that are offered to qualified applicants, including one time emergency rent assistance, free government grants or legal aid. For those seeking a new home or apartment, they can get help with paying for moving costs or a security deposit
Emergency financial help for families with an eviction notice
Grants and financial assistance is offered. Both of the programs rely heavily on grants from the federal government Housing and Urban Development Department (HUD), United Way in NJ as well as private donations. The homeless prevention services are an option for both tenants and homeowners as well, provided they meet a number of conditions.
Applicants need to have an eviction or pay or quit notice from their landlord or property owner. Or they need to be facing a foreclosure on their home. Income conditions have also been established by the New Jersey Department of Community Affairs.
When it comes to preventing an eviction or foreclosure, the state will try to help as many individuals, single mothers in NJ, immigrants and families as possible. However, in reality, the demand for assistance is high and many people either will not qualify or funds may run out. Priority will tend to be for those residents that would be most at risk without safe and affordable housing. Therefore, households with young children, the elderly or disabled will often take priority for any government grants to stop or delay an eviction.
The New Jersey non-profit agencies that process applications and disburse funds will provide payments directly to the landlord or mortgage companies. Depending on many factors, the payment made from the state for rent or a partial mortgage payment may be in the form of a loan. This means the participant will need to repay the money over time. Some other clients may receive assistance for their housing needs in the form of a grant. In either case, the applicant needs to be in imminent danger of homelessness.
The application procedure is extensive. Eviction help as well as rehousing in New Jersey is focused on tenants with a short term situation that can pay their housing costs on their own in the future. Case managers will need to be able to ensure that the family will be self-sufficient in the future. When qualified, an agency will review the process with the applicant, and find how to apply for rental assistance to stop the eviction.
As part of this entire process, the non-profits that oversee these various housing programs will explore all options. They will offer resources to prevent homelessness. They work with the state to help those that qualify apply for the Section 8 Housing Choice Voucher Program or maybe the SRAP - State Rental Assistance Program.
Other services to stop an eviction that may be available include free legal aid, ongoing case management, referral, employment assistance and more. Whenever possible, there will be loans issued or other forms of financial support for rent and housing expenses. Or if the eviction can be stopped by mediation, then lawyers can offer guidance. Locate free legal assistance programs in New Jersey.
Tenants and Homeowners in NJ can both benefit. There are several mortgage assistance and free foreclosure prevention programs in New Jersey as well. The energy bill programs, which can be for both owners and tenants, include Universal Service Fund, the New Jersey Home Energy Assistance (HEA & LIHEAP), as well as weatherization.
New Jersey rehousing programs
Another option is the Housing and Urban Development support HPRP - Homelessness Prevention and Rapid Re-Housing Program. While this can also help with emergency housing costs, another main focus is on placing individuals or families into shelter or a transitional housing unit.
For those that are in a short term transitional housing center or apartment, case mangers from a non-profit that are part of HPRP will offer them case management. This will include financial workshops, help with finding a job, educational resources, and other self-sufficiency. Free motel vouchers will also be offered in New Jersey to families that were evicted. The goal is stabilization.
There is also housing for people with a past eviction. This is part of part of rapid rehousing in New Jersey. A number of private landlords offer so called second chance properties, help people with bad credit find a place to live, and work with the state as well as non-profits on offering apartments. Find second chance apartments near you.
After that occurs, the case manager will work with the individual to help them find a low income, permanent home or apartment in New Jersey. As part of this, there may be grants from the New Jersey Department of Community Affairs that can be used to pay the first month's rent or a security deposit.
Local non-profits for Homelessness Prevention or Rapid Re-Housing in New Jersey
Find a county below for local eviction as well as homeless prevention assistance programs. In addition, there are more agencies listed below work with the Department of Community Affairs on these programs. As noted, there may be waiting lists and financial aid is very limited.
Atlantic County
Catholic Charities, Diocese of Camden
Address is 810 E Montrose St, Vineland, NJ 08360. Call (856) 691-1841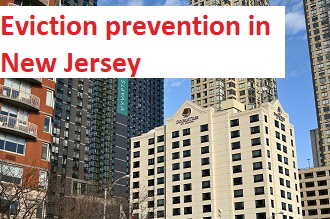 Bergen County
Bergen County Community Action Partnership, Inc. - BCCAP
Location is 392 Main St, Hackensack, NJ 07601. Dial (201) 968-0200
For more information on the programs administered, call the non-profit community action agency. A number of homeless prevention, mortgage, and legal programs are offered.
Burlington County
Community Action Program
Chelton Ave, Burlington, NJ 08016. Telephone number is (609) 239-4008 or (609) 386-5800
Camden County
Center for Family Services, Inc.
584 Benson Street
584 Benson St, Camden, NJ 08103. Phone: (877) 922-2377 or Call (800) 331-7272
Get information on housing programs and homeless prevention. Priority is for single parents and tenants with children. But eviction help may include emergency money for rent or placement into hotels/shelter.
Cape May and Cumberland County
Catholic Charities, Diocese of Camden
Main office is 810 E Montrose St, Vineland, NJ 08360. Dial (856) 691-1841
Essex County
Catholic Charities of Newark
37 Evergreen Place East, Orange, NJ 07018. Phone (973) 266-7991.
Various emergency services are offered, including transitional housing or information on rent and security deposit programs.
Gloucester
New Jersey Department of Community Affair
Location is 101 South Broad Street, Trenton, NJ 08625. Call (609) 292-6420 or (609) 292-2269 for intake.
Hudson County
Bayone Economic Opportunity Foundation
555 John F. Kennedy Blvd, Bayonne, NJ 07002. Call (201) 437- 7222
There are other resources available as well for stopping evictions.
Hunterdon
Family Promise - Interfaith Hospitality Network of Hunterdon County, Inc. IHN of Hunterdon
Address is 8 Bartles Corner Rd STE 11, Flemington, NJ 08822. Phone (908) 782-2490
Mercer
Homefront, Inc.
1180 Princeton Avenue, Lawrenceville, NJ 08648. Call (609) 989-9417
There is also a homeless hotline in the community.
Middlesex
Puerto Rican Association for Human Development (PRAHD)
Address is 100 1st St, Perth Amboy, NJ 08861. Phone: (732) 442-1081
If this agency can't assist, they may offer referrals to both non-profits as well as government resources.
Monmouth County
Interfaith Neighbors, Inc.
810 Fourth Avenue Asbury, Park, NJ 07712. For information, dial (732) 775-0525
Staff from the non-profit will work with tenants on stopping evictions. This can be accomplished through legal aid or landlord mediation. The agency may also have emergency funds for back rent, applications to government benefits, or they can refer families to loan programs or other sources of financial aid.
Morris County
NORWESCAP
The main office is at 350 Marshall Street, Phillipsburg, NJ 08865. Call (908) 454-7000
Ocean
Ocean Community Economic Action Now, Inc. (O.C.E.A.N., Inc.)
Address: 40 Washington Street, Toms River, New Jersey 08753. Dial (732) 244-5333
A combination of grants and legal aid is also available to low income tenants in New Jersey.
Passaic
Catholic Family and Community Services
Address is 435 Main St, Paterson, NJ 07501. Phone: (973) 279-7100 or Call (973) 279-7100
Depending on availability of HUD grants, emergency housing, rent, and case management services may be offered. A focus is on preventing evictions in the county.
Salem County
Catholic Charities, Diocese of Camden
Address: 810 E Montrose St, Vineland, NJ 08360. Phone (856) 691-1841
Somerset and Sussex County
NORWESCAP
The community action agency also support this county, and the location is 350 Marshall Street, Phillipsburg, NJ 08865. Dial (908) 454-7000
Get emergency grants to delay an eviction, referrals to free legal services in NJ, and rapid rehousing. A number of housing programs are for struggling, low-income tenants.
Union
PROCEED, Inc.
Main address is 1126 Dickinson St, Elizabeth, NJ 07201. Call (908) 351-7727
While a focus is on offering housing assistance for immigrants, there is help for low income and homeless regardless of their race. This can include everything from grants to pay a portion of a security deposit to case management and advice.
Warren County
NORWESCAP
350 Marshall Street, Phillipsburg, NJ 08865. Dial (908) 454-7000
Related Content From Needhelppayingbills.com