Assistance programs New Hanover County North Carolina and Wilmington.
Low-income families, disabled adults or senior citizens will get help with their utility or electric bills, rent or housing expenses, and other basic needs in New Hanover County NC. Find a list of churches, DSS social service offices in Wilmington, or charities to apply at for grant money or loans. The financial assistance also includes free stuff such as food from pantries, clothing for work, medical care and more. Get financial help near you in New Hanover County NC.
Children and students in the county will also get help during the school year and holidays. Charities in New Hanover County provide free back to school supplies along with snacks to eat during the summer or Christmas toys. Or learn about making retirement savings last, budgeting, and saving money as many retirees live in the county. Those resources are listed below as well.
Find emergency financial help and free stuff
Housing and rent grants are distributed yearly. The federal government allocates funds to local community organizations and charities to distribute the money to those in need: They generally include The Salvation Army (phone (910) 762-7354), Brunswick Family Assistance Agency, Pender County Housing, The A.M.E.Z. Housing Community Development Corporation (call (910) 815-3826), and The Good Shepherd Center (dial (910) 763-4424).
These federal government dollars will help low and moderate income families who live in New Hanover, Brunswick, and Pender counties. Housing and Urban Development resources help pay their rent, security deposits, and utility bills. Read more on Housing and Urban Development resources.
The program, as funding allows, will provide temporary help with rent and also utility bill assistance. There are also grants for both security and utility deposits, credit repair and counseling, limited moving assistance, and hotel and motel vouchers for up to 30 days.
Additional rental and deposit assistance is offered. Families facing homelessness or evictions can turn to charities or non-profit agencies in Wilmington and across the county. They may offer either loans or other forms of emergency financial aid for paying housing expenses such as security deposits or rent arrears. Locate more on New Hanover County rental assistance information.
The New Hanover County Community Action, Inc. helps fight poverty. Call them to learn about services and resources they offer low income families or individuals. They from time to time may be able to offer grants and financial assistance for paying rent and utility bills. The community action agency is also a great non-profit to call to learn about North Carolina and federal government assistance programs. Some of the other services they offer include GED Services, Early Childhood Education, Community Services Block Grant. The location is 527 Red Cross St, Wilmington, NC 28401. Phone: (910) 763-0056
The New Hanover County Salvation Army is another non-profit that offers limited financial help. There is also worship programs, free food, clothes, school supplies and other financial aid. The location supports the needy in several counties in the southeastern North Carolina region, including the city of Wilmington.
Some financial assistance may be offered (for rent, utilities, or medications) but most of the services are for other basic needs, such as food, free Christmas assistance, toys, and clothing. Case workers will work with clients as well, and even offer them job finding programs or educational supplies, including school items such as free backpacks to students or clothes. Learn more on Salvation Army in Wilmington.
New Hanover Catholic Charities operates across all of the southern and eastern part of the state. A number of emergency and financial assistance programs are offered for seniors, the low income, single mothers and poor. In addition, access social services and employment type programs.
Some examples of what is offered includes money for paying rent or electric bills, free food, and basic needs such as clothing. They also partner with many churches and charities in the region. Other Wilmington North Carolina area programs include immigration assistance, thrift stores and clothing closets, food pantries, diapers, and general case management. Continue with churches churches in New Hanover County.
Help Center of Federal Point is for Carolina Beach or Kure Beaches only. Call (910) 458-2777. The non-profit offers help for paying rent, utility bills, and limited medical assistance. Free gasoline vouchers and transportation is also offered. Other support is available for holidays such as Thanksgiving or Christmas. They will also have free clothes for kids or adults. All resources are limited.
First In Families focuses resources on households with members having developmental disabilities. Small cash grants can help pay utility bills, rent, prescriptions, and more. Case management, counseling, and referrals are also available for families. They can help New Hanover County families apply for SSI grants or homecare services too. Address is 5041 New Centre Drive, Suite 109, Wilmington, NC 28403. Telephone number - (910) 350-2737. Or find other assistance for applying for disability payments.
Low income families (with children) and senior citizens can apply for free holiday assistance. Many non-profits and churches in the Wilmington area offer Christmas toys, gifts, meals, Thanksgiving turkeys, and other items to families living in or near poverty. Locate free holiday help in New Hanover County.
WIHN - Wilmington Interfaith Hospitality Network focuses on housing and meeting basic needs. Resources include shelter or short term, transitional housing. The staff at the faith based charity also partner with the client on stability or finding affordable apartments to move into.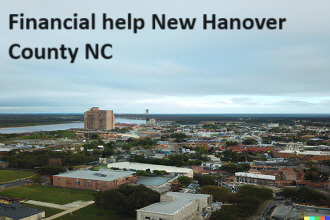 There is information on

private landlords who rent to families with a low-income or bad credit

. While additional up front funds may be needed in the Wilmington area, tenants can still rent an apartment as they work to improve their credit. Learn more on private landlord houses for rent near you no credit check.
Other resources are offered as well, with limits in place. Continue reading Wilmington Interfaith Hospitality.
The United Way is a place for referrals. The have a hotline (which has a phone number of 211) that residents can call to learn about free food pantries, rent help, medical care, health insurance applications sites, free car repairs in New Hanover County NC and more. They also discuss job training, housing and debt programs. However there are many other free resources for anyone in the county, and find details on 211 from United Way.
Financial aid for paying water bills is offered in the county. The utility providers may offer payment plans or qualified low income customers may receive grants from local charities or non-profits. These are emergency resources for Wilmington area families that have otherwise been self-sufficient. Funding is very limited as the water bill programs often rely on donations from the community, and payment plans are only provided for a small number of qualified households. More on water bill programs in New Hanover County.
New Hanover County Department of Social Services runs federal government and state of North Carolina assistance programs. The office will try to help satisfy New Hanover County citizens and their basic needs. The location also has programs for children, such as free food and clothes.
Or apply for assistance such as Medicaid, Women's Infants and Children (WIC), SNAP food stamps, low income energy bill assistance and other aid. Unemployment and welfare is also run from 1650 Greenfield Street, Wilmington, North Carolina 28402-1559. Call (910) 798-3400, or read more New Hanover social services.
Wilmington Housing Authority processes Section 8 applications, which there is often a waiting list for. The federal government funded program will provide safe, decent, low priced and sanitary housing for very low income qualified residents and senior citizens.
The program covers all of the county as well, with rent subsidized homes available. The program will pay for a portion of your monthly rent and is offered in partnership with the U.S. Department of Housing & Urban Development. Call (910) 341-7700, or find section 8 housing choice vouchers in North Carolina.
Free food assistance and grocery programs
Call these Wilmington area charities and non-profits for free food. There is also groceries, Ensure for seniors and possibly grants such as SNAP. Or learn about other government assistance programs and services. Many also offer holiday meals and assistance.
Basilica of Saint Mary - Tileston Outreach.

Address is 412 Ann St, Wilmington, NC 28401, 910-762-5491

Jesus Ministries

, 6763 Market St, Wilmington, NC 28405, call 910-791-7002.

Mother Hubbard's Cupboard

, Grace United Church. Address is 401 Grace St, Wilmington, NC 28401. Phone: (910) 763-5197.

Good Sheppard Ministries

, 811 Martin St, Wilmington, NC 28401. Call 910-763-4424
There are many other programs that can offer free groceries and meals, including some that coordinate home delivery for senior citizens. They range from pantries to free hot meals from soup kitchens. Find more New Hanover County free food banks, including locations in Wilmington.
Free dental/health and medical assistance in New Hanover County
Government programs, including for dental implants or teeth replacements, are available. A focus is on helping people that have a need for employment or medical reasons, and cheap or free implants (from government grants or non-profits) will be offered. More on free government grants for dental implants.
Several free medical as well as dental clinics and facilities in the Wilmington or New Hanover County region help low-income families, seniors, and the uninsured. They provide access to free or discounted medical and dental care. Those are just a few of the resources available. There are many other dental clinics in North Carolina as well as low cost medical care services.
St. Mary Health

- Free or income based dental and medical care is from 320 S 5th Ave, Wilmington, NC 28401. Phone: (910) 763-8163

NH Regional Medical Center -

Vita Line 910-815-5188 or 888-815-5188

Northside Medical Clinic

, Address is 925 N 4th St, Wilmington, NC 28401. Phone: (910) 343-0270
NHC Health Department

offers immunizations, vaccinations, STD checks and more. Call 910-798-6500.
Education, job finding and employment services
There are several listed below. But New Hanover County also has many retirees moving into the region, and older adults often want less stressful work to make a few dollars or work part time. There are at home jobs for them, freelance positions as well as other opportunities. Find less less stressful jobs for senior citizens.
Cape Fear Community College

, 411 N Front St, Call 910-362-7000

NCWorks Career Center - New Hanover County - Employment Security Commission & Job Free budgeting, investlink

- Veteran's services, job search and unemployment compensation and more. Call 910-251-5777
Free budgeting, investing and other workshops are held in Wilmington NC. They help people learn how to save, spend money, and even some classes focused on senior citizens who are on social security or those living in retirement. Find more details on making retirement savings last.
Debt help and foreclosure assistance
Consumer Credit Counseling of Wilmington North Carolina provides extensive services. They are a HUD approved agency that provides services for homeowners, individuals and families to achieve financial well-being. There are also programs to help people facing a foreclosure, and learn about North Carolina foreclosure programs,
Additional credit counseling programs offered include education, debt management, assistance with car loans, and foreclosure avoidance plans. They also offer debt relief for credit cards, and learn how to stop debt collectors in North Carolina. Debt and housing counselors can be reached at 1-800-388-2227.
Related Content From Needhelppayingbills.com