Free dental clinics Michigan
Find how to get free or cheap dental care in Michigan. There are services for adults, children, disabled and the uninsured in the state. The government qualified, non-profit and pro-bono organizations provide numerous services including root canals, teeth extractions, cleanings, X-Rays, dentures and other free or affordable dental help. Locate free dental clinics that are near you in Michigan for low-income families and people with no insurance..
While many of the Michigan clinics focus their care on the low income, unemployed, working poor, uninsured, and people with limited health insurance, the fact is most people will not be turned away. There is also free dental in MI for patients on Medicaid or Medicare. So that means if you call or stop by a dental clinic for assistance, then the center as well as dentist on staff will do what it can to meet your needs. They offer everything from free dental cleanings to extractions, wisdom teeth removals, root canals, extractions, fluoride and more.
In addition to providing help, the dental clinics can also direct people to other options, such as government insurance and medical programs. There are also colleges and dental schools that provide free care to the low income. A phone number for locations of other dental clinics near you is at the bottom of this page.
Local Michigan dental clinics near you
Several other free community clinics and dental centers are located in counties and towns across the state. They offer free or low cost dental care for local patients. Find information below on how to get free dental care near you. Or scroll down the page for more resources.
Big Rapids Clinic - MCDC Community Dental Clinic Inc
Address is 14435 Northland Dr, Big Rapids MI 49307. Main phone - 866-796-3677 or (231) 796-3617
The low income, uninsured, homeless, seniors on Medicaid and poor can get help. Everything from free dental care to classes or oral hygiene, restorative treatment, extractions and more is offered. A sliding fee scale is in place. Locate a free dentist that takes Medicare
Bay Mills Indian Community - Ellen Marshall Memorial Health Center
12455 W Lakeshore Dr, Brimley, MI 49715. Dial 906-248-5527
This is a full service dental clinic for the local community, with a focus on Native Americans. Some of the programs and details of dental aid offered includes check ups, cleanings, sealants, root canals, crown and bridge work, extraction, jaw problems, and more.
Henry Ford Macomb Health Center
30795 23 Mile Rd, Chesterfield MI 48047. For clinic hours, dial 586-421-3000
A non-profit, charity runs this center. Whether it is medications, immunizations, or dental, assistance is given as well as referrals. Clinic offers Root Canal Therapy, Sealants, Teeth extractions, lab work and more. There is also free food and medical supplies.
Presbyterian Health Clinic Of Branch County
15 Church St, Coldwater MI 49036. Dial 517-278-6068
Fort Street Open Door Medical Care
Address is 631 West Fort St Presbyterian Church, Detroit Michigan 48226. Phone 313-961-4533
The church helps the low income in Wayne County. Donations are asked, but otherwise free dental care is offered from the clinic.
Covenant Community Care - Moross
20901 Moross Rd, Detroit Michigan 48216. Dial 313-626-2600 or (313)554-1095
Various high quality, yet affordable, medical services are offered including dental care, Family Practice, Cardiology, Internal Medicine, OB/Gyn, and Pediatrics.
Detroit Clinic - MCDC Community Dental Clinic Inc
5555 Conner Ave, Detroit Michigan 48213. Call 866-269-9223
A sliding fee dental clinic. It is income based. Patients are based on their income or insurance status, even if they have Medicaid or Medicare. Get everything from cleanings to prevent decay to crowns, partials, emergency removal of wisdom teeth for kids, bridges and dentures. Learn more on free dental care resources for patients.
Student Dental Clinics and Hygienists Programs
The two programs below offer low cost, affordable cleanings, exams, fillings, and basic surgery. The students are supervised by other dentists in Michigan to ensure high quality care is given.
Detroit Mercy Student Dental Center, 2700 Martin Luther King Jr. Blvd, Detroit MI 48208. Phone 313-494-6700
LCC Dental Hygiene Clinic, 515 N Washington Sq Health and Human Services Bldg, Lansing Michigan 48933. Call 517-483-1458
KVCC Dental Hygiene Clinic, 6767 West O Ave, Kalamazoo Michigan 49003. Phone 269-488-4338
Thea Bowman Community Health Center
Clinic address is 15400 W McNichols
Detroit MI 48235
Phone - 313-416-6262
Waller Health Center on Cathedral Green
Location is 60 E Warren Ave
Detroit MI 48201
313-416-6262
Get dental screening, testing, or X-Rays. There are also free physical exams, treatment of illness (physical or oral), diagnosis, referrals for lab testing, and more. Case workers help the low income as well.
Pokagan Band of Potawatomi Health Clinic
58620 Sink Rd
Dowagiac MI 49047
800-517-0777
Van Buren/Cass District Health Department
There are multiple health and dental low income assistance programs. Locations are below.
Address is 302 S Front St, Dowagiac MI 49047. Call 269-782-0064
57418 County Rd 681, Hartford MI 49057. Phone 269-621-3143
260 South St, Lawrence MI 49064. For hours of the free community clinic, dial 269-621-3143
Baxter Wholistic Health Clinic
Address is 935 Baxter St SE
Grand Rapids MI 49506
616-456-5310
Catherine's Health Center - Dental Center
781 36th St SE B
Grand Rapids Michigan 49548
616-828-0052
Nolan Family Health Center
62 W Seven Mile Rd
Highland Park MI 48203
Telephone - 313-369-2600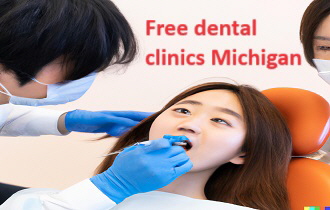 FCOM - Holland Free Health Clinic
Sliding fee center is at 99 W 26th St
Holland MI 49423
616-392-3610
The goal is to give free dental or medical care and not turn anyone away. They are a federal government qualified health care center. Get extractions, fillings, cleanings, Dental implants, and help with trauma. They help the homeless, single moms and others.
Care Free Dental
1100 W Saginaw St
Lansing Michigan 48915
517-272-5053
MAPI Charitable Clinic
28235 Southfield Rd
Lathrup Village Michigan 48076
Main phone - 248-327-6748
Volunteer doctors, dentists and hygienists help the poor, unemployed, and uninsured.
Trinity Community Care
47511 Van Dyke Turnpike
Shelby Township MI 48317
586-649-3014
Traverse City Youth Health and Wellness Center - GTCHD
Address is 880 Parsons Rd
Traverse City MI 49686
231-922-6416
Get help for children, infants, and teens. Cleanings, fluoride, extractions of baby or wisdom teeth, and more.
Wyandotte Clinic for the Working Uninsured
Address is 3333 Biddle Ave
Wyandotte Michigan 48192
Telephone number is 734-365-3560
Many patients, as well as low income to moderate income families, either lack dental insurance or have costly plans. This clinic tries to offer low cost or even free dental services to residents with a job.
Baldwin Family Health Care, Inc.
Baldwin, Michigan 49304
Phone number - (231)745-2736
Oakland Primary Health Services, Inc.
Address is 46 N Saginaw St
Pontiac, Michigan 48342
Phone number - 248.322.6747
Free or inexpensive dental and medical care is offered for low income and homeless. Patients will not have any health insurance plans and they can still receive assistance from the dental clinic.
Cherry Street Services
Grand Rapids, MI 49503
Telephone - (616)235-7289
Access dental services that can help people prevent problems, and restore or address issues that may come up. Several locations offer basic and advanced dental cleanings and services.
Community Health & Social Services Center
Detroit, MI 48209
Telephone - (313)-849-3920
Numerous assistance programs are offered. Or get information on government resources such as Medicaid or uninsured health insurance options.
Center for Family Health, Inc.
Jackson, MI 49202
(517) 748-5500
Detroit Health Care for The Homeless
Detroit, MI 48223
(313)255-8665
The indigent, homeless, and very low income can receive dental care. This includes checkups, cleanings, fluoride, and other basic care. If you need more in depth help them referrals can be provided.
Detroit Community Health Connection
Detroit, MI 48215
(313)822-0900
All people can get help, regardless of income or health insurance status. Access quality dental and medical care. The services are offered for free and/or on a reduced rate or sliding fee scale.
Downriver Community Services, Inc.
Algonac, MI 48001
Dial (810) 794-4917
Free dental exams and services are given by the clinic. There is preventative services as well as Oral Surgery services too.
East Jordan Family Health Center
601 Bridge St
East Jordan, MI 49727
Clinic phone number - (231)536-2206
Family Health Center of Battle Creek
Battle Creek, MI 49017
(269)965-8866
Helps children that have medicaid. In addition, people over 60 with a limited income or no insurance may also qualify for reduced priced or free dental care. Access everything from cleaning to complex restorative procedures.
Family Health Center
Location is 117 W Paterson St
Kalamazoo, MI 49007
(269)349-2641
Call the clinic for information or an appointment. Volunteer dentists, hygienists, and other professionals from the Michigan community do what they can to assist the less fortunate. Depending on the Michigan patient's qualifications, receive fillings, cleanings, crowns, partials, bridges and maybe even dentures. Minimal costs and fees may be required. For those with a mental challenge/illness, referrals can be given to free dental care programs as well as community clinics.
Family Medical Center of Michigan, Inc.
Temperance, Michigan 48182
(734)847-3802
A wide variety of low cost dental services and programs are offered.
Hackley Community Care Center
Muskegon Heights, MI 49444
(231)737-1335
This Michigan based dental center is committed to provided high quality dental and oral care.
Hamilton Community Health Network, Inc.
Flint, MI 48505
Dial - (810)785-0863
Access dental services include Pediatrics, General Dentistry, and extractions.
Health delivery, Inc.
Saginaw, MI 48602
Phone (89) 759-6400
Offers high quality health and dental care to families and individuals. A focus is on patients in Saginaw, Bay and other nearby counties in Michigan. Everyone can get help, whether they can pay their bills or not. Mobile Van Clinic visits local communities and uses volunteers to provide services.
Ingham County Health Department
5303 S Cedar St Lansing, MI 48911
Dial (517) 887-4311 for an appointment.
Low income families on Medicaid or children can get free assistance with their dental needs. Cleanings, check ups, exams from dentists and more is offered by referrals.
Intercare Community Health Network
Programs include Restorative or Preventative care, referrals for oral surgery, extractions and more. The elderly, low income and adults are main patients. There is also help in applying for Medicaid, physicals, and even financial aid to pay medical or dental bills.
308 Charles ST, Bangor MI 49013. Call 855-869-6900
6270 W Main St, Eau Claire MI 49111, 855-869-6900
285 James St, Holland MI 49424, 855-869-6900
5498 109th Ave, Pullman MI 49450. For eligibility, dial 855-869-6900
Lakeland Immediate Care Center
Cassopolis, MI 49031
Phone: (269) 445-3874
Hchn - Dental North
5399 North Saginaw Street
Flint, MI 48505
For services, dial 810-785-0863
Offers reduced prices and more to patients. Permanent Medical, Mental, and Dental Clinic in the Flint Michigan area for people facing a hardship. Get cleanings, fillings, extractions as well as referrals to affordable root canals or denture programs.
Saint Marys Health Care
200 Jefferson Ave SE
Grand Rapids, MI 49503
Call (616) 685-5000 for details.
Cherry Street Health Services Dental Traveling School Program
Grand Rapids, MI 49503-4262
616-776-2363
Students, supervised by professionals, offer care. The organization can assist people and families that have no dental insurance or limited coverage.
Ferguson Dental Health Center
Grand Rapids, Michigan 49503-4262
Call - 616-776-2340
Permanent Dental and Medical Clinic.
Ingham County Health Department
Lansing, MI 48911
(517) 887-4300
Sterling Dental Clinic - Sterling Area Health Center
Main clinic address is 5095 Rifle River Trail
Alger MI 48610
Phone 989-873-5152
Contact this clinic to learn how to get health and dental assistance. Both doctors and dentists can help the low income as well as uninsured meet their medical and health care needs.
Michigan Primary Care Association
Lansing, MI 48917
Dial 517-381-8000
Healthy Smiles Dental Clinic
Lansing, MI 48910-3496
Permanent Clinic
(860) 623-2601
Children and students may receive assistance from the dental center.
Dr Gary Burnstein Community Health Clinic
Pontiac, MI 48342
Provides free medical, dental, and health care to women, health care and dental services to low income, uninsured and underinsured families and individuals. Everyone is helped regardless of religion, race, or ability to pay.
Wadsworth Dental Center
Saginaw, Michigan 48601-1435
Telephone - 989-754-7771
Free dental clinic. Call for information.
CAC Dental Site
Saginaw, MI 48601-1505
989-759-6446
Health and dental care center. If your income is low enough then some free programs may be administered.
Northwest Michigan Health Services, Inc.
Traverse City, MI 49684
Phone number - 231-947-1112
Dickinson-Iron Dental Center
Crystal Falls, Michigan 49920-1503
906-875-6133
An onsite clinic, dentists, and medical professionals can help those in need.
Downriver Community Services, Inc.
555 St Clair River Dr
Algonac, MI 48001
Telephone - (810) 794-4917
A sliding fee scale is in effect. Accepts some government and private health insurance plans. Screenings, basic check ups, X Rays, fillings, and similar services are administered.
Additional free dental care clinics that may be near you in MI
Several other free dental clinics are available in Michigan. There are also volunteer dentists, hygienists, and charity programs that may be near you. Much of the focus is on very low income families, the disabled, as well as senior citizens over the age of 65. Dial 517.347.6994 for more details on free clinics in Michigan near you.
Related Content From Needhelppayingbills.com